Abstract
Cell division requires the precise coordination of chromosome segregation and cytokinesis. This coordination is achieved by the recruitment of an actomyosin regulator, Ect2, to overlapping microtubules at the centre of the elongating anaphase spindle1. Ect2 then signals to the overlying cortex to promote the assembly and constriction of an actomyosin ring between segregating chromosomes1. Here, by studying division in proliferating Drosophila and human cells, we demonstrate the existence of a second, parallel signalling pathway, which triggers the relaxation of the polar cell cortex at mid anaphase. This is independent of furrow formation, centrosomes and microtubules and, instead, depends on PP1 phosphatase and its regulatory subunit Sds22 (refs 2, 3). As separating chromosomes move towards the polar cortex at mid anaphase, kinetochore-localized PP1–Sds22 helps to break cortical symmetry by inducing the dephosphorylation and inactivation of ezrin/radixin/moesin proteins at cell poles. This promotes local softening of the cortex2,3, facilitating anaphase elongation and orderly cell division. In summary, this identifies a conserved kinetochore-based phosphatase signal and substrate, which function together to link anaphase chromosome movements to cortical polarization, thereby coupling chromosome segregation to cell division.
Relevant articles
Open Access articles citing this article.
Kei Yamamoto

,

Haruko Miura

…

Kazuhiro Aoki

Nature Communications Open Access 08 December 2021

Mohammad Zeeshan

,

Rajan Pandey

…

Rita Tewari

Communications Biology Open Access 18 June 2021

Anan Chen

,

Luisa Ulloa Severino

…

Andrew Wilde

Nature Communications Open Access 23 April 2021
Access options
Subscribe to this journal
Receive 51 print issues and online access
$199.00 per year
only $3.90 per issue
Rent or buy this article
Prices vary by article type
from$1.95
to$39.95
Prices may be subject to local taxes which are calculated during checkout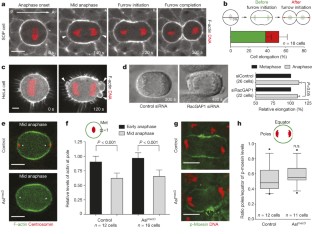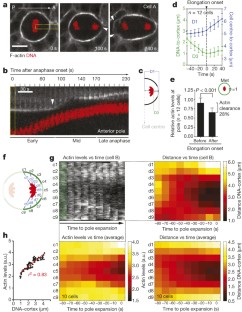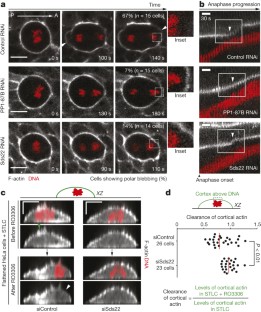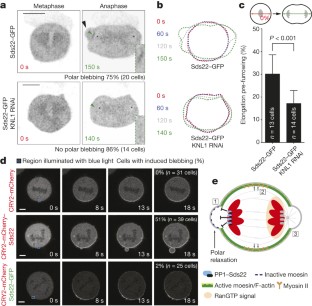 References
Green, R. A., Paluch, E. & Oegema, K. Cytokinesis in animal cells. Annu. Rev. Cell Dev. Biol. 28, 29–58 (2012)

Kunda, P. et al. PP1-mediated moesin dephosphorylation couples polar relaxation to mitotic exit. Curr. Biol. 22, 231–236 (2012)

Roubinet, C. et al. Molecular networks linked by Moesin drive remodeling of the cell cortex during mitosis. J. Cell Biol. 195, 99–112 (2011)

Matthews, H. K. et al. Changes in Ect2 localization couple actomyosin-dependent cell shape changes to mitotic progression. Dev. Cell 23, 371–383 (2012)

Sedzinski, J. et al. Polar actomyosin contractility destabilizes the position of the cytokinetic furrow. Nature 476, 462–466 (2011)

Roegiers, F., Younger-Shepherd, S., Jan, L. Y. & Jan, Y. N. Two types of asymmetric divisions in the Drosophila sensory organ precursor cell lineage. Nature Cell Biol. 3, 58–67 (2001)

Georgiou, M. & Baum, B. Polarity proteins and Rho GTPases cooperate to spatially organise epithelial actin-based protrusions. J. Cell Sci. 123, 1089–1098 (2010)

Hickson, G. R., Echard, A. & O'Farrell, P. H. Rho-kinase controls cell shape changes during cytokinesis. Curr. Biol. 16, 359–370 (2006)

Mishima, M., Kaitna, S. & Glotzer, M. Central spindle assembly and cytokinesis require a kinesin-like protein/RhoGAP complex with microtubule bundling activity. Dev. Cell 2, 41–54 (2002)

Lekomtsev, S. et al. Centralspindlin links the mitotic spindle to the plasma membrane during cytokinesis. Nature 492, 276–279 (2012)

Tse, Y. C., Piekny, A. & Glotzer, M. Anillin promotes astral microtubule-directed cortical myosin polarization. Mol. Biol. Cell 22, 3165–3175 (2011)

Fededa, J. P. & Gerlich, D. W. Molecular control of animal cell cytokinesis. Nature Cell Biol. 14, 440–447 (2012)

Murthy, K. & Wadsworth, P. Dual role for microtubules in regulating cortical contractility during cytokinesis. J. Cell Sci. 121, 2350–2359 (2008)

Werner, M., Munro, E. & Glotzer, M. Astral signals spatially bias cortical myosin recruitment to break symmetry and promote cytokinesis. Curr. Biol. 17, 1286–1297 (2007)

Blachon, S. et al. Drosophila asterless and vertebrate Cep152 Are orthologs essential for centriole duplication. Genetics 180, 2081–2094 (2008)

Hu, C. K., Coughlin, M., Field, C. M. & Mitchison, T. J. Cell polarization during monopolar cytokinesis. J. Cell Biol. 181, 195–202 (2008)

Lancaster, O. M. et al. Mitotic rounding alters cell geometry to ensure efficient bipolar spindle formation. Dev. Cell 25, 270–283 (2013)

Zhang, D. & Nicklas, R. B. 'Anaphase' and cytokinesis in the absence of chromosomes. Nature 382, 466–468 (1996)

Lesage, B., Qian, J. & Bollen, M. Spindle checkpoint silencing: PP1 tips the balance. Curr. Biol. 21, R898–R903 (2011)

Posch, M. et al. Sds22 regulates aurora B activity and microtubule-kinetochore interactions at mitosis. J. Cell Biol. 191, 61–74 (2010)

Wurzenberger, C. et al. Sds22 and Repo-Man stabilize chromosome segregation by counteracting Aurora B on anaphase kinetochores. J. Cell Biol. 198, 173–183 (2012)

Qian, J., Lesage, B., Beullens, M., Van Eynde, A. & Bollen, M. PP1/Repo-man dephosphorylates mitotic histone H3 at T3 and regulates chromosomal aurora B targeting. Curr. Biol. 21, 766–773 (2011)

Liu, D. et al. Regulated targeting of protein phosphatase 1 to the outer kinetochore by KNL1 opposes Aurora B kinase. J. Cell Biol. 188, 809–820 (2010)

Kennedy, M. J. et al. Rapid blue-light-mediated induction of protein interactions in living cells. Nature Methods 7, 973–975 (2010)

Turlier, H., Audoly, B., Prost, J. & Joanny, J. F. Furrow constriction in animal cell cytokinesis. Biophys. J. 106, 114–123 (2014)

Kiyomitsu, T. & Cheeseman, I. M. Cortical dynein and asymmetric membrane elongation coordinately position the spindle in anaphase. Cell 154, 391–402 (2013)

Dehapiot, B. & Halet, G. Ran GTPase promotes oocyte polarization by regulating ERM (Ezrin/Radixin/Moesin) inactivation. Cell Cycle 12, 1672–1678 (2013)

Edwards, K. A., Demsky, M., Montague, R. A., Weymouth, N. & Kiehart, D. P. GFP-moesin illuminates actin cytoskeleton dynamics in living tissue and demonstrates cell shape changes during morphogenesis in Drosophila. Dev. Biol. 191, 103–117 (1997)

Mummery-Widmer, J. L. et al. Genome-wide analysis of Notch signalling in Drosophila by transgenic RNAi. Nature 458, 987–992 (2009)

Matsumoto, K., Toh-e, A. & Oshima, Y. Genetic control of galactokinase synthesis in Saccharomyces cerevisiae: evidence for constitutive expression of the positive regulatory gene gal4 . J. Bacteriol. 134, 446–457 (1978)

Jeong, J. Y. et al. One-step sequence- and ligation-independent cloning as a rapid and versatile cloning method for functional genomics studies. Appl. Environ. Microbiol. 78, 5440–5443 (2012)

Hickson, G. R. & O'Farrell, P. H. Rho-dependent control of anillin behavior during cytokinesis. J. Cell Biol. 180, 285–294 (2008)

Théry, M. et al. The extracellular matrix guides the orientation of the cell division axis. Nature Cell Biol. 7, 947–953 (2005)

Lénárt, P. et al. The small-molecule inhibitor BI 2536 reveals novel insights into mitotic roles of polo-like kinase 1. Curr. Biol. 17, 304–315 (2007)

Liu, T., Sims, D. & Baum, B. Parallel RNAi screens across different cell lines identify generic and cell type-specific regulators of actin organization and cell morphology. Genome Biol. 10, R26 (2009)
Acknowledgements
N.T.L.R., S.L. and B.B. thank Cancer Research UK, and J.K.-V. the Medical Research Council for funding. S.J. and G.R.X.H. were funded by the Canadian Institutes of Health Research, the Canada Foundation for Innovation and a salary award from the Fonds de Recherche du Québec-Santé, and G.R.X.H. thanks the Cole Foundation for a Transition award. This study benefited from support from INCa and the BBSRC (BB/K009001/1). We thank M. Lam, E. Paluch, M. Petronczki, G. Salbreux and members of the Baum laboratory for input and critical reading of the manuscript.
Ethics declarations
Competing interests
The authors declare no competing financial interests.
Extended data figures and tables
Supplementary information
About this article
Cite this article
Rodrigues, N., Lekomtsev, S., Jananji, S. et al. Kinetochore-localized PP1–Sds22 couples chromosome segregation to polar relaxation. Nature 524, 489–492 (2015). https://doi.org/10.1038/nature14496
Received:

Accepted:

Published:

Issue Date:

DOI: https://doi.org/10.1038/nature14496
Comments
By submitting a comment you agree to abide by our Terms and Community Guidelines. If you find something abusive or that does not comply with our terms or guidelines please flag it as inappropriate.