Abstract
The mammalian hippocampus is crucial for episodic memory formation1 and transiently retains information for about 3–4 weeks in adult mice and longer in humans2. Although neuroscientists widely believe that neural synapses are elemental sites of information storage3, there has been no direct evidence that hippocampal synapses persist for time intervals commensurate with the duration of hippocampal-dependent memory. Here we tested the prediction that the lifetimes of hippocampal synapses match the longevity of hippocampal memory. By using time-lapse two-photon microendoscopy4 in the CA1 hippocampal area of live mice, we monitored the turnover dynamics of the pyramidal neurons' basal dendritic spines, postsynaptic structures whose turnover dynamics are thought to reflect those of excitatory synaptic connections5,6. Strikingly, CA1 spine turnover dynamics differed sharply from those seen previously in the neocortex7,8,9. Mathematical modelling revealed that the data best matched kinetic models with a single population of spines with a mean lifetime of approximately 1–2 weeks. This implies ∼100% turnover in ∼2–3 times this interval, a near full erasure of the synaptic connectivity pattern. Although N-methyl-d-aspartate (NMDA) receptor blockade stabilizes spines in the neocortex10,11, in CA1 it transiently increased the rate of spine loss and thus lowered spine density. These results reveal that adult neocortical and hippocampal pyramidal neurons have divergent patterns of spine regulation and quantitatively support the idea that the transience of hippocampal-dependent memory directly reflects the turnover dynamics of hippocampal synapses.
Your institute does not have access to this article
Relevant articles
Open Access articles citing this article.
Nimrod Shaham

,

Jay Chandra

…

Haim Sompolinsky

Scientific Reports Open Access 30 July 2022

Ali Özgür Argunşah

,

Ertunç Erdil

…

Devrim Ünay

Scientific Reports Open Access 20 July 2022

Christina Georgiou

,

Vassilis Kehayas

…

Anthony Holtmaat

Communications Biology Open Access 13 April 2022
Access options
Subscribe to Journal
Get full journal access for 1 year
$199.00
only $3.90 per issue
All prices are NET prices.
VAT will be added later in the checkout.
Tax calculation will be finalised during checkout.
Buy article
Get time limited or full article access on ReadCube.
$32.00
All prices are NET prices.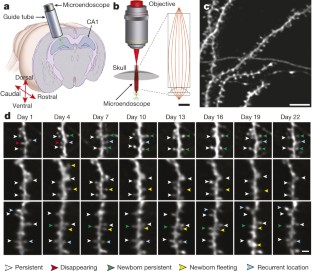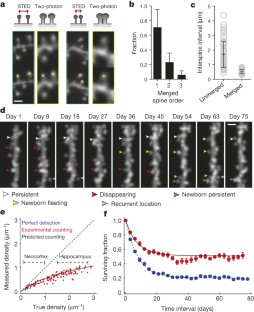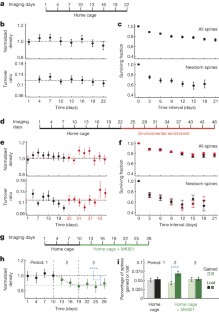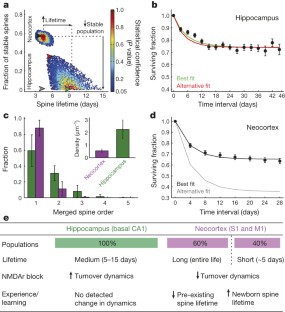 References
Squire, L. R. & Zola-Morgan, S. The medial temporal lobe memory system. Science 253, 1380–1386 (1991)

Frankland, P. W. & Bontempi, B. The organization of recent and remote memories. Nature Rev. Neurosci. 6, 119–130 (2005)

Frey, U. & Morris, R. G. Synaptic tagging and long-term potentiation. Nature 385, 533–536 (1997)

Barretto, R. P. et al. Time-lapse imaging of disease progression in deep brain areas using fluorescence microendoscopy. Nature Med. 17, 223–228 (2011)

Engert, F. & Bonhoeffer, T. Dendritic spine changes associated with hippocampal long-term synaptic plasticity. Nature 399, 66–70 (1999)

Maletic-Savatic, M., Malinow, R. & Svoboda, K. Rapid dendritic morphogenesis in CA1 hippocampal dendrites induced by synaptic activity. Science 283, 1923–1927 (1999)

Holtmaat, A. J. et al. Transient and persistent dendritic spines in the neocortex in vivo. Neuron 45, 279–291 (2005)

Xu, T. et al. Rapid formation and selective stabilization of synapses for enduring motor memories. Nature 462, 915–919 (2009)

Yang, G., Pan, F. & Gan, W. B. Stably maintained dendritic spines are associated with lifelong memories. Nature 462, 920–924 (2009)

Zuo, Y., Yang, G., Kwon, E. & Gan, W. B. Long-term sensory deprivation prevents dendritic spine loss in primary somatosensory cortex. Nature 436, 261–265 (2005)

Yang, G. et al. Sleep promotes branch-specific formation of dendritic spines after learning. Science 344, 1173–1178 (2014)

Harris, K. M. Structure, development, and plasticity of dendritic spines. Curr. Opin. Neurobiol. 9, 343–348 (1999)

Mizrahi, A., Crowley, J. C., Shtoyerman, E. & Katz, L. C. High-resolution in vivo imaging of hippocampal dendrites and spines. J. Neurosci. 24, 3147–3151 (2004)

Barretto, R. P., Messerschmidt, B. & Schnitzer, M. J. In vivo fluorescence imaging with high-resolution microlenses. Nature Methods 6, 511–512 (2009)

Gu, L. et al. Long-term in vivo imaging of dendritic spines in the hippocampus reveals structural plasticity. J. Neurosci. 34, 13948–13953 (2014)

Ziv, Y. et al. Long-term dynamics of CA1 hippocampal place codes. Nature Neurosci. 16, 264–266 (2013)

Harris, K. M. & Stevens, J. K. Dendritic spines of CA 1 pyramidal cells in the rat hippocampus: serial electron microscopy with reference to their biophysical characteristics. J. Neurosci. 9, 2982–2997 (1989)

Moser, M. B., Trommald, M. & Andersen, P. An increase in dendritic spine density on hippocampal CA1 pyramidal cells following spatial learning in adult rats suggests the formation of new synapses. Proc. Natl Acad. Sci. USA 91, 12673–12675 (1994)

Rampon, C. et al. Enrichment induces structural changes and recovery from nonspatial memory deficits in CA1 NMDAR1-knockout mice. Nature Neurosci. 3, 238–244 (2000)

Sanders, J., Cowansage, K., Baumgartel, K. & Mayford, M. Elimination of dendritic spines with long-term memory is specific to active circuits. J. Neurosci. 32, 12570–12578 (2012)

Bourne, J. N. & Harris, K. M. Coordination of size and number of excitatory and inhibitory synapses results in a balanced structural plasticity along mature hippocampal CA1 dendrites during LTP. Hippocampus 21, 354–373 (2011)

Huerta, P. T., Sun, L. D., Wilson, M. A. & Tonegawa, S. Formation of temporal memory requires NMDA receptors within CA1 pyramidal neurons. Neuron 25, 473–480 (2000)

Yasumatsu, N., Matsuzaki, M., Miyazaki, T., Noguchi, J. & Kasai, H. Principles of long-term dynamics of dendritic spines. J. Neurosci. 28, 13592–13608 (2008)

Toni, N., Buchs, P. A., Nikonenko, I., Bron, C. R. & Muller, D. LTP promotes formation of multiple spine synapses between a single axon terminal and a dendrite. Nature 402, 421–425 (1999)

Goshen, I. et al. Dynamics of retrieval strategies for remote memories. Cell 147, 678–689 (2011)

Sorra, K. E. & Harris, K. M. Stability in synapse number and size at 2 hr after long-term potentiation in hippocampal area CA1. J. Neurosci. 18, 658–671 (1998)

Fusi, S., Drew, P. J. & Abbott, L. F. Cascade models of synaptically stored memories. Neuron 45, 599–611 (2005)

Abraham, W. C. & Robins, A. Memory retention—the synaptic stability versus plasticity dilemma. Trends Neurosci. 28, 73–78 (2005)

Wu, X. E. & Mel, B. W. Capacity-enhancing synaptic learning rules in a medial temporal lobe online learning model. Neuron 62, 31–41 (2009)

Poirazi, P. & Mel, B. W. Impact of active dendrites and structural plasticity on the memory capacity of neural tissue. Neuron 29, 779–796 (2001)

Feng, G. et al. Imaging neuronal subsets in transgenic mice expressing multiple spectral variants of GFP. Neuron 28, 41–51 (2000)

Holtmaat, A. et al. Long-term, high-resolution imaging in the mouse neocortex through a chronic cranial window. Nature Protocols 4, 1128–1144 (2009)

Dombeck, D. A., Harvey, C. D., Tian, L., Looger, L. L. & Tank, D. W. Functional imaging of hippocampal place cells at cellular resolution during virtual navigation. Nature Neurosci. 13, 1433–1440 (2010)

Mishchenko, Y. et al. Ultrastructural analysis of hippocampal neuropil from the connectomics perspective. Neuron 67, 1009–1020 (2010)
Acknowledgements
We thank J. Li, J. Lecoq and E. T. W. Ho for technical assistance, R. P. J. Barretto and B. Messerschmidt for advice, and A. Holtmaat for providing published data sets. The National Institute of Mental Health, The National Institute on Aging, and the Ellison Foundation provided grants (M.J.S.). Fellowships from the National Science Foundation and The Stanford Center for Mind, Brain, and Computation provided graduate research support (J.E.F.).
Ethics declarations
Competing interests
The authors declare no competing financial interests.
Extended data figures and tables
Supplementary information
This file contains Supplementary Text and Data, Supplementary Appendices 1-3 and Supplementary References. (PDF 3399 kb)
About this article
Cite this article
Attardo, A., Fitzgerald, J. & Schnitzer, M. Impermanence of dendritic spines in live adult CA1 hippocampus. Nature 523, 592–596 (2015). https://doi.org/10.1038/nature14467
Received:

Accepted:

Published:

Issue Date:

DOI: https://doi.org/10.1038/nature14467
Comments
By submitting a comment you agree to abide by our Terms and Community Guidelines. If you find something abusive or that does not comply with our terms or guidelines please flag it as inappropriate.