Abstract
It is generally believed that splicing removes introns as single units from precursor messenger RNA transcripts. However, some long Drosophila melanogaster introns contain a cryptic site, known as a recursive splice site (RS-site), that enables a multi-step process of intron removal termed recursive splicing1,2. The extent to which recursive splicing occurs in other species and its mechanistic basis have not been examined. Here we identify highly conserved RS-sites in genes expressed in the mammalian brain that encode proteins functioning in neuronal development. Moreover, the RS-sites are found in some of the longest introns across vertebrates. We find that vertebrate recursive splicing requires initial definition of an 'RS-exon' that follows the RS-site. The RS-exon is then excluded from the dominant mRNA isoform owing to competition with a reconstituted 5′ splice site formed at the RS-site after the first splicing step. Conversely, the RS-exon is included when preceded by cryptic promoters or exons that fail to reconstitute an efficient 5′ splice site. Most RS-exons contain a premature stop codon such that their inclusion can decrease mRNA stability. Thus, by establishing a binary splicing switch, RS-sites demarcate different mRNA isoforms emerging from long genes by coupling cryptic elements with inclusion of RS-exons.
Relevant articles
Open Access articles citing this article.
Timur Horn

,

Alison Gosliga

…

Stefan Legewie

npj Systems Biology and Applications Open Access 18 January 2023

Manisha Krishnan

,

Madhavi D. Senagolage

…

Megan E. McNerney

Scientific Reports Open Access 07 January 2022

Anjani Kumari

,

Saam Sedehizadeh

…

Marzena Wojciechowska

Human Genetics Open Access 14 December 2021
Access options
Subscribe to this journal
Receive 51 print issues and online access
$199.00 per year
only $3.90 per issue
Rent or buy this article
Prices vary by article type
from$1.95
to$39.95
Prices may be subject to local taxes which are calculated during checkout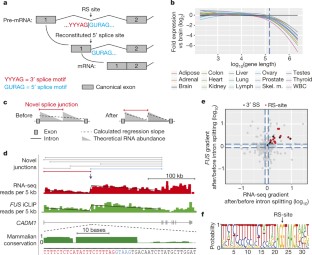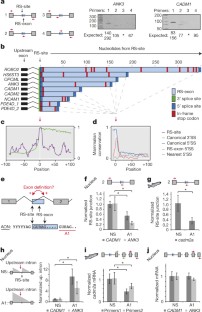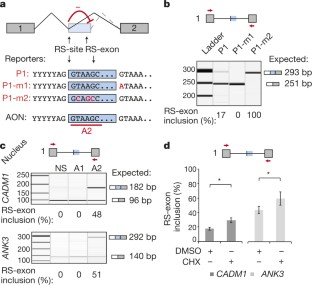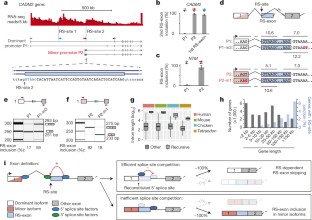 References
Burnette, J. M., Miyamoto-Sato, E., Schaub, M. A., Conklin, J. & Lopez, A. J. Subdivision of large introns in Drosophila by recursive splicing at nonexonic elements. Genetics 170, 661–674 (2005)

Hatton, A. R., Subramaniam, V. & Lopez, A. J. Generation of alternative Ultrabithorax isoforms and stepwise removal of a large intron by resplicing at exon–exon junctions. Mol. Cell 2, 787–796 (1998)

Grellscheid, S. N. & Smith, C. W. An apparent pseudo-exon acts both as an alternative exon that leads to nonsense-mediated decay and as a zero-length exon. Mol. Cell. Biol 26, 2237–2246 (2006)

Shepard, S., McCreary, M. & Fedorov, A. The peculiarities of large intron splicing in animals. PLoS ONE 4, e7853 (2009)

Thakurela, S. et al. Gene regulation and priming by topoisomerase IIα in embryonic stem cells. Nature Commun. 4, 2478 (2013)

Ameur, A. et al. Total RNA sequencing reveals nascent transcription and widespread co-transcriptional splicing in the human brain. Nature Struct. Mol. Biol. 18, 1435–1440 (2011)

Rogelj, B. et al. Widespread binding of FUS along nascent RNA regulates alternative splicing in the brain. Sci. Rep. 2, 603 (2012)

Ke, S. & Chasin, L. A. Context-dependent splicing regulation: exon definition, co-occurring motif pairs and tissue specificity. RNA Biol. 8, 384–388 (2011)

Robberson, B. L., Cote, G. J. & Berget, S. M. Exon definition may facilitate splice site selection in RNAs with multiple exons. Mol. Cell. Biol. 10, 84–94 (1990)

McGlincy, N. J. & Smith, C. W. Alternative splicing resulting in nonsense-mediated mRNA decay: what is the meaning of nonsense? Trends Biochem. Sci. 33, 385–393 (2008)

Parra, M. K., Tan, J. S., Mohandas, N. & Conboy, J. G. Intrasplicing coordinates alternative first exons with alternative splicing in the protein 4.1R gene. EMBO J. 27, 122–131 (2008)

Yeo, G. & Burge, C. B. Maximum entropy modeling of short sequence motifs with applications to RNA splicing signals. J. Comp. Biol. 11, 377–394 (2004)

Jaillon, O. et al. Genome duplication in the teleost fish Tetraodon nigroviridis reveals the early vertebrate proto-karyotype. Nature 431, 946–957 (2004)

Roy, M., Kim, N., Xing, Y. & Lee, C. The effect of intron length on exon creation ratios during the evolution of mammalian genomes. RNA 14, 2261–2273 (2008)

Pickrell, J. K., Pai, A. A., Gilad, Y. & Pritchard, J. K. Noisy splicing drives mRNA isoform diversity in human cells. PLoS Genet. 6, e1001236 (2010)

Lagier-Tourenne, C. et al. Divergent roles of ALS-linked proteins FUS/TLS and TDP-43 intersect in processing long pre-mRNAs. Nature Neurosci. 15, 1488–1497 (2012)

Polymenidou, M. et al. Long pre-mRNA depletion and RNA missplicing contribute to neuronal vulnerability from loss of TDP-43. Nature Neurosci. 14, 459–468 (2011)

King, I. F. et al. Topoisomerases facilitate transcription of long genes linked to autism. Nature 501, 58–62 (2013)

Anders, S. & Huber, W. Differential expression analysis for sequence count data. Genome Biol. 11, R106 (2010)

Trabzuni, D. et al. Quality control parameters on a large dataset of regionally dissected human control brains for whole genome expression studies. J. Neurochem. 119, 275–28 (2011)

Dobin, A. et al. STAR: ultrafast universal RNA-seq aligner. Bioinformatics 29, 15–21 (2013)

Harrow, J. et al. GENCODE: the reference human genome annotation for The ENCODE Project. Genome Res. 22, 1760–1774 (2012)

König, J. et al. iCLIP reveals the function of hnRNP particles in splicing at individual nucleotide resolution. Nature Struct. Mol. Biol. 17, 909–915 (2010)

Langmead, B., Trapnell, C., Pop, M. & Salzberg, S. L. Ultrafast and memory-efficient alignment of short DNA sequences to the human genome. Genome Biol. 10, R25 (2009)

Singh, J. & Padgett, R. A. Rates of in situ transcription and splicing in large human genes. Nature Struct. Mol. Biol. 16, 1128–1133 (2009)

Kim, D. et al. TopHat2: accurate alignment of transcriptomes in the presence of insertions, deletions and gene fusions. Genome Biol. 14, R36 (2013)

Eden, E., Navon, R., Steinfeld, I., Lipson, D. & Yakhini, Z. GOrilla: a tool for discovery and visualization of enriched GO terms in ranked gene lists. BMC Bioinformatics 10, 48 (2009)

Crooks, G. E., Hon, G., Chandonia, J. M. & Brenner, S. E. WebLogo: a sequence logo generator. Genome Res. 14, 1188–1190 (2004)

Trapnell, C. et al. Transcript assembly and quantification by RNA-Seq reveals unannotated transcripts and isoform switching during cell differentiation. Nature Biotechnol. 28, 511–515 (2010)

Herrera, F. J., Yamaguchi, T., Roelink, H. & Tjian, R. Core promoter factor TAF9B regulates neuronal gene expression. eLife 3, e02559 (2014)

Madzo, J. et al. Hydroxymethylation at gene regulatory regions directs stem/early progenitor cell commitment during erythropoiesis. Cell Rep. 6, 231–244 (2014)
Acknowledgements
We thank S. El-Andaloussi for technical support, J. Witten, J. König and Ule laboratory members for comments on the manuscript, and remaining members of the UK Brain Expression Consortium: S. Guelfi, K. D'Sa, M. Matarin, J. Vandrovcova, A. Ramasamy, J. A. Botia, C. Smith and P. Forabosco. This work was supported by the European Research Council (206726-CLIP and 617837-Translate) to J.U.; Marie Curie Post-doctoral Research Fellowship (627783-NeuroCRYSP) to L.B.; the Slovenian Research Agency (J7-5460) to J.U. and T.C.; the UK NIHR Biomedical Research Centre at Moorfields Eye Hospital and UCL Institute of Ophthalmology to V.P. and W.E.; the Wellcome Trust to S.W.W. and A.F.; the UK Medical Research Council (MRC) (U105185858) to J.U.; MRC training fellowships to C.R.S. and M.B.; and MRC project grant (G0901254), MRC training fellowship (G0802462) and MRC Sudden Death Brain Bank.
Ethics declarations
Competing interests
The authors declare no competing financial interests.
Extended data figures and tables
Supplementary information
About this article
Cite this article
Sibley, C., Emmett, W., Blazquez, L. et al. Recursive splicing in long vertebrate genes. Nature 521, 371–375 (2015). https://doi.org/10.1038/nature14466
Received:

Accepted:

Published:

Issue Date:

DOI: https://doi.org/10.1038/nature14466
Comments
By submitting a comment you agree to abide by our Terms and Community Guidelines. If you find something abusive or that does not comply with our terms or guidelines please flag it as inappropriate.