Abstract
The Golgi complex has a central role in the intracellular sorting of secretory proteins1,2. Anterograde transport through the Golgi has been explained by the movement of Golgi cisternae, known as cisternal maturation3,4,5. Because this explanation is now appreciated to be incomplete6, interest has developed in understanding tubules that connect the Golgi cisternae7,8,9. Here we show that the coat protein I (COPI) complex sorts anterograde cargoes into these tubules in human cells. Moreover, the small GTPase CDC42 regulates bidirectional Golgi transport by targeting the dual functions of COPI in cargo sorting and carrier formation. CDC42 also directly imparts membrane curvature to promote COPI tubule formation. Our findings further reveal that COPI tubular transport complements cisternal maturation in explaining how anterograde Golgi transport is achieved, and that bidirectional COPI transport is modulated by environmental cues through CDC42.
Relevant articles
Open Access articles citing this article.
Seung-Yeol Park

,

Jia-Shu Yang

…

Victor W. Hsu

Nature Communications Open Access 30 July 2019

Jaakko Saraste

&

Michaël Marie

Histochemistry and Cell Biology Open Access 01 September 2018

Myun Hwa Dunlop

,

Andreas M. Ernst

…

James E. Rothman

Nature Communications Open Access 05 September 2017
Access options
Subscribe to Journal
Get full journal access for 1 year
$199.00
only $3.90 per issue
All prices are NET prices.
VAT will be added later in the checkout.
Tax calculation will be finalised during checkout.
Buy article
Get time limited or full article access on ReadCube.
$32.00
All prices are NET prices.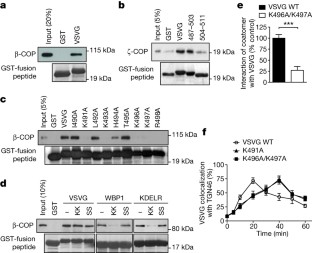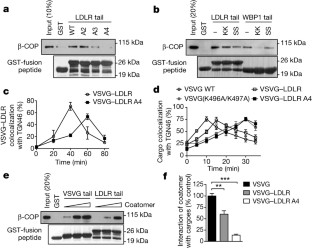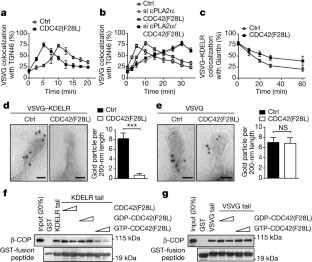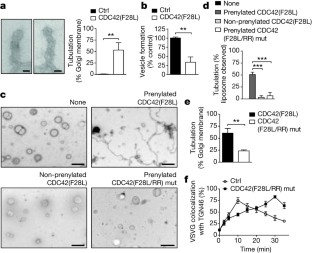 References
Glick, B. S. & Nakano, A. Membrane traffic within the Golgi apparatus. Annu. Rev. Cell Dev. Biol. 25, 113–132 (2009)

Nakano, A. & Luini, A. Passage through the Golgi. Curr. Opin. Cell Biol. 22, 471–478 (2010)

Bonfanti, L. et al. Procollagen traverses the Golgi stack without leaving the lumen of cisternae: evidence for cisternal maturation. Cell 95, 993–1003 (1998)

Losev, E. et al. Golgi maturation visualized in living yeast. Nature 441, 1002–1006 (2006)

Matsuura-Tokita, K., Takeuchi, M., Ichihara, A., Mikuriya, K. & Nakano, A. Live imaging of yeast Golgi cisternal maturation. Nature 441, 1007–1010 (2006)

Patterson, G. H. et al. Transport through the Golgi apparatus by rapid partitioning within a two-phase membrane system. Cell 133, 1055–1067 (2008)

Trucco, A. et al. Secretory traffic triggers the formation of tubular continuities across Golgi sub-compartments. Nature Cell Biol. 6, 1071–1081 (2004)

San Pietro, E. et al. Group IV phospholipase A2α controls the formation of inter-cisternal continuities involved in intra-Golgi transport. PLoS Biol. 7, e1000194 (2009)

Yang, J. S. et al. COPI acts in both vesicular and tubular transport. Nature Cell Biol. 13, 996–1003 (2011)

Hsu, V. W., Lee, S. Y. & Yang, J. S. The evolving understanding of COPI vesicle formation. Nature Rev. Mol. Cell Biol. 10, 360–364 (2009)

Cosson, P. & Letourneur, F. Coatomer interaction with di-lysine endoplasmic reticulum retention motifs. Science 263, 1629–1631 (1994)

Yang, J. S. et al. ARFGAP1 promotes the formation of COPI vesicles, suggesting function as a component of the coat. J. Cell Biol. 159, 69–78 (2002)

Wu, W. J., Erickson, J. W., Lin, R. & Cerione, R. A. The γ-subunit of the coatomer complex binds Cdc42 to mediate transformation. Nature 405, 800–804 (2000)

Yang, J. S. et al. A role for BARS at the fission step of COPI vesicle formation from Golgi membrane. EMBO J. 24, 4133–4143 (2005)

Yang, J. S. et al. A role for phosphatidic acid in COPI vesicle fission yields insights into Golgi maintenance. Nature Cell Biol. 10, 1146–1153 (2008)

Zimmerberg, J. & Kozlov, M. M. How proteins produce cellular membrane curvature. Nature Rev. Mol. Cell Biol. 7, 9–19 (2006)

McMahon, H. T. & Gallop, J. L. Membrane curvature and mechanisms of dynamic cell membrane remodelling. Nature 438, 590–596 (2005)

Zhang, B. & Zheng, Y. Negative regulation of Rho family GTPases Cdc42 and Rac2 by homodimer formation. J. Biol. Chem. 273, 25728–25733 (1998)

Pulvirenti, T. et al. A traffic-activated Golgi-based signalling circuit coordinates the secretory pathway. Nature Cell Biol. 10, 912–922 (2008)

Emr, S. et al. Journeys through the Golgi--taking stock in a new era. J. Cell Biol. 187, 449–453 (2009)

Bai, M. et al. ARFGAP1 promotes AP-2 dependent endocytosis. Nature Cell Biol. 13, 559–567 (2011)

Lu, B. et al. Peptide neurotransmitters activate a cation channel complex of NALCN and UNC-80. Nature 457, 741–744 (2009)

Bair, A. M., Turman, M. V., Vaine, C. A., Panettieri, R. A., Jr & Soberman, R. J. The nuclear membrane leukotriene synthetic complex is a signal integrator and transducer. Mol. Biol. Cell 23, 4456–4464 (2012)

Azcutia, V. et al. CD47 plays a critical role in T-cell recruitment by regulation of LFA-1 and VLA-4 integrin adhesive functions. Mol. Biol. Cell 24, 3358–3368 (2013)
Acknowledgements
We thank J. Li, M. Bai, X. Michelet and C. Alves for discussions, and M. Ericsson for electron microscopy technical advice. This work was funded by grants from the National Institutes of Health to V.W.H. (R01GM058615), R.J.S. (R01AI068871, R01AR065538 and 1S10RR027931-01), A.B.S. (K01DK089145), and also by the Basic Science Research Program of the National Research Foundation of Korea to S.-Y.P. (2014R1A6A3A03056673).
Ethics declarations
Competing interests
The authors declare no competing financial interests.
Extended data figures and tables
Supplementary information
About this article
Cite this article
Park, SY., Yang, JS., Schmider, A. et al. Coordinated regulation of bidirectional COPI transport at the Golgi by CDC42. Nature 521, 529–532 (2015). https://doi.org/10.1038/nature14457
Received:

Accepted:

Published:

Issue Date:

DOI: https://doi.org/10.1038/nature14457
Comments
By submitting a comment you agree to abide by our Terms and Community Guidelines. If you find something abusive or that does not comply with our terms or guidelines please flag it as inappropriate.