Abstract
Many long non-coding RNAs (lncRNAs) affect gene expression1, but the mechanisms by which they act are still largely unknown2. One of the best-studied lncRNAs is Xist, which is required for transcriptional silencing of one X chromosome during development in female mammals3,4. Despite extensive efforts to define the mechanism of Xist-mediated transcriptional silencing, we still do not know any proteins required for this role3. The main challenge is that there are currently no methods to comprehensively define the proteins that directly interact with a lncRNA in the cell5. Here we develop a method to purify a lncRNA from cells and identify proteins interacting with it directly using quantitative mass spectrometry. We identify ten proteins that specifically associate with Xist, three of these proteins—SHARP, SAF-A and LBR—are required for Xist-mediated transcriptional silencing. We show that SHARP, which interacts with the SMRT co-repressor6 that activates HDAC37, is not only essential for silencing, but is also required for the exclusion of RNA polymerase II (Pol II) from the inactive X. Both SMRT and HDAC3 are also required for silencing and Pol II exclusion. In addition to silencing transcription, SHARP and HDAC3 are required for Xist-mediated recruitment of the polycomb repressive complex 2 (PRC2) across the X chromosome. Our results suggest that Xist silences transcription by directly interacting with SHARP, recruiting SMRT, activating HDAC3, and deacetylating histones to exclude Pol II across the X chromosome.
Your institute does not have access to this article
Relevant articles
Open Access articles citing this article.
Milan Kumar Samanta

,

Srimonta Gayen

…

Sundeep Kalantry

Nature Communications Open Access 11 May 2022

Marissa Cloutier

,

Surinder Kumar

…

Sundeep Kalantry

Nature Communications Open Access 06 May 2022

Yonghao Zhan

,

Aolin Li

…

Yuchen Liu

Cell Discovery Open Access 15 March 2022
Access options
Subscribe to Journal
Get full journal access for 1 year
$199.00
only $3.90 per issue
All prices are NET prices.
VAT will be added later in the checkout.
Tax calculation will be finalised during checkout.
Buy article
Get time limited or full article access on ReadCube.
$32.00
All prices are NET prices.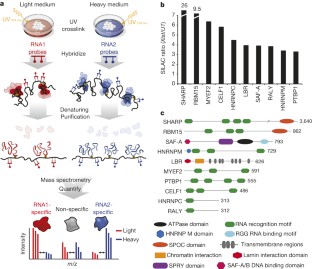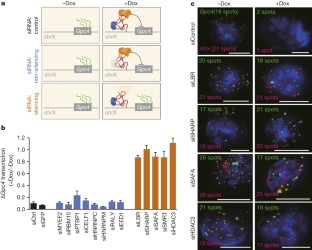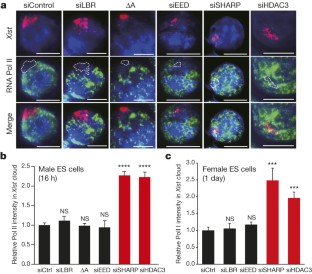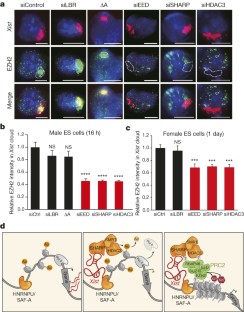 References
Guttman, M. et al. lincRNAs act in the circuitry controlling pluripotency and differentiation. Nature 477, 295–300 (2011)

Rinn, J. L. & Chang, H. Y. Genome regulation by long noncoding RNAs. Annu. Rev. Biochem. 81, 145–166 (2012)

Wutz, A. Gene silencing in X-chromosome inactivation: advances in understanding facultative heterochromatin formation. Nature Rev. Genet. 12, 542–553 (2011)

Lee, J. T. Lessons from X-chromosome inactivation: long ncRNA as guides and tethers to the epigenome. Genes Dev. 23, 1831–1842 (2009)

McHugh, C. A., Russell, P. & Guttman, M. Methods for comprehensive experimental identification of RNA-protein interactions. Genome Biol. 15, 203 (2014)

Shi, Y. et al. Sharp, an inducible cofactor that integrates nuclear receptor repression and activation. Genes Dev. 15, 1140–1151 (2001)

You, S. H. et al. Nuclear receptor co-repressors are required for the histone-deacetylase activity of HDAC3 in vivo. Nature Struct. Mol. Biol. 20, 182–187 (2013)

Zhao, J., Sun, B. K., Erwin, J. A., Song, J. J. & Lee, J. T. Polycomb proteins targeted by a short repeat RNA to the mouse X chromosome. Science 322, 750–756 (2008)

Plath, K. et al. Role of histone H3 lysine 27 methylation in X inactivation. Science 300, 131–135 (2003)

Hasegawa, Y., Brockdorff, N., Kawano, S., Tsutui, K. & Nakagawa, S. The matrix protein hnRNP U is required for chromosomal localization of Xist RNA. Dev. Cell 19, 469–476 (2010)

Schoeftner, S. et al. Recruitment of PRC1 function at the initiation of X inactivation independent of PRC2 and silencing. EMBO J. 25, 3110–3122 (2006)

Kalantry, S. & Magnuson, T. The Polycomb group protein EED is dispensable for the initiation of random X-chromosome inactivation. PLoS Genet. 2, e66 (2006)

Engreitz, J. M. et al. The Xist lncRNA exploits three-dimensional genome architecture to spread across the X chromosome. Science 341, 1237973 (2013)

Darnell, R. B. HITS-CLIP: panoramic views of protein–RNA regulation in living cells. Wiley Interdiscipl. Rev. RNA 1, 266–286 (2010)

Ong, S. E. & Mann, M. A practical recipe for stable isotope labeling by amino acids in cell culture (SILAC). Nature Protoc. 1, 2650–2660 (2007)

Ariyoshi, M. & Schwabe, J. W. A conserved structural motif reveals the essential transcriptional repression function of Spen proteins and their role in developmental signaling. Genes Dev. 17, 1909–1920 (2003)

Raffel, G. D. et al. Ott1(Rbm15) has pleiotropic roles in hematopoietic development. Proc. Natl Acad. Sci. USA 104, 6001–6006 (2007)

Haas, S., Steplewski, A., Siracusa, L. D., Amini, S. & Khalili, K. Identification of a sequence-specific single-stranded DNA binding protein that suppresses transcription of the mouse myelin basic protein gene. J. Biol. Chem. 270, 12503–12510 (1995)

Olins, A. L., Rhodes, G., Welch, D. B., Zwerger, M. & Olins, D. E. Lamin B receptor: multi-tasking at the nuclear envelope. Nucleus 1, 53–70 (2010)

Brown, C. J. & Baldry, S. E. Evidence that heteronuclear proteins interact with XIST RNA in vitro. Somat. Cell Mol. Genet. 22, 403–417 (1996)

Sarma, K. et al. ATRX directs binding of PRC2 to Xist RNA and Polycomb targets. Cell 159, 869–883 (2014)

Margueron, R. & Reinberg, D. The Polycomb complex PRC2 and its mark in life. Nature 469, 343–349 (2011)

Chaumeil, J., Le Baccon, P., Wutz, A. & Heard, E. A novel role for Xist RNA in the formation of a repressive nuclear compartment into which genes are recruited when silenced. Genes Dev. 20, 2223–2237 (2006)

Arieti, F. et al. The crystal structure of the Split End protein SHARP adds a new layer of complexity to proteins containing RNA recognition motifs. Nucleic Acids Res. 42, 6742–6752 (2014)

Li, J., Lin, Q., Wang, W., Wade, P. & Wong, J. Specific targeting and constitutive association of histone deacetylase complexes during transcriptional repression. Genes Dev. 16, 687–692 (2002)

Keohane, A. M., O'Neill, L. P., Belyaev, N. D., Lavender, J. S. & Turner, B. M. X-inactivation and histone H4 acetylation in embryonic stem cells. Dev. Biol. 180, 618–630 (1996)

Riising, E. M. et al. Gene silencing triggers polycomb repressive complex 2 recruitment to CpG islands genome wide. Mol. Cell 55, 347–360 (2014)

van der Vlag, J. & Otte, A. P. Transcriptional repression mediated by the human polycomb-group protein EED involves histone deacetylation. Nature Genet. 23, 474–478 (1999)

Davidovich, C., Zheng, L., Goodrich, K. J. & Cech, T. R. Promiscuous RNA binding by Polycomb repressive complex 2. Nature Struct. Mol. Biol. 20, 1250–1257 (2013)

Fackelmayer, F. O., Dahm, K., Renz, A., Ramsperger, U. & Richter, A. Nucleic-acid-binding properties of hnRNP-U/SAF-A, a nuclear-matrix protein which binds DNA and RNA in vivo and in vitro. Eur. J. Biochem. 221, 749–757 (1994)

Wang, Z. et al. Genome-wide mapping of HATs and HDACs reveals distinct functions in active and inactive genes. Cell 138, 1019–1031 (2009)

Kuo, M. H. & Allis, C. D. Roles of histone acetyltransferases and deacetylases in gene regulation. Bioessays 20, 615–626 (1998)

Wutz, A., Rasmussen, T. P. & Jaenisch, R. Chromosomal silencing and localization are mediated by different domains of Xist RNA. Nature Genet. 30, 167–174 (2002)

Engreitz, J. M. et al. RNA-RNA interactions enable specific targeting of noncoding RNAs to nascent pre-mRNAs and chromatin sites. Cell 159, 188–199 (2014)

Kalli, A. & Hess, S. Effect of mass spectrometric parameters on peptide and protein identification rates for shotgun proteomic experiments on an LTQ-orbitrap mass analyzer. Proteomics 12, 21–31 (2012)

Cox, J. & Mann, M. MaxQuant enables high peptide identification rates, individualized p.p.b.-range mass accuracies and proteome-wide protein quantification. Nature Biotechnol. 26, 1367–1372 (2008)

Cox, J. et al. Andromeda: a peptide search engine integrated into the MaxQuant environment. J. Proteome Res. 10, 1794–1805 (2011)

Elias, J. E. & Gygi, S. P. Target-decoy search strategy for mass spectrometry-based proteomics. Methods Mol. Biol. 604, 55–71 (2010)

Geiger, T. et al. Use of stable isotope labeling by amino acids in cell culture as a spike-in standard in quantitative proteomics. Nature Protoc. 6, 147–157 (2011)

Finn, R. D. et al. Pfam: the protein families database. Nucleic Acids Res. 42, D222–D230 (2014)

Jeon, Y. & Lee, J. T. YY1 tethers Xist RNA to the inactive X nucleation center. Cell 146, 119–133 (2011)

Agrelo, R. et al. SATB1 defines the developmental context for gene silencing by Xist in lymphoma and embryonic cells. Dev. Cell 16, 507–516 (2009)

Royce-Tolland, M. E. et al. The A-repeat links ASF/SF2-dependent Xist RNA processing with random choice during X inactivation. Nature Struct. Mol. Biol. 17, 948–954 (2010)

Theodosiou, Z. et al. Automated analysis of FISH and immunohistochemistry images: a review. Cytometry A 71, 439–450 (2007)

Fumagalli, M. et al. Telomeric DNA damage is irreparable and causes persistent DNA-damage-response activation. Nature Cell Biol. 14, 355–365 (2012)
Acknowledgements
We thank J. Engreitz for extensive discussions, help in adapting the RAP method, and critical comments on the manuscript; A. Gnirke, S. Carr, J. Jaffe and M. Schenone for initial discussions about the RAP-MS method; A. Collazo, E. Lubek, and L. Cai for microscopy help; A. Wutz for providing transgenic cell lines; R. Eggleston-Rangel for assistance with mass spectrometry; S. Grossman, I. Amit, M. Garber and J. Rinn for comments on the manuscript and helpful suggestions; and S. Knemeyer for illustrations. C.A.M. is supported by a post-doctoral fellowship from Caltech. C.-K.C. is supported by an NIH NRSA training grant (T32GM07616). Imaging was performed in the Biological Imaging Facility, with the support of the Caltech Beckman Institute and the Arnold and Mabel Beckman Foundation. This work was funded by the Gordon and Betty Moore Foundation (GBMF775), the Beckman Institute, and NIH (1S10RR029591-01A1 to S.H.), an NIH Director's Early Independence Award (DP5OD012190), the Rose Hills Foundation, Edward Mallinckrodt Foundation, Sontag Foundation, Searle Scholars Program, and funds from the California Institute of Technology.
Ethics declarations
Competing interests
The authors declare no competing financial interests.
Extended data figures and tables
Supplementary information
This file contains Supplementary Notes 1-5 and Supplementary Tables 1-2. (PDF 252 kb)
About this article
Cite this article
McHugh, C., Chen, CK., Chow, A. et al. The Xist lncRNA interacts directly with SHARP to silence transcription through HDAC3. Nature 521, 232–236 (2015). https://doi.org/10.1038/nature14443
Received:

Accepted:

Published:

Issue Date:

DOI: https://doi.org/10.1038/nature14443
Comments
By submitting a comment you agree to abide by our Terms and Community Guidelines. If you find something abusive or that does not comply with our terms or guidelines please flag it as inappropriate.