Abstract
One of the characteristics of the central nervous system is the lack of a classical lymphatic drainage system. Although it is now accepted that the central nervous system undergoes constant immune surveillance that takes place within the meningeal compartment1,2,3, the mechanisms governing the entrance and exit of immune cells from the central nervous system remain poorly understood4,5,6. In searching for T-cell gateways into and out of the meninges, we discovered functional lymphatic vessels lining the dural sinuses. These structures express all of the molecular hallmarks of lymphatic endothelial cells, are able to carry both fluid and immune cells from the cerebrospinal fluid, and are connected to the deep cervical lymph nodes. The unique location of these vessels may have impeded their discovery to date, thereby contributing to the long-held concept of the absence of lymphatic vasculature in the central nervous system. The discovery of the central nervous system lymphatic system may call for a reassessment of basic assumptions in neuroimmunology and sheds new light on the aetiology of neuroinflammatory and neurodegenerative diseases associated with immune system dysfunction.
Access options
Subscribe to this journal
Receive 51 print issues and online access
$199.00 per year
only $3.90 per issue
Rent or buy this article
Prices vary by article type
from$1.95
to$39.95
Prices may be subject to local taxes which are calculated during checkout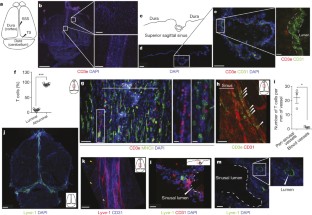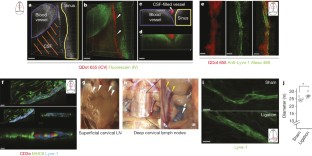 Similar content being viewed by others
References
Ransohoff, R. M. & Engelhardt, B. The anatomical and cellular basis of immune surveillance in the central nervous system. Nature Rev. Immunol. 12, 623–635 (2012).

Kipnis, J., Gadani, S. & Derecki, N. C. Pro-cognitive properties of T cells. Nature Rev. Immunol. 12, 663–669 (2012).

Shechter, R., London, A. & Schwartz, M. Orchestrated leukocyte recruitment to immune-privileged sites: absolute barriers versus educational gates. Nature Rev. Immunol. 13, 206–218 (2013).

Goldmann, J. et al. T cells traffic from brain to cervical lymph nodes via the cribroid plate and the nasal mucosa. J. Leukoc. Biol. 80, 797–801 (2006).

Kaminski, M. et al. Migration of monocytes after intracerebral injection at entorhinal cortex lesion site. J. Leukoc. Biol. 92, 31–39 (2012).

Engelhardt, B. & Ransohoff, R. M. The ins and outs of T-lymphocyte trafficking to the CNS: anatomical sites and molecular mechanisms. Trends Immunol. 26, 485–495 (2005).

Alitalo, K. The lymphatic vasculature in disease. Nature Med. 17, 1371–1380 (2011).

Wang, Y. & Oliver, G. Current views on the function of the lymphatic vasculature in health and disease. Genes Dev. 24, 2115–2126 (2010).

Baluk, P. et al. Functionally specialized junctions between endothelial cells of lymphatic vessels. J. Exp. Med. 204, 2349–2362 (2007).

Kerjaschki, D. The lymphatic vasculature revisited. J. Clin. Invest. 124, 874–877 (2014).

Debes, G. F. et al. Chemokine receptor CCR7 required for T lymphocyte exit from peripheral tissues. Nature Immunol. 6, 889–894 (2005).

Weber, M. et al. Interstitial dendritic cell guidance by haptotactic chemokine gradients. Science 339, 328–332 (2013).

Bazigou, E. et al. Integrin-α9 is required for fibronectin matrix assembly during lymphatic valve morphogenesis. Dev. Cell 17, 175–186 (2009).

Koina, M. E. et al. Evidence for lymphatics in the developing and adult human choroid. Invest. Ophthalmol. Vis. Sci. 56, 1310–1327 (2015).

Johanson, C. E. et al. Multiplicity of cerebrospinal fluid functions: new challenges in health and disease. Cerebrospinal Fluid Res. 5, 10 (2008).

Weller, R. O., Djuanda, E., Yow, H.-Y. & Carare, R. O. Lymphatic drainage of the brain and the pathophysiology of neurological disease. Acta Neuropathol. 117, 1–14 (2009).

Liu, N.-F., Lu, Q., Jiang, Z.-H., Wang, C.-G. & Zhou, J.-G. Anatomic and functional evaluation of the lymphatics and lymph nodes in diagnosis of lymphatic circulation disorders with contrast magnetic resonance lymphangiography. J. Vasc. Surg. 49, 980–987 (2009).

Girard, J.-P., Moussion, C. & Förster, R. HEVs, lymphatics and homeostatic immune cell trafficking in lymph nodes. Nature Rev. Immunol. 12, 762–773 (2012).

Weller, R. O., Galea, I., Carare, R. O. & Minagar, A. Pathophysiology of the lymphatic drainage of the central nervous system: implications for pathogenesis and therapy of multiple sclerosis. Pathophysiology 17, 295–306 (2010).

Mathieu, E., Gupta, N., Macdonald, R. L., Ai, J. & Yücel, Y. H. In vivo imaging of lymphatic drainage of cerebrospinal fluid in mouse. Fluids Barriers CNS 10, 35 (2013).

Cserr, H. F., Harling-Berg, C. J. & Knopf, P. M. Drainage of brain extracellular fluid into blood and deep cervical lymph and its immunological significance. Brain Pathol. 2, 269–276 (1992).

Harris, M. G. et al. Immune privilege of the CNS is not the consequence of limited antigen sampling. Sci. Rep. 4, 4422 (2014).

Laman, J. D. & Weller, R. O. Drainage of cells and soluble antigen from the CNS to regional lymph nodes. J. Neuroimmune Pharmacol. 8, 840–856 (2013).

Schneider, M., Ny, A., Ruiz de Almodovar, C. & Carmeliet, P. A new mouse model to study acquired lymphedema. PLoS Med. 3, e264 (2006).

Kida, S., Pantazis, A. & Weller, R. O. CSF drains directly from the subarachnoid space into nasal lymphatics in the rat. Anatomy, histology and immunological significance. Neuropathol. Appl. Neurobiol. 19, 480–488 (1993).

Xie, L. et al. Sleep drives metabolite clearance from the adult brain. Science 342, 373–377 (2013).

Yang, L. et al. Evaluating glymphatic pathway function utilizing clinically relevant intrathecal infusion of CSF tracer. J. Transl. Med. 11, 107 (2013).

Berton, M. et al. Generalized lymphedema associated with neurologic signs (GLANS) syndrome: A new entity? J. Am. Acad. Dermatol. 72, 333–339 (2015).

Akiyama, H. et al. Inflammation and Alzheimer's disease. Neurobiol. Aging 21, 383–421 (2000).

Hohlfeld, R. & Wekerle, H. Immunological update on multiple sclerosis. Curr. Opin. Neurol. 14, 299–304 (2001).
Acknowledgements
We thank S. Smith for editing the manuscript; V. Engelhard for initial discussions and suggestions on lymphatic endothelial cell specific markers. We also thank the members of the Kipnis laboratory, Brain Immunology and Glia (BIG) center, and the Department of Neuroscience at the University of Virginia (especially J. Lukens) for their valuable comments during multiple discussions of this work. L. Holland and B. Lopes provided the human samples. This work was funded by "Fondation pour la Recherche Medicale" to A.L. and by The National Institutes of Health (R01AG034113 and R01NS061973) to J.K.
Ethics declarations
Competing interests
The authors declare no competing financial interests.
Extended data figures and tables
Supplementary information
About this article
Cite this article
Louveau, A., Smirnov, I., Keyes, T. et al. Structural and functional features of central nervous system lymphatic vessels. Nature 523, 337–341 (2015). https://doi.org/10.1038/nature14432
Received:

Accepted:

Published:

Issue Date:

DOI: https://doi.org/10.1038/nature14432
Comments
By submitting a comment you agree to abide by our Terms and Community Guidelines. If you find something abusive or that does not comply with our terms or guidelines please flag it as inappropriate.