Abstract
Pluripotency, the ability to generate any cell type of the body, is an evanescent attribute of embryonic cells. Transitory pluripotent cells can be captured at different time points during embryogenesis and maintained as embryonic stem cells or epiblast stem cells in culture. Since ontogenesis is a dynamic process in both space and time, it seems counterintuitive that these two temporal states represent the full spectrum of organismal pluripotency. Here we show that by modulating culture parameters, a stem-cell type with unique spatial characteristics and distinct molecular and functional features, designated as region-selective pluripotent stem cells (rsPSCs), can be efficiently obtained from mouse embryos and primate pluripotent stem cells, including humans. The ease of culturing and editing the genome of human rsPSCs offers advantages for regenerative medicine applications. The unique ability of human rsPSCs to generate post-implantation interspecies chimaeric embryos may facilitate our understanding of early human development and evolution.
Relevant articles
Open Access articles citing this article.
Zongyong Ai

,

Baohua Niu

…

Tianqing Li

Cell Research Open Access 17 July 2023

Jinglei Zhai

,

Jing Guo

…

Hongmei Wang

Nature Open Access 14 December 2022

Young Hyun Che

,

Hojae Lee

&

Yong Jun Kim

Experimental & Molecular Medicine Open Access 21 October 2022
Access options
Subscribe to this journal
Receive 51 print issues and online access
$199.00 per year
only $3.90 per issue
Rent or buy this article
Prices vary by article type
from$1.95
to$39.95
Prices may be subject to local taxes which are calculated during checkout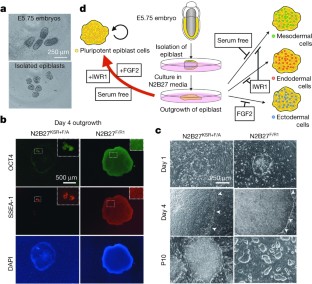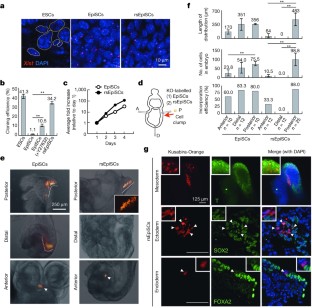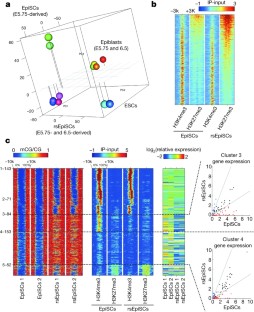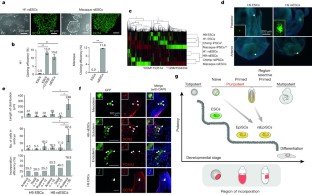 References
Evans, M. J. & Kaufman, M. H. Establishment in culture of pluripotential cells from mouse embryos. Nature 292, 154–156 (1981)

Martin, G. R. Isolation of a pluripotent cell line from early mouse embryos cultured in medium conditioned by teratocarcinoma stem cells. Proc. Natl Acad. Sci. USA 78, 7634–7638 (1981)

Martello, G. & Smith, A. The nature of embryonic stem cells. Annu. Rev. Cell Dev. Biol. 30, 647–675 (2014)

Tesar, P. J. et al. New cell lines from mouse epiblast share defining features with human embryonic stem cells. Nature 448, 196–199 (2007)

Brons, I. G. M. et al. Derivation of pluripotent epiblast stem cells from mammalian embryos. Nature 448, 191–195 (2007)

Kojima, Y. et al. The transcriptional and functional properties of mouse epiblast stem cells resemble the anterior primitive streak. Cell Stem Cell 14, 107–120 (2014)

Nichols, J. & Smith, A. Naive and primed pluripotent states. Cell Stem Cell 4, 487–492 (2009)

Zhou, W. et al. HIF1α induced switch from bivalent to exclusively glycolytic metabolism during ESC-to-EpiSC/hESC transition. EMBO J. 31, 2103–2116 (2012)

Tam, P. P. L. & Loebel, D. A. F. Gene function in mouse embryogenesis: get set for gastrulation. Nature Rev. Genet. 8, 368–381 (2007)

Tam, P. P. & Zhou, S. X. The allocation of epiblast cells to ectodermal and germ-line lineages is influenced by the position of the cells in the gastrulating mouse embryo. Dev. Biol. 178, 124–132 (1996)

Chenoweth, J. G., McKay, R. D. G. & Tesar, P. J. Epiblast stem cells contribute new insight into pluripotency and gastrulation. Dev. Growth Differ. 52, 293–301 (2010)

Greber, B. et al. Conserved and divergent roles of FGF signaling in mouse epiblast stem cells and human embryonic stem cells. Cell Stem Cell 6, 215–226 (2010)

Hayashi, K., Ohta, H., Kurimoto, K., Aramaki, S. & Saitou, M. Reconstitution of the mouse germ cell specification pathway in culture by pluripotent stem cells. Cell 146, 519–532 (2011)

Tsakiridis, A. et al. Distinct Wnt-driven primitive streak-like populations reflect in vivo lineage precursors. Development 141, 1209–1221 (2014)

Sumi, T., Oki, S., Kitajima, K. & Meno, C. Epiblast ground state is controlled by canonical Wnt/β-catenin signaling in the postimplantation mouse embryo and epiblast stem cells. PLoS ONE 8, e63378 (2013)

Berge, D. & t. et al. Embryonic stem cells require Wnt proteins to prevent differentiation to epiblast stem cells. Nature Cell Biol. 13, 1–8 (2011)

Kim, H. et al. Modulation of β-catenin function maintains mouse epiblast stem cell and human embryonic stem cell self-renewal. Nat. Commun. 4, 2403 (2013)

Ying, Q.-L. et al. The ground state of embryonic stem cell self-renewal. Nature 453, 519–523 (2008)

Najm, F. J. et al. Isolation of epiblast stem cells from preimplantation mouse embryos. Cell Stem Cell 8, 318–325 (2011)

Watanabe, K. et al. A ROCK inhibitor permits survival of dissociated human embryonic stem cells. Nature Biotechnol. 25, 681–686 (2007)

Huang, Y., Osorno, R., Tsakiridis, A. & Wilson, V. In vivo differentiation potential of epiblast stem cells revealed by chimeric embryo formation. Cell Rep. 2, 1571–1578 (2012)

Lister, R. et al. Human DNA methylomes at base resolution show widespread epigenomic differences. Nature 462, 315–322 (2009)

Tautenhahn, R., Patti, G. J., Rinehart, D. & Siuzdak, G. XCMS Online: a web-based platform to process untargeted metabolomic data. Anal. Chem. 84, 5035–5039 (2012)

Tautenhahn, R. et al. An accelerated workflow for untargeted metabolomics using the METLIN database. Nature Biotechnol. 30, 826–828 (2012)

Okamura, D., Kimura, T., Nakano, T. & Matsui, Y. Cadherin-mediated cell interaction regulates germ cell determination in mice. Development 130, 6423–6430 (2003)

Okamura, D., Hayashi, K. & Matsui, Y. Mouse epiblasts change responsiveness to BMP4 signal required for PGC formation through functions of extraembryonic ectoderm. Mol. Reprod. Dev. 70, 20–29 (2005)

Downs, K. M. & Davies, T. Staging of gastrulating mouse embryos by morphological landmarks in the dissecting microscope. Development 118, 1255–1266 (1993)

Alev, C. et al. Transcriptomic landscape of the primitive streak. Development 137, 2863–2874 (2010)

Fossat, N., Pfister, S. & Tam, P. P. L. A transcriptome landscape of mouse embryogenesis. Dev. Cell 13, 761–762 (2007)

Acloque, H., Adams, M. S., Fishwick, K., Bronner-Fraser, M. & Nieto, M. A. Epithelial-mesenchymal transitions: the importance of changing cell state in development and disease. J. Clin. Invest. 119, 1438–1449 (2009)

Mitalipov, S. et al. Isolation and characterization of novel rhesus monkey embryonic stem cell Lines. Stem Cells 24, 2177–2186 (2006)

Marchetto, M. C. N. et al. Differential L1 regulation in pluripotent stem cells of humans and apes. Nature 503, 525–529 (2013)

Pera, M. F. In search of naivety. Cell Stem Cell 15, 543–545 (2014)

Beddington, R. S. & Robertson, E. J. Axis development and early asymmetry in mammals. Cell 96, 195–209 (1999)

Wu, J. & Belmonte, J. C. I. Stem cells: a designer's guide to pluripotency. Nature 516, 172–173 (2014)

Tonge, P. D. et al. Divergent reprogramming routes lead to alternative stem-cell states. Nature 516, 192–197 (2014)

No reference here

Yoshimizu, T. et al. Germline‐specific expression of the Oct‐4/green fluorescent protein (GFP) transgene in mice. Dev. Growth Differ. 41, 675–684 (1999)

Fooksman, D. R., Nussenzweig, M. C. & Dustin, M. L. Myeloid cells limit production of antibody-secreting cells after immunization in the lymph node. J. Immunol. 192, 1004–1012 (2014)

Ciruna, B. & Rossant, J. FGF signaling regulates mesoderm cell fate specification and morphogenetic movement at the primitive streak. Dev. Cell 1, 37–49 (2001)

Tong, C., Huang, G., Ashton, C., Li, P. & Ying, Q.-L. Generating gene knockout rats by homologous recombination in embryonic stem cells. Nature Protocols 6, 827–844 (2011)

Glanville-Jones, H. C., Woo, N. & Arkell, R. M. Successful whole embryo culture with commercially available reagents. Int. J. Dev. Biol. 57, 61–67 (2013)

Ludwig, T. E. et al. Feeder-independent culture of human embryonic stem cells. Nature Methods 3, 637–646 (2006)

Hayashi, K. & Saitou, M. Generation of eggs from mouse embryonic stem cells and induced pluripotent stem cells. Nature Protocols 8, 1513–1524 (2013)

Mali, P. et al. RNA-guided human genome engineering via Cas9. Science 339, 823–826 (2013)

Zhang, F. et al. Efficient construction of sequence-specific TAL effectors for modulating mammalian transcription. Nature Biotechnol. 29, 149–153 (2011)

Okita, K. et al. A more efficient method to generate integration-free human iPS cells. Nature Methods 8, 409–412 (2011)

Li, M. et al. Efficient correction of hemoglobinopathy-causing mutations by homologous recombination in integration-free patient iPSCs. Cell Res. 21, 1740–1744 (2011)

Heinz, S. et al. Simple combinations of lineage-determining transcription factors prime cis-regulatory elements required for macrophage and B cell identities. Mol. Cell 38, 576–589 (2010)

Robinson, M. D., McCarthy, D. J. & Smyth, G. K. edgeR: a Bioconductor package for differential expression analysis of digital gene expression data. Bioinformatics 26, 139–140 (2010)

Mikkelsen, T. S. et al. Genome-wide maps of chromatin state in pluripotent and lineage-committed cells. Nature 448, 553–560 (2007)

Lister, R. et al. Hotspots of aberrant epigenomic reprogramming in human induced pluripotent stem cells. Nature 471, 68–73 (2011)

Ma, H. et al. Abnormalities in human pluripotent cells due to reprogramming mechanisms. Nature 511, 177–183 (2014)

Lister, R. et al. Global epigenomic reconfiguration during mammalian brain development. Science 341, 1237905 (2013)

Burger, L., Gaidatzis, D., Schübeler, D. & Stadler, M. B. Identification of active regulatory regions from DNA methylation data. Nucleic Acids Res. 41, e155 (2013)

McLean, C. Y. et al. GREAT improves functional interpretation of cis-regulatory regions. Nature Biotechnol. 28, 495–501 (2010)

Zou, J. et al. Gene targeting of a disease-related gene in human induced pluripotent stem and embryonic stem cells. Cell Stem Cell. 5, 97–110 (2009)

Kutner R.H. et al Production, concentration and titration of pseudotyped HIV-1-based lentiviral vectors. Nature Protocol. 4, 495–505 (2009)
Acknowledgements
We would like to thank S. Mitalipov and J. Thomson for providing rhesus ESCs and iPSCs, respectively, F. Gage for providing chimpanzee iPSCs, K. Zhang for assistance with cell line derivation, M. Ku of the H. A. and Mary K. Chapman Charitable Foundations Genomic Sequencing Core for performing RNA-seq and mouse ChIP-seq experiments, M. Chang of the Integrative Genomic and Bioinformatics Core for bioinformatics analysis, W. T. Berggren and the staff of the Salk STEM Core for preparation of custom-mTeSR1 base medium and supply of validated stem culture materials, G. Pao and K. Hasegawa for discussions, Y. Dayn from transgenic core facility and J. Luo for blastocyst injections, Y. Tsunekawa for providing the mutant eGFP human ESCs reporter line, E. O'Connor and K. Marquez of Human Embryonic Stem Cell Core Facility of Sanford Consortium for Regenerative Medicine for FACS sorting, R. H. Benitez, A. Goebl, R. D. Soligalia for assistance with genome editing, M. F. Pera for critical reading of the manuscript, and M. Schwarz, and P. Schwarz for administrative help. M.L. and K.S. are supported by a California Institute for Regenerative Medicine Training Grant. We thank J. L. Mendoza for his support on this project. This work was funded in part by UCAM (mouse studies). J.R.E. is an Investigator of the Howard Hughes Medical Institute. P.G. was supported by Fundacion Pedro Guillen. Work in the laboratory of J.C.I.B. was supported by G. Harold and Leila Y. Mathers Charitable Foundation, The Leona M. and Harry B. Helmsley Charitable Trust and The Moxie Foundation.
Ethics declarations
Competing interests
The authors declare no competing financial interests.
Extended data figures and tables
Supplementary information
This file contains Supplementary Figure 1 and Western blots for Figure 4b and Extended Data Figure 4c. (PDF 740 kb)
This file contains Supplementary Tables 1-8. (PDF 1500 kb)
About this article
Cite this article
Wu, J., Okamura, D., Li, M. et al. An alternative pluripotent state confers interspecies chimaeric competency. Nature 521, 316–321 (2015). https://doi.org/10.1038/nature14413
Received:

Accepted:

Published:

Issue Date:

DOI: https://doi.org/10.1038/nature14413
Comments
By submitting a comment you agree to abide by our Terms and Community Guidelines. If you find something abusive or that does not comply with our terms or guidelines please flag it as inappropriate.