Abstract
Riverine export of particulate organic carbon (POC) to the ocean affects the atmospheric carbon inventory over a broad range of timescales1,2,3,4,5. On geological timescales, the balance between sequestration of POC from the terrestrial biosphere and oxidation of rock-derived (petrogenic) organic carbon sets the magnitude of the atmospheric carbon and oxygen reservoirs6,7. Over shorter timescales, variations in the rate of exchange between carbon reservoirs, such as soils and marine sediments, also modulate atmospheric carbon dioxide levels1. The respective fluxes of biospheric and petrogenic organic carbon are poorly constrained, however, and mechanisms controlling POC export have remained elusive, limiting our ability to predict POC fluxes quantitatively as a result of climatic or tectonic changes. Here we estimate biospheric and petrogenic POC fluxes for a suite of river systems representative of the natural variability in catchment properties. We show that export yields of both biospheric and petrogenic POC are positively related to the yield of suspended sediment, revealing that POC export is mostly controlled by physical erosion. Using a global compilation of gauged suspended sediment flux, we derive separate estimates of global biospheric and petrogenic POC fluxes of

and

megatonnes of carbon per year, respectively. We find that biospheric POC export is primarily controlled by the capacity of rivers to mobilize and transport POC, and is largely insensitive to the magnitude of terrestrial primary production. Globally, physical erosion rates affect the rate of biospheric POC burial in marine sediments more strongly than carbon sequestration through silicate weathering. We conclude that burial of biospheric POC in marine sediments becomes the dominant long-term atmospheric carbon dioxide sink under enhanced physical erosion.
Access options
Subscribe to Journal
Get full journal access for 1 year
$199.00
only $3.83 per issue
All prices are NET prices.
VAT will be added later in the checkout.
Rent or Buy article
Get time limited or full article access on ReadCube.
from$8.99
All prices are NET prices.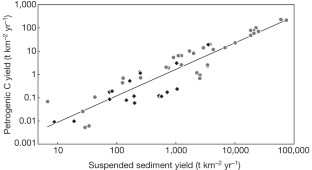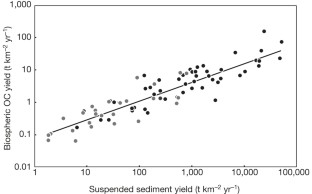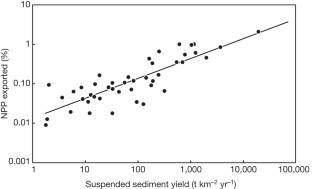 References
1

Sarmiento, J. & Gruber, N. in Ocean Biogeochemical Dynamics (eds Sarmiento, J. & Gruber, N. ) 392–453 (Princeton Univ. Press, 2006)

2

Ludwig, W., Probst, J.-L. & Kempe, S. Predicting the oceanic input of organic carbon by continental erosion. Glob. Biogeochem. Cycles 10, 23–41 (1996)

3

Schlünz, B. & Schneider, R. R. Transport of terrestrial organic carbon to the oceans by rivers: re-estimating flux and burial rates. Int. J. Earth Sci. 88, 599–606 (2000)

4

Meybeck, M. in Interactions of C, N, P and S: Biogeochemical Cycles and Global Change (eds Wollast, R., Mackenzie, F. T. & Chou, L. ) 163–193 (Springer, 1993)

5

Degens, E. T., Kempe, S. & Richey, J. E. Biogeochemistry of Major World Rivers (Wiley, 1991)

6

Berner, R. A. Burial of organic carbon and pyrite sulfur in the modern ocean: its geochemical and environmental significance. Am. J. Sci. 282, 451–473 (1982)

7

Galy, V., Beyssac, O., France-Lanord, C. & Eglinton, T. I. Recycling of graphite during Himalayan erosion: a geological stabilization of carbon in the crust. Science 322, 943–945 (2008)

8

Bouchez, J. et al. Oxidation of petrogenic organic carbon in the Amazon floodplain as a source of atmospheric CO2 . Geology 38, 255–258 (2010)

9

Blair, N. E., Leithold, E. L. & Aller, R. C. From bedrock to burial: the evolution of particulate organic carbon across coupled watershed–continental margin systems. Mar. Chem. 92, 141–156 (2004)

10

Galy, V. et al. Efficient organic carbon burial in the Bengal fan sustained by the Himalayan erosional system. Nature 450, 407–410 (2007)

11

Hilton, R. G. et al. Climatic and geomorphic controls on the erosion of terrestrial biomass from subtropical mountain forest. Glob. Biogeochem. Cycles 26, GB3014 (2012)

12

Bouchez, J. et al. Source, transport and fluxes of Amazon River particulate organic carbon: insights from river sediment depth-profiles. Geochim. Cosmochim. Acta 133, 280–298 (2014)

13

Drenzek, N. et al. A new look at old carbon in active margin sediments. Geology 37, 239–242 (2009)

14

Galy, V. & Eglinton, T. I. Protracted storage of biospheric carbon in the Ganges–Brahmaputra basin. Nature Geosci. 4, 843–847 (2011)

15

Hilton, R. G. et al. Tropical-cyclone-driven erosion of the terrestrial biosphere from mountains. Nature Geosci. 1, 759–762 (2008)

16

Hilton, R. G., Galy, A., Hovius, N. & Horng, M. J. Efficient transport of fossil organic carbon to the ocean by steep mountain rivers: an orogenic carbon sequestration mechanism. Geology 39, 71–74 (2011)

17

Komada, T., Druffel, E. R. M. & Trumbore, S. E. Ocanic export of relict organic carbon by small mountainous rivers. Geophys. Res. Lett. 31, 1–4 (2004)

18

Leithold, E. L., Blair, N. E. & Perkey, D. W. Geomorphologic controls on the age of particulate organic carbon from small mountainous and upland rivers. Glob. Biogeochem. Cycles 20, GB3022 (2006)

19

Kao, S.-J. et al. Preservation of terrestrial organic carbon in marine sediments offshore Taiwan: mountain building and atmospheric carbon dioxide sequestration. Earth Surf. Dyn. 2, 127–139 (2014)

20

Blair, N. E. et al. The persistence of memory: the fate of ancient sedimentary organic carbon in a modern sedimentary system. Geochim. Cosmochim. Acta 67, 63–73 (2003)

21

Hilton, R. G., Galy, A., Hovius, N., Horng, M. J. & Chen, H. E. The isotopic composition of particulate organic carbon in mountain rivers of Taiwan. Geochim. Cosmochim. Acta 74, 3164–3181 (2010)

22

Jobbagy, E. G. & Jackson, R. B. The vertical distribution of soil organic carbon and its relation to climate and vegetation. Ecol. Appl. 10, 423–436 (2000)

23

Hilton, R. G., Meunier, P., Hovius, N., Bellingham, P. J. & Galy, A. Landslide impact on organic carbon cycling in a temperate montane forest. Earth Surf. Process. Landf. 36, 1670–1679 (2011)

24

Zhao, M., Nemani, Z. & Running, S. (ed. NASA). http://modis.gsfc.nasa.gov/data/dataprod/dataproducts.php?MOD_NUMBER=17

25

Milliman, J. D. & Farnsworth, K. River Discharge to the Coastal Ocean: a Global Synthesis (Cambridge Univ. Press, 2011)

26

Peucker-Ehrenbrink, B. Land2Sea database of river drainage basin sizes, annual water discharges, and suspended sediment fluxes. Geochem. Geophys. Geosyst. 10, Q06014 (2009)

27

Larsen, I. J., Montgomery, D. R. & Greenberg, H. M. The contribution of mountains to global denudation. Geology 42, 527–530 (2014)

28

Bianchi, T. S., Galler, J. J. & Allison, M. A. Hydrodynamic sorting and transport of terrestrially derived organic carbon in sediments of the Mississippi and Atchafalaya Rivers. Estuar. Coast. Shelf Sci. 73, 211–222 (2007)

29

West, A. J., Galy, A. & Bickle, M. Tectonic and climatic controls on silicate weathering. Earth Planet. Sci. Lett. 235, 211–228 (2005)

30

Voss, B. M. Spatial and Temporal Dynamics of Biogeochemical Processes in the Fraser River, Canada: a Coupled Organic–Inorganic Perspective. PhD thesis, Massachussetts Institute of Technology and Woods Hole Oceanographic Institution. (2014)

31

Wakeham, S. G. et al. Partitioning of organic matter in continental margin sediments among density fractions. Mar. Chem. 115, 211–225 (2009)

32

Alam, M. J., Nagao, S., Aramaki, T., Shibata, Y. & Yoneda, M. Transport of particulate organic matter in the Ishikari River, Japan during spring and summer. Nuclear Instrum. Meth. Phys. Res. B 259, 513–517 (2007)

33

Hilton, R. G. et al. Erosion of organic carbon in the Arctic as a geological carbon dioxide sink. Nature (submitted).

34

Drenzek, N. J., Montlucon, D. B., Yunker, M. B., Macdonald, R. W. & Eglinton, T. I. Constraints on the origin of sedimentary organic carbon in the Beaufort Sea from coupled molecular 13C and 14C measurements. Mar. Chem. 103, 146–162 (2007)

35

Milliman, J. D. & Meade, R. H. World delivery of river sediment to the oceans. J. Geol. 1, 1–21 (1983)

36

Milliman, J. D. & Syvitski, P. M. Geomorphic/tectonic control of sediment discharge to the ocean: the importance of small mountainous rivers. J. Geol. 100, 525–544 (1992)

37

Graham, S. T., Famiglietti, J. S. & Maidment, D. R. Five-minute, 1/2 degrees, and 1 degrees data sets of continental watersheds and river networks for use in regional and global hydrologic and climate system modeling studies. Wat. Resour. Res. 35, 583–587 (1999)

38

Syvitski, J. P. M., Vorosmarty, C. J., Kettner, A. J. & Green, P. Impact of humans on the flux of terrestrial sediment to the global coastal ocean. Science 308, 376–380 (2005)

39

Rosenheim, B. E. et al. River discharge influences on particulate organic carbon age structure in the Mississippi/Atchafalaya River System. Glob. Biogeochem. Cycles 27, 154–166 (2013)

40

Gaillardet, J., Dupré, B., Louvat, P. & Allègre, C. J. Global silicate weathering and CO2 consumption rates deduced from the chemistry of large rivers. Chem. Geol. 159, 3–30 (1999)
Acknowledgements
We thank Y. Godderis, J. Hemingway and G. Soulet for comments on early versions of the manuscript. G. Fiske generated the NPP data. Support for this project was provided by US National Science Foundation (NSF) grant OCE-0851015 (to B.P.-E., T.E. and V.G.), NSF grant OCE-0928582 (to V.G. and T.E.) and Swiss National Science Foundation grant 200021_140850 (to T.E.).
Ethics declarations
Competing interests
The authors declare no competing financial interests.
Extended data figures and tables
Supplementary information
Catchment size, suspended sediment yield, petrogenic organic carbon yield, biospheric organic carbon yield, net primary productivity and fraction of the net primary productivity exported annually. The source of the data used to calculate petrogenic organic carbon yield and biospheric organic carbon yield from geochemical constraints is in column K. The methods are described in column K. (XLSX 42 kb)
Catchment size, suspended sediment yield, petrogenic organic carbon yield, biospheric organic carbon yield, net primary productivity and fraction of the net primary productivity exported annually. Petrogenic organic carbon yield calculated using the relationship between suspended sediment yield and petrogenic organic carbon yield presented Figure 1. Biospheric organic carbon yield calculated by difference between total organic carbon yield and petrogenic organic carbon yield. The source of the total organic carbon yield data is in column K. (XLSX 38 kb)
This file contains Supplementary References. (PDF 197 kb)
About this article
Cite this article
Galy, V., Peucker-Ehrenbrink, B. & Eglinton, T. Global carbon export from the terrestrial biosphere controlled by erosion. Nature 521, 204–207 (2015). https://doi.org/10.1038/nature14400
Received:

Accepted:

Published:

Issue Date:
Comments
By submitting a comment you agree to abide by our Terms and Community Guidelines. If you find something abusive or that does not comply with our terms or guidelines please flag it as inappropriate.