Abstract
Cell line misidentification, contamination and poor annotation affect scientific reproducibility. Here we outline simple measures to detect or avoid cross-contamination, present a framework for cell line annotation linked to short tandem repeat and single nucleotide polymorphism profiles, and provide a catalogue of synonymous cell lines. This resource will enable our community to eradicate the use of misidentified lines and generate credible cell-based data.
This is a preview of subscription content
Access options
Subscribe to Journal
Get full journal access for 1 year
$199.00
only $3.90 per issue
All prices are NET prices.
VAT will be added later in the checkout.
Tax calculation will be finalised during checkout.
Buy article
Get time limited or full article access on ReadCube.
$32.00
All prices are NET prices.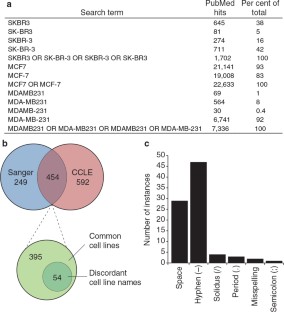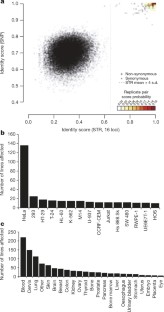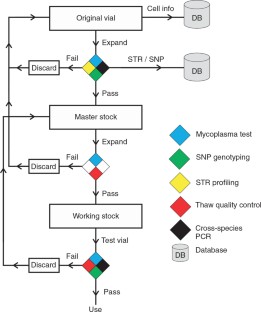 Accession codes
Accessions
BioProject
References
American Type Culture Collection Standards Development Organization Workgroup ASN-0002. Cell line misidentification: the beginning of the end. Nature Rev. Cancer 10 441–448 (2010)

Editorial. Identity crisis. Nature 457, 935–936 (2009)

Capes-Davis, A. et al. Match criteria for human cell line authentication: where do we draw the line? Int. J. Cancer 132 2510–2519 (2013)

Dirks, W. G. & Drexler, H. G. STR DNA typing of human cell lines: detection of intra- and interspecies cross-contamination. Methods Mol. Biol. 946 27–38 (2013)

Editorial. Announcement: Reducing our irreproducibility. Nature 496, 398 (2013).

Lorsch, J. R., Collins, F. S. & Lippincott-Schwartz, J. Fixing problems with cell lines. Science 346, 1452–1453 (2014)

Lacroix, M. Persistent use of "false" cell lines. Int. J. Cancer 122 1–4 (2008)

ICLAC. Naming a Cell Line http://iclac.org/resources/cell-line-names/ (2014)

Sarntivijai, S., Ade, A. S., Athey, B. D. & States, D. J. A bioinformatics analysis of the cell line nomenclature. Bioinformatics 24 2760–2766 (2008)

Hunter, L. & Cohen, K. B. Biomedical language processing: what's beyond PubMed? Mol. Cell 21 589–594 (2006)

Forbes, S. A. et al. COSMIC: mining complete cancer genomes in the Catalogue of Somatic Mutations in Cancer. Nucleic Acids Res. 39 D945–D950 (2011)

Barretina, J. et al. The Cancer Cell Line Encyclopedia enables predictive modelling of anticancer drug sensitivity. Nature 483 603–607 (2012)

Romano, P. et al. Cell Line Data Base: structure and recent improvements towards molecular authentication of human cell lines. Nucleic Acids Res. 37 D925–D932 (2009)

Buehring, G. C., Eby, E. A. & Eby, M. J. Cell line cross-contamination: how aware are mammalian cell culturists of the problem and how to monitor it? In Vitro Cell. Dev. Biol. Anim. 40 211–215 (2004)

Barallon, R. et al. Recommendation of short tandem repeat profiling for authenticating human cell lines, stem cells, and tissues. In Vitro Cell. Dev. Biol. Anim. 46 727–732 (2010)

Parson, W. et al. Cancer cell line identification by short tandem repeat profiling: power and limitations. FASEB J. 19 434–436 (2005)

Santos, F. R., Pandya, A. & Tyler-Smith, C. Reliability of DNA-based sex tests. Nature Genet. 18 103 (1998)

Tanabe, H. et al. Cell line individualization by STR multiplex system in the cell bank found cross-contamination between ECV304 and EJ-1/T24. Tiss. Cult. Res. Commun. 18, 329–338 (1999)

Masters, J. R. et al. Short tandem repeat profiling provides an international reference standard for human cell lines. Proc. Natl Acad. Sci. USA 98 8012–8017 (2001)

Castro, F. et al. High-throughput SNP-based authentication of human cell lines. Int. J. Cancer 132 308–314 (2013)

Much, M., Buza, N. & Hui, P. Tissue identity testing of cancer by short tandem repeat polymorphism: pitfalls of interpretation in the presence of microsatellite instability. Hum. Pathol. 45 549–555 (2014)

Didion, J. P. et al. SNP array profiling of mouse cell lines identifies their strains of origin and reveals cross-contamination and widespread aneuploidy. BMC Genomics 15 847 (2014)

Capes-Davis, A. et al. Check your cultures! A list of cross-contaminated or misidentified cell lines. Int. J. Cancer 127 1–8 (2010)

Cooper, J. K. et al. Species identification in cell culture: a two-pronged molecular approach. In Vitro Cell. Dev. Biol. Anim. 43 344–351 (2007)

Masters, J. R. & Stacey, G. N. Changing medium and passaging cell lines. Nature Protocols 2 2276–2284 (2007)

Zhang, J. et al. Intratumor heterogeneity in localized lung adenocarcinomas delineated by multiregion sequencing. Science. 346, 256–259 (2014)

Masters, J. R. Cell-line authentication: end the scandal of false cell lines. Nature 492 186 (2012)

Nardone, R. M. Eradication of cross-contaminated cell lines: a call for action. Cell Biol. Toxicol. 23 367–372 (2007)

Wellcome Trust Sanger Institute. The Cell Lines Project http://cancer.sanger.ac.uk/cancergenome/projects/cell_lines/about (2015)

Centers for Disease Control and Prevention. International Classification of Diseases, Ninth Revision, Clinical Modification (ICD-9-CM). (2011)

ICLAC. Database of Cross-contaminated or Misidentified Cell Lines http://iclac.org/databases/cross-contaminations/ (version 7 2, released 10 October 2014).

Wang, J. et al. High-throughput single nucleotide polymorphism genotyping using nanofluidic Dynamic Arrays. BMC Genomics 10 561 (2009)

Parodi, B. et al. Species identification and confirmation of human and animal cell lines: a PCR-based method. Biotechniques 32 432–434,–436, 438–440 (2002)

Steube, K. G., Meyer, C., Uphoff, C. C. & Drexler, H. G. A simple method using beta-globin polymerase chain reaction for the species identification of animal cell lines–a progress report. In Vitro Cell. Dev. Biol. Anim. 39 468–475 (2003)

Hebert, P. D., Cywinska, A., Ball, S. L. & deWaard, J. R. Biological identifications through DNA barcodes. Proc. R. Soc. Lond. B 270 313–321 (2003)
Acknowledgements
We thank S. Ghosh for bioinformatics support, E. Hall and Y. Reid (ATCC) for their intellectual input and expertise in genetic testing. M. Kline for supplying STR profiles. J. Settleman and D. Stokoe for discussions.
Ethics declarations
Competing interests
The majority of authors are employees of Genentech Inc. and/or hold stock in Roche.
Extended data figures and tables
Supplementary information
This file contains the legends for Supplementary Tables 1-14. (PDF 93 kb)
The 2 files in this zipped file contain Supplementary Tables 1-14 (see Supplementary Information file for details). (ZIP 30178 kb)
About this article
Cite this article
Yu, M., Selvaraj, S., Liang-Chu, M. et al. A resource for cell line authentication, annotation and quality control. Nature 520, 307–311 (2015). https://doi.org/10.1038/nature14397
Received:

Accepted:

Published:

Issue Date:

DOI: https://doi.org/10.1038/nature14397
Comments
By submitting a comment you agree to abide by our Terms and Community Guidelines. If you find something abusive or that does not comply with our terms or guidelines please flag it as inappropriate.