Spontaneously generated, random wrinkles of coatings on microscale particles have been found to be analogous to fingerprints — unique patterns with a wavy topography that can serve as unclonable tags for anti-counterfeiting purposes.
This is a preview of subscription content
Access options
Subscribe to Journal
Get full journal access for 1 year
$199.00
only $3.90 per issue
All prices are NET prices.
VAT will be added later in the checkout.
Tax calculation will be finalised during checkout.
Rent or Buy article
Get time limited or full article access on ReadCube.
from$8.99
All prices are NET prices.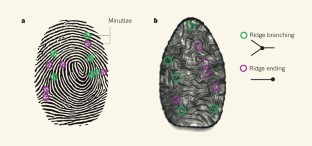 References
1

de Risi, V. Geometry and Monadology: Lebniz's Analysis Situs and Philosophy of Space (Birkhäuser, 2007).

2

Bae, H. J. et al. Adv. Mater. http://dx.doi.org/10.1002/adma.201405483 (2015).

3

Timoshenko, S. P. & Gere, J. M. Theory of Elastic Stability 2nd edn (McGraw-Hill, 1961).

4

Bowden, N., Brittain, S., Evans, A. G., Hutchinson, J. W. & Whitesides, G. M. Nature 393, 146–149 (1998).

5

Genzer, J. & Groenewold, J. Soft Matter 2, 310–323 (2006).

6

Chung, J. Y., Nolte, A. J. & Stafford, C. M. Adv. Mater. 23, 349–368 (2011).

7

Yang, S., Khare, K. & Lin, P.-C. Adv. Funct. Mater. 20, 2550–2564 (2010).

8

Kim, J. B. et al. Nature Photon. 6, 327–332 (2012).

9

Rogers, J. A., Someya, T. & Huang, Y. Science 327, 1603–1607 (2010).

10

Cao, G., Chen, X., Li, C., Ji, A. & Cao, Z. Phys. Rev. Lett. 100, 036102 (2008).
About this article
Cite this article
Yin, J., Boyce, M. Unique wrinkles as identity tags. Nature 520, 164–165 (2015). https://doi.org/10.1038/nature14380
Further reading
Tianjiao Ma
Tiantian Li
Xuesong Jiang

Nature Communications (2020)

Kristof Lodewijks
Vladimir Miljkovic
Alexandre Dmitriev

Scientific Reports (2016)