Abstract
The ability to differentiate stimuli predicting positive or negative outcomes is critical for survival, and perturbations of emotional processing underlie many psychiatric disease states. Synaptic plasticity in the basolateral amygdala complex (BLA) mediates the acquisition of associative memories, both positive1,2 and negative3,4,5,6,7. Different populations of BLA neurons may encode fearful or rewarding associations8,9,10, but the identifying features of these populations and the synaptic mechanisms of differentiating positive and negative emotional valence have remained unknown. Here we show that BLA neurons projecting to the nucleus accumbens (NAc projectors) or the centromedial amygdala (CeM projectors) undergo opposing synaptic changes following fear or reward conditioning. We find that photostimulation of NAc projectors supports positive reinforcement while photostimulation of CeM projectors mediates negative reinforcement. Photoinhibition of CeM projectors impairs fear conditioning and enhances reward conditioning. We characterize these functionally distinct neuronal populations by comparing their electrophysiological, morphological and genetic features. Overall, we provide a mechanistic explanation for the representation of positive and negative associations within the amygdala.
Relevant articles
Open Access articles citing this article.
Jiyoung Song

,

Aaron J. Fisher

&

Steven H. Woodward

BMC Psychiatry Open Access 22 November 2023

Yage Jiang

,

Donglei Wei

&

Yubo Xie

BMC Anesthesiology Open Access 03 May 2023

Léa J. Becker

,

Clémentine Fillinger

…

Ipek Yalcin

Nature Communications Open Access 17 April 2023
Access options
Subscribe to this journal
Receive 51 print issues and online access
$199.00 per year
only $3.90 per issue
Rent or buy this article
Prices vary by article type
from$1.95
to$39.95
Prices may be subject to local taxes which are calculated during checkout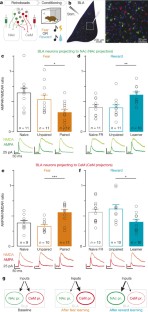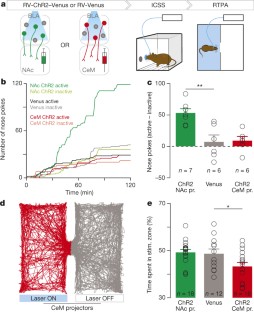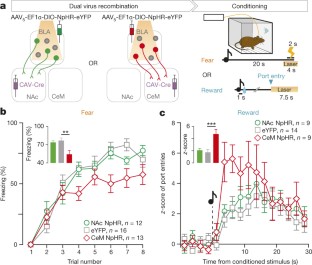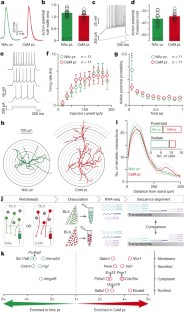 References
Tye, K. M., Stuber, G. D., De Ridder, B., Bonci, A. & Janak, P. H. Rapid strengthening of thalamo-amygdala synapses mediates cue–reward learning. Nature 453, 1253–1257 (2008).

Tye, K. M. et al. Methylphenidate facilitates learning-induced amygdala plasticity. Nature Neurosci. 13, 475–481 (2010).

McKernan, M. G. & Shinnick-Gallagher, P. Fear conditioning induces a lasting potentiation of synaptic currents in vitro. Nature 390, 607–611 (1997).

Rogan, M. T., Stäubli, U. V. & LeDoux, J. E. Fear conditioning induces associative long-term potentiation in the amygdala. Nature 390, 604–607 (1997).

Rumpel, S., LeDoux, J., Zador, A. & Malinow, R. Postsynaptic Receptor Trafficking Underlying a Form of Associative Learning. Science 308, 83–88 (2005).

Maren, S. Synaptic mechanisms of associative memory in the amygdala. Neuron 47, 783–786 (2005).

Han, J.-H. et al. Selective erasure of a fear memory. Science 323, 1492–1496 (2009).

Paton, J. J., Belova, M. A., Morrison, S. E. & Salzman, C. D. The primate amygdala represents the positive and negative value of visual stimuli during learning. Nature 439, 865–870 (2006).

Shabel, S. J. & Janak, P. H. Substantial similarity in amygdala neuronal activity during conditioned appetitive and aversive emotional arousal. Proc. Natl Acad. Sci. USA 106, 15031–15036 (2009).

Redondo, R. L. et al. Bidirectional switch of the valence associated with a hippocampal contextual memory engram. Nature 513, 426–430 (2014).

Sah, P., Faber, E. S. L., Lopez De Armentia, M. & Power, J. The amygdaloid complex: anatomy and physiology. Physiol. Rev. 83, 803–834 (2003).

Romanski, L. M., Clugnet, M.-C., Bordi, F. & LeDoux, J. E. Somatosensory and auditory convergence in the lateral nucleus of the amygdala. Behav. Neurosci. 107, 444–450 (1993).

Fontanini, A., Grossman, S. E., Figueroa, J. A. & Katz, D. B. Distinct subtypes of basolateral amygdala taste neurons reflect palatability and reward. J. Neurosci. 29, 2486–2495 (2009).

Pitkänen, A. in The Amygdala: A Functional Analysis 2nd edn (ed. Aggleton, J. P.) Ch. 2 (Oxford Univ. Press, 2000).

Davis, M. The role of the amygdala in fear and anxiety. Annu. Rev. Neurosci. 15, 353–375 (1992).

Cardinal, R. N., Parkinson, J. A., Hall, J. & Everitt, B. J. Emotion and motivation: the role of the amygdala, ventral striatum, and prefrontal cortex. Neurosci. Biobehav. Rev. 26, 321–352 (2002).

Uwano, T., Nishijo, H., Ono, T. & Tamura, R. Neuronal responsiveness to various sensory stimuli, and associative learning in the rat amygdala. Neuroscience 68, 339–361 (1995).

Clem, R. L. & Huganir, R. L. Calcium-permeable AMPA receptor dynamics mediate fear memory erasure. Science 330, 1108–1112 (2010).

Miserendino, M. J. D., Sananes, C. B., Melia, K. R. & Davis, M. Blocking of acquisition but not expression of conditioned fear-potentiated startle by NMDA antagonists in the amygdala. Nature 345, 716–718 (1990).

Fanselow, M. S. & LeDoux, J. E. and others. Why we think plasticity underlying Pavlovian fear conditioning occurs in the basolateral amygdala. Neuron 23, 229–232 (1999).

Stuber, G. D. et al. Excitatory transmission from the amygdala to nucleus accumbens facilitates reward seeking. Nature 475, 377–380 (2011).

Ambroggi, F., Ishikawa, A., Fields, H. L. & Nicola, S. M. Basolateral amygdala neurons facilitate reward-seeking behavior by exciting nucleus accumbens neurons. Neuron 59, 648–661 (2008).

Jimenez, S. A. & Maren, S. Nuclear disconnection within the amygdala reveals a direct pathway to fear. Learn. Mem. 16, 766–768 (2009).

Haubensak, W. et al. Genetic dissection of an amygdala microcircuit that gates conditioned fear. Nature 468, 270–276 (2010).

Ciocchi, S. et al. Encoding of conditioned fear in central amygdala inhibitory circuits. Nature 468, 277–282 (2010).

Wickersham, I. R. et al. Monosynaptic restriction of transsynaptic tracing from single, genetically targeted neurons. Neuron 53, 639–647 (2007).

Paré, D., Smith, Y. & Paré, J.-F. Intra-amygdaloid projections of the basolateral and basomedial nuclei in the cat: Phaseolus vulgaris-leucoagglutinin anterograde tracing at the light and electron microscopic level. Neuroscience 69, 567–583 (1995).

Tye, K. M. et al. Amygdala circuitry mediating reversible and bidirectional control of anxiety. Nature 471, 358–362 (2011).

Washburn, M. S. & Moises, H. C. Electrophysiological and morphological properties of rat basolateral amygdaloid neurons in vitro. J. Neurosci. 12, 4066–4079 (1992).

Janak, P. H. & Tye, K. M. From circuits to behaviour in the amygdala. Nature 517, 284–292 (2015).

Kiritani, T., Wickersham, I. R., Seung, H. S. & Shepherd, G. M. G. Hierarchical connectivity and connection-specific dynamics in the corticospinal–corticostriatal microcircuit in mouse motor cortex. J. Neurosci. 32, 4992–5001 (2012).

Wickersham, I. R., Sullivan, H. A. & Seung, H. S. Production of glycoprotein-deleted rabies viruses for monosynaptic tracing and high-level gene expression in neurons. Nature Protocols 5, 595–606 (2010).

Soudais, C., Boutin, S. & Kremer, E. J. Characterization of cis-Acting Sequences Involved in Canine Adenovirus Packaging. Mol. Ther. 3, 631–640 (2001).

Hnasko, T. S. et al. Cre recombinase-mediated restoration of nigrostriatal dopamine in dopamine-deficient mice reverses hypophagia and bradykinesia. Proc. Natl Acad. Sci. USA 103, 8858–8863 (2006).

Novák, P. & Zahradník, I. Q-method for high-resolution, whole-cell patch-clamp impedance measurements using square wave stimulation. Ann. Biomed. Eng. 34, 1201–1212 (2006).

Sholl, D. A. Dendritic organization in the neurons of the visual and motor cortices of the cat. J. Anat. 87, 387–406 (1953).

Hempel, C. M., Sugino, K. & Nelson, S. B. A manual method for the purification of fluorescently labeled neurons from the mammalian brain. Nature Protocols 2, 2924–2929 (2007).
Acknowledgements
We thank C. Wildes, G. Glober, R. Luck and G. F. Conyers for technical assistance. We thank the entire Tye laboratory, B. Okaty, U. Eser, J. di Iulio and A. Pfenning for helpful discussion. We thank E. J. Kremer for providing the CAV2-Cre virus, R. Neve for the HSV virus carrying Cre recombinase and mCherry, and the UNC vector core for the AAV viruses carrying double floxed constructs. K.M.T. is a New York Stem Cell Foundation–Robertson Investigator and holds a Whitehead Career Development Chair. This work was supported by funds from NIMH (R01-MH102441-01), NIDDK (DP2-DK-102256-01), the JPB Foundation (PIIF and PNDRF), NARSAD, Klingenstein, Whitehall and Sloan Foundations (K.M.T.). Additionally, S.Y. and J.G. were supported by NIMH (R01-MH101528-01), P.N. was supported by Singleton, Leventhal and Whitaker fellowships, and A.B. was supported by a fellowship from the Swiss National Science Foundation. R.W. was supported by post-doctoral fellowships from the Simons Center for the Social Brain and the Netherlands Organization for Scientific Research (NWO) RUBICON fellowship program. I.R.W. was supported by seed grants from the McGovern Institute for Brain Research, the Picower Institute for Learning and Memory, the MIT Department of Brain and Cognitive Sciences, and the Simons Center for the Social Brain, as well as by BRAIN Initiative awards from NIMH, NEI, and NINDS (U01-MH106018 and U01-NS090473) and NSF (IOS-1451202).
Ethics declarations
Competing interests
The authors declare no competing financial interests.
Extended data figures and tables
About this article
Cite this article
Namburi, P., Beyeler, A., Yorozu, S. et al. A circuit mechanism for differentiating positive and negative associations. Nature 520, 675–678 (2015). https://doi.org/10.1038/nature14366
Received:

Accepted:

Issue Date:

DOI: https://doi.org/10.1038/nature14366
Comments
By submitting a comment you agree to abide by our Terms and Community Guidelines. If you find something abusive or that does not comply with our terms or guidelines please flag it as inappropriate.