Abstract
Cancer cells adapt their metabolic processes to support rapid proliferation, but less is known about how cancer cells alter metabolism to promote cell survival in a poorly vascularized tumour microenvironment1,2,3. Here we identify a key role for serine and glycine metabolism in the survival of brain cancer cells within the ischaemic zones of gliomas. In human glioblastoma multiforme, mitochondrial serine hydroxymethyltransferase (SHMT2) and glycine decarboxylase (GLDC) are highly expressed in the pseudopalisading cells that surround necrotic foci. We find that SHMT2 activity limits that of pyruvate kinase (PKM2) and reduces oxygen consumption, eliciting a metabolic state that confers a profound survival advantage to cells in poorly vascularized tumour regions. GLDC inhibition impairs cells with high SHMT2 levels as the excess glycine not metabolized by GLDC can be converted to the toxic molecules aminoacetone and methylglyoxal. Thus, SHMT2 is required for cancer cells to adapt to the tumour environment, but also renders these cells sensitive to glycine cleavage system inhibition.
Relevant articles
Open Access articles citing this article.
Joanna L. Fiddler

,

Jamie E. Blum

…

Martha S. Field

Genes & Nutrition Open Access 24 March 2023

Liliane Mpabanzi

,

Jessica Wainwright

…

Zita Soons

npj Systems Biology and Applications Open Access 20 December 2022

Akira Nakamizo

,

Yuichiro Miyamatsu

…

Koji Yoshimoto

Scientific Reports Open Access 29 September 2022
Access options
Subscribe to this journal
Receive 51 print issues and online access
$199.00 per year
only $3.90 per issue
Rent or buy this article
Prices vary by article type
from$1.95
to$39.95
Prices may be subject to local taxes which are calculated during checkout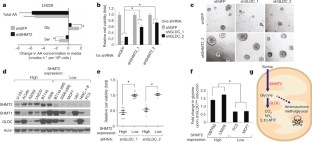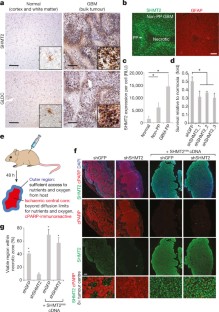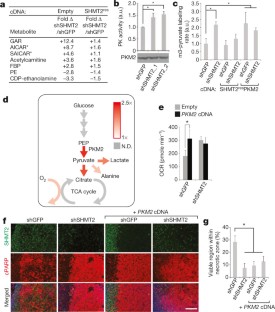 References
Cantor, J. R. & Sabatini, D. M. Cancer cell metabolism: one hallmark, many faces. Cancer Discov 2, 881–898 (2012)

Tennant, D. A., Duran, R. V. & Gottlieb, E. Targeting metabolic transformation for cancer therapy. Nature Rev. Cancer 10, 267–277 (2010)

Vander Heiden, M. G., Cantley, L. C. & Thompson, C. B. Understanding the Warburg effect: the metabolic requirements of cell proliferation. Science 324, 1029–1033 (2009)

Mattson, M. P. & Shea, T. B. Folate and homocysteine metabolism in neural plasticity and neurodegenerative disorders. Trends Neurosci. 26, 137–146 (2003)

Saudubray, J. M., Van den Berghe, G. & Walter, J. Inborn metabolic diseases: diagnosis and treatment 5th edn (Springer, 2012)

Reya, T., Morrison, S. J., Clarke, M. F. & Weissman, I. L. Stem cells, cancer, and cancer stem cells. Nature 414, 105–111 (2001)

Zhang, W. C. et al. Glycine decarboxylase activity drives non-small cell lung cancer tumor-initiating cells and tumorigenesis. Cell 148, 259–272 (2012)

Tibbetts, A. S. & Appling, D. R. Compartmentalization of Mammalian folate-mediated one-carbon metabolism. Annu. Rev. Nutr. 30, 57–81 (2010)

Chen, J., McKay, R. M. & Parada, L. F. Malignant glioma: lessons from genomics, mouse models, and stem cells. Cell 149, 36–47 (2012)

Lee, J. et al. Tumor stem cells derived from glioblastomas cultured in bFGF and EGF more closely mirror the phenotype and genotype of primary tumors than do serum-cultured cell lines. Cancer Cell 9, 391–403 (2006)

Shikano, N. et al. Stimulation of 125I-3-iodo-α-methyl-l-tyrosine uptake in Chinese hamster ovary (CHO-K1) cells by tyrosine esters. Nucl. Med. Biol. 37, 189–196 (2010)

Dale, R. A. Catabolism of threonine in mammals by coupling of l-threonine 3-dehydrogenase with 2-amino-3-oxobutyrate-CoA ligase. Biochim. Biophys. Acta 544, 496–503 (1978)

Tressel, T., Thompson, R., Zieske, L. R., Menendez, M. I. & Davis, L. Interaction between l-threonine dehydrogenase and aminoacetone synthetase and mechanism of aminoacetone production. J. Biol. Chem. 261, 16428–16437 (1986)

Sartori, A. et al. Aminoacetone, a putative endogenous source of methylglyoxal, causes oxidative stress and death to insulin-producing RINm5f cells. Chem. Res. Toxicol. 21, 1841–1850 (2008)

Kalapos, M. P. Methylglyoxal in living organisms: chemistry, biochemistry, toxicology and biological implications. Toxicol. Lett. 110, 145–175 (1999)

Labuschagne, C. F., van den Broek, N. J., Mackay, G. M., Vousden, K. H. & Maddocks, O. D. Serine, but not glycine, supports one-carbon metabolism and proliferation of cancer cells. Cell Rep. 7, 1248–1258 (2014)

Jain, M. et al. Metabolite profiling identifies a key role for glycine in rapid cancer cell proliferation. Science 336, 1040–1044 (2012)

Narkewicz, M. R., Sauls, S. D., Tjoa, S. S., Teng, C. & Fennessey, P. V. Evidence for intracellular partitioning of serine and glycine metabolism in Chinese hamster ovary cells. Biochem. J. 313, 991–996 (1996)

Rong, Y., Durden, D. L., Van Meir, E. G. & Brat, D. J. 'Pseudopalisading' necrosis in glioblastoma: a familiar morphologic feature that links vascular pathology, hypoxia, and angiogenesis. J. Neuropathol. Exp. Neurol. 65, 529–539 (2006)

Nelson, D. A. et al. Hypoxia and defective apoptosis drive genomic instability and tumorigenesis. Genes Dev. 18, 2095–2107 (2004)

Chaneton, B. et al. Serine is a natural ligand and allosteric activator of pyruvate kinase M2. Nature 491, 458–462 (2012)

Gui, D. Y., Lewis, C. A. & Vander Heiden, M. G. Allosteric regulation of PKM2 allows cellular adaptation to different physiological states. Sci. Signal. 6, pe7 (2013)

Keller, K. E., Tan, I. S. & Lee, Y. S. SAICAR stimulates pyruvate kinase isoform M2 and promotes cancer cell survival in glucose-limited conditions. Science 338, 1069–1072 (2012)

Anastasiou, D. et al. Inhibition of pyruvate kinase M2 by reactive oxygen species contributes to cellular antioxidant responses. Science 334, 1278–1283 (2011)

Christofk, H. R. et al. The M2 splice isoform of pyruvate kinase is important for cancer metabolism and tumour growth. Nature 452, 230–233 (2008)

Anastasiou, D. et al. Pyruvate kinase M2 activators promote tetramer formation and suppress tumorigenesis. Nature Chem. Biol. 8, 839–847 (2012)

Lunt, S. Y. & Vander Heiden, M. G. Aerobic glycolysis: meeting the metabolic requirements of cell proliferation. Annu. Rev. Cell Dev. Biol. 27, 441–464 (2011)

Papandreou, I., Cairns, R. A., Fontana, L., Lim, A. L. & Denko, N. C. HIF-1 mediates adaptation to hypoxia by actively downregulating mitochondrial oxygen consumption. Cell Metab. 3, 187–197 (2006)

Brown, J. M. & Wilson, W. R. Exploiting tumour hypoxia in cancer treatment. Nature Rev. Cancer 4, 437–447 (2004)

Mehta, S. et al. The central nervous system-restricted transcription factor Olig2 opposes p53 responses to genotoxic damage in neural progenitors and malignant glioma. Cancer Cell 19, 359–371 (2011)

Chudnovsky, Y. et al. ZFHX4 interacts with the NuRD core member CHD4 and regulates the glioblastoma tumor-initiating cell state. Cell Rep 6, 313–324 (2014)

Possemato, R. et al. Functional genomics reveal that the serine synthesis pathway is essential in breast cancer. Nature 476, 346–350 (2011)

Rhodes, D. R. et al. ONCOMINE: a cancer microarray database and integrated data-mining platform. Neoplasia 6, 1–6 (2004)

Luo, B. et al. Highly parallel identification of essential genes in cancer cells. Proc. Natl Acad. Sci. USA 105, 20380–20385 (2008)

Shalem, O. et al. Genome-scale CRISPR-Cas9 knockout screening in human cells. Science 343, 84–87 (2014)

Wang, T., Wei, J. J., Sabatini, D. M. & Lander, E. S. Genetic screens in human cells using the CRISPR-Cas9 system. Science 343, 80–84 (2014)

Ptolemy, A. S. et al. A 9-month-old boy with seizures and discrepant urine tryptophan concentrations. Clin. Chem. 57, 545–548 (2011)

Kami, K. et al. Metabolomic profiling of lung and prostate tumor tissues by capillary electrophoresis time-of-flight mass spectrometry. Metabolomics 9, 444–453 (2013)

Xiao, S. & Yu, P. H. A fluorometric high-performance liquid chromatography procedure for simultaneous determination of methylamine and aminoacetone in blood and tissues. Anal. Biochem. 384, 20–26 (2009)

Kazachkov, M. & Yu, P. H. A novel HPLC procedure for detection and quantification of aminoacetone, a precursor of methylglyoxal, in biological samples. J. Chromatogr. B Analyt. Technol. Biomed. Life Sci. 824, 116–122 (2005)

Rotem, R. et al. Jasmonates: novel anticancer agents acting directly and selectively on human cancer cell mitochondria. Cancer Res. 65, 1984–1993 (2005)

Jois, M., Hall, B., Fewer, K. & Brosnan, J. T. Regulation of hepatic glycine catabolism by glucagon. J. Biol. Chem. 264, 3347–3351 (1989)

Brat, D. J. & Van Meir, E. G. Vaso-occlusive and prothrombotic mechanisms associated with tumor hypoxia, necrosis, and accelerated growth in glioblastoma. Lab. Invest. 84, 397–405 (2004).
Acknowledgements
We thank members of the Sabatini laboratory for assistance and feedback, in particular Y. Shaul, T. Wang, S. Wang and O. Yilmaz. Authors would like to thank J. Taylor for GBM sample collection, and T. DiCesare for illustrations. This work was supported by a Basic Research Fellowship from the American Brain Tumor Association to D.K.; MIT School of Science Fellowship in Cancer Research and National Institutes of Health (NIH) T32GM007287 to B.P.F., fellowships from the Jane Coffin Childs Memorial Fund and Leukemia and Lymphoma Society to K.B.; a grant from the NIH (K99 CA168940) to R.P.; an American Cancer Society fellowship and an American Brain Tumor Association Discovery Grant to Y.C.; a fellowship from the US National Institute of Aging to W.W.C.; NIH (K08-NS087118) to S.H.R.; support from NIH (R01CA168653, 5P30CA14051), the Smith Family Foundation, the Burroughs Wellcome Fund, the Damon Runyon Cancer Research Foundation, and the Stern family to M.G.V.H.; DOD CDMRP Discovery Award, grants from the David H. Koch Institute for Integrative Cancer Research at MIT, The Alexander and Margaret Stewart Trust Fund, and NIH (CA103866, CA129105, and AI07389) to D.M.S.; D.M.S. is an investigator of the Howard Hughes Medical Institute.
Ethics declarations
Competing interests
The authors declare no competing financial interests.
Extended data figures and tables
Supplementary information
About this article
Cite this article
Kim, D., Fiske, B., Birsoy, K. et al. SHMT2 drives glioma cell survival in ischaemia but imposes a dependence on glycine clearance. Nature 520, 363–367 (2015). https://doi.org/10.1038/nature14363
Received:

Accepted:

Published:

Issue Date:

DOI: https://doi.org/10.1038/nature14363
Comments
By submitting a comment you agree to abide by our Terms and Community Guidelines. If you find something abusive or that does not comply with our terms or guidelines please flag it as inappropriate.