Abstract
The metabolism of endothelial cells during vessel sprouting remains poorly studied. Here we report that endothelial loss of CPT1A, a rate-limiting enzyme of fatty acid oxidation (FAO), causes vascular sprouting defects due to impaired proliferation, not migration, of human and murine endothelial cells. Reduction of FAO in endothelial cells did not cause energy depletion or disturb redox homeostasis, but impaired de novo nucleotide synthesis for DNA replication. Isotope labelling studies in control endothelial cells showed that fatty acid carbons substantially replenished the Krebs cycle, and were incorporated into aspartate (a nucleotide precursor), uridine monophosphate (a precursor of pyrimidine nucleoside triphosphates) and DNA. CPT1A silencing reduced these processes and depleted endothelial cell stores of aspartate and deoxyribonucleoside triphosphates. Acetate (metabolized to acetyl-CoA, thereby substituting for the depleted FAO-derived acetyl-CoA) or a nucleoside mix rescued the phenotype of CPT1A-silenced endothelial cells. Finally, CPT1 blockade inhibited pathological ocular angiogenesis in mice, suggesting a novel strategy for blocking angiogenesis.
Your institute does not have access to this article
Relevant articles
Open Access articles citing this article.
Jason L. Chang

,

Jiannan Gong

…

Hongwei Yao

Respiratory Research Open Access 13 August 2022

Ling Tao

,

Mahmoud A. Mohammad

…

Eveline Barbieri

Nature Communications Open Access 28 June 2022

Jiaqing Chen

,

Li Zou

…

Han-Ming Shen

Cell Discovery Open Access 31 May 2022
Access options
Subscribe to Journal
Get full journal access for 1 year
$199.00
only $3.90 per issue
All prices are NET prices.
VAT will be added later in the checkout.
Tax calculation will be finalised during checkout.
Buy article
Get time limited or full article access on ReadCube.
$32.00
All prices are NET prices.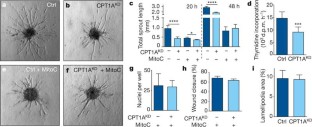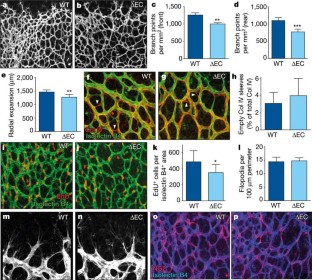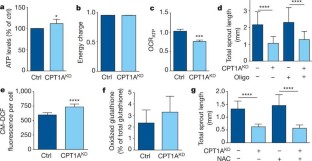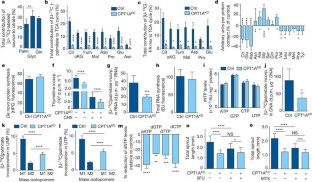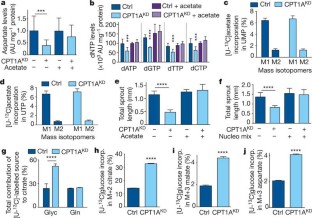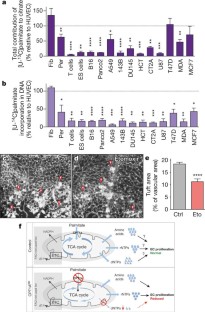 References
Potente, M., Gerhardt, H. & Carmeliet, P. Basic and therapeutic aspects of angiogenesis. Cell 146, 873–887 (2011)

Ausprunk, D. H. & Folkman, J. Migration and proliferation of endothelial cells in preformed and newly formed blood vessels during tumor angiogenesis. Microvasc. Res. 14, 53–65 (1977)

Welti, J., Loges, S., Dimmeler, S. & Carmeliet, P. Recent molecular discoveries in angiogenesis and antiangiogenic therapies in cancer. J. Clin. Invest. 123, 3190–3200 (2013)

De Bock, K. et al. Role of PFKFB3-driven glycolysis in vessel sprouting. Cell 154, 651–663 (2013)

De Bock, K., Georgiadou, M. & Carmeliet, P. Role of endothelial cell metabolism in vessel sprouting. Cell Metab. 18, 634–647 (2013)

Colavitti, R. et al. Reactive oxygen species as downstream mediators of angiogenic signaling by vascular endothelial growth factor receptor-2/KDR. J. Biol. Chem. 277, 3101–3108 (2002)

Fendt, S. M. et al. Reductive glutamine metabolism is a function of the α-ketoglutarate to citrate ratio in cells. Nat. Commun. 4, 2236 (2013)

Vander Heiden, M. G. Exploiting tumor metabolism: challenges for clinical translation. J. Clin. Invest. 123, 3648–3651 (2013)

Thompson, C. B. Wnt meets Warburg: another piece in the puzzle? EMBO J. 33, 1420–1422 (2014)

Carracedo, A., Cantley, L. C. & Pandolfi, P. P. Cancer metabolism: fatty acid oxidation in the limelight. Nature Rev. Cancer 13, 227–232 (2013)

Henry, T. D., Satran, D. & Jolicoeur, E. M. Treatment of refractory angina in patients not suitable for revascularization. Nature Rev. Cardiol. 11, 78–95 (2014)

Morris, G. W., Iams, T. A., Slepchenko, K. G. & McKee, E. E. Origin of pyrimidine deoxyribonucleotide pools in perfused rat heart: implications for 3′-azido-3′-deoxythymidine-dependent cardiotoxicity. Biochem. J. 422, 513–520 (2009)

Fairbanks, L. D., Bofill, M., Ruckemann, K. & Simmonds, H. A. Importance of ribonucleotide availability to proliferating T-lymphocytes from healthy humans. Disproportionate expansion of pyrimidine pools and contrasting effects of de novo synthesis inhibitors. J. Biol. Chem. 270, 29682–29689 (1995)

Lunt, S. Y. et al. Pyruvate kinase isoform expression alters nucleotide synthesis to impact cell proliferation. Mol. Cell 57, 95–107 (2015)

Cheung, E. C. et al. TIGAR is required for efficient intestinal regeneration and tumorigenesis. Dev. Cell 25, 463–477 (2013)

Jaffe, E. A., Nachman, R. L., Becker, C. G. & Minick, C. R. Culture of human endothelial cells derived from umbilical veins. Identification by morphologic and immunologic criteria. J. Clin. Invest. 52, 2745–2756 (1973)

Michieli, P. et al. Targeting the tumor and its microenvironment by a dual-function decoy Met receptor. Cancer Cell 6, 61–73 (2004)

Carlotti, F. et al. Lentiviral vectors efficiently transduce quiescent mature 3T3-L1 adipocytes. Mol. Ther. 9, 209–217 (2004)

Geudens, I. et al. Role of delta-like-4/Notch in the formation and wiring of the lymphatic network in zebrafish. Arterioscler. Thromb. Vasc. Biol. 30, 1695–1702 (2010)

Korff, T., Krauss, T. & Augustin, H. G. Three-dimensional spheroidal culture of cytotrophoblast cells mimics the phenotype and differentiation of cytotrophoblasts from normal and preeclamptic pregnancies. Exp. Cell Res. 297, 415–423 (2004)

Schoors, S. et al. Partial and transient reduction of glycolysis by PFKFB3 blockade reduces pathological angiogenesis. Cell Metab. 19, 37–48 (2014)

Carmeliet, P. et al. Synergism between vascular endothelial growth factor and placental growth factor contributes to angiogenesis and plasma extravasation in pathological conditions. Nature Med. 7, 575–583 (2001)

Dagher, Z., Ruderman, N., Tornheim, K. & Ido, Y. Acute regulation of fatty acid oxidation and amp-activated protein kinase in human umbilical vein endothelial cells. Circ. Res. 88, 1276–1282 (2001)

Wang, R. et al. The transcription factor Myc controls metabolic reprogramming upon T lymphocyte activation. Immunity 35, 871–882 (2011)

Aragonés, J. et al. Deficiency or inhibition of oxygen sensor Phd1 induces hypoxia tolerance by reprogramming basal metabolism. Nature Genet. 40, 170–180 (2008)

Fendt, S. M. et al. Metformin decreases glucose oxidation and increases the dependency of prostate cancer cells on reductive glutamine metabolism. Cancer Res. 73, 4429–4438 (2013)

Antoniewicz, M. R., Kelleher, J. K. & Stephanopoulos, G. Elementary metabolite units (EMU): a novel framework for modeling isotopic distributions. Metab. Eng. 9, 68–86 (2007)

Fernandez, C. A., Des Rosiers, C., Previs, S. F., David, F. & Brunengraber, H. Correction of 13C mass isotopomer distributions for natural stable isotope abundance. J. Mass Spectrom. 31, 255–262 (1996)

Nanchen, A., Fuhrer, T. & Sauer, U. Determination of metabolic flux ratios from 13C-experiments and gas chromatography-mass spectrometry data: protocol and principles. Methods Mol. Biol. 358, 177–197 (2007)

Wilson, P. M. et al. A novel fluorescence-based assay for the rapid detection and quantification of cellular deoxyribonucleoside triphosphates. Nucleic Acids Res. 39, e112 (2011)

Sakaue-Sawano, A. et al. Visualizing spatiotemporal dynamics of multicellular cell-cycle progression. Cell 132, 487–498 (2008)

Millard, P., Letisse, F., Sokol, S. & Portais, J. C. IsoCor: correcting MS data in isotope labeling experiments. Bioinformatics 28, 1294–1296 (2012)

Büscher, J. M., Czernik, D., Ewald, J. C., Sauer, U. & Zamboni, N. Cross-platform comparison of methods for quantitative metabolomics of primary metabolism. Anal. Chem. 81, 2135–2143 (2009)

Benedito, R. et al. The notch ligands Dll4 and Jagged1 have opposing effects on angiogenesis. Cell 137, 1124–1135 (2009)

Scott, A. & Fruttiger, M. Oxygen-induced retinopathy: a model for vascular pathology in the retina. Eye 24, 416–421 (2010)
Acknowledgements
We thank M. Vander Heiden and D. Tollervey for discussion, R. Adams for providing VE-cadherin(PAC)-CreERT2 mice, and S. Rodríguez-Arístegui for synthesis of etomoxir. S.S. is funded by the Institution of Research/Innovation (IWT); R.M., B.G., A.R.C. and J.G. by the Research Foundation Flanders (FWO); U.B. by a Marie Curie-IEF Fellowship; K.C.S.Q. by CAPES (Brazil) and G.B. by KU Leuven. The work of S.-M.F. is supported by Marie Curie CIG, FWO-OdysseusII, Concern Foundation, Bayer Healthcare Pharmaceuticals. The work of P.C. is supported by IUAP7/03, Methusalem funding (Flemish Government), FWO grants, Foundation Leducq Transatlantic Network (ARTEMIS), Foundation against Cancer, European Research Council (ERC) Advanced Research Grant (EU-ERC269073) and AXA Research grant. S.Y.L. was supported by the Department of Defense CDMRP Visionary Postdoctoral Award (W81XWH-12-1-0466). Views and opinions of, and endorsements by, the authors do not reflect those of the US Army or the Department of Defense. The authors thank the MSU LC-MS Core.
Ethics declarations
Competing interests
P.C. declares to be named as inventor on patent applications, claiming subject matter related to the results described in this paper.
Extended data figures and tables
About this article
Cite this article
Schoors, S., Bruning, U., Missiaen, R. et al. Fatty acid carbon is essential for dNTP synthesis in endothelial cells. Nature 520, 192–197 (2015). https://doi.org/10.1038/nature14362
Received:

Accepted:

Published:

Issue Date:

DOI: https://doi.org/10.1038/nature14362
Comments
By submitting a comment you agree to abide by our Terms and Community Guidelines. If you find something abusive or that does not comply with our terms or guidelines please flag it as inappropriate.