Abstract
The tumour microenvironment may contribute to tumorigenesis owing to mechanical forces such as fibrotic stiffness or mechanical pressure caused by the expansion of hyper-proliferative cells1,2. Here we explore the contribution of the mechanical pressure exerted by tumour growth onto non-tumorous adjacent epithelium. In the early stage of mouse colon tumour development in the Notch+Apc+/1638N mouse model, we observed mechanistic pressure stress in the non-tumorous epithelial cells caused by hyper-proliferative adjacent crypts overexpressing active Notch, which is associated with increased Ret and β-catenin signalling. We thus developed a method that allows the delivery of a defined mechanical pressure in vivo, by subcutaneously inserting a magnet close to the mouse colon. The implanted magnet generated a magnetic force on ultra-magnetic liposomes, stabilized in the mesenchymal cells of the connective tissue surrounding colonic crypts after intravenous injection. The magnetically induced pressure quantitatively mimicked the endogenous early tumour growth stress in the order of 1,200 Pa, without affecting tissue stiffness, as monitored by ultrasound strain imaging and shear wave elastography. The exertion of pressure mimicking that of tumour growth led to rapid Ret activation and downstream phosphorylation of β-catenin on Tyr654, imparing its interaction with the E-cadherin in adherens junctions, and which was followed by β-catenin nuclear translocation after 15 days. As a consequence, increased expression of β-catenin-target genes was observed at 1 month, together with crypt enlargement accompanying the formation of early tumorous aberrant crypt foci. Mechanical activation of the tumorigenic β-catenin pathway suggests unexplored modes of tumour propagation based on mechanical signalling pathways in healthy epithelial cells surrounding the tumour, which may contribute to tumour heterogeneity.
Relevant articles
Open Access articles citing this article.
Zachary A. Steelman

,

Zachary N. Coker

…

Joel N. Bixler

Scientific Reports Open Access 31 October 2022

Melissa Bradbury

,

Eva Borràs

…

Anna Santamaria

Scientific Reports Open Access 15 March 2022

Mingzhi Luo

,

Grace Cai

…

Allen P. Liu

BMC Molecular and Cell Biology Open Access 03 January 2022
Access options
Subscribe to this journal
Receive 51 print issues and online access
$199.00 per year
only $3.90 per issue
Rent or buy this article
Prices vary by article type
from$1.95
to$39.95
Prices may be subject to local taxes which are calculated during checkout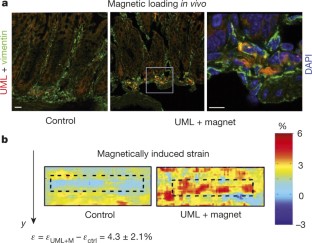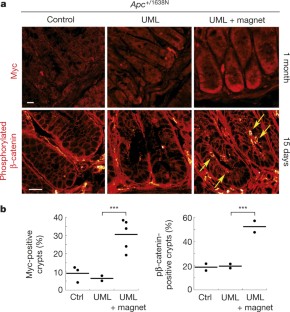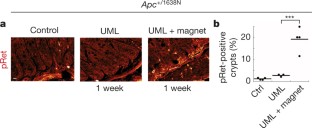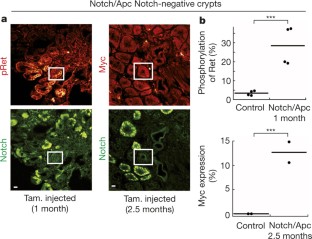 References
Ghajar, C. M. & Bissell, M. J. Extracellular matrix control of mammary gland morphogenesis and tumorigenesis: insights from imaging. Histochem. Cell Biol. 130, 1105–1118 (2008)

Butcher, D. T., Alliston, T. & Weaver, V. M. A tense situation: forcing tumour progression. Nat. Rev. Cancer 9, 108–122 (2009)

Sawada, Y. et al. Force sensing by mechanical extension of the Src family kinase substrate p130Cas. Cell 127, 1015–1026 (2006)

Wozniak, M. A. & Chen, C. S. Mechano-tranduction: a growing role for contractibility. Nature Rev. Mol. Cell Biol. 10, 34–43 (2009)

Grashoff, C. et al. Measuring mechanical tension across vinculin reveals regulation of focal adhesion dynamics. Nature 466, 263–266 (2010)

Mammoto, A. et al. A mechanosensitive transcriptional mechanism that controls angiogenesis. Nature 457, 1103–1108 (2009)

Fre, S. et al. Notch and Wnt signals cooperatively control cell proliferation and tumorigenesis in the intestine. Proc. Natl Acad. Sci. USA 106, 6309–6314 (2009)

Delarue, M. et al. Mechanical control of cell flow in multicellular spheroids. Phys. Rev. Lett. 110, 138103 (2013)

Stylianopoulos, T. et al. Causes, consequences, and remedies for growth-induced solid stress in murine and human tumors. Proc. Natl Acad. Sci. USA 109, 15101–15108 (2012)

Whitehead, J. et al. Mechanical factors activate β-catenin-dependent oncogene expression in APC mouse colon. HFSP J. 2, 286–294 (2008)

Jho, E. H. et al. Wnt/β-catenin/Tcf signaling induces the transcription of Axin2, a negative regulator of the signaling pathway. Mol. Cell. Biol. 22, 1172–1183 (2002)

Kahlert, U. D. et al. Activation of canonical WNT/β-catenin signaling enhances in vitro motility of glioblastoma cells by activation of ZEB1 and other activators of epithelial-to-mesenchymal transition. Cancer Lett. 325, 42–53 (2012)

van Veelen, W. et al. β-catenin tyrosine 654 phosphorylation increases Wnt signalling and intestinal tumorigenesis. Gut 60, 1204–1212 (2011)

Clevers, H. Wnt/β-catenin signaling in development and disease. Cell 127, 469–480 (2006)

Smits, R. et al. Loss of Apc and the entire chromosome 18 but absence of mutations at the Ras and Tp53 genes in intestinal tumors from Apc1638N, a mouse model for Apc-driven carcinogenesis. Carcinogenesis 18, 321–327 (1997)

Stambolic, V. & Woodgett, J. R. Mitogen inactivation of glycogen synthase kinase-3 β in intact cells via serine 9 phosphorylation. Biochem. J. 303, 701–704 (1994)

Cohen, P. & Frame, S. The renaissance of GSK3. Nature Rev. Mol. Cell Biol. 2, 769–776 (2001)

Fodde, R. et al. A targeted chain-termination mutation in the mouse Apc gene results in multiple intestinal tumors. Proc. Natl Acad. Sci. USA 91, 8969–8973 (1994)

Massart, R. Preparation of aqueous magnetic liquids in alkaline and acidic media. IEEE Trans. Magn. 17, 1247–1248 (1981)

Szoka, F., Jr & Papahadjopoulos, D. Procedure for preparation of liposomes with large internal aqueous space and high capture by reverse-phase evaporation. Proc. Natl Acad. Sci. USA 75, 4194–4198 (1978)

Béalle, G. et al. Ultra magnetic liposomes for MR imaging, targeting, and hyperthermia. Langmuir 28, 11834–11842 (2012)

Martina, M. S. et al. Generation of superparamagnetic liposomes revealed as highly efficient MRI contrast agents for in vivo imaging. J. Am. Chem. Soc. 127, 10676–10685 (2005)

Martina, M. S. et al. Magnetic targeting of rhodamine-labeled superparamagnetic liposomes to solid tumors: in vivo tracking by fibered confocal fluorescence microscopy. Mol. Imaging 6, 140–146 (2007)

Plassat, V., Martina, M. S., Barratt, G., Ménager, C. & Lesieur, S. Sterically stabilized superparamagnetic liposomes for MR imaging and cancer therapy: pharmacokinetics and biodistribution. Int. J. Pharm. 344, 118–127 (2007)

Martina, M.-S., Wilhelm, C. & Lesieur, S. The effect of magnetic targeting on the uptake of magnetic-fluid-loaded liposomes by human prostatic adenocarcinoma cells. Biomaterials 29, 4137–4145 (2008)

Plassat, V. et al. Anti-estrogen-loaded superparamagnetic liposomes for intracellular magnetic targeting and treatment of breast cancer tumors. Adv. Funct. Mater. 21, 83–92 (2011)

Bain, J., McLauchlan, H., Elliott, M. & Cohen, P. The specificities of protein kinase inhibitors: an update. Biochem. J. 371, 199–204 (2003)

Blake, R. A. et al. SU6656, a selective src family kinase inhibitor, used to probe growth factor signaling. Mol. Cell. Biol. 20, 9018–9027 (2000)

Kim, D. W. et al. An orally administered multitarget tyrosine kinase inhibitor, SU11248, is a novel potent inhibitor of thyroid oncogenic RET/papillary thyroid cancer kinases. J. Clin. Endocrinol. Metab. 91, 4070–4076 (2006)

Langmuir, P. B. & Yver, A. Vandetanib for the treatment of thyroid cancer. Clin. Pharmacol. Ther. 91, 71–80 (2012)

Mologni, L., Redaelli, S., Morandi, A., Plaza-Menacho, I. & Gambacorti-Passerini, C. Ponatinib is a potent inhibitor of wild-type and drug-resistant gatekeeper mutant RET kinase. Mol. Cell. Endocrinol. 377, 1–6 (2013)

De Falco, V. et al. Ponatinib (AP24534) is a novel potent inhibitor of oncogenic RET mutants associated with thyroid cancer. J. Clin. Endocrinol. Metab. 98, E811–E819 (2013)

Gennisson, J. L. & Cloutier, G. Sol-gel transition in agar-gelatin mixtures studied with transient elastography. IEEE Trans. Ultrason. Ferroelectr. Freq. Control 53, 716–723 (2006)

Chamming's, F., Latorre-Ossa, H., Lefrère-Belda, M. A., Fitoussi, V., Quibel, T., Assayag, F., Marangoni, E., Autret, G., Balvay, L., Pidial, L., Gennisson, J. L., Tanter, M., Cuenod, C. A., Clément, O. & Fournier, L. Shear wave elastography of tumor growth in a human breast cancer model with pathological correlation. Eur. Radiol. 23, 2079–2086 (2013)

Bercoff, J., Tanter, M. & Fink, M. Supersonic shear imaging: A new technique for soft tissue elasticity mapping. IEEE Trans. Ultrason. Ferroelectr. Freq. Control 51, 396–409 (2004)

Sarvazyan, A. P., Rudenko, O. V., Swanson, S. D., Fowlkes, J. B. & Emelianov, S. Y. Shear wave elasticity imaging: A new ultrasonic technology of medical diagnostics. Ultrasound Med. Biol. 24, 1419–1435 (1998)

Swanson, C. A. et al. A comparison of diets of blacks and whites in three areas of the United States. Nutr. Cancer 20, 153–165 (1993)

Goss, S. A., Johnston, R. L. & Dunn, F. Comprehensive compilation of empirical ultrasonic properties of mammalian tissues. J. Acoust. Soc. Am. 64, 423–457 (1978)

Greenleaf, J. F., Fatemi, M. & Insana, M. Selected methods for imaging elastic properties of biological tissues. Annu. Rev. Biomed. Eng. 5, 57–78 (2003)

Sarvazyan, A. et al. Biophysical bases of elasticity imaging. Acoustical Imaging 21, 223–240 (1995)

Gennisson, J. L. et al. Viscoelastic and anisotropic mechanical properties of in vivo muscle tissue assessed by supersonic shear imaging. Ultrasound Med. Biol. 36, 789–801 (2010)

Royer, D., Gennisson, J. L., Deffieux, T. & Tanter, M. On the elasticity of transverse isotropic soft tissues. J. Acoust. Soc. Am. 129, 2757–2760 (2011)

Gennisson, J. L., Grenier, N., Combe, C. & Tanter, M. Supersonic shear wave elastography of in vivo pig kidney: influence of blood pressure, urinary pressure and tissue anisotropy. Ultrasound Med. Biol. 38, 1559–1567 (2012)

Bercoff, J. et al. in 2008 IEEE Ultrasonics Symposium, Vols 1-4 and Appendix Ultrasonics Symposium. 321–324 (2008)

Madsen, E. L. et al. Anthropomorphic breast phantoms for testing elastography systems. Ultrasound Med. Biol. 32, 857–874 (2006)

Ophir, J., Cespedes, I., Ponnekanti, H., Yazdi, Y. & Li, X. Elastography — a quantitative method for imaging the elasticity of biological tissues. Ultrason. Imaging 13, 111–134 (1991)

Latorre-Ossa, H., Gennisson, J.-L., De Brosses, E. & Tanter, M. Quantitative imaging of nonlinear shear modulus by combining static elastography and shear wave elastography. IEEE Trans. Ultrason. Ferroelectr. Freq. Control 59, 833–839 (2012)

Righetti, R. et al. The feasibility of using poroelastographic techniques for distinguishing between normal and lymphedematous tissues in vivo. Phys. Med. Biol. 52, 6525–6541 (2007)

Schmittgen, T. D. & Livak, K. J. Analyzing real-time PCR data by the comparative CT method. Nature Protocols 3, 1101–1108 (2008)

Wang, K., Li, M. & Hakonarson, H. ANNOVAR: functional annotation of genetic variants from high-throughput sequencing data. Nucleic Acid Res. 38, e164 (2010)

Levy, M. et al. Long term in vivo biotransformation of iron oxide nanoparticles. Biomaterials 32, 3988 (2011)
Acknowledgements
This research was funded by the CNRS, INSERM, ARC (grant no.s 5030 and 29324), ANR (grant no.s 09PIRI0013-01 and 11 BSV5014-01), the Labex CelTisPhyBio (grant no. 11-LBX-0038), Fonds CSP, Fondation Pierre-Gille de Gennes, Fondation de France and the Inca (grant no. PLBIO13-172). High-throughput sequencing was supported by the grants ANR-10-EQPX-03 and ANR10-INBS-09-08 from the Agence Nationale de la Recherche (investissements d'avenir) and by the Canceropôle Ile-de-France. We thank the members of the Animal House Facility of Institut Curie, particularly Stéphanie Boissel, Virginie Dangles-Marie and Isabelle Grandjean, the IC Imaging facility members of PICT-IBiSA at BDD (UMR3215/U934) and Cell and Tissue Imaging Facility (UMR144 CNRS), Olivier Renaud's team and François Waharte, Thibaut Brunet for discussions on GSK3 phosphorylation, Pierre Gestraud for NGS analysis help, Jean-Michel Frapart and Sonia Lajnev for help in the RPE experiments, and Didier Meseure (IC hospital) for anathomo-pathological analyses of the mechanically induced tumours.
Ethics declarations
Competing interests
M.T. is co-founder and share-holder of Supersonic Imagine and J.L.G. is a consultant of Supersonic Imagine.
Extended data figures and tables
Supplementary information
This file contains Supplementary Text and Data 1-11, Supplementary Discussions 1-3 and additional references. (PDF 669 kb)
About this article
Cite this article
Fernández-Sánchez, M., Barbier, S., Whitehead, J. et al. Mechanical induction of the tumorigenic β-catenin pathway by tumour growth pressure. Nature 523, 92–95 (2015). https://doi.org/10.1038/nature14329
Received:

Accepted:

Published:

Issue Date:

DOI: https://doi.org/10.1038/nature14329
Comments
By submitting a comment you agree to abide by our Terms and Community Guidelines. If you find something abusive or that does not comply with our terms or guidelines please flag it as inappropriate.