Abstract
Endogenous retroviruses (ERVs) are remnants of ancient retroviral infections, and comprise nearly 8% of the human genome1. The most recently acquired human ERV is HERVK(HML-2), which repeatedly infected the primate lineage both before and after the divergence of the human and chimpanzee common ancestor2,3. Unlike most other human ERVs, HERVK retained multiple copies of intact open reading frames encoding retroviral proteins4. However, HERVK is transcriptionally silenced by the host, with the exception of in certain pathological contexts such as germ-cell tumours, melanoma or human immunodeficiency virus (HIV) infection5,6,7. Here we demonstrate that DNA hypomethylation at long terminal repeat elements representing the most recent genomic integrations, together with transactivation by OCT4 (also known as POU5F1), synergistically facilitate HERVK expression. Consequently, HERVK is transcribed during normal human embryogenesis, beginning with embryonic genome activation at the eight-cell stage, continuing through the emergence of epiblast cells in preimplantation blastocysts, and ceasing during human embryonic stem cell derivation from blastocyst outgrowths. Remarkably, we detected HERVK viral-like particles and Gag proteins in human blastocysts, indicating that early human development proceeds in the presence of retroviral products. We further show that overexpression of one such product, the HERVK accessory protein Rec, in a pluripotent cell line is sufficient to increase IFITM1 levels on the cell surface and inhibit viral infection, suggesting at least one mechanism through which HERVK can induce viral restriction pathways in early embryonic cells. Moreover, Rec directly binds a subset of cellular RNAs and modulates their ribosome occupancy, indicating that complex interactions between retroviral proteins and host factors can fine-tune pathways of early human development.
This is a preview of subscription content
Access options
Subscribe to Journal
Get full journal access for 1 year
$199.00
only $3.90 per issue
All prices are NET prices.
VAT will be added later in the checkout.
Tax calculation will be finalised during checkout.
Rent or Buy article
Get time limited or full article access on ReadCube.
from$8.99
All prices are NET prices.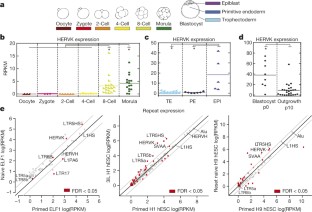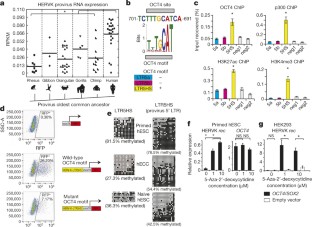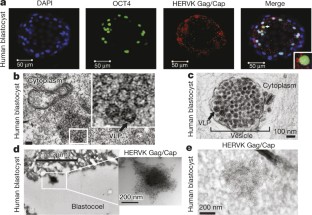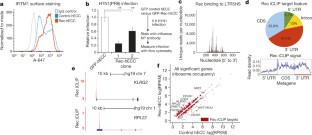 Accession codes
Primary accessions
Gene Expression Omnibus
Data deposits
Sequencing data sets generated for this study are deposited under in the Gene Expression Omnibus under accession number GSE63570. Reprints and permissions information is available at www.nature.com/reprints. The authors declare no competing financial interests. Readers are welcome to comment on the online version of the paper. Correspondence and requests formaterials should be addressed to J.W. (wysocka@stanford.edu).
References
1

Stoye, J. P. Studies of endogenous retroviruses reveal a continuing evolutionary saga. Nature Rev. Microbiol. 10, 395–406 (2012)

2

Belshaw, R. et al. Long-term reinfection of the human genome by endogenous retroviruses. Proc. Natl Acad. Sci. USA 101, 4894–4899 (2004)

3

Barbulescu, M. et al. Many human endogenous retrovirus K (HERVK) proviruses are unique to humans. Curr. Biol. 9, 861–868 (1999)

4

Subramanian, R. P., Wildschutte, J. H., Russo, C. & Coffin, J. M. Identification, characterization, and comparative genomic distribution of the HERVK (HML-2) group of human endogenous retroviruses. Retrovirology 8, 90 (2011)

5

Herbst, H., Sauter, M. & Mueller-Lantzsch, N. Expression of human endogenous retrovirus K elements in germ cell and trophoblastic tumors. Am. J. Pathol. 149, 1727–1735 (1996)

6

Muster, T. et al. An endogenous retrovirus derived from human melanoma cells. Cancer Res. 63, 8735–8741 (2003)

7

Contreras-Galindo, R. et al. Human endogenous retrovirus K (HML-2) elements in the plasma of people with lymphoma and breast cancer. J. Virol. 82, 9329–9336 (2008)

8

Pace, J. K. & Feschotte, C. The evolutionary history of human DNA transposons: evidence for intense activity in the primate lineage. Genome Res. 17, 422–432 (2007)

9

Kunarso, G. et al. Transposable elements have rewired the core regulatory network of human embryonic stem cells. Nature Genet. 42, 631–634 (2010)

10

Yan, L. et al. Single-cell RNA-seq profiling of human preimplantation embryos and embryonic stem cells. Nature Struct. Mol. Biol. 20, 1131–1139 (2013)

11

Smith, Z. D. et al. DNA methylation dynamics of the human preimplantation embryo. Nature 511, 611–615 (2014)

12

Chan, Y.-S. et al. Induction of a human pluripotent state with distinct regulatory circuitry that resembles preimplantation epiblast. Cell Stem Cell 13, 663–675 (2013)

13

Gafni, O. et al. Derivation of novel human ground state naive pluripotent stem cells. Nature 504, 282–286 (2013)

14

Ware, C. B. et al. Derivation of naive human embryonic stem cells. Proc. Natl Acad. Sci. USA 111, 4484–4489 (2014)

15

Takashima, Y. et al. Resetting transcription factor control circuitry toward ground-state pluripotency in human. Cell 158, 1254–1269 (2014)

16

Theunissen, T. W. et al. Systematic identification of culture conditions for induction and maintenance of naive human pluripotency. Cell Stem Cell 15, 471–487 (2014)

17

Hohn, O., Hanke, K. & Bannert, N. HERVK(HML-2), the best preserved family of HERVs: endogenization, expression, and implications in health and disease. Front. Oncol. 3, 246 (2013)

18

Shin, W. et al. Human-specific HERVK insertion causes genomic variations in the human genome. PLoS ONE 8, e60605 (2013)

19

Boller, K. et al. Evidence that HERVK is the endogenous retrovirus sequence that codes for the human teratocarcinoma-derived retrovirus HTDV. Virology 196, 349–353 (1993)

20

Bieda, K., Hoffmann, A. & Boller, K. Phenotypic heterogeneity of human endogenous retrovirus particles produced by teratocarcinoma cell lines. J. Gen. Virol. 82, 591–596 (2001)

21

Dewannieux, M. et al. Identification of an infectious progenitor for the multiple-copy HERVK human endogenous retroelements. Genome Res. 16, 1548–1556 (2006)

22

Lee, Y. N. & Bieniasz, P. D. Reconstitution of an infectious human endogenous retrovirus. PLoS Pathog. 3, e10 (2007)

23

Macfarlan, T. S. et al. Embryonic stem cell potency fluctuates with endogenous retrovirus activity. Nature 487, 57–63 (2012)

24

Chuong, E. B., Rumi, M. A. K., Soares, M. J. & Baker, J. C. Endogenous retroviruses function as species-specific enhancer elements in the placenta. Nature Genet. 45, 325–329 (2013)

25

Löwer, R., Tönjes, R. R., Korbmacher, C., Kurth, R. & Löwer, J. Identification of a Rev-related protein by analysis of spliced transcripts of the human endogenous retroviruses HTDV/HERVK. J. Virol. 69, 141–149 (1995)

26

Brass, A. L. et al. The IFITM proteins mediate cellular resistance to influenza A H1N1 virus, West Nile virus, and dengue virus. Cell 139, 1243–1254 (2009)

27

Hanke, K. et al. Staufen-1 interacts with the human endogenous retrovirus family HERVK(HML-2) Rec and Gag proteins and increases virion production. J. Virol. 87, 11019–11030 (2013)

28

Magin-Lachmann, C. et al. Rec (formerly Corf) function requires interaction with a complex, folded RNA structure within its responsive element rather than binding to a discrete specific binding site. J. Virol. 75, 10359–10371 (2001)

29

Gkountela, S. et al. The ontogeny of cKIT+ human primordial germ cells proves to be a resource for human germ line reprogramming, imprint erasure and in vitro differentiation. Nature Cell Biol. 15, 113–122 (2013)

30

Lange, U. C. et al. Normal germ line establishment in mice carrying a deletion of the Ifitm/Fragilis gene family cluster. Mol. Cell. Biol. 28, 4688–4696 (2008)

31

Chavez, S. L., Meneses, J. J., Nguyen, H. N., Kim, S. K. & Pera, R. A. R. Characterization of six new human embryonic stem cell lines (HSF7, -8, -9, -10, -12, and -13) derived under minimal-animal component conditions. Stem Cells Dev. 17, 535–546 (2008)

32

Boyer, L. A. et al. Core transcriptional regulatory circuitry in human embryonic stem cells. Cell 122, 947–956 (2005)

33

Peng, J. C. et al. Jarid2/Jumonji coordinates control of PRC2 enzymatic activity and target gene occupancy in pluripotent cells. Cell 139, 1290–1302 (2009)

34

Myers, J. W. & Ferrell, J. E., Jr in RNA Silencing (ed. Carmichael, G. G.) 93–196 (Humana Press, 2005)

35

Chavez, S. L. et al. Dynamic blastomere behaviour reflects human embryo ploidy by the four-cell stage. Nature Commun. 3, 1251 (2012)

36

Wong, C., Chen, A. A., Behr, B. & Shen, S. Time-lapse microscopy and image analysis in basic and clinical embryo development research. Reprod. Biomed. Online 26, 120–129 (2013)

37

Rusinova, I. et al. INTERFEROME v2. 0: an updated database of annotated interferon-regulated genes. Nucleic Acids Res. 41, D1040–D1046 (2013)

38

Huppertz, I. et al. iCLIP: protein-RNA interactions at nucleotide resolution. Methods 65, 274–287 (2014)

39

Flynn, R. A. et al. Dissecting noncoding and pathogen RNA–protein interactomes. RNA 21, 135–143 (2015)

40

Ingolia, N. T., Lareau, L. F. & Weissman, J. S. Ribosome profiling of mouse embryonic stem cells reveals the complexity and dynamics of mammalian proteomes. Cell 147, 789–802 (2011)

41

Xue, Z. et al. Genetic programs in human and mouse early embryos revealed by single-cell RNA sequencing. Nature 500, 593–597 (2013)
Acknowledgements
We thank P. Bieniasz for the HERVK-con plasmid, P. Lovelace for assistance with FACS, M. Teruel for recombinant Giardia DICER, J. Perrino for TEM assistance, T. Swigut for ideas and input on data analysis, B. Gu for assistance with bisulfite sequencing, A. Moore for assistance with influenza experiments, J. Skowronski and members of the Wysocka laboratory for invaluable comments on the manuscript. This work was supported by the National Institutes of Health (NIH) P01 GM099130 and R01 GM112720 (J.W.); Stanford Genome Sciences Training Program and National Science Foundation Graduate Research Fellowship Program (E.J.G.); NIH F30 (1F30CA189514-01) (R.A.F.); NIH DP2AI11219301 (C.A.B.); Smith Family Stanford Graduate Fellowship (N.L.B.); CIRM RB4-05763 and NIH P50-HG007735 (H.Y.C.); CIRM RB3-02209, March of Dimes 6-FY10-351 and U01 HL100397 (R.A.R.P.) grants and NIH equipment grants 1S10RR02933801 (Institute for Stem Cell Biology and Regenerative Medicine FACS core) and 1S10RR02678001 (electron microscopy core facility).
Ethics declarations
Competing interests
The authors declare no competing financial interests.
Extended data figures and tables
Supplementary information
About this article
Cite this article
Grow, E., Flynn, R., Chavez, S. et al. Intrinsic retroviral reactivation in human preimplantation embryos and pluripotent cells. Nature 522, 221–225 (2015). https://doi.org/10.1038/nature14308
Received:

Accepted:

Published:

Issue Date:
Comments
By submitting a comment you agree to abide by our Terms and Community Guidelines. If you find something abusive or that does not comply with our terms or guidelines please flag it as inappropriate.