Abstract
Impaired mitochondrial maintenance in disparate cell types is a shared hallmark of many human pathologies and ageing1,2,3,4,5,6,7,8. How mitochondrial biogenesis coordinates with the removal of damaged or superfluous mitochondria to maintain cellular homeostasis is not well understood. Here we show that mitophagy, a selective type of autophagy targeting mitochondria for degradation, interfaces with mitochondrial biogenesis to regulate mitochondrial content and longevity in Caenorhabditis elegans. We find that DCT-1 is a key mediator of mitophagy and longevity assurance under conditions of stress in C. elegans. Impairment of mitophagy compromises stress resistance and triggers mitochondrial retrograde signalling through the SKN-1 transcription factor that regulates both mitochondrial biogenesis genes and mitophagy by enhancing DCT-1 expression. Our findings reveal a homeostatic feedback loop that integrates metabolic signals to coordinate the biogenesis and turnover of mitochondria. Uncoupling of these two processes during ageing contributes to overproliferation of damaged mitochondria and decline of cellular function.
Relevant articles
Open Access articles citing this article.
Montserrat Vega

,

David Castillo

…

Margarita Cabrera

BMC Biology Open Access 12 July 2022

Jianhua Li

,

Mengyu Li

…

Chengye Yao

Cell & Bioscience Open Access 26 May 2022

Takuro Toda

,

Mikako Ito

…

Kinji Ohno

Communications Biology Open Access 12 May 2022
Access options
Subscribe to Journal
Get full journal access for 1 year
$199.00
only $3.90 per issue
All prices are NET prices.
VAT will be added later in the checkout.
Tax calculation will be finalised during checkout.
Buy article
Get time limited or full article access on ReadCube.
$32.00
All prices are NET prices.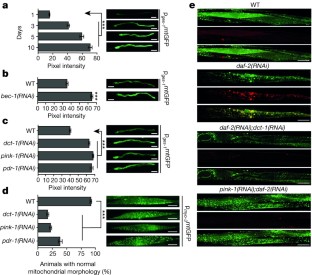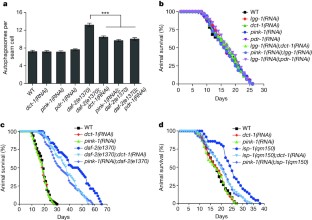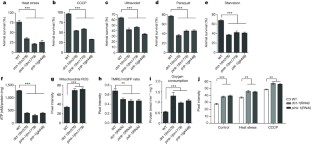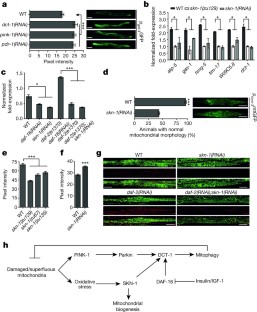 References
Artal-Sanz, M. & Tavernarakis, N. Prohibitin couples diapause signalling to mitochondrial metabolism during ageing in C. elegans. Nature 461, 793–797 (2009)

Campbell, G. R., Ohno, N., Turnbull, D. M. & Mahad, D. J. Mitochondrial changes within axons in multiple sclerosis: an update. Curr. Opin. Neurol. 25, 221–230 (2012)

Kaeberlein, M. Lessons on longevity from budding yeast. Nature 464, 513–519 (2010)

Malpass, K. Neurodegenerative disease: defective mitochondrial dynamics in the hot seat-a therapeutic target common to many neurological disorders? Nature Rev. Neurol. 9, 417 (2013)

Preston, C. C. et al. Aging-induced alterations in gene transcripts and functional activity of mitochondrial oxidative phosphorylation complexes in the heart. Mech. Ageing Dev. 129, 304–312 (2008)

Vafai, S. B. & Mootha, V. K. Mitochondrial disorders as windows into an ancient organelle. Nature 491, 374–383 (2012)

Wallace, D. C. Diseases of the mitochondrial-DNA. Annu. Rev. Biochem. 61, 1175–1212 (1992)

Wredenberg, A. et al. Increased mitochondrial mass in mitochondrial myopathy mice. Proc. Natl Acad. Sci. USA 99, 15066–15071 (2002)

Melendez, A. et al. Autophagy genes are essential for dauer development and life-span extension in C. elegans. Science 301, 1387–1391 (2003)

Oh, S. W. et al. Identification of direct DAF-16 targets controlling longevity, metabolism and diapause by chromatin immunoprecipitation. Nature Genet. 38, 251–257 (2006)

Pinkston-Gosse, J. & Kenyon, C. DAF-16/FOXO targets genes that regulate tumor growth in Caenorhabditis elegans. Nature Genet. 39, 1403–1409 (2007)

Sandoval, H. et al. Essential role for Nix in autophagic maturation of erythroid cells. Nature 454, 232–235 (2008)

Schweers, R. L. et al. NIX is required for programmed mitochondrial clearance during reticulocyte maturation. Proc. Natl Acad. Sci. USA 104, 19500–19505 (2007)

Zhang, J. et al. A short linear motif in BNIP3L (NIX) mediates mitochondrial clearance in reticulocytes. Autophagy 8, 1325–1332 (2012)

Zhu, Y. et al. Modulation of serines 17 and 24 in the LC3-interacting region of BNIP3 determines pro-survival mitophagy versus apoptosis. J. Biol. Chem. 288, 1099–1113 (2013)

Pickrell, A. M. & Youle, R. J. The roles of PINK1, Parkin, and mitochondrial fidelity in Parkinson's disease. Neuron 85, 257–273 (2015)

Xue, D. & Horvitz, H. R. Caenorhabditis elegans CED-9 protein is a bifunctional cell-death inhibitor. Nature 390, 305–308 (1997)

Yasuda, M., D'Sa-Eipper, C., Gong, X. L. & Chinnadurai, G. Regulation of apoptosis by a Caenorhabditis elegans BNIP3 homolog. Oncogene 17, 2525–2530 (1998)

Ma, Q. Role of nrf2 in oxidative stress and toxicity. Annu. Rev. Pharmacol. Toxicol. 53, 401–426 (2013)

Yun, J. & Finkel, T. Mitohormesis. Cell Metab. 19, 757–766 (2014)

Paek, J. et al. Mitochondrial SKN-1/Nrf mediates a conserved starvation response. Cell Metab. 16, 526–537 (2012)

Schmeisser, S. et al. Mitochondrial hormesis links low-dose arsenite exposure to lifespan extension. Aging Cell 12, 508–517 (2013)

Zarse, K. et al. Impaired insulin/IGF1 signaling extends life span by promoting mitochondrial l-proline catabolism to induce a transient ROS signal. Cell Metab. 15, 451–465 (2012)

Ghose, P., Park, E. C., Tabakin, A., Salazar-Vasquez, N. & Rongo, C. Anoxia-reoxygenation regulates mitochondrial dynamics through the hypoxia response pathway, SKN-1/Nrf, and stomatin-like protein STL-1/SLP-2. PLoS Genet. 9, e1004063 (2013)

Staab, T. A., Evgrafov, O., Knowles, J. A. & Sieburth, D. Regulation of synaptic nlg-1/neuroligin abundance by the skn-1/Nrf stress response pathway protects against oxidative stress. PLoS Genet. 10, e1004100 (2014)

Weimer, S. et al. D-glucosamine supplementation extends life span of nematodes and of ageing mice. Nature Commun. 5, 3563 (2014)

Schmeisser, K. et al. Role of sirtuins in lifespan regulation is linked to methylation of nicotinamide. Nature Chem. Biol. 9, 693–700 (2013)

Schulz, T. J. et al. Glucose restriction extends Caenorhabditis elegans life span by inducing mitochondrial respiration and increasing oxidative stress. Cell Metab. 6, 280–293 (2007)

Ventura-Clapier, R., Garnier, A. & Veksler, V. Transcriptional control of mitochondrial biogenesis: the central role of PGC-1α. Cardiovasc. Res. 79, 208–217 (2008)

Wright, D. C., Geiger, P. C., Han, D. H., Jones, T. E. & Holloszy, J. O. Calcium induces increases in peroxisome proliferator-activated receptor gamma coactivator-1α and mitochondrial biogenesis by a pathway leading to p38 mitogen-activated protein kinase activation. J. Biol. Chem. 282, 18793–18799 (2007)

Brenner, S. The genetics of Caenorhabditis elegans. Genetics 77, 71–94 (1974)

Back, P. et al. Exploring real-time in vivo redox biology of developing and aging Caenorhabditis elegans. Free Radic. Biol. Med. 52, 850–859 (2012)

Kourtis, N., Nikoletopoulou, V. & Tavernarakis, N. Small heat-shock proteins protect from heat-stroke-associated neurodegeneration. Nature 490, 213–218 (2012)

Samara, C., Syntichaki, P. & Tavernarakis, N. Autophagy is required for necrotic cell death in Caenorhabditis elegans. Cell Death Differ. 15, 105–112 (2008)

Mijaljica, D., Prescott, M. & Devenish, R. J. A fluorescence microscopy assay for monitoring mitophagy in the yeast Saccharomyces cerevisiae. J. Vis. Exp.. http://dx.doi.org/10.3791/2779 (2011)

Rosado, C. J., Mijaljica, D., Hatzinisiriou, I., Prescott, M. & Devenish, R. J. Rosella: a fluorescent pH-biosensor for reporting vacuolar turnover of cytosol and organelles in yeast. Autophagy 4, 205–213 (2008)

Braeckman, B. P., Houthoofd, K., De Vreese, A. & Vanfleteren, J. R. Assaying metabolic activity in ageing Caenorhabditis elegans. Mech. Ageing Dev. 123, 105–119 (2002)

Cristina, D., Cary, M., Lunceford, A., Clarke, C. & Kenyon, C. A regulated response to impaired respiration slows behavioral rates and increases lifespan in Caenorhabditis elegans. PLoS Genet. 5, e1000450 (2009)
Acknowledgements
We thank A. Pasparaki for technical support with experiments, N. Kourtis for the GCaMP2.0-expressing C. elegans strain, N. Charmpilas for the neuronal CTS-1::mCherry-expressing C. elegans strain and the unc-43 RNA interference (RNAi) plasmid, and K. Kounakis for the rpn-6 RNAi plasmid. We thank B. P. Braeckman for the Hyper-expressing C. elegans strain and D. Sieburth for the INVOM::RFP-expressing C. elegans strain. We thank R. Devenish for providing the pAS1NB-CS-Rosella plasmid. Mass spectrometry analysis was performed at the Institute of Molecular Biology and Biotechnology Proteomics Facility. We are grateful to M. Aivaliotis for the characterization and relative quantification of DCT-1 tryptic peptides by nanoflow liquid chromatography with tandem mass spectrometry. Some nematode strains used in this work were provided by the Caenorhabditis Genetics Center, which is funded by the National Center for Research Resources of the National Institutes of Health, and S. Mitani (National Bioresource Project) in Japan. We thank A. Fire for plasmid vectors. This work was funded by grants from the European Research Council, the European Commission 7th Framework Programme and the Greek General Secretariat for Research and Technology.
Ethics declarations
Competing interests
The authors declare no competing financial interests.
Additional information
Reprints and permissions information is available at www.nature.com/reprints. The authors declare no competing financial interests. Readers are welcome to comment on the online version of the paper. Correspondence and requests for materials should be addressed to N.T. (tavernarakis@imbb.forth.gr).
Extended data figures and tables
Supplementary information
About this article
Cite this article
Palikaras, K., Lionaki, E. & Tavernarakis, N. Coordination of mitophagy and mitochondrial biogenesis during ageing in C. elegans. Nature 521, 525–528 (2015). https://doi.org/10.1038/nature14300
Received:

Accepted:

Published:

Issue Date:

DOI: https://doi.org/10.1038/nature14300
Comments
By submitting a comment you agree to abide by our Terms and Community Guidelines. If you find something abusive or that does not comply with our terms or guidelines please flag it as inappropriate.