Abstract
Disruption of epithelial polarity is a key event in the acquisition of neoplastic growth. JNK signalling is known to play an important part in driving the malignant progression of many epithelial tumours, although the link between loss of polarity and JNK signalling remains elusive. In a Drosophila genome-wide genetic screen designed to identify molecules implicated in neoplastic growth1, we identified grindelwald (grnd), a gene encoding a transmembrane protein with homology to members of the tumour necrosis factor receptor (TNFR) superfamily. Here we show that Grnd mediates the pro-apoptotic functions of Eiger (Egr), the unique Drosophila TNF, and that overexpression of an active form of Grnd lacking the extracellular domain is sufficient to activate JNK signalling in vivo. Grnd also promotes the invasiveness of RasV12/scrib−/− tumours through Egr-dependent Matrix metalloprotease-1 (Mmp1) expression. Grnd localizes to the subapical membrane domain with the cell polarity determinant Crumbs (Crb) and couples Crb-induced loss of polarity with JNK activation and neoplastic growth through physical interaction with Veli (also known as Lin-7). Therefore, Grnd represents the first example of a TNFR that integrates signals from both Egr and apical polarity determinants to induce JNK-dependent cell death or tumour growth.
Your institute does not have access to this article
Relevant articles
Open Access articles citing this article.
Nathalie Arquier

,

Marianne Bjordal

…

Pierre Léopold

Nature Communications Open Access 24 September 2021

Valentina Palmerini

,

Silvia Monzani

…

Marina Mapelli

Nature Communications Open Access 06 April 2021

Yi Chieh Chang

,

Hsin Tu

…

Haiwei Pi

Scientific Reports Open Access 15 July 2020
Access options
Subscribe to Journal
Get full journal access for 1 year
$199.00
only $3.90 per issue
All prices are NET prices.
VAT will be added later in the checkout.
Tax calculation will be finalised during checkout.
Buy article
Get time limited or full article access on ReadCube.
$32.00
All prices are NET prices.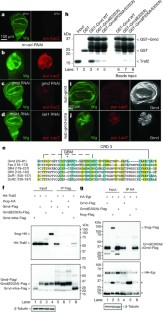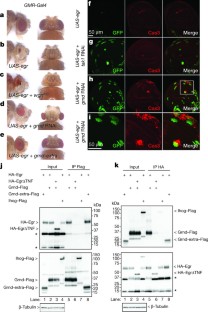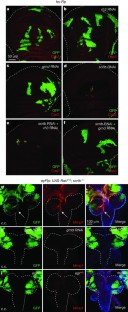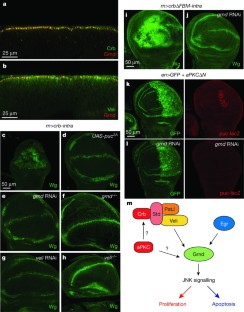 References
Colombani, J., Andersen, D. S. & Leopold, P. Secreted peptide Dilp8 coordinates Drosophila tissue growth with developmental timing. Science 336, 582–585 (2012)

Lu, H. & Bilder, D. Endocytic control of epithelial polarity and proliferation in Drosophila . Nature Cell Biol. 7, 1232–1239 (2005)

Chakrabandhu, K. et al. The extracellular glycosphingolipid-binding motif of Fas defines its internalization route, mode and outcome of signals upon activation by ligand. Cell Death Differ. 15, 1824–1837 (2008)

Ye, H. et al. Distinct molecular mechanism for initiating TRAF6 signalling. Nature 418, 443–447 (2002)

Vidal, M. The dark side of fly TNF: an ancient developmental proof reading mechanism turned into tumor promoter. Cell Cycle 9, 3851–3856 (2010)

Igaki, T. et al. Eiger, a TNF superfamily ligand that triggers the Drosophila JNK pathway. EMBO J. 21, 3009–3018 (2002)

Moreno, E., Yan, M. & Basler, K. Evolution of TNF signaling mechanisms: JNK-dependent apoptosis triggered by Eiger, the Drosophila homolog of the TNF superfamily. Curr. Biol. 12, 1263–1268 (2002)

Xue, L. et al. Tumor suppressor CYLD regulates JNK-induced cell death in Drosophila . Dev. Cell 13, 446–454 (2007)

Kanda, H., Igaki, T., Kanuka, H., Yagi, T. & Miura, M. Wengen, a member of the Drosophila tumor necrosis factor receptor superfamily, is required for Eiger signaling. J. Biol. Chem. 277, 28372–28375 (2002)

Narasimamurthy, R. et al. Structure–function analysis of Eiger, the Drosophila TNF homolog. Cell Res. 19, 392–394 (2009)

Brumby, A. M. & Richardson, H. E. scribble mutants cooperate with oncogenic Ras or Notch to cause neoplastic overgrowth in Drosophila . EMBO J. 22, 5769–5779 (2003)

Igaki, T., Pastor-Pareja, J. C., Aonuma, H., Miura, M. & Xu, T. Intrinsic tumor suppression and epithelial maintenance by endocytic activation of Eiger/TNF signaling in Drosophila . Dev. Cell 16, 458–465 (2009)

Cordero, J. B. et al. Oncogenic Ras diverts a host TNF tumor suppressor activity into tumor promoter. Dev. Cell 18, 999–1011 (2010)

Pagliarini, R. A. & Xu, T. A genetic screen in Drosophila for metastatic behavior. Science 302, 1227–1231 (2003)

Uhlirova, M. & Bohmann, D. JNK- and Fos-regulated Mmp1 expression cooperates with Ras to induce invasive tumors in Drosophila . EMBO J. 25, 5294–5304 (2006)

Sun, G. & Irvine, K. D. Regulation of Hippo signaling by Jun kinase signaling during compensatory cell proliferation and regeneration, and in neoplastic tumors. Dev. Biol. 350, 139–151 (2011)

Ling, C. et al. The apical transmembrane protein Crumbs functions as a tumor suppressor that regulates Hippo signaling by binding to Expanded. Proc. Natl Acad. Sci. USA 107, 10532–10537 (2010)

Robinson, B. S., Huang, J., Hong, Y. & Moberg, K. H. Crumbs regulates Salvador/Warts/Hippo signaling in Drosophila via the FERM-domain protein Expanded. Curr. Biol. 20, 582–590 (2010)

Bulgakova, N. A. & Knust, E. The Crumbs complex: from epithelial-cell polarity to retinal degeneration. J. Cell Sci. 122, 2587–2596 (2009)

Bachmann, A., Grawe, F., Johnson, K. & Knust, E. Drosophila Lin-7 is a component of the Crumbs complex in epithelia and photoreceptor cells and prevents light-induced retinal degeneration. Eur. J. Cell Biol. 87, 123–136 (2008)

Bachmann, A. et al. Cell type-specific recruitment of Drosophila Lin-7 to distinct MAGUK-based protein complexes defines novel roles for Sdt and Dlg-S97. J. Cell Sci. 117, 1899–1909 (2004)

Olsen, O. et al. Renal defects associated with improper polarization of the CRB and DLG polarity complexes in MALS-3 knockout mice. J. Cell Biol. 179, 151–164 (2007)

Giot, L. et al. A protein interaction map of Drosophila melanogaster . Science 302, 1727–1736 (2003)

Sotillos, S., Diaz-Meco, M. T., Caminero, E., Moscat, J. & Campuzano, S. DaPKC-dependent phosphorylation of Crumbs is required for epithelial cell polarity in Drosophila . J. Cell Biol. 166, 549–557 (2004)

Karp, C. M. et al. Role of the polarity determinant crumbs in suppressing mammalian epithelial tumor progression. Cancer Res. 68, 4105–4115 (2008)

Betschinger, J., Mechtler, K. & Knoblich, J. A. The Par complex directs asymmetric cell division by phosphorylating the cytoskeletal protein Lgl. Nature 422, 326–330 (2003)

Geuking, P., Narasimamurthy, R. & Basler, K. A genetic screen targeting the tumor necrosis factor/Eiger signaling pathway: identification of Drosophila TAB2 as a functionally conserved component. Genetics 171, 1683–1694 (2005)

Izaddoost, S., Nam, S. C., Bhat, M. A., Bellen, H. J. & Choi, K. W. Drosophila Crumbs is a positional cue in photoreceptor adherens junctions and rhabdomeres. Nature 416, 178–183 (2002)

Zhang, L. et al. The TEAD/TEF family of transcription factor Scalloped mediates Hippo signaling in organ size control. Dev. Cell 14, 377–387 (2008)

Martín-Blanco, E. et al. puckered encodes a phosphatase that mediates a feedback loop regulating JNK activity during dorsal closure in Drosophila . Genes Dev. 12, 557–570 (1998)

Rong, Y. S. et al. Targeted mutagenesis by homologous recombination in D. melanogaster . Genes Dev. 16, 1568–1581 (2002)

Ruel, L., Rodriguez, R., Gallet, A., Lavenant-Staccini, L. & Therond, P. P. Stability and association of Smoothened, Costal2 and Fused with Cubitus interruptus are regulated by Hedgehog. Nature Cell Biol. 5, 907–913 (2003)

Ciccarelli, F. D. et al. Toward automatic reconstruction of a highly resolved tree of life. Science 311, 1283–1287 (2006)
Acknowledgements
We thank G. Jarretou for technical assistance, the Vienna Drosophila RNAi Centers, the Drosophila Genetics Resource Center, the Bloomington Stock Center, N. Caridi and S. Pasqualato for technical assistance and P.L. laboratory members for comments on the manuscript. This work was supported by the CNRS, INSERM, Agence Nationale de la Recherche, Fondation pour la Recherche Médicale, Association pour la Recherche contre le Cancer (grant no. PJA20131200042 to J.C.), European Research Council (Advanced grant no. 268813 to P.L.), Marie Curie Life Long Training (grant no. 252373 to D.S.A.), the Labex Signalife program (grant ANR-11-LABX-0028-01 to P.L.), the Italian Association for Cancer Research (AIRC IG-12877) and the Italian Ministry of Health (GR-2008-1134103) to M.M.
Ethics declarations
Competing interests
The authors declare no competing financial interests.
Extended data figures and tables
About this article
Cite this article
Andersen, D., Colombani, J., Palmerini, V. et al. The Drosophila TNF receptor Grindelwald couples loss of cell polarity and neoplastic growth. Nature 522, 482–486 (2015). https://doi.org/10.1038/nature14298
Received:

Accepted:

Published:

Issue Date:

DOI: https://doi.org/10.1038/nature14298
Comments
By submitting a comment you agree to abide by our Terms and Community Guidelines. If you find something abusive or that does not comply with our terms or guidelines please flag it as inappropriate.