Abstract
Adult stem cells occur in niches that balance self-renewal with lineage selection and progression during tissue homeostasis. Following injury, culture or transplantation, stem cells outside their niche often display fate flexibility1,2,3,4. Here we show that super-enhancers5 underlie the identity, lineage commitment and plasticity of adult stem cells in vivo. Using hair follicle as a model, we map the global chromatin domains of hair follicle stem cells and their committed progenitors in their native microenvironments. We show that super-enhancers and their dense clusters ('epicentres') of transcription factor binding sites undergo remodelling upon lineage progression. New fate is acquired by decommissioning old and establishing new super-enhancers and/or epicentres, an auto-regulatory process that abates one master regulator subset while enhancing another. We further show that when outside their niche, either in vitro or in wound-repair, hair follicle stem cells dynamically remodel super-enhancers in response to changes in their microenvironment. Intriguingly, some key super-enhancers shift epicentres, enabling their genes to remain active and maintain a transitional state in an ever-changing transcriptional landscape. Finally, we identify SOX9 as a crucial chromatin rheostat of hair follicle stem cell super-enhancers, and provide functional evidence that super-enhancers are dynamic, dense transcription-factor-binding platforms which are acutely sensitive to pioneer master regulators whose levels define not only spatial and temporal features of lineage-status but also stemness, plasticity in transitional states and differentiation.
Your institute does not have access to this article
Relevant articles
Open Access articles citing this article.
Ines Sturmlechner

,

Chance C. Sine

…

Jan M. van Deursen

Nature Communications Open Access 28 June 2022

Mingsen Li

,

Huaxing Huang

…

Hong Ouyang

Nature Communications Open Access 11 March 2022

Jingru Wang

,

Jia He

…

Xiaodong Chen

Stem Cell Reviews and Reports Open Access 10 February 2022
Access options
Subscribe to Journal
Get full journal access for 1 year
$199.00
only $3.90 per issue
All prices are NET prices.
VAT will be added later in the checkout.
Tax calculation will be finalised during checkout.
Buy article
Get time limited or full article access on ReadCube.
$32.00
All prices are NET prices.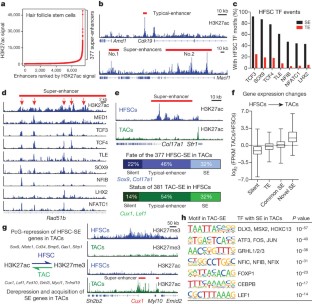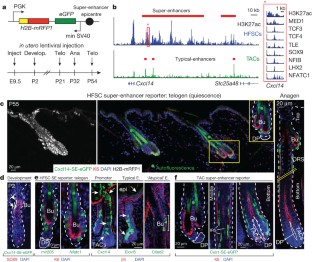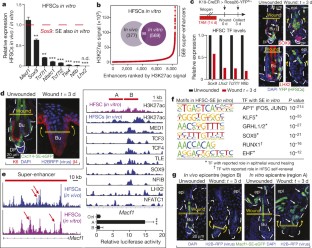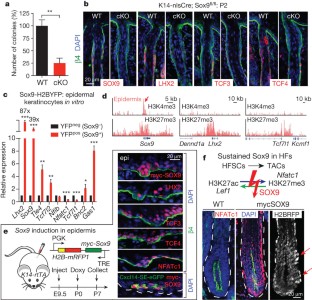 References
Spradling, A., Drummond-Barbosa, D. & Kai, T. Stem cells find their niche. Nature 414, 98–104 (2001)

Lopez-Garcia, C., Klein, A. M., Simons, B. D. & Winton, D. J. Intestinal stem cell replacement follows a pattern of neutral drift. Science 330, 822–825 (2010)

van Es, J. H. et al. Dll1+ secretory progenitor cells revert to stem cells upon crypt damage. Nature Cell Biol. 14, 1099–1104 (2012)

Blanpain, C. & Fuchs, E. Stem cell plasticity. Plasticity of epithelial stem cells in tissue regeneration. Science 344, 1242281 (2014)

Whyte, W. A. et al. Master transcription factors and mediator establish super-enhancers at key cell identity genes. Cell 153, 307–319 (2013)

Hsu, Y. C., Li, L. & Fuchs, E. Transit-amplifying cells orchestrate stem cell activity and tissue regeneration. Cell 157, 935–949 (2014)

Ezhkova, E. et al. EZH1 and EZH2 cogovern histone H3K27 trimethylation and are essential for hair follicle homeostasis and wound repair. Genes Dev. 25, 485–498 (2011)

Lien, W. H. et al. Genome-wide maps of histone modifications unwind in vivo chromatin states of the hair follicle lineage. Cell Stem Cell 9, 219–232 (2011)

Loven, J. et al. Selective inhibition of tumor oncogenes by disruption of super-enhancers. Cell 153, 320–334 (2013)

Hnisz, D. et al. Super-enhancers in the control of cell identity and disease. Cell 155, 934–947 (2013)

Gosselin, D. et al. Environment drives selection and function of enhancers controlling tissue-specific macrophage identities. Cell 159, 1327–1340 (2014)

Lavin, Y. et al. Tissue-resident macrophage enhancer landscapes are shaped by the local microenvironment. Cell 159, 1312–1326 (2014)

Liu, Z. et al. Enhancer activation requires trans-recruitment of a mega transcription factor complex. Cell 159, 358–373 (2014)

Dowen, J. M. et al. Control of cell identity genes occurs in insulated neighborhoods in mammalian chromosomes. Cell 159, 374–387 (2014)

Folgueras, A. R. et al. Architectural niche organization by LHX2 is linked to hair follicle stem cell function. Cell Stem Cell 13, 314–327 (2013)

Kadaja, M. et al. SOX9: a stem cell transcriptional regulator of secreted niche signaling factors. Genes Dev. 28, 328–341 (2014)

Keyes, B. E. et al. Nfatc1 orchestrates aging in hair follicle stem cells. Proc Natl Acad Sci USA 110, E4950–E4959 (2013)

Chang, C. Y. et al. NFIB is a governor of epithelial-melanocyte stem cell behaviour in a shared niche. Nature 495, 98–102 (2013)

Lien, W. H. et al. In vivo transcriptional governance of hair follicle stem cells by canonical Wnt regulators. Nature Cell Biol. 16, 179–190 (2014)

Siersbaek, R. et al. Transcription factor cooperativity in early adipogenic hotspots and super-enhancers. Cell Rep. 7, 1443–1455 (2014)

Luyten, A., Zang, C., Liu, X. S. & Shivdasani, R. A. Active enhancers are delineated de novo during hematopoiesis, with limited lineage fidelity among specified primary blood cells. Genes Dev. 28, 1827–1839 (2014)

Kim, T. H. et al. Broadly permissive intestinal chromatin underlies lateral inhibition and cell plasticity. Nature 506, 511–515 (2014)

Beronja, S., Livshits, G., Williams, S. & Fuchs, E. Rapid functional dissection of genetic networks via tissue-specific transduction and RNAi in mouse embryos. Nature Med. 16, 821–827 (2010)

Nowak, J. A., Polak, L., Pasolli, H. A. & Fuchs, E. Hair follicle stem cells are specified and function in early skin morphogenesis. Cell Stem Cell 3, 33–43 (2008)

Ellis, T. et al. The transcriptional repressor CDP (Cutl1) is essential for epithelial cell differentiation of the lung and the hair follicle. Genes Dev. 15, 2307–2319 (2001)

Blanpain, C., Lowry, W. E., Geoghegan, A., Polak, L. & Fuchs, E. Self-renewal, multipotency, and the existence of two cell populations within an epithelial stem cell niche. Cell 118, 635–648 (2004)

Chen, T. et al. An RNA interference screen uncovers a new molecule in stem cell self-renewal and long-term regeneration. Nature 485, 104–108 (2012)

Wu, X. et al. Skin stem cells orchestrate directional migration by regulating microtubule-ACF7 connections through GSK3β. Cell 144, 341–352 (2011)

Tumbar, T. et al. Defining the epithelial stem cell niche in skin. Science 303, 359–363 (2004)

Means, A. L., Xu, Y., Zhao, A., Ray, K. C. & Gu, G. A. CK19(CreERT) knockin mouse line allows for conditional DNA recombination in epithelial cells in multiple endodermal organs. Genesis 46, 318–323 (2008)

Vasioukhin, V., Degenstein, L., Wise, B. & Fuchs, E. The magical touch: genome targeting in epidermal stem cells induced by tamoxifen application to mouse skin. Proc. Natl Acad. Sci. USA 96, 8551–8556 (1999)

Nowak, J. A. & Fuchs, E. Isolation and culture of epithelial stem cells. Methods Mol. Biol. 482, 215–232 (2009)

Langmead, B., Trapnell, C., Pop, M. & Salzberg, S. L. Ultrafast and memory-efficient alignment of short DNA sequences to the human genome. Genome Biol. 10, R25 (2009)

Zhang, Y. et al. Model-based analysis of ChIP-seq (MACS). Genome Biol. 9, R137 (2008)

McLean, C. Y. et al. GREAT improves functional interpretation of cis-regulatory regions. Nature Biotechnol. 28, 495–501 (2010)

Ye, T. et al. seqMINER: an integrated ChIP-seq data interpretation platform. Nucleic Acids Res. 39, e35 (2011)

Williams, S. E., Beronja, S., Pasolli, H. A. & Fuchs, E. Asymmetric cell divisions promote Notch-dependent epidermal differentiation. Nature 470, 353–358 (2011)
Acknowledgements
We thank S. Mazel, L. Li, S. Semova, and S. Tadesse for FACS sorting (Rockefeller University FACS facility); and C. Lai for assistance in high-throughput sequencing (Rockefeller University Genomics Resource Center). We thank E.F. laboratory members A. Aldeguer, S. Hacker, M. Sribour and J. Levorse for assistance in mouse research; I. Matos for advice on image acquisition; J. Racelis, S. Chai, and E. Wong for technical assistance; and Y. Ge, S. Naik, A. Kulukian, and N. Oshimori for discussions. R.C.A. was supported by the Anderson Cancer Center Graduate Student Fellowship. E.F. is an HHMI Investigator. This work was supported by grants from the National Institutes of Health (R01-AR31737 to E.F. and R21MH099452 to D.Z.).
Ethics declarations
Competing interests
The authors declare no competing financial interests.
Extended data figures and tables
Supplementary information
This file comprises of 3 sheets as follows: sheet 1- 'HFSC SE in vivo' list of H3K27ac super-enhancers of hair follicle stem cells (HFSCs) in vivo: chromosomal coordinates and corresponding gene assignments. The table also contains the criteria for enhancer-gene assignments; sheet 2 - 'TAC SE in vivo' list of H3K27ac super-enhancers of transit-amplifying cells (TACs) in vivo: chromosomal coordinates and corresponding gene assignments. The table also contains the criteria for enhancer-gene assignments; and sheet 3 - 'HFSC SE in vitro' list of H3K27ac super-enhancers of hair follicle stem cells (HFSCs) in vitro: chromosomal coordinates and corresponding gene assignments. The table also contains the criteria for enhancer-gene assignments. (XLSX 127 kb)
About this article
Cite this article
Adam, R., Yang, H., Rockowitz, S. et al. Pioneer factors govern super-enhancer dynamics in stem cell plasticity and lineage choice. Nature 521, 366–370 (2015). https://doi.org/10.1038/nature14289
Received:

Accepted:

Published:

Issue Date:

DOI: https://doi.org/10.1038/nature14289
Comments
By submitting a comment you agree to abide by our Terms and Community Guidelines. If you find something abusive or that does not comply with our terms or guidelines please flag it as inappropriate.