Abstract
Atmospheric carbon dioxide records indicate that the land surface has acted as a strong global carbon sink over recent decades1,2, with a substantial fraction of this sink probably located in the tropics3, particularly in the Amazon4. Nevertheless, it is unclear how the terrestrial carbon sink will evolve as climate and atmospheric composition continue to change. Here we analyse the historical evolution of the biomass dynamics of the Amazon rainforest over three decades using a distributed network of 321 plots. While this analysis confirms that Amazon forests have acted as a long-term net biomass sink, we find a long-term decreasing trend of carbon accumulation. Rates of net increase in above-ground biomass declined by one-third during the past decade compared to the 1990s. This is a consequence of growth rate increases levelling off recently, while biomass mortality persistently increased throughout, leading to a shortening of carbon residence times. Potential drivers for the mortality increase include greater climate variability, and feedbacks of faster growth on mortality, resulting in shortened tree longevity5. The observed decline of the Amazon sink diverges markedly from the recent increase in terrestrial carbon uptake at the global scale1,2, and is contrary to expectations based on models6.
Relevant articles
Open Access articles citing this article.
Paul D. L. Ritchie

,

Isobel Parry

…

Peter M. Cox

Communications Earth & Environment Open Access 01 September 2022

Vinícius B. P. Chagas

,

Pedro L. B. Chaffe

&

Günter Blöschl

Nature Communications Open Access 01 September 2022

Giovanni Forzieri

,

Vasilis Dakos

…

Alessandro Cescatti

Nature Open Access 13 July 2022
Access options
Subscribe to Journal
Get full journal access for 1 year
$199.00
only $3.90 per issue
All prices are NET prices.
VAT will be added later in the checkout.
Tax calculation will be finalised during checkout.
Buy article
Get time limited or full article access on ReadCube.
$32.00
All prices are NET prices.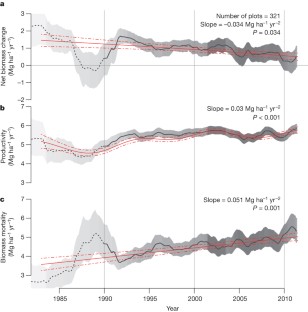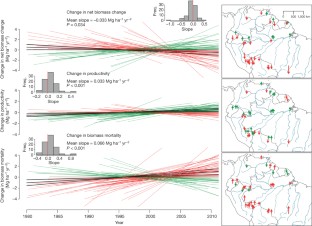 References
Ballantyne, A. P., Alden, C. B., Miller, J. B., Tans, P. P. & White, J. W. C. Increase in observed net carbon dioxide uptake by land and oceans during the past 50 years. Nature 488, 70–72 (2012)

Le Quéré, C. et al. The global carbon budget 1959–2011. Earth System Science Data 5, 165–185 (2013)

Pan, Y. et al. A large and persistent carbon sink in the world's forests. Science 333, 988–993 (2011)

Phillips, O. L. et al. Drought sensitivity of the Amazon rainforest. Science 323, 1344–1347 (2009)

Bugmann, H. & Bigler, C. Will the CO2 fertilization effect in forests be offset by reduced tree longevity? Oecologia 165, 533–544 (2011)

Huntingford, C. et al. Simulated resilience of tropical rainforests to CO2-induced climate change. Nature Geosci. 6, 268–273 (2013)

Booth, B. B. B. et al. High sensitivity of future global warming to land carbon cycle processes. Environ. Res. Lett. 7, 024002 (2012)

Feldpausch, T. R. et al. Tree height integrated into pantropical forest biomass estimates. Biogeosciences 9, 3381–3403 (2012)

Cox, P. M., Betts, R. A., Jones, C. D., Spall, S. A. & Totterdell, I. J. Acceleration of global warming due to carbon-cycle feedbacks in a coupled climate model. Nature 408, 184–187 (2000)

Friend, A. D. et al. Carbon residence time dominates uncertainty in terrestrial vegetation responses to future climate and atmospheric CO2. Proc. Natl Acad. Sci. 111, 3280–3285 (2013)

Phillips, O. L. & Gentry, A. H. Increasing turnover through time in tropical forests. Science 263, 954–958 (1994)

Fisher, J. I., Hurtt, G. C., Thomas, R. Q. & Chambers, J. Q. Clustered disturbances lead to bias in large-scale estimates based on forest sample plots. Ecol. Lett. 11, 554–563 (2008)

Condit, R. Forest turnover, diversity, and CO2 . Trends Ecol. Evol. 12, 249–250 (1997)

Chambers, J. Q. et al. Response of tree biomass and wood litter to disturbance in a Central Amazon forest. Oecologia 141, 596–611 (2004)

van Breugel, M., Martínez-Ramos, M. & Bongers, F. Community dynamics during early secondary succession in Mexican tropical rain forests. J. Trop. Ecol. 22, 663–674 (2006)

Gatti, L. V. et al. Drought sensitivity of Amazonian carbon balance revealed by atmospheric measurements. Nature 506, 76–80 (2014)

Clark, D. A., Clark, D. B. & Oberbauer, S. F. Field-quantified responses of tropical rainforest aboveground productivity to increasing CO2 and climatic stress, 1997–2009. J. Geophys. Res. 118, 783–794 (2013)

Wang, X. et al. A two-fold increase of carbon cycle sensitivity to tropical temperature variations. Nature 506, 212–215 (2014)

Marengo, J. A., Tomasella, J., Alves, L. M., Soares, W. R. & Rodriguez, D. A. The drought of 2010 in the context of historical droughts in the Amazon region. Geophys. Res. Lett. 38, L12703 (2011)

Jiménez-Muñoz, J. C., Sobrino, J. A., Mattar, C. & Malhi, Y. Spatial and temporal patterns of the recent warming of the Amazon forest. J. Geophys. Res. 118, 5204–5215 (2013)

da Costa, A. C. L. et al. Effect of 7 yr of experimental drought on vegetation dynamics and biomass storage of an eastern Amazonian rainforest. New Phytol. 187, 579–591 (2010)

Nepstad, D. C., Tohver, I. M., Ray, D., Moutinho, P. & Cardinot, G. Mortality of large trees and lianas following experimental drought in an Amazon forest. Ecology 88, 2259–2269 (2007)

Ryan, M. G., Phillips, N. & Bond, B. J. The hydraulic limitation hypothesis revisited. Plant Cell Environ. 29, 367–381 (2006)

Lieberman, D., Lieberman, M., Peralta, R. & Hartshorn, G. S. Mortality patterns and stand turnover rates in a wet tropical forest in Costa Rica. J. Ecol. 73, 915–924 (1985)

Thomas, S. C. in Size- and Age-Related Changes in Tree Structure and Function (eds Meinzer, F. C., Lachenbruch, B. & Dawson, T. E. ) Ch. 2 33–64 (Springer, 2011)

Bigler, C. & Veblen, T. T. Increased early growth rates decrease longevities of conifers in subalpine forests. Oikos 118, 1130–1138 (2009)

Di Filippo, A., Biondi, F., Maugeri, M., Schirone, B. & Piovesan, G. Bioclimate and growth history affect beech lifespan in the Italian Alps and Apennines. Glob. Change Biol. 18, 960–972 (2012)

LaDeau, S. L. & Clark, J. S. Rising CO2 levels and the fecundity of forest trees. Science 292, 95–98 (2001)

Manusch, C., Bugmann, H., Heiri, C. & Wolf, A. Tree mortality in dynamic vegetation models – a key feature for accurately simulating forest properties. Ecol. Modell. 243, 101–111 (2012)

Saleska, S. R. et al. Carbon in Amazon forests: unexpected seasonal fluxes and disturbance-induced losses. Science 302, 1554–1557 (2003)

Phillips, O., Baker, T., Brienen, R. & Feldpausch, T. RAINFOR field manual for plot establishment and remeasurement. http://www.rainfor.org/upload/ManualsEnglish/RAINFOR_field_manual_version_June_2009_ENG.pdf (2010)

Talbot, J. et al. Methods to estimate aboveground wood productivity from long-term forest inventory plots. For. Ecol. Management 320, 30–38 (2014)

Chave, J. et al. Towards a worldwide wood economics spectrum. Ecol. Lett. 12, 351–366 (2009)

Lopez-Gonzalez, G., Lewis, S. L., Burkitt, M. & Phillips, O. L. ForestPlots.net: a web application and research tool to manage and analyse tropical forest plot data. J. Veg. Sci. 22, 610–613 (2011)

Bartholomé, E. & Belward, A. GLC2000: a new approach to global land cover mapping from Earth observation data. Int. J. Remote Sens. 26, 1959–1977 (2005)

Phillips, O. L., Lewis, S. L., Baker, T. R., Chao, K. J. & Higuchi, N. The changing Amazon forest. Phil. Trans. R. Soc. Lond. B 363, 1819–1827 (2008)

Chave, J. et al. Tree allometry and improved estimation of carbon stocks and balance in tropical forests. Oecologia 145, 87–99 (2005)

Sheil, D. & May, R. M. Mortality and recruitment rate evaluations in heterogeneous tropical forests. J. Ecol. 84, 91–100 (1996)

Malhi, Y. et al. The above-ground coarse wood productivity of 104 Neotropical forest plots. Glob. Change Biol. 10, 563–591 (2004)

Lewis, S. L. et al. Tropical forest tree mortality, recruitment and turnover rates: calculation, interpretation and comparison when census intervals vary. J. Ecol. 92, 929–944 (2004)

Muller-Landau, H. C., Detto, M., Chisholm, R. A., Hubbell, S. P. & Condit, R. in Forests and Global Change ecological reviews (eds Coomes, D., Burslem, D. F. R. P. & Simonson, W. D. ) Ch. 14 462 (Cambridge Univ. Press, 2014)

Wood, S. gamm4: Generalized additive mixed models using mgcv and lme4. R package version 0.1–2. Available at http://www.inside-r.org/packages/gamm4/versions/0-1-2 (2011)

Bates, D., Maechler, M., Bolker, B. & Walker, S. lme4: Linear mixed-effects models using Eigen and S4. R package version, 1.0-4. Available at http://www.inside-r.org/packages/lme4/versions/1-0-4 (2013)

Kloke, J. D. & McKean, J. W. Rfit: Rank-based estimation for linear models. Rem. J. 4, 57–64 (2012)

R. Development Core Team. R: A Language and Environment for Statistical Computing. Available at http://www.R-project.org/ (2013)
Acknowledgements
The RAINFOR forest monitoring network has been supported principally by the Natural Environment Research Council (grants NE/B503384/1, NE/D01025X/1, NE/I02982X/1, NE/F005806/1, NE/D005590/1 and NE/I028122/1), the Gordon and Betty Moore Foundation, and by the EU Seventh Framework Programme (GEOCARBON-283080 and AMAZALERT-282664). R.J.W.B. is funded by NERC Research Fellowship NE/I021160/1. O.P. is supported by an ERC Advanced Grant and is a Royal Society-Wolfson Research Merit Award holder. Additional data were supported by Investissement d'Avenir grants of the French ANR (CEBA: ANR-10-LABX-0025; TULIP: ANR-10-LABX-0041), and contributed by the Tropical Ecology Assessment and Monitoring (TEAM) Network, funded by Conservation International, the Missouri Botanical Garden, the Smithsonian Institution, the Wildlife Conservation Society and the Gordon and Betty Moore Foundation. This paper is 656 in the Technical Series of the Biological Dynamics of Forest Fragments Project (BDFFP-INPA/STRI). The field data summarized here involve vital contributions from many field assistants and rural communities in Bolivia, Brazil, Colombia, Ecuador, French Guiana, Guyana, Peru and Venezuela, most of whom have been specifically acknowledged elsewhere4. We additionally thank A. Alarcon, I. Amaral, P. P. Barbosa Camargo, I. F. Brown, L. Blanc, B. Burban, N. Cardozo, J. Engel, M. A. de Freitas, A. de Oliveira, T. S. Fredericksen, L. Ferreira, N. T. Hinojosa, E. Jiménez, E. Lenza, C. Mendoza, I. Mendoza Polo, A. Peña Cruz, M. C. Peñuela, P. Pétronelli, J. Singh, P. Maquirino, J. Serano, A. Sota, C. Oliveira dos Santos, J. Ybarnegaray and J. Ricardo for contributions. CNPq (Brazil), MCT (Brazil), Ministerio del Medio Ambiente, Vivienda y Desarrollo Territorial (Colombia), Ministerio de Ambiente (Ecuador), the Forestry Commission (Guyana), INRENA (Peru), SERNANP (Peru), and Ministerio del Ambiente para el Poder Popular (Venezuela) granted research permissions. We thank our deceased colleagues and friends, A. H. Gentry, J. P. Veillon, S. Almeida and S. Patiño for invaluable contributions to this work; their pioneering efforts to understand neotropical forests continue to inspire South American ecologists.
Ethics declarations
Competing interests
The authors declare no competing financial interests.
Extended data figures and tables
Supplementary information
This file contains Supplementary Text & Data, Supplementary Tables 1-2 and additional references. (PDF 1077 kb)
About this article
Cite this article
Brienen, R., Phillips, O., Feldpausch, T. et al. Long-term decline of the Amazon carbon sink. Nature 519, 344–348 (2015). https://doi.org/10.1038/nature14283
Received:

Accepted:

Published:

Issue Date:

DOI: https://doi.org/10.1038/nature14283
Comments
By submitting a comment you agree to abide by our Terms and Community Guidelines. If you find something abusive or that does not comply with our terms or guidelines please flag it as inappropriate.