Abstract
The structure of messenger RNA is important for post-transcriptional regulation, mainly because it affects binding of trans-acting factors1. However, little is known about the in vivo structure of full-length mRNAs. Here we present hiCLIP, a biochemical technique for transcriptome-wide identification of RNA secondary structures interacting with RNA-binding proteins (RBPs). Using this technique to investigate RNA structures bound by Staufen 1 (STAU1) in human cells, we uncover a dominance of intra-molecular RNA duplexes, a depletion of duplexes from coding regions of highly translated mRNAs, an unexpected prevalence of long-range duplexes in 3′ untranslated regions (UTRs), and a decreased incidence of single nucleotide polymorphisms in duplex-forming regions. We also discover a duplex spanning 858 nucleotides in the 3′ UTR of the X-box binding protein 1 (XBP1) mRNA that regulates its cytoplasmic splicing and stability. Our study reveals the fundamental role of mRNA secondary structures in gene expression and introduces hiCLIP as a widely applicable method for discovering new, especially long-range, RNA duplexes.
Relevant articles
Open Access articles citing this article.
Ryan Van Damme

,

Kongpan Li

…

Willem A. Velema

Nature Communications Open Access 17 February 2022

Shekoufeh Almasi

&

Bernard J. Jasmin

Cellular and Molecular Life Sciences Open Access 11 October 2021
Access options
Subscribe to this journal
Receive 51 print issues and online access
$199.00 per year
only $3.90 per issue
Rent or buy this article
Get just this article for as long as you need it
$39.95
Prices may be subject to local taxes which are calculated during checkout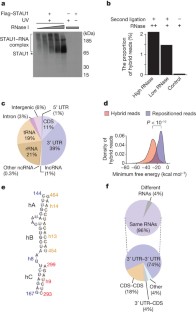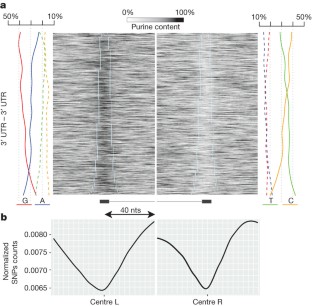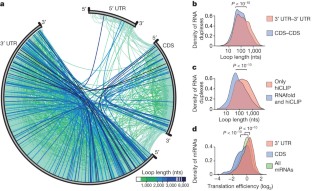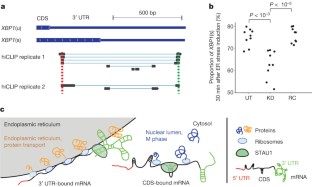 Accession codes
Primary accessions
ArrayExpress
References
Wan, Y., Kertesz, M., Spitale, R. C., Segal, E. & Chang, H. Y. Understanding the transcriptome through RNA structure. Nature Rev. Genet. 12, 641–655 (2011)

Ding, Y. et al. In vivo genome-wide profiling of RNA secondary structure reveals novel regulatory features. Nature 505, 696–700 (2014)

Rouskin, S., Zubradt, M., Washietl, S., Kellis, M. & Weissman, J. S. Genome-wide probing of RNA structure reveals active unfolding of mRNA structures in vivo. Nature 505, 701–705 (2014)

Wan, Y. et al. Landscape and variation of RNA secondary structure across the human transcriptome. Nature 505, 706–709 (2014)

Li, F. et al. Global analysis of RNA secondary structure in two metazoans. Cell Rep. 1, 69–82 (2012)

Goodarzi, H. et al. Metastasis-suppressor transcript destabilization through TARBP2 binding of mRNA hairpins. Nature 513, 256–260 (2014)

Lovci, M. T. et al. Rbfox proteins regulate alternative mRNA splicing through evolutionarily conserved RNA bridges. Nature Struct. Mol. Biol. 20, 1434–1442 (2013)

Kudla, G., Granneman, S., Hahn, D., Beggs, J. D. & Tollervey, D. Cross-linking, ligation, and sequencing of hybrids reveals RNA–RNA interactions in yeast. Proc. Natl Acad. Sci. USA 108, 10010–10015 (2011)

Grosswendt, S. et al. Unambiguous identification of miRNA:target site interactions by different types of ligation reactions. Mol. Cell 54, 1042–1054 (2014)

Heraud-Farlow, J. E. & Kiebler, M. A. The multifunctional Staufen proteins: conserved roles from neurogenesis to synaptic plasticity. Trends Neurosci. 37, 470–479 (2014)

Gong, C. & Maquat, L. E. lncRNAs transactivate STAU1-mediated mRNA decay by duplexing with 3′ UTRs via Alu elements. Nature 470, 284–288 (2011)

Kim, Y. K., Furic, L., Desgroseillers, L. & Maquat, L. E. Mammalian Staufen1 recruits Upf1 to specific mRNA 3′ UTRs so as to elicit mRNA decay. Cell 120, 195–208 (2005)

Ricci, E. P. et al. Staufen1 senses overall transcript secondary structure to regulate translation. Nature Struct. Mol. Biol. 21, 26–35 (2014)

Kim, Y. K. et al. Staufen1 regulates diverse classes of mammalian transcripts. EMBO J. 26, 2670–2681 (2007)

Heraud-Farlow, J. E. et al. Staufen2 regulates neuronal target RNAs. Cell Rep. 5, 1511–1518 (2013)

Laver, J. D. et al. Genome-wide analysis of Staufen-associated mRNAs identifies secondary structures that confer target specificity. Nucleic Acids Res. 41, 9438–9460 (2013)

de Lucas, S., Oliveros, J. C., Chagoyen, M. & Ortin, J. Functional signature for the recognition of specific target mRNAs by human Staufen1 protein. Nucleic Acids Res. 42, 4516–4526 (2014)

LeGendre, J. B. et al. RNA targets and specificity of Staufen, a double-stranded RNA-binding protein in Caenorhabditis elegans. J. Biol. Chem. 288, 2532–2545 (2013)

König, J. et al. iCLIP reveals the function of hnRNP particles in splicing at individual nucleotide resolution. Nature Struct. Mol. Biol. 17, 909–915 (2010)

Luo, M., Duchaine, T. F. & DesGroseillers, L. Molecular mapping of the determinants involved in human Staufen-ribosome association. Biochem. J. 365, 817–824 (2002)

Anger, A. M. et al. Structures of the human and Drosophila 80S ribosome. Nature 497, 80–85 (2013)

Kretz, M. et al. Control of somatic tissue differentiation by the long non-coding RNA TINCR. Nature 493, 231–235 (2013)

Elbarbary, R. A., Li, W., Tian, B. & Maquat, L. E. STAU1 binding 3′ UTR IRAlus complements nuclear retention to protect cells from PKR-mediated translational shutdown. Genes Dev. 27, 1495–1510 (2013)

Lorenz, R. et al. ViennaRNA Package 2.0. Algorithms Mol. Biol. 6, 26 (2011)

Roy, B. & Jacobson, A. The intimate relationships of mRNA decay and translation. Trends Genet. 29, 691–699 (2013)

Qu, X. et al. The ribosome uses two active mechanisms to unwind messenger RNA during translation. Nature 475, 118–121 (2011)

Walter, P. & Ron, D. The unfolded protein response: from stress pathway to homeostatic regulation. Science 334, 1081–1086 (2011)

Marión, R. M., Fortes, P., Beloso, A., Dotti, C. & Ortin, J. A human sequence homologue of Staufen is an RNA-binding protein that is associated with polysomes and localizes to the rough endoplasmic reticulum. Mol. Cell. Biol. 19, 2212–2219 (1999)

Wickham, L., Duchaine, T., Luo, M., Nabi, I. R. & DesGroseillers, L. Mammalian Staufen is a double-stranded-RNA- and tubulin-binding protein which localizes to the rough endoplasmic reticulum. Mol. Cell. Biol. 19, 2220–2230 (1999)

Boulay, K. et al. Cell cycle-dependent regulation of the RNA-binding protein Staufen1. Nucleic Acids Res. 42, 7867–7883 (2014)

Kiel, J. A., Emmrich, K., Meyer, H. E. & Kunau, W. H. Ubiquitination of the peroxisomal targeting signal type 1 receptor, Pex5p, suggests the presence of a quality control mechanism during peroxisomal matrix protein import. J. Biol. Chem. 280, 1921–1930 (2005)

Huppertz, I. et al. iCLIP: protein–RNA interactions at nucleotide resolution. Methods 65, 274–287 (2014)

Ingolia, N. T., Ghaemmaghami, S., Newman, J. R. & Weissman, J. S. Genome-wide analysis in vivo of translation with nucleotide resolution using ribosome profiling. Science 324, 218–223 (2009)

Guo, H., Ingolia, N. T., Weissman, J. S. & Bartel, D. P. Mammalian microRNAs predominantly act to decrease target mRNA levels. Nature 466, 835–840 (2010)

Ingolia, N. T., Lareau, L. F. & Weissman, J. S. Ribosome profiling of mouse embryonic stem cells reveals the complexity and dynamics of mammalian proteomes. Cell 147, 789–802 (2011)

Ingolia, N. T., Brar, G. A., Rouskin, S., McGeachy, A. M. & Weissman, J. S. The ribosome profiling strategy for monitoring translation in vivo by deep sequencing of ribosome-protected mRNA fragments. Nature Protocols 7, 1534–1550 (2012)

Niranjanakumari, S., Lasda, E., Brazas, R. & Garcia-Blanco, M. A. Reversible cross-linking combined with immunoprecipitation to study RNA–protein interactions in vivo. Methods 26, 182–190 (2002)

Li, H., Korennykh, A. V., Behrman, S. L. & Walter, P. Mammalian endoplasmic reticulum stress sensor IRE1 signals by dynamic clustering. Proc. Natl Acad. Sci. USA 107, 16113–16118 (2010)

R Core Team. A language and environment for statistical computing. (2012)

Wickham, H. ggplot2: Elegant Graphics For Data Analysis (Springer, 2009)

Wickham, H. The Split-Apply-Combine Strategy for Data Analysis. J. Stat. Softw. 40, 1–29 (2011)

Wickham, H. Reshaping data with the reshape package. J. Stat. Softw. 21, 1–20 (2007)

The Bioconductor Dev Team. BSgenome.Hsapiens.UCSC.hg19: Homo sapiens (human) full genome (UCSC version hg19).

Aboyoun, P., Pages, H. & Lawrence, M. GenomicRanges: Representation and manipulation of genomic intervals. PloS Computational Biol. 9, e1003118

Morgan, M. et al. ShortRead: a bioconductor package for input, quality assessment and exploration of high-throughput sequence data. Bioinformatics 25, 2607–2608 (2009)

Langmead, B., Trapnell, C., Pop, M. & Salzberg, S. L. Ultrafast and memory-efficient alignment of short DNA sequences to the human genome. Genome Biol. 10, R25 (2009)

Rehmsmeier, M., Steffen, P., Hochsmann, M. & Giegerich, R. Fast and effective prediction of microRNA/target duplexes. RNA 10, 1507–1517 (2004)

Robinson, J. T. et al. Integrative genomics viewer. Nature Biotechnol. 29, 24–26 (2011)

Thorvaldsdóttir, H., Robinson, J. T. & Mesirov, J. P. Integrative Genomics Viewer (IGV): high-performance genomics data visualization and exploration. Brief. Bioinform. 14, 178–192 (2013)

van Helden, J. Regulatory sequence analysis tools. Nucleic Acids Res. 31, 3593–3596 (2003)

Day, D. S., Luquette, L. J., Park, P. J. & Kharchenko, P. V. Estimating enrichment of repetitive elements from high-throughput sequence data. Genome Biol. 11, R69 (2010)

Quinlan, A. R. & Hall, I. M. BEDTools: a flexible suite of utilities for comparing genomic features. Bioinformatics 26, 841–842 (2010)

Krzywinski, M. et al. Circos: an information aesthetic for comparative genomics. Genome Res. 19, 1639–1645 (2009)

Cho, J. et al. LIN28A is a suppressor of ER-associated translation in embryonic stem cells. Cell 151, 765–777 (2012)

Anders, S. & Huber, W. Differential expression analysis for sequence count data. Genome Biol. 11, R106 (2010)

Bartonicek, N. & Enright, A. J. SylArray: a web server for automated detection of miRNA effects from expression data. Bioinformatics 26, 2900–2901 (2010)

Huang da. W, Sherman, B. T. & Lempicki, R. A. Systematic and integrative analysis of large gene lists using DAVID bioinformatics resources. Nature Protocols 4, 44–57 (2009)

Supek, F., Bosnjak, M., Skunca, N. & Smuc, T. REVIGO summarizes and visualizes long lists of gene ontology terms. PLoS ONE 6, e21800 (2011)

Zarnack, K. et al. Direct competition between hnRNP C and U2AF65 protects the transcriptome from the exonization of Alu elements. Cell 152, 453–466 (2013)
Acknowledgements
We wish to thank S. Granneman and C. Sibley for discussions on the development of hiCLIP protocol; K. Zarnack, N. Haberman, C. Ravarani and B. Lang for assistance with bioinformatic analyses; D. Daujotyte and P. Lukavsky for sharing the STAU1 plasmid and helping in setting up the project; L. Maquat for sharing the ARF1 SBS plasmid; the genomic team at the Cancer Research UK Cambridge Institute for Illumina HiSeq sequencing, and M. Babu Mohan and Ule group members for support and comments on the manuscript. This work was supported by funding from Human Frontier Science Program (RGP0024/2008-C), European Research Council (206726-CLIP and 617837-Translate) and Medical Research Council (U105185858) to J.U., Cancer Research UK and UCL to N.M.L., a Wellcome Trust Joint Investigator Award to N.M.L. and J.U. (103760/Z/14/Z), the Nakajima Foundation fellowship and MRC Centenary Early Career Award to Y.S.
Ethics declarations
Competing interests
The authors declare no competing financial interests.
Extended data figures and tables
Supplementary information
This file contains a discussion of challenges of the experimental methods available to study RNA structures in vivo. (PDF 146 kb)
This table contains mapping statistics of high-throughput sequencing data. (XLSX 36 kb)
This table contains genomic positions and sequences of STAU1 target mRNA duplexes that are located in CDS or 3'UTR. (XLSX 767 kb)
About this article
Cite this article
Sugimoto, Y., Vigilante, A., Darbo, E. et al. hiCLIP reveals the in vivo atlas of mRNA secondary structures recognized by Staufen 1. Nature 519, 491–494 (2015). https://doi.org/10.1038/nature14280
Received:

Accepted:

Published:

Issue Date:

DOI: https://doi.org/10.1038/nature14280
Comments
By submitting a comment you agree to abide by our Terms and Community Guidelines. If you find something abusive or that does not comply with our terms or guidelines please flag it as inappropriate.