Abstract
Small RNAs such as small interfering RNAs (siRNAs) and microRNAs (miRNAs) silence the expression of their complementary target messenger RNAs1,2 via the formation of effector RNA-induced silencing complexes (RISCs), which contain Argonaute (Ago) family proteins at their core. Although loading of siRNA duplexes into Drosophila Ago2 requires the Dicer-2–R2D2 heterodimer3,4,5 and the Hsc70/Hsp90 (Hsp90 also known as Hsp83) chaperone machinery6,7,8, the details of RISC assembly remain unclear. Here we reconstitute RISC assembly using only Ago2, Dicer-2, R2D2, Hsc70, Hsp90, Hop, Droj2 (an Hsp40 homologue) and p23. By following the assembly of single RISC molecules, we find that, in the absence of the chaperone machinery, an siRNA bound to Dicer-2–R2D2 associates with Ago2 only transiently. The chaperone machinery extends the dwell time of the Dicer-2–R2D2–siRNA complex on Ago2, in a manner dependent on recognition of the 5′-phosphate on the siRNA guide strand. We propose that the chaperone machinery supports a productive state of Ago2, allowing it to load siRNA duplexes from Dicer-2–R2D2 and thereby assemble RISC.
Relevant articles
Open Access articles citing this article.
Ting Deng

,

Shichen Su

…

Jia Wang

Nature Communications Open Access 26 August 2023

Yumeng Wang

,

Qin Yan

…

Dongdong Niu

Phytopathology Research Open Access 11 January 2023

Momoko Nakamura

,

Kei Fujiwara

&

Nobuhide Doi

Journal of Nanobiotechnology Open Access 27 October 2022
Access options
Subscribe to this journal
Receive 51 print issues and online access
$199.00 per year
only $3.90 per issue
Rent or buy this article
Prices vary by article type
from$1.95
to$39.95
Prices may be subject to local taxes which are calculated during checkout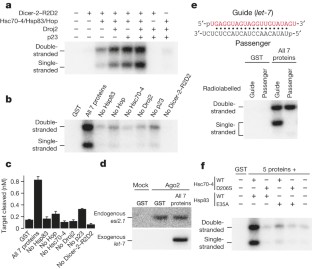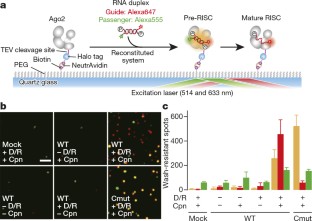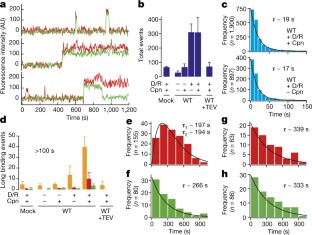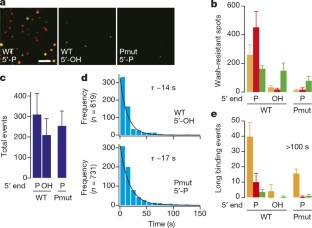 References
Carthew, R. W. & Sontheimer, E. J. Origins and mechanisms of miRNAs and siRNAs. Cell 136, 642–655 (2009).

Kawamata, T. & Tomari, Y. Making RISC. Trends Biochem. Sci. 35, 368–376 (2010).

Liu, Q. et al. R2D2, a bridge between the initiation and effector steps of the Drosophila RNAi pathway. Science 301, 1921–1925 (2003).

Pham, J. W., Pellino, J. L., Lee, Y. S., Carthew, R. W. & Sontheimer, E. J. A. Dicer-2-dependent 80S complex cleaves targeted mRNAs during RNAi in Drosophila. Cell 117, 83–94 (2004).

Tomari, Y. et al. RISC assembly defects in the Drosophila RNAi mutant armitage. Cell 116, 831–841 (2004).

Iki, T. et al. In vitro assembly of plant RNA-induced silencing complexes facilitated by molecular chaperone HSP90. Mol. Cell 39, 282–291 (2010).

Iwasaki, S. et al. Hsc70/Hsp90 chaperone machinery mediates ATP-dependent RISC loading of small RNA duplexes. Mol. Cell 39, 292–299 (2010).

Miyoshi, T., Takeuchi, A., Siomi, H. & Siomi, M. C. A direct role for Hsp90 in pre-RISC formation in Drosophila. Nature Struct. Mol. Biol. 17, 1024–1026 (2010).

Kawamata, T., Seitz, H. & Tomari, Y. Structural determinants of miRNAs for RISC loading and slicer-independent unwinding. Nature Struct. Mol. Biol. 16, 953–960 (2009).

Kanellopoulou, C. et al. Dicer-deficient mouse embryonic stem cells are defective in differentiation and centromeric silencing. Genes Dev. 19, 489–501 (2005).

Murchison, E. P., Partridge, J. F., Tam, O. H., Cheloufi, S. & Hannon, G. J. Characterization of Dicer-deficient murine embryonic stem cells. Proc. Natl Acad. Sci. USA 102, 12135–12140 (2005).

Ye, X. et al. Structure of C3PO and mechanism of human RISC activation. Nature Struct. Mol. Biol. 18, 650–657 (2011).

Betancur, J. G. & Tomari, Y. Dicer is dispensable for asymmetric RISC loading in mammals. RNA 18, 24–30 (2012).

Kim, Y. et al. Deletion of human tarbp2 reveals cellular microRNA targets and cell-cycle function of TRBP. Cell Rep. 9, 1061–1074 (2014).

Yoda, M. et al. ATP-dependent human RISC assembly pathways. Nature Struct. Mol. Biol. 17, 17–23 (2010).

Johnston, M., Geoffroy, M. C., Sobala, A., Hay, R. & Hutvagner, G. HSP90 protein stabilizes unloaded argonaute complexes and microscopic P-bodies in human cells. Mol. Biol. Cell 21, 1462–1469 (2010).

Matranga, C., Tomari, Y., Shin, C., Bartel, D. P. & Zamore, P. D. Passenger-strand cleavage facilitates assembly of siRNA into Ago2-containing RNAi enzyme complexes. Cell 123, 607–620 (2005).

Miyoshi, K., Tsukumo, H., Nagami, T., Siomi, H. & Siomi, M. C. Slicer function of Drosophila Argonautes and its involvement in RISC formation. Genes Dev. 19, 2837–2848 (2005).

Rand, T. A., Petersen, S., Du, F. & Wang, X. Argonaute2 cleaves the anti-guide strand of siRNA during RISC activation. Cell 123, 621–629 (2005).

Liu, Y. et al. C3PO, an endoribonuclease that promotes RNAi by facilitating RISC activation. Science 325, 750–753 (2009).

Smith, D. F. & Toft, D. O. The intersection of steroid receptors with molecular chaperones: observations and questions. Mol. Endocrinol. 22, 2229–2240 (2008).

Rüdel, S. et al. Phosphorylation of human Argonaute proteins affects small RNA binding. Nucleic Acids Res. 39, 2330–2343 (2011).

Dittmar, K. D. & Pratt, W. B. Folding of the glucocorticoid receptor by the reconstituted Hsp90-based chaperone machinery. The initial hsp90.p60.hsp70-dependent step is sufficient for creating the steroid binding conformation. J. Biol. Chem. 272, 13047–13054 (1997).

De, N. et al. Highly complementary target RNAs promote release of guide RNAs from human Argonaute2. Mol. Cell 50, 344–355 (2013).

Nakanishi, K., Weinberg, D. E., Bartel, D. P. & Patel, D. J. Structure of yeast Argonaute with guide RNA. Nature 486, 368–374 (2012).

Schirle, N. T. & MacRae, I. J. The crystal structure of human Argonaute2. Science 336, 1037–1040 (2012).

Tomari, Y., Matranga, C., Haley, B., Martinez, N. & Zamore, P. D. A protein sensor for siRNA asymmetry. Science 306, 1377–1380 (2004).

Flaherty, K. M., DeLuca-Flaherty, C. & McKay, D. B. Three-dimensional structure of the ATPase fragment of a 70K heat-shock cognate protein. Nature 346, 623–628 (1990).

Prodromou, C. et al. Identification and structural characterization of the ATP/ADP-binding site in the Hsp90 molecular chaperone. Cell 90, 65–75 (1997).

Miyazono, Y., Hayashi, M., Karagiannis, P., Harada, Y. & Tadakuma, H. Strain through the neck linker ensures processive runs: a DNA-kinesin hybrid nanomachine study. EMBO J. 29, 93–106 (2010).

Nykänen, A., Haley, B. & Zamore, P. D. ATP requirements and small interfering RNA structure in the RNA interference pathway. Cell 107, 309–321 (2001).

Haley, B., Tang, G. & Zamore, P. D. In vitro analysis of RNA interference in Drosophila melanogaster. Methods 30, 330–336 (2003).

Förstemann, K. et al. Normal microRNA maturation and germ-line stem cell maintenance requires Loquacious, a double-stranded RNA-binding domain protein. PLoS Biol. 3, e236 (2005).

Tomari, Y., Du, T. & Zamore, P. D. Sorting of Drosophila small silencing RNAs. Cell 130, 299–308 (2007).

Kawamata, T. & Tomari, Y. Native gel analysis for RISC assembly. Methods Mol. Biol. 725, 91–105 (2011).

Izumi, N. et al. AAA+ proteins RUVBL1 and RUVBL2 coordinate PIKK activity and function in nonsense-mediated mRNA decay. Sci. Signal. 3, ra27 (2010).

Tsutsumi, A., Kawamata, T., Izumi, N., Seitz, H. & Tomari, Y. Recognition of the pre-miRNA structure by Drosophila Dicer-1. Nature Struct. Mol. Biol. 18, 1153–1158 (2011).

Haley, B. & Zamore, P. D. Kinetic analysis of the RNAi enzyme complex. Nature Struct. Mol. Biol. 11, 599–606 (2004).

Pall, G. S. & Hamilton, A. J. Improved northern blot method for enhanced detection of small RNA. Nature Protocols 3, 1077–1084 (2008).

Saito, K. et al. Roles for the Yb body components Armitage and Yb in primary piRNA biogenesis in Drosophila. Genes Dev. 24, 2493–2498 (2010).

Zhou, Z. P. et al. Single molecule imaging of the trans-translation entry process via anchoring of the tagged ribosome. J. Biochem. 149, 609–618 (2011).

Tseng, Q. et al. Spatial organization of the extracellular matrix regulates cell–cell junction positioning. Proc. Natl Acad. Sci. USA 109, 1506–1511 (2012).
Acknowledgements
We thank Q. Liu for providing vectors for Dicer-2 and R2D2 expression, M. Horwich and P. D. Zamore for Ago2 cDNA, and H. Siomi and M. C. Siomi for anti-Ago2 antibody and ago2414 flies. We are also grateful to P. B. Kwak and A. Tsutsumi for assistance with plasmid constructions, S. Katsuma for support for Dicer-2–R2D2 preparation, and A. Yamashita for advice on protein purification. We thank H. Taguchi and T. Ueda for fruitful discussions and P. D. Zamore, H. Seitz and the members of the Tomari laboratory for critical comments on the manuscript. This work was supported in part by Grants-in-Aid for Scientific Research on Innovative Areas ('Functional machinery for non-coding RNAs' and 'Non-coding RNA neo-taxonomy'), a Grant-in-Aid for Young Scientists (A) (to H.T. and Y.T.), a Grant-in-Aid for Research Activity start-up (to S.I.), and Grants-in-Aid for challenging Exploratory Research (to H.M.S.) from The Ministry of Education, Culture, Sports, Science and Technology in Japan.
Ethics declarations
Competing interests
The authors declare no competing financial interests.
Extended data figures and tables
Supplementary information
This file contains a Supplementary Discussion and additional references. (PDF 137 kb)
About this article
Cite this article
Iwasaki, S., Sasaki, H., Sakaguchi, Y. et al. Defining fundamental steps in the assembly of the Drosophila RNAi enzyme complex. Nature 521, 533–536 (2015). https://doi.org/10.1038/nature14254
Received:

Accepted:

Published:

Issue Date:

DOI: https://doi.org/10.1038/nature14254
Comments
By submitting a comment you agree to abide by our Terms and Community Guidelines. If you find something abusive or that does not comply with our terms or guidelines please flag it as inappropriate.