Abstract
Genetic variation segregating within a species reflects the combined activities of mutation, selection, and genetic drift. In the absence of selection, polymorphisms are expected to be a random subset of new mutations; thus, comparing the effects of polymorphisms and new mutations provides a test for selection1,2,3,4. When evidence of selection exists, such comparisons can identify properties of mutations that are most likely to persist in natural populations2. Here we investigate how mutation and selection have shaped variation in a cis-regulatory sequence controlling gene expression by empirically determining the effects of polymorphisms segregating in the TDH3 promoter among 85 strains of Saccharomyces cerevisiae and comparing their effects to a distribution of mutational effects defined by 236 point mutations in the same promoter. Surprisingly, we find that selection on expression noise (that is, variability in expression among genetically identical cells5) appears to have had a greater impact on sequence variation in the TDH3 promoter than selection on mean expression level. This is not necessarily because variation in expression noise impacts fitness more than variation in mean expression level, but rather because of differences in the distributions of mutational effects for these two phenotypes. This study shows how systematically examining the effects of new mutations can enrich our understanding of evolutionary mechanisms. It also provides rare empirical evidence of selection acting on expression noise.
Relevant articles
Open Access articles citing this article.
Jörn M. Schmiedel

,

Lucas B. Carey

&

Ben Lehner

Nature Communications Open Access 18 July 2019

Camille Clerissi

,

Marie Touchon

…

Eduardo P. C. Rocha

Nature Communications Open Access 11 June 2018

Janneke H.M. Teunissen

,

Marjolein E. Crooijmans

…

G. Paul H. van Heusden

BMC Genomics Open Access 06 September 2017
Access options
Subscribe to Journal
Get full journal access for 1 year
$199.00
only $3.90 per issue
All prices are NET prices.
VAT will be added later in the checkout.
Tax calculation will be finalised during checkout.
Buy article
Get time limited or full article access on ReadCube.
$32.00
All prices are NET prices.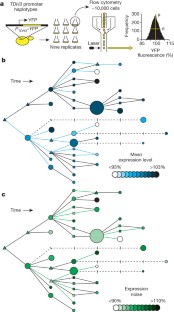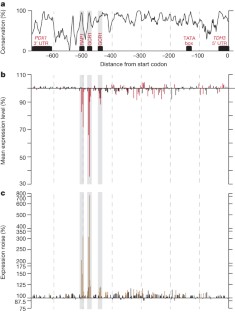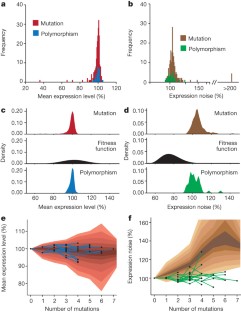 References
Smith, J. D., McManus, K. F. & Fraser, H. B. A novel test for selection on cis-regulatory elements reveals positive and negative selection acting on mammalian transcriptional enhancers. Mol. Biol. Evol. 30, 2509–2518 (2013)

Denver, D. R. et al. The transcriptional consequences of mutation and natural selection in Caenorhabditis elegans. Nature Genet. 37, 544–548 (2005)

Stoltzfus, A. & Yampolsky, L. Y. Climbing mount probable: mutation as a cause of nonrandomness in evolution. J. Hered. 100, 637–647 (2009)

Rice, D. P. D. & Townsend, J. P. J. A test for selection employing quantitative trait locus and mutation accumulation data. Genetics 190, 1533–1545 (2012)

Raser, J. M. & O'Shea, E. K. Control of stochasticity in eukaryotic gene expression. Science 304, 1811–1814 (2004)

McAlister, L. & Holland, M. J. Differential expression of the three yeast glyceraldehyde-3-phosphate dehydrogenase genes. J. Biol. Chem. 260, 15019–15027 (1985)

Pierce, S. E., Davis, R. W., Nislow, C. & Giaever, G. Genome-wide analysis of barcoded Saccharomyces cerevisiae gene-deletion mutants in pooled cultures. Nature Protocols 2, 2958–2974 (2007)

Ringel, A. E. et al. Yeast Tdh3 (glyceraldehyde 3-phosphate dehydrogenase) is a Sir2-interacting factor that regulates transcriptional silencing and rDNA recombination. PLoS Genet. 9, e1003871 (2013)

Gruber, J. D., Vogel, K., Kalay, G. & Wittkopp, P. J. Contrasting properties of gene-specific regulatory, coding, and copy number mutations in Saccharomyces cerevisiae: frequency, effects and dominance. PLoS Genet. 8, e1002497 (2012)

Liti, G. et al. Population genomics of domestic and wild yeasts. Nature 458, 337–341 (2009)

Schacherer, J., Shapiro, J. A., Ruderfer, D. M. & Kruglyak, L. Comprehensive polymorphism survey elucidates population structure of Saccharomyces cerevisiae. Nature 458, 342–345 (2009)

Lynch, M. et al. A genome-wide view of the spectrum of spontaneous mutations in yeast. Proc. Natl Acad. Sci. USA 105, 9272–9277 (2008)

Patwardhan, R. P. et al. High-resolution analysis of DNA regulatory elements by synthetic saturation mutagenesis. Nature Biotechnol. 27, 1173–1175 (2009)

Melnikov, A. et al. Systematic dissection and optimization of inducible enhancers in human cells using a massively parallel reporter assay. Nature Biotechnol. 30, 271–279 (2012)

Patwardhan, R. P. et al. Massively parallel functional dissection of mammalian enhancers in vivo. Nature Biotechnol. 30, 265–270 (2012)

Kwasnieski, J. & Mogno, I. Complex effects of nucleotide variants in a mammalian cis-regulatory element. Proc. Natl Acad. Sci. USA 109, 19498–19503 (2012)

Yagi, S., Yagi, K., Fukuoka, J. & Suzuki, M. The UAS of the yeast GAPDH promoter consists of multiple general functional elements including RAP1 and GRF2 binding sites. J. Vet. Med. Sci. 56, 235–244 (1994)

Baker, H. V. et al. Characterization of the DNA-binding activity of GCR1: in vivo evidence for two GCR1-binding sites in the upstream activating sequence of TPI of Saccharomyces cerevisiae. Mol. Cell. Biol. 12, 2690–2700 (1992)

Hornung, G. et al. Noise-mean relationship in mutated promoters. Genome Res. 22, 2409–2417 (2012)

Lehner, B. Selection to minimise noise in living systems and its implications for the evolution of gene expression. Mol. Syst. Biol. 4, 1–6 (2008)

Fraser, H. B., Hirsh, A. E., Giaever, G., Kumm, J. & Eisen, M. B. Noise minimization in eukaryotic gene expression. PLos Biol. 2, 834–838 (2004)

Wang, Z. & Zhang, J. Impact of gene expression noise on organismal fitness and the efficacy of natural selection. Proc. Natl Acad. Sci. USA 108, E67–E76 (2011)

Newman, J. R. S. et al. Single-cell proteomic analysis of S. cerevisiae reveals the architecture of biological noise. Nature 441, 840–846 (2006)

Batada, N. & Hurst, L. Evolution of chromosome organization driven by selection for reduced gene expression noise. Nature Genet. 39, 945–949 (2007)

Zhang, Z., Qian, W. & Zhang, J. Positive selection for elevated gene expression noise in yeast. Mol. Syst. Biol. 5, 1–12 (2009)

Frankel, N. et al. Phenotypic robustness conferred by apparently redundant transcriptional enhancers. Nature 466, 1–5 (2010)

Perry, M. W., Boettiger, A. N., Bothma, J. P. & Levine, M. Shadow enhancers foster robustness of Drosophila gastrulation. Curr. Biol. 20, 1562–1567 (2010)

Fontana, W. & Buss, L. "The arrival of the fittest": toward a theory of biological organization. Bull. Math. Biol. 56, 1–64 (1994)

De Vries, H. Species and Varieties, Their Origin by Mutation 825–826 (Open Court, 1905)

Taly, J.-F. et al. Using the T-Coffee package to build multiple sequence alignments of protein, RNA, DNA sequences and 3D structures. Nature Protocols 6, 1669–1682 (2011)

Löytynoja, A. & Goldman, N. webPRANK: a phylogeny-aware multiple sequence aligner with interactive alignment browser. BMC Bioinform. 11, 579 (2010)

Libkind, D. et al. Microbe domestication and the identification of the wild genetic stock of lager-brewing yeast. Proc. Natl Acad. Sci. USA 108, 14539–14544 (2011)

Scannell, D. R. et al. The awesome power of yeast evolutionary genetics: new genome sequences and strain resources for the Saccharomyces sensu stricto genus. G3 1, 11–25 (2011)

Liti, G. et al. High quality de novo sequencing and assembly of the Saccharomyces arboricolus genome. BMC Genom. 14, 69 (2013)

Wang, Q.-M., Liu, W.-Q., Liti, G., Wang, S.-A. & Bai, F.-Y. Surprisingly diverged populations of Saccharomyces cerevisiae in natural environments remote from human activity. Mol. Ecol. 21, 5404–5417 (2012)

Tamura, K., Stecher, G., Peterson, D., Filipski, A. & Kumar, S. MEGA6: Molecular Evolutionary Genetics Analysis version 6.0. Mol. Biol. Evol. 30, 2725–2729 (2013)

Clement, M., Posada, D. & Crandall, K. A. TCS: a computer program to estimate gene genealogies. Mol. Ecol. 9, 1657–1659 (2000)

Ashkenazy, H., Erez, E., Martz, E., Pupko, T. & Ben-Tal, N. ConSurf 2010: calculating evolutionary conservation in sequence and structure of proteins and nucleic acids. Nucleic Acids Res. 38, W529–W533 (2010)

Hittinger, C. T. Saccharomyces diversity and evolution: a budding model genus. Trends Genet. 29, 309–317 (2013)

Wittkopp, P. J., Haerum, B. K. & Clark, A. G. Evolutionary changes in cis and trans gene regulation. Nature 430, 85–88 (2004)

Wittkopp, P. J. in Molecular Methods for Evolutionary Genetics Vol. 772 (eds Orgogozo, V. & Rockman, M. V. ) 297–317 (Humana, 2011)

Gietz, R. & Woods, R. in Methods in Molecular Biology 2nd edn, Vol. 313 (ed. Xiao, W. ) 107–120 (Springer, 2006)

Kudla, G., Murray, A., Tollervey, D. & Plotkin, J. Coding-sequence determinants of gene expression in Escherichia coli. Science 324, 255–258 (2009)

Lo, K., Hahne, F., Brinkman, R. R. & Gottardo, R. flowClust: a Bioconductor package for automated gating of flow cytometry data. BMC Bioinform. 10, 145 (2009)

Hahne, F. et al. flowCore: a Bioconductor package for high throughput flow cytometry. BMC Bioinform. 10, 106 (2009)

R Core Team. R: A language and environment for statistical computing (2013)
Acknowledgements
We thank C. Maclean, J. Zhang, and C. Hittinger for strains, the University of Michigan Center for Chemical Genomics for technical assistance with flow cytometry, and J. Coolon, R. Lusk, K. Stevenson, A. Hodgins-Davis, J. Lachowiec, C. Maclean, J. Yang, C. Landry, J. Townsend, and D. Petrov for comments on the manuscript. Funding for this work was provided to P.J.W. by the March of Dimes (5-FY07-181), Alfred P. Sloan Research Foundation, National Science Foundation (MCB-1021398), National Institutes of Health (1 R01 GM108826) and the University of Michigan. Additional support was provided by the University of Michigan Rackham Graduate School, Ecology and Evolutionary Biology Department, and the National Institutes of Health Genome Sciences training grant (T32 HG000040) to B.P.H.M.; by a National Institutes of Health Genetics training grant (T32 GM007544) to D.C.Y.; by a National Institutes of Health National Research Service Award (NRSA) postdoctoral fellowship (1 F32 GM083513-0) to J.D.G.; and by a European Molecular Biology Organization postdoctoral fellowship (EMBO ALTF 1114-2012) to F.D.
Ethics declarations
Competing interests
The authors declare no competing financial interests.
Additional information
Flow cytometry data have been deposited in the FlowRepository under Repository ID FR-FCM-ZZBN.
Extended data figures and tables
Supplementary information
About this article
Cite this article
Metzger, B., Yuan, D., Gruber, J. et al. Selection on noise constrains variation in a eukaryotic promoter. Nature 521, 344–347 (2015). https://doi.org/10.1038/nature14244
Received:

Accepted:

Published:

Issue Date:

DOI: https://doi.org/10.1038/nature14244
Comments
By submitting a comment you agree to abide by our Terms and Community Guidelines. If you find something abusive or that does not comply with our terms or guidelines please flag it as inappropriate.