Abstract
B cells are selected for an intermediate level of B-cell antigen receptor (BCR) signalling strength: attenuation below minimum (for example, non-functional BCR)1 or hyperactivation above maximum (for example, self-reactive BCR)2,3 thresholds of signalling strength causes negative selection. In ∼25% of cases, acute lymphoblastic leukaemia (ALL) cells carry the oncogenic BCR-ABL1 tyrosine kinase (Philadelphia chromosome positive), which mimics constitutively active pre-BCR signalling4,5. Current therapeutic approaches are largely focused on the development of more potent tyrosine kinase inhibitors to suppress oncogenic signalling below a minimum threshold for survival6. We tested the hypothesis that targeted hyperactivation—above a maximum threshold—will engage a deletional checkpoint for removal of self-reactive B cells and selectively kill ALL cells. Here we find, by testing various components of proximal pre-BCR signalling in mouse BCR–ABL1 cells, that an incremental increase of Syk tyrosine kinase activity was required and sufficient to induce cell death. Hyperactive Syk was functionally equivalent to acute activation of a self-reactive BCR on ALL cells. Despite oncogenic transformation, this basic mechanism of negative selection was still functional in ALL cells. Unlike normal pre-B cells, patient-derived ALL cells express the inhibitory receptors PECAM1, CD300A and LAIR1 at high levels. Genetic studies revealed that Pecam1, Cd300a and Lair1 are critical to calibrate oncogenic signalling strength through recruitment of the inhibitory phosphatases Ptpn6 (ref. 7) and Inpp5d (ref. 8). Using a novel small-molecule inhibitor of INPP5D (also known as SHIP1)9, we demonstrated that pharmacological hyperactivation of SYK and engagement of negative B-cell selection represents a promising new strategy to overcome drug resistance in human ALL.
Access options
Subscribe to Journal
Get full journal access for 1 year
$199.00
only $3.90 per issue
All prices are NET prices.
VAT will be added later in the checkout.
Tax calculation will be finalised during checkout.
Rent or Buy article
Get time limited or full article access on ReadCube.
from$8.99
All prices are NET prices.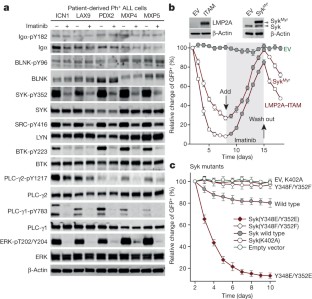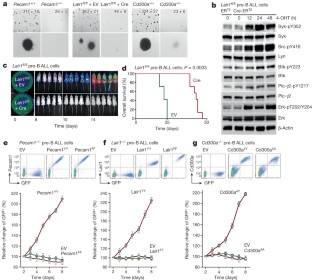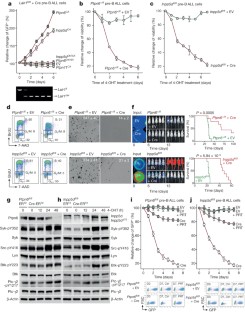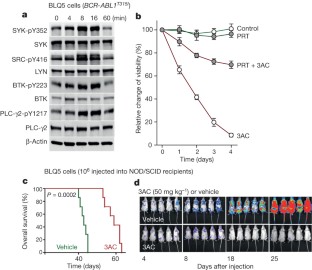 References
1

Lam, K. P., Kühn, R. & Rajewsky, K. In vivo ablation of surface immunoglobulin on mature B cells by inducible gene targeting results in rapid cell death. Cell 90, 1073–1083 (1997)

2

Nemazee, D. A. & Bürki, K. Clonal deletion of B lymphocytes in a transgenic mouse bearing anti-MHC class I antibody genes. Nature 337, 562–566 (1989)

3

Keenan, R. A. et al. Censoring of autoreactive B cell development by the pre-B cell receptor. Science 321, 696–699 (2008)

4

Klein, F. et al. The BCR-ABL1 kinase bypasses selection for the expression of a pre-B cell receptor in pre-B acute lymphoblastic leukemia cells. J. Exp. Med. 199, 673–685 (2004)

5

Feldhahn, N. et al. Mimicry of a constitutively active pre-B cell receptor in acute lymphoblastic leukemia cells. J. Exp. Med. 201, 1837–1852 (2005)

6

Cortes, J. E. et al. Ponatinib in refractory Philadelphia chromosome-positive leukemias. N. Engl. J. Med. 367, 2075–2088 (2012)

7

Pao, L. I. et al. B cell-specific deletion of protein-tyrosine phosphatase Shp1 promotes B-1a cell development and causes systemic autoimmunity. Immunity 27, 35–48 (2007)

8

O'Neill, S. K. et al. Monophosphorylation of CD79a and CD79b ITAM motifs initiates a SHIP-1 phosphatase-mediated inhibitory signaling cascade required for B cell anergy. Immunity 35, 746–756 (2011)

9

Brooks, R. et al. SHIP1 inhibition increases immunoregulatory capacity and triggers apoptosis of hematopoietic cancer cells. J. Immunol. 184, 3582–3589 (2010)

10

Roberts, K. G. et al. Targetable kinase-activating lesions in Ph-like acute lymphoblastic leukemia. N. Engl. J. Med. 371, 1005–1015 (2014)

11

Duy, C. et al. BCL6 enables Ph+ acute lymphoblastic leukaemia cells to survive BCR–ABL1 kinase inhibition. Nature 473, 384–388 (2011)

12

Reth, M. Antigen receptor tail clue. Nature 338, 383–384 (1989)

13

Anderson, L. J. & Longnecker, R. EBV LMP2A provides a surrogate pre-B cell receptor signal through constitutive activation of the ERK/MAPK pathway. J. Gen. Virol. 89, 1563–1568 (2008)

14

Kulathu, Y., Grothe, G. & Reth, M. Autoinhibition and adapter function of Syk. Immunol. Rev. 232, 286–299 (2009)

15

Bolland, S. & Ravetch, J. V. Inhibitory pathways triggered by ITIM-containing receptors. Adv. Immunol. 72, 149–177 (1999)

16

Staub, E., Rosenthal, A. & Hinzmann, B. Systematic identification of immunoreceptor tyrosine-based inhibitory motifs in the human proteome. Cell. Signal. 16, 435–456 (2004)

17

Limnander, A. et al. STIM1, PKC-δ and RasGRP set a threshold for proapoptotic Erk signaling during B cell development. Nature Immunol. 12, 425–433 (2011)

18

Zhang, S. Q. et al. Shp2 regulates SRC family kinase activity and Ras/Erk activation by controlling Csk recruitment. Mol. Cell 13, 341–355 (2004)

19

Meng, T.-C., Fukada, T. & Tonks, N. K. Reversible oxidation and inactivation of protein tyrosine phosphatases in vivo. Mol. Cell 9, 387–399 (2002)

20

Bolland, S., Pearse, R. N., Kurosaki, T. & Ravetch, J. V. SHIP modulates immune receptor responses by regulating membrane association of Btk. Immunity 8, 509–516 (1998)

21

Xie, H., Ye, M., Feng, R. & Graf, T. Stepwise reprogramming of B cells into macrophages. Cell 117, 663–676 (2004)

22

Mullighan, C. G. et al. BCR–ABL1 lymphoblastic leukaemia is characterized by the deletion of Ikaros. Nature 453, 110–114 (2008)

23

Li, S., Ilaria, R. L., Million, R. P., Daley, G. Q. & Van Etten, R. A. The P190, P210, and P230 forms of the BCR/ABL oncogene induce a similar chronic myeloid leukemia-like syndrome in mice but have different lymphoid leukemogenic activity. J. Exp. Med. 189, 1399–1412 (1999)
Acknowledgements
We thank R. W. Hendriks for encouragement and critical discussions, A. Park and C. Lin and all the members of the Müschen laboratory, L. Tian and B. Scott for their support. This work is supported by grants from the National Institutes of Health/National Cancer Institute through R01CA137060, R01CA139032, R01CA169458, R01CA172558 and R01CA157644 (to M.M.), ECOG-ACRIN grants CA180820 and CA180794 (to E.P.), grants from the Leukemia and Lymphoma Society (to M.M.), the California Institute for Regenerative Medicine through TR02-1816 (M.M.), and the William Lawrence and Blanche Hughes Foundation. M.M. is a Scholar of The Leukemia and Lymphoma Society and a Senior Investigator of the Wellcome Trust. M.R. is supported by the DFG through EXC294, TRR130 and SFB746.
Ethics declarations
Competing interests
The authors declare no competing financial interests.
Extended data figures and tables
Supplementary information
About this article
Cite this article
Chen, Z., Shojaee, S., Buchner, M. et al. Signalling thresholds and negative B-cell selection in acute lymphoblastic leukaemia. Nature 521, 357–361 (2015). https://doi.org/10.1038/nature14231
Received:

Accepted:

Published:

Issue Date:
Comments
By submitting a comment you agree to abide by our Terms and Community Guidelines. If you find something abusive or that does not comply with our terms or guidelines please flag it as inappropriate.