Abstract
Perceptual decisions are based on the activity of sensory cortical neurons, but how organisms learn to transform this activity into appropriate actions remains unknown. Projections from the auditory cortex to the auditory striatum carry information that drives decisions in an auditory frequency discrimination task1. To assess the role of these projections in learning, we developed a channelrhodopsin-2-based assay to probe selectively for synaptic plasticity associated with corticostriatal neurons representing different frequencies. Here we report that learning this auditory discrimination preferentially potentiates corticostriatal synapses from neurons representing either high or low frequencies, depending on reward contingencies. We observe frequency-dependent corticostriatal potentiation in vivo over the course of training, and in vitro in striatal brain slices. Our findings suggest a model in which the corticostriatal synapses made by neurons tuned to different features of the sound are selectively potentiated to enable the learned transformation of sound into action.
This is a preview of subscription content
Access options
Subscribe to Journal
Get full journal access for 1 year
$199.00
only $3.90 per issue
All prices are NET prices.
VAT will be added later in the checkout.
Tax calculation will be finalised during checkout.
Buy article
Get time limited or full article access on ReadCube.
$32.00
All prices are NET prices.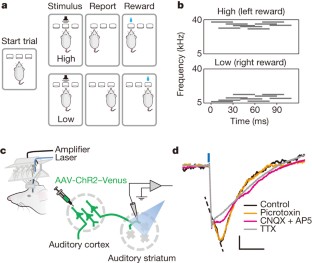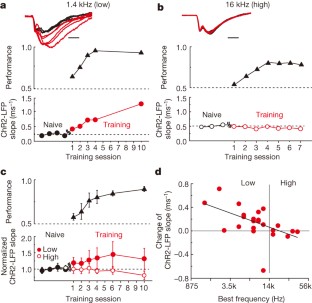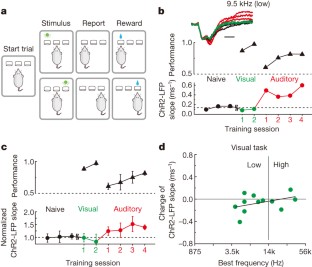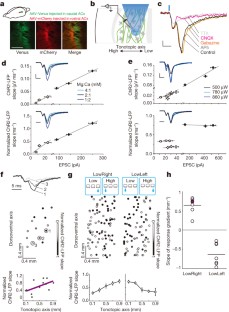 References
Znamenskiy, P. & Zador, A. M. Corticostriatal neurons in auditory cortex drive decisions during auditory discrimination. Nature 497, 482–485 (2013)

Salzman, C. D., Britten, K. H. & Newsome, W. T. Cortical microstimulation influences perceptual judgements of motion direction. Nature 346, 174–177 (1990)

Roitman, J. D. & Shadlen, M. N. Response of neurons in the lateral intraparietal area during a combined visual discrimination reaction time task. J. Neurosci. 22, 9475–9489 (2002)

Uchida, N. & Mainen, Z. F. Speed and accuracy of olfactory discrimination in the rat. Nature Neurosci. 6, 1224–1229 (2003)

Felsen, G. & Mainen, Z. F. Neural substrates of sensory-guided locomotor decisions in the rat superior colliculus. Neuron 60, 137–148 (2008)

Erlich, J. C., Bialek, M. & Brody, C. D. A cortical substrate for memory-guided orienting in the rat. Neuron 72, 330–343 (2011)

Raposo, D., Sheppard, J. P., Schrater, P. R. & Churchland, A. K. Multisensory decision-making in rats and humans. J. Neurosci. 32, 3726–3735 (2012)

Brunton, B. W., Botvinick, M. M. & Brody, C. D. Rats and humans can optimally accumulate evidence for decision-making. Science 340, 95–98 (2013)

Thompson, J. A. & Felsen, G. Activity in mouse pedunculopontine tegmental nucleus reflects action and outcome in a decision-making task. J. Neurophysiol. 110, 2817–2829 (2013)

Tai, L. H., Lee, A. M., Benavidez, N., Bonci, A. & Wilbrecht, L. Transient stimulation of distinct subpopulations of striatal neurons mimics changes in action value. Nature Neurosci. 15, 1281–1289 (2012)

Barnes, T. D., Kubota, Y., Hu, D., Jin, D. Z. & Graybiel, A. M. Activity of striatal neurons reflects dynamic encoding and recoding of procedural memories. Nature 437, 1158–1161 (2005)

Schultz, W. & Dickinson, A. Neuronal coding of prediction errors. Annu. Rev. Neurosci. 23, 473–500 (2000)

Reynolds, J. N., Hyland, B. I. & Wickens, J. R. A cellular mechanism of reward-related learning. Nature 413, 67–70 (2001)

Yin, H. H. et al. Dynamic reorganization of striatal circuits during the acquisition and consolidation of a skill. Nature Neurosci. 12, 333–341 (2009)

Malenka, R. C. & Kocsis, J. D. Presynaptic actions of carbachol and adenosine on corticostriatal synaptic transmission studied in vitro. J. Neurosci. 8, 3750–3756 (1988)

Hikosaka, O., Takikawa, Y. & Kawagoe, R. Role of the basal ganglia in the control of purposive saccadic eye movements. Physiol. Rev. 80, 953–978 (2000)

Carew, T. J., Walters, E. T. & Kandel, E. R. Associative learning in Aplysia: cellular correlates supporting a conditioned fear hypothesis. Science 211, 501–504 (1981)

Rioult-Pedotti, M. S., Friedman, D. & Donoghue, J. P. Learning-induced LTP in neocortex. Science 290, 533–536 (2000)

Rumpel, S., LeDoux, J., Zador, A. & Malinow, R. Postsynaptic receptor trafficking underlying a form of associative learning. Science 308, 83–88 (2005)

Whitlock, J. R., Heynen, A. J., Shuler, M. G. & Bear, M. F. Learning induces long-term potentiation in the hippocampus. Science 313, 1093–1097 (2006)

Finnerty, G. T., Roberts, L. S. & Connors, B. W. Sensory experience modifies the short-term dynamics of neocortical synapses. Nature 400, 367–371 (1999)

Trachtenberg, J. T. et al. Long-term in vivo imaging of experience-dependent synaptic plasticity in adult cortex. Nature 420, 788–794 (2002)

Froemke, R. C., Merzenich, M. M. & Schreiner, C. E. A synaptic memory trace for cortical receptive field plasticity. Nature 450, 425–429 (2007)

Hofer, S. B., Mrsic-Flogel, T. D., Bonhoeffer, T. & Hubener, M. Experience leaves a lasting structural trace in cortical circuits. Nature 457, 313–317 (2009)

Fritz, J., Shamma, S., Elhilali, M. & Klein, D. Rapid task-related plasticity of spectrotemporal receptive fields in primary auditory cortex. Nature Neurosci. 6, 1216–1223 (2003)

Edeline, J. M. & Weinberger, N. M. Receptive field plasticity in the auditory cortex during frequency discrimination training: selective retuning independent of task difficulty. Behav. Neurosci. 107, 82–103 (1993)

Maass, W., Natschlager, T. & Markram, H. Real-time computing without stable states: a new framework for neural computation based on perturbations. Neural Comput. 14, 2531–2560 (2002)

Sussillo, D. & Abbott, L. F. Generating coherent patterns of activity from chaotic neural networks. Neuron 63, 544–557 (2009)

Cortes, C. & Vapnik, V. Support-vector networks. Mach. Learn. 20, 273–297 (1995)

Hromadka, T., Deweese, M. R. & Zador, A. M. Sparse representation of sounds in the unanesthetized auditory cortex. PLoS Biol. 6, e16 (2008)
Acknowledgements
We thank B. Burbach for technical help, R. Eifert for mechanical material support, and J. Cohen for training the rats. AAV-CAGGS-ChR2–Venus was provided by K. Svoboda. We thank U. Livneh and A. Reid for discussions. This work was supported by grants (R01DC012565 and R01NS088649) from the National Institutes of Health and the Swartz Foundation (A.M.Z.).
Ethics declarations
Competing interests
The authors declare no competing financial interests.
Extended data figures and tables
About this article
Cite this article
Xiong, Q., Znamenskiy, P. & Zador, A. Selective corticostriatal plasticity during acquisition of an auditory discrimination task. Nature 521, 348–351 (2015). https://doi.org/10.1038/nature14225
Received:

Accepted:

Published:

Issue Date:

DOI: https://doi.org/10.1038/nature14225
Comments
By submitting a comment you agree to abide by our Terms and Community Guidelines. If you find something abusive or that does not comply with our terms or guidelines please flag it as inappropriate.