Abstract
Ultracold atoms in optical lattices have great potential to contribute to a better understanding of some of the most important issues in many-body physics, such as high-temperature superconductivity1. The Hubbard model—a simplified representation of fermions moving on a periodic lattice—is thought to describe the essential details of copper oxide superconductivity2. This model describes many of the features shared by the copper oxides, including an interaction-driven Mott insulating state and an antiferromagnetic (AFM) state. Optical lattices filled with a two-spin-component Fermi gas of ultracold atoms can faithfully realize the Hubbard model with readily tunable parameters, and thus provide a platform for the systematic exploration of its phase diagram3,4. Realization of strongly correlated phases, however, has been hindered by the need to cool the atoms to temperatures as low as the magnetic exchange energy, and also by the lack of reliable thermometry5. Here we demonstrate spin-sensitive Bragg scattering of light to measure AFM spin correlations in a realization of the three-dimensional Hubbard model at temperatures down to 1.4 times that of the AFM phase transition. This temperature regime is beyond the range of validity of a simple high-temperature series expansion, which brings our experiment close to the limit of the capabilities of current numerical techniques, particularly at metallic densities. We reach these low temperatures using a compensated optical lattice technique6, in which the confinement of each lattice beam is compensated by a blue-detuned laser beam. The temperature of the atoms in the lattice is deduced by comparing the light scattering to determinant quantum Monte Carlo simulations7 and numerical linked-cluster expansion8 calculations. Further refinement of the compensated lattice may produce even lower temperatures which, along with light scattering thermometry, would open avenues for producing and characterizing other novel quantum states of matter, such as the pseudogap regime and correlated metallic states of the two-dimensional Hubbard model.
Relevant articles
Open Access articles citing this article.
Henning Schlömer

,

Timon A. Hilker

…

Annabelle Bohrdt

Communications Materials Open Access 23 August 2023

Danyel Cavazos-Cavazos

,

Ruwan Senaratne

…

Randall G. Hulet

Nature Communications Open Access 31 May 2023

Tomasz Świsłocki

,

Mariusz Gajda

…

Piotr Deuar

Scientific Reports Open Access 19 March 2021
Access options
Subscribe to this journal
Receive 51 print issues and online access
$199.00 per year
only $3.90 per issue
Rent or buy this article
Prices vary by article type
from$1.95
to$39.95
Prices may be subject to local taxes which are calculated during checkout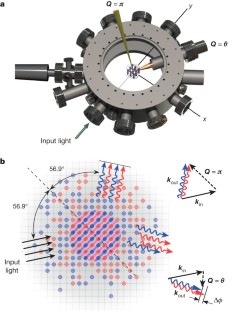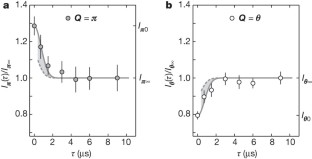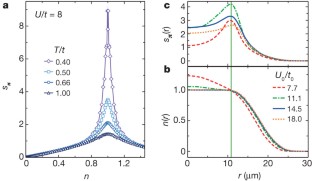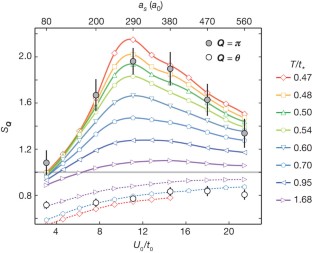 References
Hofstetter, W., Cirac, J. I., Zoller, P., Demler, E. & Lukin, M. D. High-temperature superfluidity of fermionic atoms in optical lattices. Phys. Rev. Lett. 89, 220407 (2002)

Anderson, P. W. The resonating valence bond state in La2CuO4 and superconductivity. Science 235, 1196–1198 (1987)

Jaksch, D. & Zoller, P. The cold atom Hubbard toolbox. Ann. Phys. 315 (spec. issue). 52–79 (2005)

Bloch, I., Dalibard, J. & Zwerger, W. Many-body physics with ultracold gases. Rev. Mod. Phys. 80, 885–964 (2008)

McKay, D. C. & DeMarco, B. Cooling in strongly correlated optical lattices: prospects and challenges. Rep. Prog. Phys. 74, 054401 (2011)

Mathy, C. J. M., Huse, D. A. & Hulet, R. G. Enlarging and cooling the Néel state in an optical lattice. Phys. Rev. A 86, 023606 (2012)

Blankenbecler, R., Scalapino, D. J. & Sugar, R. L. Monte Carlo calculations of coupled boson-fermion systems. I. Phys. Rev. D 24, 2278–2286 (1981)

Rigol, M., Bryant, T. & Singh, R. R. P. Numerical linked-cluster approach to quantum lattice models. Phys. Rev. Lett. 97, 187202 (2006)

Imada, M., Fujimori, A. & Tokura, Y. Metal-insulator transitions. Rev. Mod. Phys. 70, 1039–1263 (1998)

Jördens, R., Strohmaier, N., Günter, K., Moritz, H. & Esslinger, T. A Mott insulator of fermionic atoms in an optical lattice. Nature 455, 204–207 (2008)

Schneider, U. et al. Metallic and insulating phases of repulsively interacting fermions in a 3D optical lattice. Science 322, 1520–1525 (2008)

Staudt, R., Dzierzawa, M. & Muramatsu, A. Phase diagram of the three-dimensional Hubbard model at half filling. Eur. Phys. J. B 17, 411–415 (2000)

Simon, J. et al. Quantum simulation of antiferromagnetic spin chains in an optical lattice. Nature 472, 307–312 (2011)

Kim, K. et al. Quantum simulation of frustrated Ising spins with trapped ions. Nature 465, 590–593 (2010)

Britton, J. W. et al. Engineered two-dimensional Ising interactions in a trapped-ion quantum simulator with hundreds of spins. Nature 484, 489–492 (2012)

Greif, D., Uehlinger, T., Jotzu, G., Tarruell, L. & Esslinger, T. Short-range quantum magnetism of ultracold fermions in an optical lattice. Science 340, 1307–1310 (2013)

Imriška, J. et al. Thermodynamics and magnetic properties of the anisotropic 3D Hubbard model. Phys. Rev. Lett. 112, 115301 (2014)

Paiva, T., Loh, Y. L., Randeria, M., Scalettar, R. T. & Trivedi, N. Fermions in 3D optical lattices: cooling protocol to obtain antiferromagnetism. Phys. Rev. Lett. 107, 086401 (2011)

Kozik, E., Burovski, E., Scarola, V. W. & Troyer, M. Néel temperature and thermodynamics of the half-filled three-dimensional Hubbard model by diagrammatic determinant Monte Carlo. Phys. Rev. B 87, 205102 (2013)

Duarte, P. M. et al. All-optical production of a lithium quantum gas using narrow-line laser cooling. Phys. Rev. A 84, 061406 (2011)

Houbiers, M., Stoof, H. T. C., McAlexander, W. I. & Hulet, R. G. Elastic and inelastic collisions of 6Li atoms in magnetic and optical traps. Phys. Rev. A 57, R1497–R1500 (1998)

Ma, P. N. et al. Influence of the trap shape on the detection of the superfluid-Mott-insulator transition. Phys. Rev. A 78, 023605 (2008)

Birkl, G., Gatzke, M., Deutsch, I. H., Rolston, S. L. & Phillips, W. D. Bragg scattering from atoms in optical lattices. Phys. Rev. Lett. 75, 2823–2826 (1995)

Weidemüller, M., Görlitz, A., Hänsch, T. W. & Hemmerich, A. Local and global properties of light-bound atomic lattices investigated by Bragg diffraction. Phys. Rev. A 58, 4647–4661 (1998)

Miyake, H. et al. Bragg scattering as a probe of atomic wave functions and quantum phase transitions in optical lattices. Phys. Rev. Lett. 107, 175302 (2011)

Corcovilos, T. A., Baur, S. K., Hitchcock, J. M., Mueller, E. J. & Hulet, R. G. Detecting antiferromagnetism of atoms in an optical lattice via optical Bragg scattering. Phys. Rev. A 81, 013415 (2010)

Werner, F., Parcollet, O., Georges, A. & Hassan, S. R. Interaction-induced adiabatic cooling and antiferromagnetism of cold fermions in optical lattices. Phys. Rev. Lett. 95, 056401 (2005)

Fuchs, S. et al. Thermodynamics of the 3D Hubbard model on approaching the Néel transition. Phys. Rev. Lett. 106, 030401 (2011)

Mathy, C. J. M. & Huse, D. A. Accessing the Néel phase of ultracold fermionic atoms in a simple-cubic optical lattice. Phys. Rev. A 79, 063412 (2009)

Köhl, M. Thermometry of fermionic atoms in an optical lattice. Phys. Rev. A 73, 031601 (2006)

Butts, D. A. & Rokhsar, D. S. Trapped Fermi gases. Phys. Rev. A 55, 4346–4350 (1997)

Paiva, T., Scalettar, R., Randeria, M. & Trivedi, N. Fermions in 2D optical lattices: temperature and entropy scales for observing antiferromagnetism and superfluidity. Phys. Rev. Lett. 104, 066406 (2010)

Tang, B., Khatami, E. & Rigol, M. A short introduction to numerical linked-cluster expansions. Comput. Phys. Commun. 184, 557–564 (2013)

Khatami, E. & Rigol, M. Thermodynamics of strongly interacting fermions in two-dimensional optical lattices. Phys. Rev. A 84, 053611 (2011)

Chiesa, S., Varney, C. N., Rigol, M. & Scalettar, R. T. Magnetism and pairing of two-dimensional trapped fermions. Phys. Rev. Lett. 106, 035301 (2011)
Acknowledgements
This work was supported under ARO grant no. W911NF-13-1-0018 with funds from the DARPA OLE programme, NSF, ONR, the Welch Foundation (grant no. C-1133), and an ARO-MURI grant no. W911NF-14-1-003. T.P. acknowledges support from CNPq, FAPERJ, and the INCT on Quantum Information. R.T.S. acknowledges support from the Office of the President of the University of California.
Ethics declarations
Competing interests
The authors declare no competing financial interests.
Extended data figures and tables
About this article
Cite this article
Hart, R., Duarte, P., Yang, TL. et al. Observation of antiferromagnetic correlations in the Hubbard model with ultracold atoms. Nature 519, 211–214 (2015). https://doi.org/10.1038/nature14223
Received:

Accepted:

Published:

Issue Date:

DOI: https://doi.org/10.1038/nature14223
Comments
By submitting a comment you agree to abide by our Terms and Community Guidelines. If you find something abusive or that does not comply with our terms or guidelines please flag it as inappropriate.