Abstract
Large-scale genomic studies have shown that half of epithelial ovarian cancers (EOCs) have alterations in genes regulating homologous recombination (HR) repair1. Loss of HR accounts for the genomic instability of EOCs and for their cellular hyper-dependence on alternative poly-ADP ribose polymerase (PARP)-mediated DNA repair mechanisms2,3,4,5. Previous studies have implicated the DNA polymerase θ (Polθ also known as POLQ, encoded by POLQ)6 in a pathway required for the repair of DNA double-strand breaks7,8,9, referred to as the error-prone microhomology-mediated end-joining (MMEJ) pathway10,11,12,13. Whether Polθ interacts with canonical DNA repair pathways to prevent genomic instability remains unknown. Here we report an inverse correlation between HR activity and Polθ expression in EOCs. Knockdown of Polθ in HR-proficient cells upregulates HR activity and RAD51 nucleofilament assembly, while knockdown of Polθ in HR-deficient EOCs enhances cell death. Consistent with these results, genetic inactivation of an HR gene (Fancd2) and Polq in mice results in embryonic lethality. Moreover, Polθ contains RAD51 binding motifs and it blocks RAD51-mediated recombination. Our results reveal a synthetic lethal relationship between the HR pathway and Polθ-mediated repair in EOCs, and identify Polθ as a novel druggable target for cancer therapy.
Your institute does not have access to this article
Relevant articles
Open Access articles citing this article.
Megan E. Luedeman

,

Susanna Stroik

…

Dale A. Ramsden

Nature Communications Open Access 04 August 2022

Michael Ensminger

,

Marta Llorens-Agost

&

Markus Löbrich

BIOspektrum Open Access 28 March 2022

Mohsen Valikhani

,

Elahe Rahimian

…

Majid Safa

Experimental Hematology & Oncology Open Access 03 November 2021
Access options
Subscribe to Journal
Get full journal access for 1 year
$199.00
only $3.90 per issue
All prices are NET prices.
VAT will be added later in the checkout.
Tax calculation will be finalised during checkout.
Buy article
Get time limited or full article access on ReadCube.
$32.00
All prices are NET prices.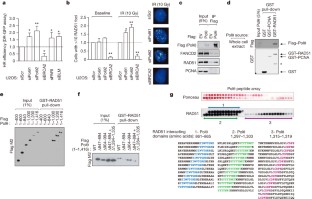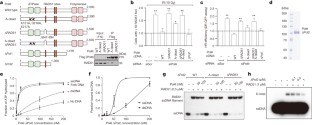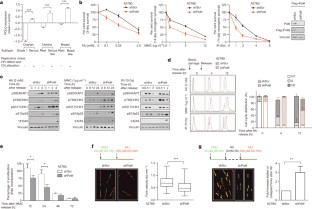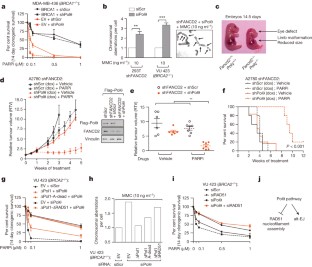 References
The Cancer Genome Atlas Research Network. Integrated genomic analyses of ovarian carcinoma. Nature 474, 609–615 (2011)

Farmer, H. et al. Targeting the DNA repair defect in BRCA mutant cells as a therapeutic strategy. Nature 434, 917–921 (2005)

Bryant, H. E. et al. Specific killing of BRCA2-deficient tumours with inhibitors of poly(ADP-ribose) polymerase. Nature 434, 913–917 (2005)

Kennedy, R. D. & D'Andrea, A. D. DNA repair pathways in clinical practice: lessons from pediatric cancer susceptibility syndromes. J. Clin. Oncol. 24, 3799–3808 (2006)

Bast, R. C., Jr, Hennessy, B. & Mills, G. B. The biology of ovarian cancer: new opportunities for translation. Nature Rev. Cancer 9, 415–428 (2009)

Yousefzadeh, M. J. & Wood, R. D. DNA polymerase POLQ and cellular defense against DNA damage. DNA Repair 12, 1–9 (2013)

Shima, N., Munroe, R. J. & Schimenti, J. C. The mouse genomic instability mutation chaos1 is an allele of Polq that exhibits genetic interaction with Atm. Mol. Cell. Biol. 24, 10381–10389 (2004)

Yoshimura, M. et al. Vertebrate POLQ and POLβ cooperate in base excision repair of oxidative DNA damage. Mol. Cell 24, 115–125 (2006)

Muzzini, D. M., Plevani, P., Boulton, S. J., Cassata, G. & Marini, F. Caenorhabditis elegans POLQ-1 and HEL-308 function in two distinct DNA interstrand cross-link repair pathways. DNA Repair 7, 941–950 (2008)

McVey, M. & Lee, S. E. MMEJ repair of double-strand breaks (director's cut): deleted sequences and alternative endings. Trends in Genet. 24, 529–538 (2008)

Chan, S. H., Yu, A. M. & McVey, M. Dual roles for DNA polymerase theta in alternative end-joining repair of double-strand breaks in Drosophila. PLoS Genet. 6, e1001005 (2010)

Yu, A. M. & McVey, M. Synthesis-dependent microhomology-mediated end joining accounts for multiple types of repair junctions. Nucleic Acids Res. 38, 5706–5717 (2010)

Koole, W. et al. A polymerase theta-dependent repair pathway suppresses extensive genomic instability at endogenous G4 DNA sites. Nat. Commun. 5, 3216 (2014)

Nakanishi, K. et al. Human Fanconi anemia monoubiquitination pathway promotes homologous DNA repair. Proc. Natl Acad. Sci. USA 102, 1110–1115 (2005)

Moldovan, G. L. et al. Inhibition of homologous recombination by the PCNA-interacting protein PARI. Mol. Cell 45, 75–86 (2012)

Ira, G., Malkova, A., Liberi, G., Foiani, M. & Haber, J. E. Srs2 and Sgs1-Top3 suppress crossovers during double-strand break repair in yeast. Cell 115, 401–411 (2003)

Ward, J. D. et al. Overlapping mechanisms promote postsynaptic RAD-51 filament disassembly during meiotic double-strand break repair. Mol. Cell 37, 259–272 (2010)

Seki, M., Marini, F. & Wood, R. D. POLQ (Pol theta), a DNA polymerase and DNA-dependent ATPase in human cells. Nucleic Acids Res. 31, 6117–6126 (2003)

Jackson, D. A. & Pombo, A. Replicon clusters are stable units of chromosome structure: evidence that nuclear organization contributes to the efficient activation and propagation of S phase in human cells. J. Cell Biol. 140, 1285–1295 (1998)

The Cancer Genome Atlas Research Network. Integrated genomic characterization of endometrial carcinoma. Nature 497, 67–73 (2013)

Morrison, C. et al. The controlling role of ATM in homologous recombinational repair of DNA damage. EMBO J. 19, 463–471 (2000)

Parmar, K. et al. Hematopoietic stem cell defects in mice with deficiency of Fancd2 or Usp1. Stem Cells 28, 1186–1195 (2010)

Hu, Y. et al. PARP1-driven poly-ADP-ribosylation regulates BRCA1 function in homologous recombination mediated DNA repair. Cancer Discov. 4, 1430–1447 (2014)

Yang, D. et al. Association of BRCA1 and BRCA2 mutations with survival, chemotherapy sensitivity, and gene mutator phenotype in patients with ovarian cancer. J. Am. Med. Assoc. 306, 1557–1565 (2011)

Seki, M. et al. High-efficiency bypass of DNA damage by human DNA polymerase Q. EMBO J. 23, 4484–4494 (2004)

Seki, M. & Wood, R. D. DNA polymerase theta (POLQ) can extend from mismatches and from bases opposite a (6–4) photoproduct. DNA Repair 7, 119–127 (2008)

Zhang, Y. & Jasin, M. An essential role for CtIP in chromosomal translocation formation through an alternative end-joining pathway. Nature Struct. Mol. Biol. 18, 80–84 (2011)

Chiruvella, K. K., Liang, Z. & Wilson, T. E. Repair of double-strand breaks by end joining. Cold Spring Harb. Perspect. Biol. 5, a012757 (2013)

Alexandrov, L. B. et al. Signatures of mutational processes in human cancer. Nature 500, 415–421 (2013)

Lemée, F. et al. DNA polymerase theta up-regulation is associated with poor survival in breast cancer, perturbs DNA replication, and promotes genetic instability. Proc. Natl Acad. Sci. USA 107, 13390–13395 (2010)

Kang, J., D'Andrea, A. D. & Kozono, D. A DNA repair pathway-focused score for prediction of outcomes in ovarian cancer treated with platinum-based chemotherapy. J. Natl. Cancer Inst. 104, 670–681 (2012)

The Cancer Genome Atlas Network Comprehensive molecular portraits of human breast tumours. Nature 490, 61–70 (2012)

Ceccaldi, R. et al. Bone marrow failure in Fanconi anemia is triggered by an exacerbated p53/p21 DNA damage response that impairs hematopoietic stem and progenitor cells. Cell Stem Cell 11, 36–49 (2012)

Bennardo, N., Cheng, A., Huang, N. & Stark, J. M. Alternative-NHEJ is a mechanistically distinct pathway of mammalian chromosome break repair. PLoS Genet. 4, e1000110 (2008)

Yusufzai, T. & Kadonaga, J. T. HARP is an ATP-driven annealing helicase. Science 322, 748–750 (2008)

Barber, L. J. et al. RTEL1 maintains genomic stability by suppressing homologous recombination. Cell 135, 261–271 (2008)

Amunugama, R., Groden, J. & Fishel, R. The HsRAD51B–HsRAD51C stabilizes the HsRAD51 nucleoprotein filament. DNA Repair 12, 723–732 (2013)

Pitroda, S. P. et al. DNA repair pathway gene expression score correlates with repair proficiency and tumor sensitivity to chemotherapy. Sci. Transl. Med. 6, 229ra242 (2014)

Aggarwal, M., Sommers, J. A., Shoemaker, R. H. & Brosh, R. M., Jr Inhibition of helicase activity by a small molecule impairs Werner syndrome helicase (WRN) function in the cellular response to DNA damage or replication stress. Proc. Natl Acad. Sci. USA 108, 1525–1530 (2011)
Acknowledgements
We thank N. Shima, D. Chowdhury, G. Shapiro, J. Walter, D. Kozono, J. Ablain, M. Delord, J.-B. Lazaro and members of the D'Andrea laboratory for discussions. We also thank H. Kim for providing DNA constructs, L. Moldovan for providing GST tagged RAD51, S. Johnson for providing MDA-MB 436 cells, A. Y. Li for technical assistance, L. Moreau for chromosomal breakage analysis, and K. Mouw for critical reading of the manuscript. We thank H. Zhang for providing access to shRNA screening data shown in Extended Data Fig. 6i. We thank C. Cazaux and J.-S. Hoffmann for providing pcDNA Flag-tagged Polθ. R.C. received support from the Philippe Foundation and is a recipient of the Ovarian Cancer Research Fellowship (OCRF). This work was supported by NIH grants P50CA168504 and R01HL52725 and by grants from OCRF and BCRF.
Ethics declarations
Competing interests
The authors declare no competing financial interests.
Extended data figures and tables
Supplementary information
This file contains the GEO accession number and details of the datasets used in the study. (XLSX 41 kb)
This file contains 200 probesets, differentially expressed between POLQ high and POLQ low expression groups. (XLSX 57 kb)
This file contains the Translesion Synthesis GeneSet and the Polymerase GeneSet. (XLSX 42 kb)
About this article
Cite this article
Ceccaldi, R., Liu, J., Amunugama, R. et al. Homologous-recombination-deficient tumours are dependent on Polθ-mediated repair. Nature 518, 258–262 (2015). https://doi.org/10.1038/nature14184
Received:

Accepted:

Published:

Issue Date:

DOI: https://doi.org/10.1038/nature14184
Comments
By submitting a comment you agree to abide by our Terms and Community Guidelines. If you find something abusive or that does not comply with our terms or guidelines please flag it as inappropriate.