Abstract
The origin of mutations is central to understanding evolution and of key relevance to health. Variation occurs non-randomly across the genome, and mechanisms for this remain to be defined. Here we report that the 5′ ends of Okazaki fragments have significantly increased levels of nucleotide substitution, indicating a replicative origin for such mutations. Using a novel method, emRiboSeq, we map the genome-wide contribution of polymerases, and show that despite Okazaki fragment processing, DNA synthesized by error-prone polymerase-α (Pol-α) is retained in vivo, comprising approximately 1.5% of the mature genome. We propose that DNA-binding proteins that rapidly re-associate post-replication act as partial barriers to Pol-δ-mediated displacement of Pol-α-synthesized DNA, resulting in incorporation of such Pol-α tracts and increased mutation rates at specific sites. We observe a mutational cost to chromatin and regulatory protein binding, resulting in mutation hotspots at regulatory elements, with signatures of this process detectable in both yeast and humans.
Your institute does not have access to this article
Relevant articles
Open Access articles citing this article.
Martin A. M. Reijns

,

David A. Parry

…

Andrew P. Jackson

Nature Open Access 09 February 2022

Stefano Amente

,

Giovanni Scala

…

Marcus S. Cooke

Cellular and Molecular Life Sciences Open Access 31 August 2021

Christian A. Lee

,

Diala Abd-Rabbo

&

Jüri Reimand

Genome Biology Open Access 03 May 2021
Access options
Subscribe to Journal
Get full journal access for 1 year
$199.00
only $3.90 per issue
All prices are NET prices.
VAT will be added later in the checkout.
Tax calculation will be finalised during checkout.
Buy article
Get time limited or full article access on ReadCube.
$32.00
All prices are NET prices.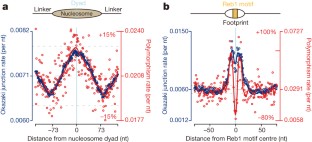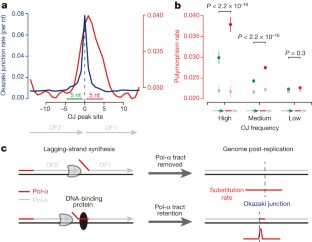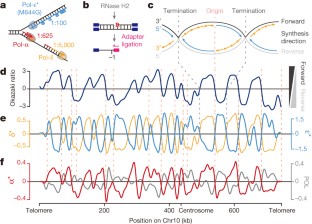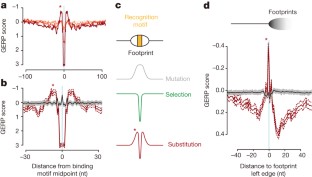 Accession codes
Primary accessions
Gene Expression Omnibus
Data deposits
Next-generation sequencing data submitted to the Gene Expression Omnibus (GEO) under accession number GSE64521; R and PERL code submitted to GitHub repository taylorLab/LaggingStrand (https://github.com/taylorLab/LaggingStrand).
References
Kunkel, T. A. Evolving views of DNA replication (in)fidelity. Cold Spring Harb. Symp. Quant. Biol. 74, 91–101 (2009)

Wolfe, K. H., Sharp, P. M. & Li, W. H. Mutation rates differ among regions of the mammalian genome. Nature 337, 283–285 (1989)

Alexandrov, L. B. & Stratton, M. R. Mutational signatures: the patterns of somatic mutations hidden in cancer genomes. Curr. Opin. Genet. Dev. 24, 52–60 (2014)

Ciccia, A. & Elledge, S. J. The DNA damage response: making it safe to play with knives. Mol. Cell 40, 179–204 (2010)

Lindblad-Toh, K. et al. A high-resolution map of human evolutionary constraint using 29 mammals. Nature 478, 476–482 (2011)

Pollard, K. S. et al. Forces shaping the fastest evolving regions in the human genome. PLoS Genet. 2, e168 (2006)

Prendergast, J. G. & Semple, C. A. Widespread signatures of recent selection linked to nucleosome positioning in the human lineage. Genome Res. 21, 1777–1787 (2011)

Sasaki, S. et al. Chromatin-associated periodicity in genetic variation downstream of transcriptional start sites. Science 323, 401–404 (2009)

Semple, C. A. & Taylor, M. S. Molecular biology. The structure of change. Science 323, 347–348 (2009)

Warnecke, T., Batada, N. N. & Hurst, L. D. The impact of the nucleosome code on protein-coding sequence evolution in yeast. PLoS Genet. 4, e1000250 (2008)

Washietl, S., Machne, R. & Goldman, N. Evolutionary footprints of nucleosome positions in yeast. Trends Genet. 24, 583–587 (2008)

Ying, H., Epps, J., Williams, R. & Huttley, G. Evidence that localized variation in primate sequence divergence arises from an influence of nucleosome placement on DNA repair. Mol. Biol. Evol. 27, 637–649 (2010)

Johnston, L. H. & Nasmyth, K. A. Saccharomyces cerevisiae cell cycle mutant cdc9 is defective in DNA ligase. Nature 274, 891–893 (1978)

Okazaki, R., Okazaki, T., Sakabe, K., Sugimoto, K. & Sugino, A. Mechanism of DNA chain growth. I. Possible discontinuity and unusual secondary structure of newly synthesized chains. Proc. Natl Acad. Sci. USA 59, 598–605 (1968)

Balakrishnan, L. & Bambara, R. A. Okazaki fragment metabolism. Cold Spring Harb. Perspect. Biol. 5, a010173 (2013)

Zheng, L. & Shen, B. Okazaki fragment maturation: nucleases take centre stage. J. Mol. Cell Biol. 3, 23–30 (2011)

Smith, D. J. & Whitehouse, I. Intrinsic coupling of lagging-strand synthesis to chromatin assembly. Nature 483, 434–438 (2012)

Stith, C. M., Sterling, J., Resnick, M. A., Gordenin, D. A. & Burgers, P. M. Flexibility of eukaryotic Okazaki fragment maturation through regulated strand displacement synthesis. J. Biol. Chem. 283, 34129–34140 (2008)

Perera, R. L. et al. Mechanism for priming DNA synthesis by yeast DNA Polymerase alpha. Elife 2, e00482 (2013)

Walsh, E. & Eckert, K. A. Eukaryotic Replicative DNA Polymerases. Nucleic Acid Polymerases 30, 17–41 (2014)

Pavlov, Y. I. et al. Evidence that errors made by DNA polymerase α are corrected by DNA polymerase δ. Curr. Biol. 16, 202–207 (2006)

Maga, G. et al. Okazaki fragment processing: modulation of the strand displacement activity of DNA polymerase δ by the concerted action of replication protein A, proliferating cell nuclear antigen, and flap endonuclease-1. Proc. Natl Acad. Sci. USA 98, 14298–14303 (2001)

Kunkel, T. A., Hamatake, R. K., Motto-Fox, J., Fitzgerald, M. P. & Sugino, A. Fidelity of DNA polymerase I and the DNA polymerase I-DNA primase complex from Saccharomyces cerevisiae. Mol. Cell. Biol. 9, 4447–4458 (1989)

Lujan, S. A. et al. Heterogeneous polymerase fidelity and mismatch repair bias genome variation and composition. Genome Res. 24, 1751–1764 (2014)

Nick McElhinny, S. A., Kissling, G. E. & Kunkel, T. A. Differential correction of lagging-strand replication errors made by DNA polymerases α and δ. Proc. Natl Acad. Sci. USA 107, 21070–21075 (2010)

Niimi, A. et al. Palm mutants in DNA polymerases α and η alter DNA replication fidelity and translesion activity. Mol. Cell. Biol. 24, 2734–2746 (2004)

Nick McElhinny, S. A. et al. Genome instability due to ribonucleotide incorporation into DNA. Nature Chem. Biol. 6, 774–781 (2010)

Reijns, M. A. et al. Enzymatic removal of ribonucleotides from DNA is essential for mammalian genome integrity and development. Cell 149, 1008–1022 (2012)

Sparks, J. L. et al. RNase H2-initiated ribonucleotide excision repair. Mol. Cell 47, 980–986 (2012)

Lujan, S. A., Williams, J. S., Clausen, A. R., Clark, A. B. & Kunkel, T. A. Ribonucleotides are signals for mismatch repair of leading-strand replication errors. Mol. Cell 50, 437–443 (2013)

Lujan, S. A. et al. Mismatch repair balances leading and lagging strand DNA replication fidelity. PLoS Genet. 8, e1003016 (2012)

Miyabe, I., Kunkel, T. A. & Carr, A. M. The major roles of DNA polymerases ε and δ at the eukaryotic replication fork are evolutionarily conserved. PLoS Genet. 7, e1002407 (2011)

Nick McElhinny, S. A., Gordenin, D. A., Stith, C. M., Burgers, P. M. & Kunkel, T. A. Division of labor at the eukaryotic replication fork. Mol. Cell 30, 137–144 (2008)

Larrea, A. A. et al. Genome-wide model for the normal eukaryotic DNA replication fork. Proc. Natl Acad. Sci. USA 107, 17674–17679 (2010)

Pursell, Z. F., Isoz, I., Lundstrom, E. B., Johansson, E. & Kunkel, T. A. Yeast DNA polymerase epsilon participates in leading-strand DNA replication. Science 317, 127–130 (2007)

Raghuraman, M. K. et al. Replication dynamics of the yeast genome. Science 294, 115–121 (2001)

Nick McElhinny, S. A. et al. Abundant ribonucleotide incorporation into DNA by yeast replicative polymerases. Proc. Natl Acad. Sci. USA 107, 4949–4954 (2010)

Kao, H. I. & Bambara, R. A. The protein components and mechanism of eukaryotic Okazaki fragment maturation. Crit. Rev. Biochem. Mol. Biol. 38, 433–452 (2003)

Chon, H. et al. RNase H2 roles in genome integrity revealed by unlinking its activities. Nucleic Acids Res. 41, 3130–3143 (2013)

Boyle, A. P. et al. High-resolution genome-wide in vivo footprinting of diverse transcription factors in human cells. Genome Res. 21, 456–464 (2011)

Cooper, G. M. et al. Distribution and intensity of constraint in mammalian genomic sequence. Genome Res. 15, 901–913 (2005)

Schmidt, S. et al. Hypermutable non-synonymous sites are under stronger negative selection. PLoS Genet. 4, e1000281 (2008)

Vengrova, S. & Dalgaard, J. Z. The wild-type Schizosaccharomyces pombe mat1 imprint consists of two ribonucleotides. EMBO Rep. 7, 59–65 (2006)

Ghodgaonkar, M. M. et al. Ribonucleotides misincorporated into DNA act as strand-discrimination signals in eukaryotic mismatch repair. Mol. Cell 50, 323–332 (2013)

Liberti, S. E., Larrea, A. A. & Kunkel, T. A. Exonuclease 1 preferentially repairs mismatches generated by DNA polymerase α. DNA Repair 12, 92–96 (2013)

Burgess, R. J. & Zhang, Z. Histone chaperones in nucleosome assembly and human disease. Nature Struct. Mol. Biol. 20, 14–22 (2013)

Villar, D., Flicek, P. & Odom, D. T. Evolution of transcription factor binding in metazoans - mechanisms and functional implications. Nature Rev. Genet. 15, 221–233 (2014)

Clausen, A. R. et al. Tracking replication enzymology in vivo by genome-wide mapping of ribonucleotide incorporation. Nature Struct. Mol. Biol http://dx.doi.org/10.1038/nsmb.2957 (2015)

Koh, K. D., Balachander, S., Hesselberth, J. R. & Storici, F. Ribose-seq: global mapping of ribonucleotides embedded in genomic DNA. Nature Methods http://dx.doi.org/10.1038/nmeth.3259 (2015)

Daigaku, Y. et al. A global profile of replicative polymerase usage. Nature Struct. Mol. Biol. (in the press)

Kuhn, R. M., Haussler, D. & Kent, W. J. The UCSC genome browser and associated tools. Brief. Bioinform. 14, 144–161 (2013)

Derrien, T. et al. Fast computation and applications of genome mappability. PLoS ONE 7, e30377 (2012)

Eaton, M. L., Galani, K., Kang, S., Bell, S. P. & MacAlpine, D. M. Conserved nucleosome positioning defines replication origins. Genes Dev. 24, 748–753 (2010)

Hesselberth, J. R. et al. Global mapping of protein-DNA interactions in vivo by digital genomic footprinting. Nature Methods 6, 283–289 (2009)

Jiang, C. & Pugh, B. F. A compiled and systematic reference map of nucleosome positions across the Saccharomyces cerevisiae genome. Genome Biol. 10, R109 (2009)

Liti, G. et al. Population genomics of domestic and wild yeasts. Nature 458, 337–341 (2009)

Yang, Z. PAML 4: phylogenetic analysis by maximum likelihood. Mol. Biol. Evol. 24, 1586–1591 (2007)

Rhee, H. S. & Pugh, B. F. Comprehensive genome-wide protein-DNA interactions detected at single-nucleotide resolution. Cell 147, 1408–1419 (2011)

Korhonen, J., Martinmaki, P., Pizzi, C., Rastas, P. & Ukkonen, E. MOODS: fast search for position weight matrix matches in DNA sequences. Bioinformatics 25, 3181–3182 (2009)

Mathelier, A. et al. JASPAR 2014: an extensively expanded and updated open-access database of transcription factor binding profiles. Nucleic Acids Res. 42, D142–D147 (2014)

The ENCODE Project Consortium. An integrated encyclopedia of DNA elements in the human genome. Nature 489, 57–74 (2012)

Thurman, R. E. et al. The accessible chromatin landscape of the human genome. Nature 489, 75–82 (2012)

Reijns, M. A. et al. The structure of the human RNase H2 complex defines key interaction interfaces relevant to enzyme function and human disease. J. Biol. Chem. 286, 10530–10539 (2011)
Acknowledgements
We thank N. Hastie and P. Burgers for discussions, I. Adams, J. Caceres, T. Aitman and P. Heyn for comments on the manuscript, and A. Gallacher for technical assistance. We are indebted to J. Williams, A. Clausen and T. Kunkel for sharing yeast strains and unpublished data, and to S. Cerritelli and R. Crouch for RNH201 vectors. Funding: MRC Centenary Award to M.A.M.R.; MRC and Lister Institute of Preventive Medicine to A.P.J.; MRC and Medical Research Foundation to M.S.T.
Ethics declarations
Competing interests
The authors declare no competing financial interests.
Extended data figures and tables
Supplementary information
This file contains Supplementary Tables 1-3 and additional references. (PDF 175 kb)
About this article
Cite this article
Reijns, M., Kemp, H., Ding, J. et al. Lagging-strand replication shapes the mutational landscape of the genome. Nature 518, 502–506 (2015). https://doi.org/10.1038/nature14183
Received:

Accepted:

Published:

Issue Date:

DOI: https://doi.org/10.1038/nature14183
Comments
By submitting a comment you agree to abide by our Terms and Community Guidelines. If you find something abusive or that does not comply with our terms or guidelines please flag it as inappropriate.