Abstract
The basal ganglia are phylogenetically conserved subcortical nuclei necessary for coordinated motor action and reward learning1. Current models postulate that the basal ganglia modulate cerebral cortex indirectly via an inhibitory output to thalamus, bidirectionally controlled by direct- and indirect-pathway striatal projection neurons (dSPNs and iSPNs, respectively)2,3,4. The basal ganglia thalamic output sculpts cortical activity by interacting with signals from sensory and motor systems5. Here we describe a direct projection from the globus pallidus externus (GP), a central nucleus of the basal ganglia, to frontal regions of the cerebral cortex (FC). Two cell types make up the GP–FC projection, distinguished by their electrophysiological properties, cortical projections and expression of choline acetyltransferase (ChAT), a synthetic enzyme for the neurotransmitter acetylcholine (ACh). Despite these differences, ChAT+ cells, which have been historically identified as an extension of the nucleus basalis, as well as ChAT− cells, release the inhibitory neurotransmitter GABA (γ-aminobutyric acid) and are inhibited by iSPNs and dSPNs of dorsal striatum. Thus, GP–FC cells comprise a direct GABAergic/cholinergic projection under the control of striatum that activates frontal cortex in vivo. Furthermore, iSPN inhibition of GP–FC cells is sensitive to dopamine 2 receptor signalling, revealing a pathway by which drugs that target dopamine receptors for the treatment of neuropsychiatric disorders can act in the basal ganglia to modulate frontal cortices.
Relevant articles
Open Access articles citing this article.
Massimiliano Passaretti

,

Luca Pollini

…

Matteo Bologna

Journal of Neural Transmission Open Access 12 July 2022

Eric M. Trautmann

,

Daniel J. O'Shea

…

Krishna V. Shenoy

Nature Communications Open Access 17 June 2021

Qiang-long You

,

Zhou-cai Luo

…

Tian-ming Gao

Translational Psychiatry Open Access 24 April 2021
Access options
Subscribe to Journal
Get full journal access for 1 year
$199.00
only $3.90 per issue
All prices are NET prices.
VAT will be added later in the checkout.
Tax calculation will be finalised during checkout.
Buy article
Get time limited or full article access on ReadCube.
$32.00
All prices are NET prices.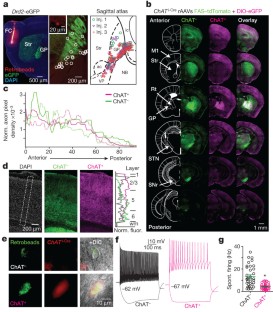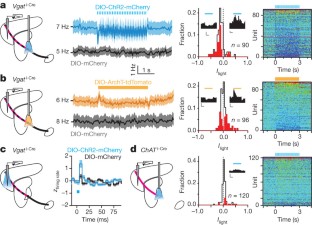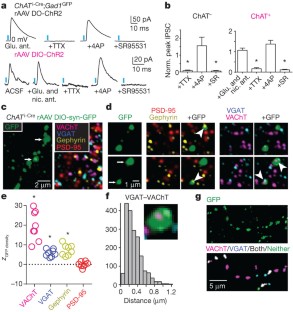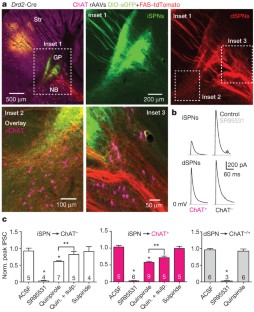 References
Yin, H. H. & Knowlton, B. J. The role of the basal ganglia in habit formation. Nature Rev. Neurosci. 7, 464–476 (2006)

Smith, Y., Bevan, M. D., Shink, E. & Bolam, J. P. Microcircuitry of the direct and indirect pathways of the basal ganglia. Neuroscience 86, 353–387 (1998)

Kravitz, A. V. et al. Regulation of parkinsonian motor behaviours by optogenetic control of basal ganglia circuitry. Nature 466, 622–626 (2010)

Freeze, B. S., Kravitz, A. V., Hammack, N., Berke, J. D. & Kreitzer, A. C. Control of basal ganglia output by direct and indirect pathway projection neurons. J. Neurosci. 33, 18531–18539 (2013)

Goldberg, J. H., Farries, M. A. & Fee, M. S. Basal ganglia output to the thalamus: still a paradox. Trends Neurosci. 36, 695–705 (2013)

Seeman, P. Dopamine receptors and the dopamine hypothesis of schizophrenia. Synapse 1, 133–152 (1987)

Tohen, M. & Vieta, E. Antipsychotic agents in the treatment of bipolar mania. Bipolar Disord. 11, 45–54 (2009)

Bloch, M. H. et al. A systematic review: antipsychotic augmentation with treatment refractory obsessive-compulsive disorder. Mol. Psychiatry 11, 622–632 (2006)

Kita, H. Globus pallidus external segment. Prog. Brain Res. 160, 111–133 (2007)

Mesulam, M. M., Mufson, E. J., Levey, A. I. & Wainer, B. H. Atlas of cholinergic neurons in the forebrain and upper brainstem of the macaque based on monoclonal choline acetyltransferase immunohistochemistry and acetylcholinesterase histochemistry. Neuroscience 12, 669–686 (1984)

McKinney, M., Coyle, J. T. & Hedreen, J. C. Topographic analysis of the innervation of the rat neocortex and hippocampus by the basal forebrain cholinergic system. J. Comp. Neurol. 217, 103–121 (1983)

Grove, E. A., Domesick, V. B. & Nauta, W. J. Light microscopic evidence of striatal input to intrapallidal neurons of cholinergic cell group Ch4 in the rat: a study employing the anterograde tracer Phaseolus vulgaris leucoagglutinin (PHA-L). Brain Res. 367, 379–384 (1986)

Henderson, Z. The projection from the striatum to the nucleus basalis in the rat: an electron microscopic study. Neuroscience 78, 943–955 (1997)

Chang, H. T., Penny, G. R. & Kitai, S. T. Enkephalinergic-cholinergic interaction in the rat globus pallidus: a pre-embedding double-labeling immunocytochemistry study. Brain Res. 426, 197–203 (1987)

DeLong, M. R. Activity of pallidal neurons during movement. J. Neurophysiol. 34, 414–427 (1971)

Schultz, W. Changes in behavior-related neuronal activity in the striatum during learning. Trends Neurosci. 26, 321–328 (2003)

Laplane, D. et al. Obsessive-compulsive and other behavioural changes with bilateral basal ganglia lesions. A neuropsychological, magnetic resonance imaging and positron tomography study. Brain 112, 699–725 (1989)

Tkatch, T., Baranauskas, G. & Surmeier, D. J. Basal forebrain neurons adjacent to the globus pallidus co-express GABAergic and cholinergic marker mRNAs. Neuroreport 9, 1935–1939 (1998)

Mallet, N. et al. Dichotomous organization of the external globus pallidus. Neuron 74, 1075–1086 (2012)

Sarter, M. & Bruno, J. P. The neglected constituent of the basal forebrain corticopetal projection system: GABAergic projections. Eur. J. Neurosci. 15, 1867–1873 (2002)

Saunders, A., Johnson, C. A. & Sabatini, B. L. Novel recombinant adeno-associated viruses for Cre activated and inactivated transgene expression in neurons. Front. Neural Circuits 6, 47 (2012)

Shepherd, G. M. & Harris, K. M. Three-dimensional structure and composition of CA3→CA1 axons in rat hippocampal slices: implications for presynaptic connectivity and compartmentalization. J. Neurosci. 18, 8300–8310 (1998)

Nambu, A., Tokuno, H. & Takada, M. Functional significance of the cortico-subthalamo-pallidal 'hyperdirect' pathway. Neurosci. Res. 43, 111–117 (2002)

Albin, R. L., Young, A. B. & Penney, J. B. The functional anatomy of basal ganglia disorders. Trends Neurosci. 12, 366–375 (1989)

Simpson, E. H., Kellendonk, C. & Kandel, E. A possible role for the striatum in the pathogenesis of the cognitive symptoms of schizophrenia. Neuron 65, 585–596 (2010)

Schizophrenia Working Group of the Psychiatric Genomics Consortium. Biological insights from 108 schizophrenia-associated genetic loci. Nature 511, 421–427 (2014)

Insel, T. R. Rethinking schizophrenia. Nature 468, 187–193 (2010)

Blum, B. P. & Mann, J. J. The GABAergic system in schizophrenia. Int. J. Neuropsychopharmacol. 5, 159–179 (2002)

Scarr, E., Gibbons, A. S., Neo, J., Udawela, M. & Dean, B. Cholinergic connectivity: it's implications for psychiatric disorders. Front. Cell. Neurosci. 7, 55 (2013)

Lewis, D. A., Hashimoto, T. & Volk, D. W. Cortical inhibitory neurons and schizophrenia. Nature Rev. Neurosci. 6, 312–324 (2005)

Rossi, J. et al. Melanocortin-4 receptors expressed by cholinergic neurons regulate energy balance and glucose homeostasis. Cell Metab. 13, 195–204 (2011)

Vong, L. et al. Leptin action on GABAergic neurons prevents obesity and reduces inhibitory tone to POMC neurons. Neuron 71, 142–154 (2011)

Taniguchi, H. et al. A resource of Cre driver lines for genetic targeting of GABAergic neurons in cerebral cortex. Neuron 71, 995–1013 (2011)

Gong, S. et al. Targeting Cre recombinase to specific neuron populations with bacterial artificial chromosome constructs. J. Neurosci. 27, 9817–9823 (2007)

Gerfen, C. R., Paletzki, R. & Heintz, N. GENSAT BAC Cre-recombinase driver lines to study the functional organization of cerebral cortical and basal ganglia circuits. Neuron 80, 1368–1383 (2013)

Tallini, Y. N. et al. BAC transgenic mice express enhanced green fluorescent protein in central and peripheral cholinergic neurons. Physiol. Genomics 27, 391–397 (2006)

Madisen, L. et al. A robust and high-throughput Cre reporting and characterization system for the whole mouse brain. Nature Neurosci. 13, 133–140 (2010)

Madisen, L. et al. A toolbox of Cre-dependent optogenetic transgenic mice for light-induced activation and silencing. Nature Neurosci. 15, 1–12 (2012)

Tamamaki, N. et al. Green fluorescent protein expression and colocalization with calretinin, parvalbumin, and somatostatin in the GAD67-GFP knock-in mouse. J. Comp. Neurol. 467, 60–79 (2003)

Saunders, A., Johnson, C. A. & Sabatini, B. L. Novel recombinant adeno-associated viruses for Cre activated and inactivated transgene expression in neurons. Front. Neural Circuits 6, 47 (2012)

Mesulam, M. M., Mufson, E. J., Levey, A. I. & Wainer, B. H. Cholinergic innervation of cortex by the basal forebrain: cytochemistry and cortical connections of the septal area, diagonal band nuclei, nucleus basalis (substantia innominata), and hypothalamus in the rhesus monkey. J. Comp. Neurol. 214, 170–197 (1983)

Beurrier, C., Ben-Ari, Y. & Hammond, C. Preservation of the direct and indirect pathways in an in vitro preparation of the mouse basal ganglia. Neuroscience 140, 77–86 (2006)

Marx, M., Günter, R. H., Hucko, W., Radnikow, G. & Feldmeyer, D. Improved biocytin labeling and neuronal 3D reconstruction. Nature Protocols 7, 394–407 (2012)

Freeze, B. S., Kravitz, A. V., Hammack, N., Berke, J. D. & Kreitzer, A. C. Control of basal ganglia output by direct and indirect pathway projection neurons. J. Neurosci. 33, 18531–18539 (2013)

Eberly, D., Gardner, R., Morse, B., Pizer, S. & Scharlach, C. Ridges for image analysis. J. Math. Imaging Vis. 4, 353–373 (1994)

Canny, J. A computational approach to edge detection. IEEE Trans. Pattern Anal. Mach. Intell. 8, 679–698 (1986)
Acknowledgements
The authors thank the Lowell laboratory at Beth Israel Deaconess Medical Center for the gift of the DIO-synaptophysin-mCherry and DIO-synaptophysin-GFP rAAVs, R. Pemberton for technical support and F. Krienen, N. Duggan, P. Kaeser and members of the Sabatini laboratory for helpful discussions. This work was supported by grants from the National Institutes of Health (F31 NS074842) to A.S., (F31-MH093026-01A1) to I.A.O., (P30 EY12196) to the Vision Core and NINDS P30 Core Center grant (#NS072030) to the Neural Imaging Center and Neurobiology Imaging Center in the Department of Neurobiology at Harvard Medical School and a NIH grant (R01 NS046579) to B.L.S.
Ethics declarations
Competing interests
The authors declare no competing financial interests.
Extended data figures and tables
Supplementary information
rAAVs DIO-EGFP (Cre-On) and FAS-tdTomato (Cre-Off) were injected into the GP and adjacent dorsal NB in a ChAT i-Cre/+ mouse. The max projection video begins with a lateral to medial view of the injection site and Rt. A posterior to anterior fly through of cortex shows axons in frontal cortex and the lateral amygdala, followed by a medial to lateral view that exhibits subcortical projections to the Str, STN, SNr/c, PF and LH. A small amount of FAS-tdTomato expression in striatum contributes to the Cre-Off projection in SNr. Rt, thalamic reticular nucleus; Str, striatum; SNr/c, substantia nigra reticulata/compacta; PF, thalamic parafascicular nucleus; LH, lateral habenula. (MOV 28915 kb)
rAAVs DIO-EGFP (Cre-On) and FAS-tdTomato (Cre-Off) were injected into the dorsal striatum of D2r-Cre mouse, to differentially label Cre+ iSPNs and Cre- non-iSPNs. Since SPNs provide the only output of striatum, this strategy selectively labels iSPN and dSPN projections. Following a rotated lateral view of the whole brain, the video proceeds anterior to posterior, following single coronal slices through the injection site and back and forth through the GP before continuing to the SNr. Visualizing iSPNs and dSPNs individually illustrates that dSPN axons arborize widely in the ventral and posterior regions of GP/NB containing GP-FC cells. (MOV 17684 kb)
About this article
Cite this article
Saunders, A., Oldenburg, I., Berezovskii, V. et al. A direct GABAergic output from the basal ganglia to frontal cortex. Nature 521, 85–89 (2015). https://doi.org/10.1038/nature14179
Received:

Accepted:

Published:

Issue Date:

DOI: https://doi.org/10.1038/nature14179
Comments
By submitting a comment you agree to abide by our Terms and Community Guidelines. If you find something abusive or that does not comply with our terms or guidelines please flag it as inappropriate.