Abstract
DNA methylation is an epigenetic modification associated with transcriptional repression of promoters and is essential for mammalian development. Establishment of DNA methylation is mediated by the de novo DNA methyltransferases DNMT3A and DNMT3B, whereas DNMT1 ensures maintenance of methylation through replication1. Absence of these enzymes is lethal2, and somatic mutations in these genes have been associated with several human diseases3,4. How genomic DNA methylation patterns are regulated remains poorly understood, as the mechanisms that guide recruitment and activity of DNMTs in vivo are largely unknown. To gain insights into this matter we determined genomic binding and site-specific activity of the mammalian de novo DNA methyltransferases DNMT3A and DNMT3B. We show that both enzymes localize to methylated, CpG-dense regions in mouse stem cells, yet are excluded from active promoters and enhancers. By specifically measuring sites of de novo methylation, we observe that enzymatic activity reflects binding. De novo methylation increases with CpG density, yet is excluded from nucleosomes. Notably, we observed selective binding of DNMT3B to the bodies of transcribed genes, which leads to their preferential methylation. This targeting to transcribed sequences requires SETD2-mediated methylation of lysine 36 on histone H3 and a functional PWWP domain of DNMT3B. Together these findings reveal how sequence and chromatin cues guide de novo methyltransferase activity to ensure methylome integrity.
Relevant articles
Open Access articles citing this article.
Fan Wu

,

Xiang Li

…

Thomas Braun

Nature Genetics Open Access 20 December 2022

Jaqueline Loaeza-Loaeza

,

Angel Josué Cerecedo-Castillo

…

Daniel Hernández-Sotelo

Scientific Reports Open Access 02 December 2022

Qi Wang

,

Fei Xiong

…

Yongjun Chen

Clinical Epigenetics Open Access 28 November 2022
Access options
Subscribe to this journal
Receive 51 print issues and online access
$199.00 per year
only $3.90 per issue
Rent or buy this article
Get just this article for as long as you need it
$39.95
Prices may be subject to local taxes which are calculated during checkout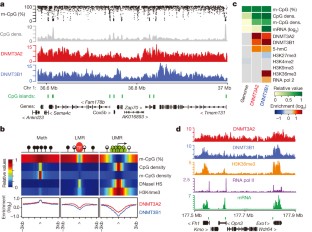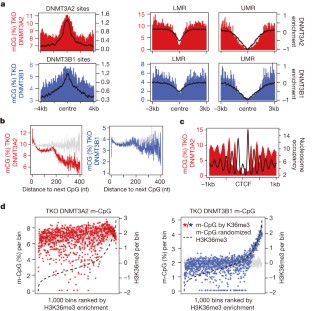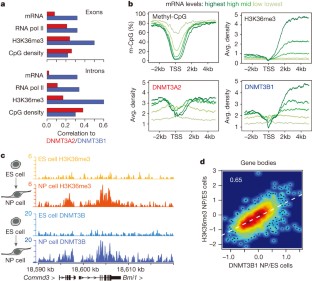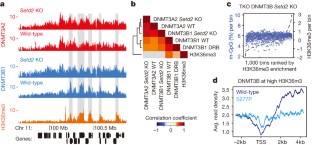 References
Goll, M. G. & Bestor, T. H. Eukaryotic cytosine methyltransferases. Annu. Rev. Biochem. 74, 481–514 (2005)

Okano, M., Bell, D. W., Haber, D. A. & Li, E. DNA methyltransferases Dnmt3a and Dnmt3b are essential for de novo methylation and mammalian development. Cell 99, 247–257 (1999)

Xu, G. L. et al. Chromosome instability and immunodeficiency syndrome caused by mutations in a DNA methyltransferase gene. Nature 402, 187–191 (1999)

Yan, X.-J. et al. Exome sequencing identifies somatic mutations of DNA methyltransferase gene DNMT3A in acute monocytic leukemia. Nature Genet. 43, 309–315 (2011)

Smith, Z. D. & Meissner, A. DNA methylation: roles in mammalian development. Nature Rev. Genet. 14, 204–220 (2013)

Baubec, T., Ivanek, R., Lienert, F. & Schübeler, D. Methylation-dependent and -independent genomic targeting principles of the MBD protein family. Cell 153, 480–492 (2013)

Chen, T., Ueda, Y., Dodge, J. E., Wang, Z. & Li, E. Establishment and maintenance of genomic methylation patterns in mouse embryonic stem cells by Dnmt3a and Dnmt3b. Mol. Cell. Biol. 23, 5594–5605 (2003)

Stadler, M. B. et al. DNA-binding factors shape the mouse methylome at distal regulatory regions. Nature 480, 490–495 (2011)

Ooi, S. K. T. et al. DNMT3L connects unmethylated lysine 4 of histone H3 to de novo methylation of DNA. Nature 448, 714–717 (2007)

Tsumura, A. et al. Maintenance of self-renewal ability of mouse embryonic stem cells in the absence of DNA methyltransferases Dnmt1, Dnmt3a and Dnmt3b. Genes Cells 11, 805–814 (2006)

Felle, M. et al. Nucleosomes protect DNA from DNA methylation in vivo and in vitro. Nucleic Acids Res. 39, 6956–6969 (2011)

Kelly, T. K. et al. Genome-wide mapping of nucleosome positioning and DNA methylation within individual DNA molecules. Genome Res. 22, 2497–2506 (2012)

Krogan, N. J. et al. Methylation of histone H3 by Set2 in Saccharomyces cerevisiae is linked to transcriptional elongation by RNA polymerase II. Mol. Cell. Biol. 23, 4207–4218 (2003)

Tippmann, S. C. et al. Chromatin measurements reveal contributions of synthesis and decay to steady-state mRNA levels. Mol. Syst. Biol. 8, 593 (2012)

Dhayalan, A. et al. The Dnmt3a PWWP domain reads histone 3 lysine 36 trimethylation and guides DNA methylation. J. Biol. Chem. 285, 26114–26120 (2010)

Kungulovski, G. et al. Application of histone modification-specific interaction domains as an alternative to antibodies. Genome Res. 24, 1842–1853 (2014)

Shirohzu, H. et al. Three novel DNMT3B mutations in Japanese patients with ICF syndrome. Am. J. Med. Genet. 112, 31–37 (2002)

Qiu, C., Sawada, K., Zhang, X. & Cheng, X. The PWWP domain of mammalian DNA methyltransferase Dnmt3b defines a new family of DNA-binding folds. Nature Struct. Biol. 9, 217–224 (2002)

Qin, S. & Min, J. Structure and function of the nucleosome-binding PWWP domain. Trends Biochem. Sci. 39, 536–547 (2014)

Smallwood, S. A. et al. Dynamic CpG island methylation landscape in oocytes and preimplantation embryos. Nature Genet. 43, 811–814 (2011)

Jin, B. et al. Linking DNA methyltransferases to epigenetic marks and nucleosome structure genome-wide in human tumor cells. Cell Reports 2, 1411–1424 (2012)

Yang, X. et al. Gene body methylation can alter gene expression and is a therapeutic target in cancer. Cancer Cell 26, 577–590 (2014)

Pastor, W. A. et al. Genome-wide mapping of 5-hydroxymethylcytosine in embryonic stem cells. Nature 473, 394–397 (2011)

Gilsbach, R. et al. Dynamic DNA methylation orchestrates cardiomyocyte development, maturation and disease. Nature Commun. 5, 5288 (2014)

Hovestadt, V. et al. Decoding the regulatory landscape of medulloblastoma using DNA methylation sequencing. Nature 510, 537–541 (2014)

Tweedie, S., Charlton, J., Clark, V. & Bird, A. Methylation of genomes and genes at the invertebrate–vertebrate boundary. Mol. Cell. Biol. 17, 1469–1475 (1997)

Zemach, A., McDaniel, I. E., Silva, P. & Zilberman, D. Genome-wide evolutionary analysis of eukaryotic DNA methylation. Science 328, 916–919 (2010)

Nanty, L. et al. Comparative methylomics reveals gene-body H3K36me3 in Drosophila predicts DNA methylation and CpG landscapes in other invertebrates. Genome Res. 21, 1841–1850 (2011)

Suzuki, M. M. & Bird, A. DNA methylation landscapes: provocative insights from epigenomics. Nature Rev. Genet. 9, 465–476 (2008)

Jones, P. A. Functions of DNA methylation: islands, start sites, gene bodies and beyond. Nature Rev. Genet. 13, 484–492 (2012)

Bibel, M., Richter, J., Lacroix, E. & Barde, Y.-A. Generation of a defined and uniform population of CNS progenitors and neurons from mouse embryonic stem cells. Nature Protocols 2, 1034–1043 (2007)

Cong, L. et al. Multiplex genome engineering using CRISPR/Cas systems. Science 339, 819–823 (2013)

Hsu, P. D. et al. DNA targeting specificity of RNA-guided Cas9 nucleases. Nature Biotechnol. 31, 827–832 (2013)

Vezzoli, A. et al. Molecular basis of histone H3K36me3 recognition by the PWWP domain of Brpf1. Nature Struct. Mol. Biol. 17, 617–619 (2010)

Wen, H. et al. ZMYND11 links histone H3.3K36me3 to transcription elongation and tumour suppression. Nature 508, 263–268 (2014)

Wu, H. et al. Structural and histone binding ability characterizations of human PWWP domains. PLoS ONE 6, e18919 (2011)

Lawrence, M. et al. Software for computing and annotating genomic ranges. PLOS Comput. Biol. 9, e1003118 (2013)

Hackenberg, M. et al. CpGcluster: a distance-based algorithm for CpG-island detection. BMC Bioinformatics 7, 446 (2006)

Anders, S. & Huber, W. Differential expression analysis for sequence count data. Genome Biol. 11, R106 (2010)

Akalin, A., Franke, V., Vlahoviček, K., Mason, C. E. & Schübeler, D. genomation: a toolkit to summarize, annotate and visualize genomic intervals. Bioinformatics (2014)

Teif, V. B. et al. Genome-wide nucleosome positioning during embryonic stem cell development. Nature Struct. Mol. Biol. 19, 1185–1192 (2012)

Marks, H. et al. The transcriptional and epigenomic foundations of ground state pluripotency. Cell 149, 590–604 (2012)

Chen, T., Tsujimoto, N. & Li, E. The PWWP domain of Dnmt3a and Dnmt3b is required for directing DNA methylation to the major satellite repeats at pericentric heterochromatin. Mol. Cell. Biol. 24, 9048–9058 (2004)

Bachman, K. E., Rountree, M. R. & Baylin, S. B. Dnmt3a and Dnmt3b are transcriptional repressors that exhibit unique localization properties to heterochromatin. J. Biol. Chem. 276, 32282–32287 (2001)

Untergasser, A. et al. Primer3–new capabilities and interfaces. Nucleic Acids Res. 40, e115 (2012)

Jung, H. R., Pasini, D., Helin, K. & Jensen, O. N. Quantitative mass spectrometry of histones H3.2 and H3.3 in Suz12-deficient mouse embryonic stem cells reveals distinct, dynamic post-translational modifications at Lys-27 and Lys-36. Mol. Cell. Proteomics 9, 838–850 (2010)

Ferrari, K. J. et al. Polycomb-dependent H3K27me1 and H3K27me2 regulate active transcription and enhancer fidelity. Mol. Cell 53, 49–62 (2014)

Zhang, Y. et al. H3K36 histone methyltransferase Setd2 is required for murine embryonic stem cell differentiation toward endoderm. Cell Reports 8, 1989–2002 (2014)

Pei, J., Kim, B. H. & Grishin, N. V. PROMALS3D: a tool for multiple protein sequence and structure alignments. Nucleic Acids Res. 36, 2295–2300 (2008)

Jeong, S. et al. Selective anchoring of DNA methyltransferases 3A and 3B to nucleosomes containing Methylated DNA. Mol. Cell. Biol. 29, 5366–5376 (2009)

Langmead, B., Trapnell, C., Pop, M. & Salzberg, S. L. Ultrafast and memory-efficient alignment of short DNA sequences to the human genome. Genome Biol. 10, R25 (2009)
Acknowledgements
We are grateful to S. Dessus-Babus, K. Jacobeit, T. Roloff (FMI), I. Nissen, and C. Beisel (ETH BSSE) for processing deep-sequencing samples. We thank R. Sack for processing histone H3K27/36 methylation measurements and analysis. We further thank L. Hoerner for technical assistance and M. Stadler and D. Gaidatzis for bioinformatic advice and providing tools to process and analyse deep-sequencing data. FMI imaging and FACS facilities for technical support. P. Ginno (FMI), N. Thomae (FMI), and M. Lorincz (UBC Vancouver) for advice and critical comments on the manuscript. Research in the laboratory of D.S. is supported by the Novartis Research Foundation, the European Union (NoE ''EpiGeneSys'' FP7- HEALTH-2010-257082 and the ''Blueprint'' consortium FP7-282510), the European Research Council (EpiGePlas), the SNF Sinergia program, and the Swiss initiative in Systems Biology (RTD Cell Plasticity). J.S. acknowledges support from the Boehringer Ingelheim Fonds. T.B. and A.R.K. acknowledge support from EMBO postdoctoral long-term fellowships.
Ethics declarations
Competing interests
The authors declare no competing financial interests.
Extended data figures and tables
Supplementary information
This spreadsheet contains information relevant to Extended Data Figure 5. Sheet 1 contains detailed bisulphite PCR primer information, genomic location, chromatin and DNA methylation measurements for regions of interest (panels: b, c and f of Extended Data Figure 5). Sheet 2 contains measured DNA methylation for individual CpGs in regions of interest (panel d). (XLSX 134 kb)
About this article
Cite this article
Baubec, T., Colombo, D., Wirbelauer, C. et al. Genomic profiling of DNA methyltransferases reveals a role for DNMT3B in genic methylation. Nature 520, 243–247 (2015). https://doi.org/10.1038/nature14176
Received:

Accepted:

Published:

Issue Date:

DOI: https://doi.org/10.1038/nature14176
Comments
By submitting a comment you agree to abide by our Terms and Community Guidelines. If you find something abusive or that does not comply with our terms or guidelines please flag it as inappropriate.