Abstract
Epithelium folding is a basic morphogenetic event that is essential in transforming simple two-dimensional epithelial sheets into three-dimensional structures in both vertebrates and invertebrates1. Folding has been shown to rely on apical constriction2,3,4,5,6,7. The resulting cell-shape changes depend either on adherens junction basal shift2 or on a redistribution of myosin II3,4,5,7, which could be driven by mechanical signals8. Yet the initial cellular mechanisms that trigger and coordinate cell remodelling remain largely unknown. Here we unravel the active role of apoptotic cells in initiating morphogenesis, thus revealing a novel mechanism of epithelium folding. We show that, in a live developing tissue, apoptotic cells exert a transient pulling force upon the apical surface of the epithelium through a highly dynamic apico-basal myosin II cable. The apoptotic cells then induce a non-autonomous increase in tissue tension together with cortical myosin II apical stabilization in the surrounding tissue, eventually resulting in epithelium folding. Together our results, supported by a theoretical biophysical three-dimensional model, identify an apoptotic myosin-II-dependent signal as the initial signal leading to cell reorganization and tissue folding. This work further reveals that, far from being passively eliminated as generally assumed (for example, during digit individualization9), apoptotic cells actively influence their surroundings and trigger tissue remodelling through regulation of tissue tension.
Relevant articles
Open Access articles citing this article.
Anh Phuong Le

,

Jean-François Rupprecht

…

Benoît Ladoux

Nature Communications Open Access 15 January 2021

Jingjing Li

,

Andrew D. Economou

…

Jeremy B. A. Green

Nature Communications Open Access 12 May 2020

Zhiyi Lv

,

Qiongxuan Lu

&

Bo Dong

Marine Life Science & Technology Open Access 25 November 2019
Access options
Subscribe to Journal
Get full journal access for 1 year
$199.00
only $3.90 per issue
All prices are NET prices.
VAT will be added later in the checkout.
Tax calculation will be finalised during checkout.
Buy article
Get time limited or full article access on ReadCube.
$32.00
All prices are NET prices.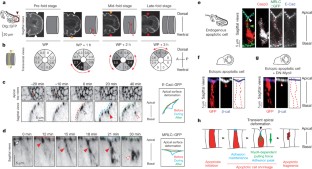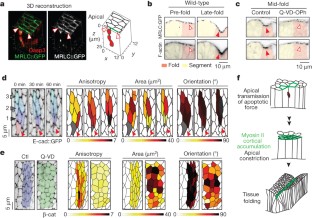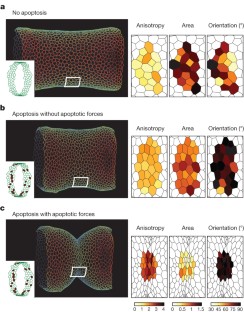 References
Davidson, L. A. Epithelial machines that shape the embryo. Trends Cell Biol. 22, 82–87 (2012)

Wang, Y. C., Khan, Z., Kaschube, M. & Wieschaus, E. F. Differential positioning of adherens junctions is associated with initiation of epithelial folding. Nature 484, 390–393 (2012)

Martin, A. C., Kaschube, M. & Wieschaus, E. F. Pulsed contractions of an actin-myosin network drive apical constriction. Nature 457, 495–499 (2009)

Roh-Johnson, M. et al. Triggering a cell shape change by exploiting preexisting actomyosin contractions. Science 335, 1232–1235 (2012)

Sherrard, K., Robin, F., Lemaire, P. & Munro, E. Sequential activation of apical and basolateral contractility drives ascidian endoderm invagination. Curr. Biol. 20, 1499–1510 (2010)

He, B., Doubrovinski, K., Polyakov, O. & Wieschaus, E. Apical constriction drives tissue-scale hydrodynamic flow to mediate cell elongation. Nature 508, 392–396 (2014)

Brodu, V. & Casanova, J. The RhoGAP crossveinless-c links trachealess and EGFR signaling to cell shape remodeling in Drosophila tracheal invagination. Genes Dev. 20, 1817–1828 (2006)

Pouille, P. A., Ahmadi, P., Brunet, A. C. & Farge, E. Mechanical signals trigger myosin II redistribution and mesoderm invagination in Drosophila embryos. Sci. Signal. 2, ra16 (2009)

Montero, J. A. & Hurlé, J. M. Sculpturing digit shape by cell death. Apoptosis 15, 365–375 (2010)

Lohmann, I., McGinnis, N., Bodmer, M. & McGinnis, W. The Drosophila Hox gene deformed sculpts head morphology via direct regulation of the apoptosis activator reaper. Cell 110, 457–466 (2002)

Manjón, C., Sánchez-Herrero, E. & Suzanne, M. Sharp boundaries of Dpp signalling trigger local cell death required for Drosophila leg morphogenesis. Nature Cell Biol. 9, 57–63 (2007)

Yamaguchi, Y. et al. Live imaging of apoptosis in a novel transgenic mouse highlights its role in neural tube closure. J. Cell Biol. 195, 1047–1060 (2011)

Lubkov, V. & Bar-Sagi, D. E-cadherin-mediated cell coupling is required for apoptotic cell extrusion. Curr. Biol. 24, 868–874 (2014)

Fernandez-Gonzalez, R., Simoes, S. M., Röper, J. C., Eaton, S. & Zallen, J. A. Myosin II dynamics are regulated by tension in intercalating cells. Dev. Cell 17, 736–743 (2009)

Farhadifar, R., Röper, J. C., Aigouy, B., Eaton, S. & Jülicher, F. The influence of cell mechanics, cell-cell interactions, and proliferation on epithelial packing. Curr. Biol. 17, 2095–2104 (2007)

Rosenblatt, J., Raff, M. C. & Cramer, L. P. An epithelial cell destined for apoptosis signals its neighbors to extrude it by an actin- and myosin-dependent mechanism. Curr. Biol. 11, 1847–1857 (2001)

Toyama, Y., Peralta, X. G., Wells, A. R., Kiehart, D. P. & Edwards, G. S. Apoptotic force and tissue dynamics during Drosophila embryogenesis. Science 321, 1683–1686 (2008)

Yamaguchi, Y. & Miura, M. How to form and close the brain: insight into the mechanism of cranial neural tube closure in mammals. Cell. Mol. Life Sci. 70, 3171–3186 (2013)

Huang, J., Zhou, W., Dong, W., Watson, A. M. & Hong, Y. From the Cover: Directed, efficient, and versatile modifications of the Drosophila genome by genomic engineering. Proc. Natl Acad. Sci. USA 106, 8284–8289 (2009)

Oda, H. & Tsukita, S. Real-time imaging of cell-cell adherens junctions reveals that Drosophila mesoderm invagination begins with two phases of apical constriction of cells. J. Cell Sci. 114, 493–501 (2001)

Ishihara, S. & Sugimura, K. Bayesian inference of force dynamics during morphogenesis. J. Theor. Biol. 313, 201–211 (2012)

Takemoto, K., Nagai, T., Miyawaki, A. & Miura, M. Spatio-temporal activation of caspase revealed by indicator that is insensitive to environmental effects. J. Cell Biol. 160, 235–243 (2003)

Royou, A., Sullivan, W. & Karess, R. Cortical recruitment of nonmuscle myosin II in early syncytial Drosophila embryos: its role in nuclear axial expansion and its regulation by Cdc2 activity. J. Cell Biol. 158, 127–137 (2002)

Aldaz, S., Escudero, L. M. & Freeman, M. Live imaging of Drosophila imaginal disc development. Proc. Natl Acad. Sci. USA 107, 14217–14222 (2010)

Abrams, J. M., White, K., Fessler, L. I. & Steller, H. Programmed cell death during Drosophila embryogenesis. Development 117, 29–43 (1993)

Caserta, T. M., Smith, A. N., Gultice, A. D., Reedy, M. A. & Brown, T. L. Q-VD-OPh, a broad spectrum caspase inhibitor with potent antiapoptotic properties. Apoptosis 8, 345–352 (2003)

Guarner, A. et al. The zinc finger homeodomain-2 gene of Drosophila controls Notch targets and regulates apoptosis in the tarsal segments. Dev. Biol. 385, 350–365 (2014)

Peixoto, P. T. The graph-tool python library. figshare http://dx.doi.org/10.6084/m9.figshare.1164194 (2014)

van der Walt, S., Colbert, S. C. & Varoquaux, G. The NumPy Array: a structure for efficient numerical computation. Comput. Sci. Eng. 13, 22–30 (2011)
Acknowledgements
We thank C. Benassayag, E. Farge, Y. Gachet, T. Lecuit, P.-F. Lenne, F. Payre, E. Sanchez-Herrero, B. Sanson and S. Tournier for comments on the manuscript, T. de Paula Peixoto for providing the graph-tool library, D. Kiehart, H. Steller, X. Wang, R. Ward, BDSC and DSHB for stocks and reagents, the TRI platform for imaging facilities and M. Aguirrebengoa for helping us with statistics. The Suzanne laboratory is supported by grants from the Agence Nationale de la Recherche (ANR), Fondation de la Recherche et de l'Innovation Thérapeutique en Cancérologie (RITC) and the University of Toulouse.
Ethics declarations
Competing interests
The authors declare no competing financial interests.
Extended data figures and tables
Supplementary information
About this article
Cite this article
Monier, B., Gettings, M., Gay, G. et al. Apico-basal forces exerted by apoptotic cells drive epithelium folding. Nature 518, 245–248 (2015). https://doi.org/10.1038/nature14152
Received:

Accepted:

Published:

Issue Date:

DOI: https://doi.org/10.1038/nature14152
Comments
By submitting a comment you agree to abide by our Terms and Community Guidelines. If you find something abusive or that does not comply with our terms or guidelines please flag it as inappropriate.