Abstract
Grid cells are neurons with periodic spatial receptive fields (grids) that tile two-dimensional space in a hexagonal pattern. To provide useful information about location, grids must be stably anchored to an external reference frame. The mechanisms underlying this anchoring process have remained elusive. Here we show in differently sized familiar square enclosures that the axes of the grids are offset from the walls by an angle that minimizes symmetry with the borders of the environment. This rotational offset is invariably accompanied by an elliptic distortion of the grid pattern. Reversing the ellipticity analytically by a shearing transformation removes the angular offset. This, together with the near-absence of rotation in novel environments, suggests that the rotation emerges through non-coaxial strain as a function of experience. The systematic relationship between rotation and distortion of the grid pattern points to shear forces arising from anchoring to specific geometric reference points as key elements of the mechanism for alignment of grid patterns to the external world.
Relevant articles
Open Access articles citing this article.
Zhihui Zhang

,

Fengzhen Tang

…

Xisheng Feng

Cognitive Neurodynamics Open Access 20 April 2023

Zhaojie Xu

,

Fan Mo

…

Xinxia Cai

Microsystems & Nanoengineering Open Access 16 September 2022

Richard J. Gardner

,

Erik Hermansen

…

Edvard I. Moser

Nature Open Access 12 January 2022
Access options
Subscribe to this journal
Receive 51 print issues and online access
$199.00 per year
only $3.90 per issue
Rent or buy this article
Prices vary by article type
from$1.95
to$39.95
Prices may be subject to local taxes which are calculated during checkout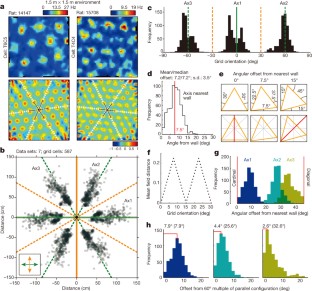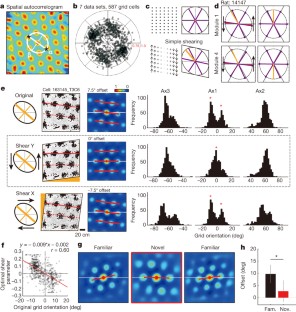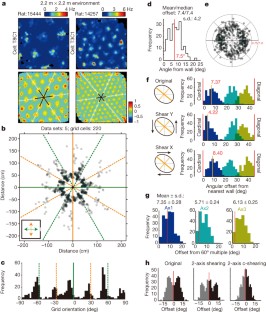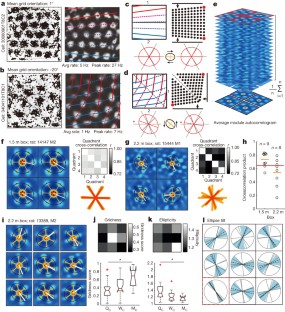 References
Fyhn, M., Molden, S., Witter, M. P., Moser, E. I. & Moser, M.-B. Spatial representation in the entorhinal cortex. Science 305, 1258–1264 (2004)

Hafting, T., Fyhn, M., Molden, S., Moser, M.-B. & Moser, E. I. Microstructure of a spatial map in the entorhinal cortex. Nature 436, 801–806 (2005)

Sargolini, F. et al. Conjunctive representation of position, direction, and velocity in entorhinal cortex. Science 312, 758–762 (2006)

Fyhn, M., Hafting, T., Treves, A., Moser, M.-B. & Moser, E. I. Hippocampal remapping and grid realignment in entorhinal cortex. Nature 446, 190–194 (2007)

Moser, E. I. et al. Grid cells and cortical representation. Nature Rev. Neurosci. 15, 466–481 (2014)

Fuhs, M. C. & Touretzky, D. S. A spin glass model of path integration in rat medial entorhinal cortex. J. Neurosci. 26, 4266–4276 (2006)

McNaughton, B. L., Battaglia, F. P., Jensen, O., Moser, E. I. & Moser, M.-B. Path integration and the neural basis of the 'cognitive map'. Nature Rev. Neurosci. 7, 663–678 (2006)

Burak, Y. & Fiete, I. R. Accurate path integration in continuous attractor network models of grid cells. PLOS Comput. Biol. 5, e1000291 (2009)

Couey, J. J. et al. Recurrent inhibitory circuitry as a mechanism for grid formation. Nature Neurosci. 16, 318–324 (2013)

Pastoll, H., Solanka, L., van Rossum, M. C. & Nolan, M. F. Feedback inhibition enables θ-nested γ oscillations and grid firing fields. Neuron 77, 141–154 (2013)

Yoon, K. et al. Specific evidence of low-dimensional continuous attractor dynamics in grid cells. Nature Neurosci. 16, 1077–1084 (2013)

Stensola, H. et al. The entorhinal grid map is discretized. Nature 492, 72–78 (2012)

Barry, C., Hayman, R., Burgess, N. & Jeffery, K. J. Experience-dependent rescaling of entorhinal grids. Nature Neurosci. 10, 682–684 (2007)

Derdikman, D. et al. Fragmentation of grid cell maps in a multicompartment environment. Nature Neurosci. 12, 1325–1332 (2009)

Krupic, J., Bauza, M., Burton, S., Lever, C. & O'Keefe, J. How environment geometry affects grid cell symmetry and what we can learn from it. Phil. Trans. R. Soc. Lond. B 369, 20130188 (2014)

Krupic, J., Burgess, N. & O'Keefe, J. Neural representations of location composed of spatially periodic bands. Science 337, 853–857 (2012)

Mase, G. Continuum Mechanics 44–53 (McGraw-Hill Professional, 1970)

Barry, C., Ginzberg, L. L., O'Keefe, J. & Burgess, N. Grid cell firing patterns signal environmental novelty by expansion. Proc. Natl Acad. Sci. USA 109, 17687–17692 (2012)

Solstad, T., Boccara, C. N., Kropff, E., Moser, M. B. & Moser, E. I. Representation of geometric borders in the entorhinal cortex. Science 322, 1865–1868 (2008)

Savelli, F., Yoganarasimha, D. & Knierim, J. J. Influence of boundary removal on the spatial representations of the medial entorhinal cortex. Hippocampus 18, 1270–1282 (2008)

Cheng, K. A purely geometric module in the rat's spatial representation. Cognition 23, 149–178 (1986)

O'Keefe, J. & Burgess, N. Geometric determinants of the place fields of hippocampal neurons. Nature 381, 425–428 (1996)

Barry, C. et al. The boundary vector cell model of place cell firing and spatial memory. Rev. Neurosci. 17, 71–97 (2006)

Lever, C., Burton, S., Jeewajee, A., O'Keefe, J. & Burgess, N. Boundary vector cells in the subiculum of the hippocampal formation. J. Neurosci. 29, 9771–9777 (2009)
Acknowledgements
We thank M. Mørreaunet, T. Solstad, B. Dunn, Y. Roudi, A. Treves and A. Witoelar for discussions. The work was supported by two Advanced Investigator Grants from the European Research Council ('CIRCUIT', grant agreement number 232608; 'GRIDCODE', grant agreement number 338865), the European Commission's FP7 FET Proactive programme on Neuro-Bio-Inspired Systems (grant agreement 600725), the Kavli Foundation, the Louis-Jeantet Prize for Medicine, and the Centre of Excellence funding scheme of the Research Council of Norway (Centre for the Biology of Memory, grant number 145993; Centre for Neural Computation, grant number 223262).
Ethics declarations
Competing interests
The authors declare no competing financial interests.
Extended data figures and tables
About this article
Cite this article
Stensola, T., Stensola, H., Moser, MB. et al. Shearing-induced asymmetry in entorhinal grid cells. Nature 518, 207–212 (2015). https://doi.org/10.1038/nature14151
Received:

Accepted:

Published:

Issue Date:

DOI: https://doi.org/10.1038/nature14151
Comments
By submitting a comment you agree to abide by our Terms and Community Guidelines. If you find something abusive or that does not comply with our terms or guidelines please flag it as inappropriate.