Abstract
More than twenty types of retinal ganglion cells conduct visual information from the eye to the rest of the brain1,2. Each retinal ganglion cell type tessellates the retina in a regular mosaic, so that every point in visual space is processed for visual primitives such as contrast and motion3. This information flows to two principal brain centres: the visual cortex and the superior colliculus. The superior colliculus plays an evolutionarily conserved role in visual behaviours4, but its functional architecture is poorly understood. Here we report on population recordings of visual responses from neurons in the mouse superior colliculus. Many neurons respond preferentially to lines of a certain orientation or movement axis. We show that cells with similar orientation preferences form large patches that span the vertical thickness of the retinorecipient layers. This organization is strikingly different from the randomly interspersed orientation preferences in the mouse's visual cortex5; instead, it resembles the orientation columns observed in the visual cortices of large mammals6,7,8. Notably, adjacent superior colliculus orientation columns have only limited receptive field overlap. This is in contrast to the organization of visual cortex, where each point in the visual field activates neurons with all preferred orientations9. Instead, the superior colliculus favours specific contour orientations within ∼30° regions of the visual field, a finding with implications for behavioural responses mediated by this brain centre.
Access options
Subscribe to Journal
Get full journal access for 1 year
$199.00
only $3.83 per issue
All prices are NET prices.
VAT will be added later in the checkout.
Rent or Buy article
Get time limited or full article access on ReadCube.
from$8.99
All prices are NET prices.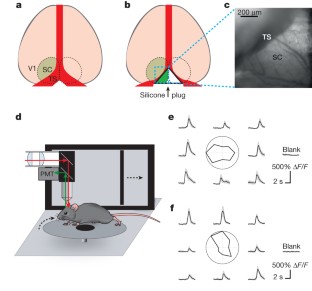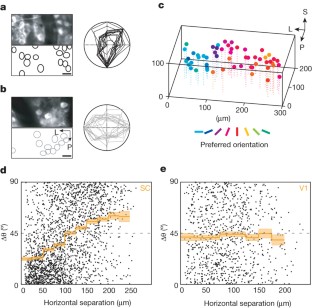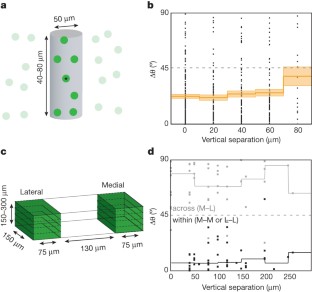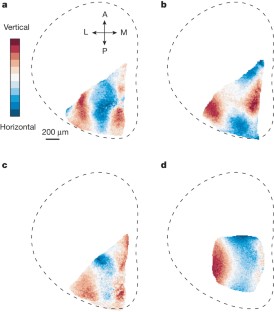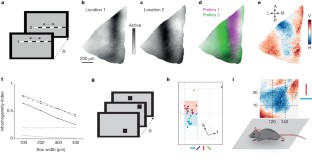 References
1

Masland, R. H. The neuronal organization of the retina. Neuron 76, 266–280 (2012)

2

Dhande, O. S. & Huberman, A. D. Retinal ganglion cell maps in the brain: implications for visual processing. Curr. Opin. Neurobiol. 24, 133–142 (2014)

3

Wässle, H. Parallel processing in the mammalian retina. Nature Rev. Neurosci. 5, 747–757 (2004)

4

May, P. J. The mammalian superior colliculus: laminar structure and connections. Prog. Brain Res. 151, 321–378 (2006)

5

Ohki, K., Chung, S., Ch'ng, Y. H., Kara, P. & Reid, R. C. Functional imaging with cellular resolution reveals precise micro-architecture in visual cortex. Nature 433, 597–603 (2005)

6

Hubel, D. H. & Wiesel, T. N. Receptive fields and functional architecture of monkey striate cortex. J. Physiol. (Lond.) 195, 215–243 (1968)

7

Blasdel, G. G. & Salama, G. Voltage-sensitive dyes reveal a modular organization in monkey striate cortex. Nature 321, 579–585 (1986)

8

Grinvald, A., Lieke, E., Frostig, R. D., Gilbert, C. D. & Wiesel, T. N. Functional architecture of cortex revealed by optical imaging of intrinsic signals. Nature 324, 361–364 (1986)

9

Harris, K. D. & Mrsic-Flogel, T. D. Cortical connectivity and sensory coding. Nature 503, 51–58 (2013)

10

Chen, T. W. et al. Ultrasensitive fluorescent proteins for imaging neuronal activity. Nature 499, 295–300 (2013)

11

Dräger, U. C. & Hubel, D. H. Topography of visual and somatosensory projections to mouse superior colliculus. J. Neurophysiol. 39, 91–101 (1976)

12

Dräger, U. C. & Hubel, D. H. Physiology of visual cells in mouse superior colliculus and correlation with somatosensory and auditory input. Nature 253, 203–204 (1975)

13

Wang, L. et al. Direction-specific disruption of subcortical visual behavior and receptive fields in mice lacking the β2 subunit of nicotinic acetylcholine receptor. J. Neurosci. 29, 12909–12918 (2009)

14

Wang, L., Sarnaik, R., Rangarajan, K., Liu, X. & Cang, J. Visual receptive field properties of neurons in the superficial superior colliculus of the mouse. J. Neurosci. 30, 16573–16584 (2010)

15

Zhao, X., Chen, H., Liu, X. & Cang, J. Orientation-selective responses in the mouse lateral geniculate nucleus. J. Neurosci. 33, 12751–12763 (2013)

16

Andermann, M. L., Kerlin, A. M., Roumis, D. K., Glickfeld, L. L. & Reid, R. C. Functional specialization of mouse higher visual cortical areas. Neuron 72, 1025–1039 (2011)

17

Swindale, N. V., Shoham, D., Grinvald, A., Bonhoeffer, T. & Hubener, M. Visual cortex maps are optimized for uniform coverage. Nature Neurosci. 3, 822–826 (2000)

18

Bosking, W. H., Crowley, J. C. & Fitzpatrick, D. Spatial coding of position and orientation in primary visual cortex. Nature Neurosci. 5, 874–882 (2002)

19

Yu, H., Farley, B. J., Jin, D. Z. & Sur, M. The coordinated mapping of visual space and response features in visual cortex. Neuron 47, 267–280 (2005)

20

Prusky, G. T. & Douglas, R. M. Characterization of mouse cortical spatial vision. Vision Res. 44, 3411–3418 (2004)

21

Huberman, A. D. et al. Genetic identification of an On-Off direction-selective retinal ganglion cell subtype reveals a layer-specific subcortical map of posterior motion. Neuron 62, 327–334 (2009)

22

Hong, Y. K., Kim, I. J. & Sanes, J. R. Stereotyped axonal arbors of retinal ganglion cell subsets in the mouse superior colliculus. J. Comp. Neurol. 519, 1691–1711 (2011)

23

Ramon-Moliner, E. Acetylthiocholinesterase distribution in the brain stem of the cat. Ergeb. Anat. Entwicklungsgesch. 46, 7–53 (1972)

24

Graybiel, A. M. A stereometric pattern of distribution of acetylthiocholinesterase in the deep layers of the superior colliculus. Nature 272, 539–541 (1978)

25

Chevalier, G. & Mana, S. Honeycomb-like structure of the intermediate layers of the rat superior colliculus, with additional observations in several other mammals: AChE patterning. J. Comp. Neurol. 419, 137–153 (2000)

26

Mana, S. & Chevalier, G. The fine organization of nigro-collicular channels with additional observations of their relationships with acetylcholinesterase in the rat. Neuroscience 106, 357–374 (2001)

27

Dean, P., Redgrave, P., Sahibzada, N. & Tsuji, K. Head and body movements produced by electrical stimulation of superior colliculus in rats: effects of interruption of crossed tectoreticulospinal pathway. Neuroscience 19, 367–380 (1986)

28

Sahibzada, N., Dean, P. & Redgrave, P. Movements resembling orientation or avoidance elicited by electrical stimulation of the superior colliculus in rats. J. Neurosci. 6, 723–733 (1986)

29

Dean, P., Mitchell, I. J. & Redgrave, P. Responses resembling defensive behaviour produced by microinjection of glutamate into superior colliculus of rats. Neuroscience 24, 501–510 (1988)

30

Basole, A., White, L. E. & Fitzpatrick, D. Mapping multiple features in the population response of visual cortex. Nature 423, 986–990 (2003)

31

Mrsic-Flogel, T. D. et al. Altered map of visual space in the superior colliculus of mice lacking early retinal waves. J. Neurosci. 25, 6921–6928 (2005)

32

Cang, J., Wang, L., Stryker, M. P. & Feldheim, D. A. Roles of ephrin-as and structured activity in the development of functional maps in the superior colliculus. J. Neurosci. 28, 11015–11023 (2008)

33

Dorr, A., Sled, J. G. & Kabani, N. Three-dimensional cerebral vasculature of the CBA mouse brain: a magnetic resonance imaging and micro computed tomography study. Neuroimage 35, 1409–1423 (2007)

34

Wong, G. K., Poon, W. S., Yu, S. C. & Zhu, C. X. Transvenous embolization for dural transverse sinus fistulas with occluded sigmoid sinus. Acta Neurochirurgica 149, 929–935 (2007)

35

Dombeck, D. A., Khabbaz, A. N., Collman, F., Adelman, T. L. & Tank, D. W. Imaging large-scale neural activity with cellular resolution in awake, mobile mice. Neuron 56, 43–57 (2007)

36

Kaifosh, P., Lovett-Barron, M., Turi, G. F., Reardon, T. R. & Losonczy, A. Septo-hippocampal GABAergic signaling across multiple modalities in awake mice. Nature Neurosci. 16, 1182–1184 (2013)

37

Ohki, K. & Reid, R. C. In vivo two-photon calcium imaging in the visual system. Cold Spring Harb. Protoc. 2014, 402–416 (2014)

38

Göbel, W. & Helmchen, F. In vivo calcium imaging of neural network function. Physiology 22, 358–365 (2007)

39

Kerlin, A. M., Andermann, M. L., Berezovskii, V. K. & Reid, R. C. Broadly tuned response properties of diverse inhibitory neuron subtypes in mouse visual cortex. Neuron 67, 858–871 (2010)

40

Tian, L. et al. Imaging neural activity in worms, flies and mice with improved GCaMP calcium indicators. Nature Methods 6, 875–881 (2009)
Acknowledgements
We thank E. Soucy and J. Greenwood for assistance with instrumentation; M. Joesch, A. Krishnaswamy, D. Kostadinov, S. Pashkovski, A. Giessel, T. Dunn, G. Keller, P. Kaifosh, M. Amoroso, and H. Asari for software; M. Andermann, V. Bonin, and F. Engert for advice on microscope design; J. Cohen for headplate designs; D. Anderson, K. Blum, B. Ölveckzy, and J. Sanes for critical reading of the manuscript; and J. Sanes for providing laboratory space and support to E.H.F. E.H.F. was supported by NIH T32 NS007484 and a Howard Hughes Medical Institute-Helen Hay Whitney Foundation fellowship. Additional support was provided by an NIH grant to M.M.
Ethics declarations
Competing interests
The authors declare no competing financial interests.
Extended data figures and tables
Supplementary information
About this article
Cite this article
Feinberg, E., Meister, M. Orientation columns in the mouse superior colliculus. Nature 519, 229–232 (2015). https://doi.org/10.1038/nature14103
Received:

Accepted:

Published:

Issue Date:
Comments
By submitting a comment you agree to abide by our Terms and Community Guidelines. If you find something abusive or that does not comply with our terms or guidelines please flag it as inappropriate.