Abstract
The kinetochore is the crucial apparatus regulating chromosome segregation in mitosis and meiosis. Particularly in meiosis I, unlike in mitosis, sister kinetochores are captured by microtubules emanating from the same spindle pole (mono-orientation) and centromeric cohesion mediated by cohesin is protected in the following anaphase. Although meiotic kinetochore factors have been identified only in budding and fission yeasts, these molecules and their functions are thought to have diverged earlier. Therefore, a conserved mechanism for meiotic kinetochore regulation remains elusive. Here we have identified in mouse a meiosis-specific kinetochore factor that we termed MEIKIN, which functions in meiosis I but not in meiosis II or mitosis. MEIKIN plays a crucial role in both mono-orientation and centromeric cohesion protection, partly by stabilizing the localization of the cohesin protector shugoshin. These functions are mediated mainly by the activity of Polo-like kinase PLK1, which is enriched to kinetochores in a MEIKIN-dependent manner. Our integrative analysis indicates that the long-awaited key regulator of meiotic kinetochore function is Meikin, which is conserved from yeasts to humans.
Access options
Subscribe to Journal
Get full journal access for 1 year
$199.00
only $3.90 per issue
All prices are NET prices.
VAT will be added later in the checkout.
Rent or Buy article
Get time limited or full article access on ReadCube.
from$8.99
All prices are NET prices.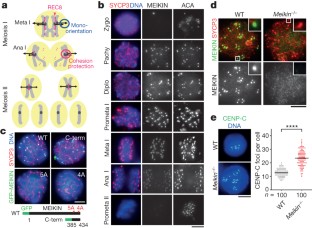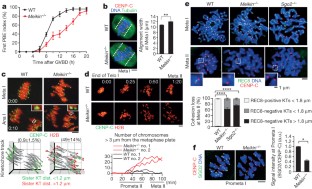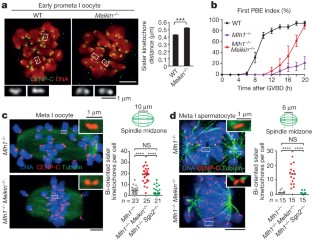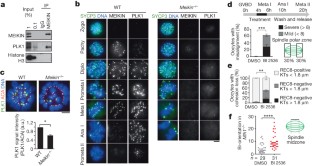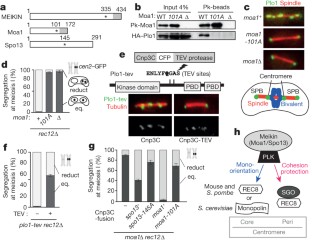 References
1

Uhlmann, F., Lottspeich, F. & Nasmyth, K. Sister-chromatid separation at anaphase onset is promoted by cleavage of the cohesin subunit Scc1. Nature 400, 37–42 (1999)

2

Peters, J. M., Tedeschi, A. & Schmitz, J. The cohesin complex and its roles in chromosome biology. Genes Dev. 22, 3089–3114 (2008)

3

Nasmyth, K. & Haering, C. H. Cohesin: its roles and mechanisms. Annu. Rev. Genet. 43, 525–558 (2009)

4

Buonomo, S. B. et al. Disjunction of homologous chromosomes in meiosis I depends on proteolytic cleavage of the meiotic cohesin Rec8 by separin. Cell 103, 387–398 (2000)

5

Kitajima, T. S., Miyazaki, Y., Yamamoto, M. & Watanabe, Y. Rec8 cleavage by separase is required for meiotic nuclear divisions in fission yeast. EMBO J. 22, 5643–5653 (2003)

6

Tachibana-Konwalski, K. et al. Rec8-containing cohesin maintains bivalents without turnover during the growing phase of mouse oocytes. Genes Dev. 24, 2505–2516 (2010)

7

Moore, D. P. & Orr-Weaver, T. L. Chromosome segregation during meiosis: building an unambivalent bivalent. Curr. Top. Dev. Biol. 37, 263–299 (1997)

8

Brar, G. A. & Amon, A. Emerging roles for centromeres in meiosis I chromosome segregation. Nature Rev. Genet. 9, 899–910 (2008)

9

Watanabe, Y. Geometry and force behind kinetochore orientation: lessons from meiosis. Nature Rev. Mol. Cell Biol. 13, 370–382 (2012)

10

Kitajima, T. S., Kawashima, S. A. & Watanabe, Y. The conserved kinetochore protein shugoshin protects centromeric cohesion during meiosis. Nature 427, 510–517 (2004)

11

Lee, J. et al. Unified mode of centromeric protection by shugoshin in mammalian oocytes and somatic cells. Nature Cell Biol. 10, 42–52 (2008)

12

Llano, E. et al. Shugoshin-2 is essential for the completion of meiosis but not for mitotic cell division in mice. Genes Dev. 22, 2400–2413 (2008)

13

Kitajima, T. S. et al. Shugoshin collaborates with protein phosphatase 2A to protect cohesin. Nature 441, 46–52 (2006)

14

Riedel, C. G. et al. Protein phosphatase 2A protects centromeric sister chromatid cohesion during meiosis I. Nature 441, 53–61 (2006)

15

Marston, A. L., Tham, W. H., Shah, H. & Amon, A. A genome-wide screen identifies genes required for centromeric cohesion. Science 303, 1367–1370 (2004)

16

Katis, V. L. et al. Rec8 phosphorylation by casein kinase 1 and Cdc7-Dbf4 kinase regulates cohesin cleavage by separase during meiosis. Dev. Cell 18, 397–409 (2010)

17

Ishiguro, T., Tanaka, K., Sakuno, T. & Watanabe, Y. Shugoshin-PP2A counteracts casein-kinase-1-dependent cleavage of Rec8 by separase. Nature Cell Biol. 12, 500–506 (2010)

18

Hugerat, Y. & Simchen, G. Mixed segregation and recombination of chromosomes and YACs during single-division meiosis in spo13 strains of Saccharomyces cerevisiae. Genetics 135, 297–308 (1993)

19

Klapholz, S. & Esposito, R. E. Recombination and chromosome segregation during the single division meiosis in SPO12–1 and SPO13–1 diploids. Genetics 96, 589–611 (1980)

20

Tóth, A. et al. Functional genomics identifies monopolin: a kinetochore protein required for segregation of homologs during meiosis I. Cell 103, 1155–1168 (2000)

21

Katis, V. L. et al. Spo13 facilitates monopolin recruitment to kinetochores and regulates maintenance of centromeric cohesion during yeast meiosis. Curr. Biol. 14, 2183–2196 (2004)

22

Lee, B. H., Kiburz, B. M. & Amon, A. Spo13 maintains centromeric cohesion and kinetochore coorientation during meiosis I. Curr. Biol. 14, 2168–2182 (2004)

23

Yokobayashi, S. & Watanabe, Y. The kinetochore protein Moa1 enables cohesion-mediated monopolar attachment at meiosis I. Cell 123, 803–817 (2005)

24

Tanaka, K., Chang, H. L., Kagami, A. & Watanabe, Y. CENP-C functions as a scaffold for effectors with essential kinetochore functions in mitosis and meiosis. Dev. Cell 17, 334–343 (2009)

25

Kitajima, T. S., Ohsugi, M. & Ellenberg, J. Complete kinetochore tracking reveals error-prone homologous chromosome biorientation in mammalian oocytes. Cell 146, 568–581 (2011)

26

Shonn, M. A., McCarroll, R. & Murray, A. W. Spo13 protects meiotic cohesin at centromeres in meiosis I. Genes Dev. 16, 1659–1671 (2002)

27

Woods, L. M. et al. Chromosomal influence on meiotic spindle assembly: abnormal meiosis I in female Mlh1 mutant mice. J. Cell Biol. 145, 1395–1406 (1999)

28

Lénárt, P. et al. The small-molecule inhibitor BI 2536 reveals novel insights into mitotic roles of polo-like kinase 1. Curr. Biol. 17, 304–315 (2007)

29

Elia, A. E. et al. The molecular basis for phosphodependent substrate targeting and regulation of Plks by the Polo-box domain. Cell 115, 83–95 (2003)

30

Krapp, A., Del Rosario, E. C. & Simanis, V. The role of Schizosaccharomyces pombe dma1 in spore formation during meiosis. J. Cell Sci. 123, 3284–3293 (2010)

31

Matos, J. et al. Dbf4-dependent CDC7 kinase links DNA replication to the segregation of homologous chromosomes in meiosis I. Cell 135, 662–678 (2008)

32

Clyne, R. K. et al. Polo-like kinase Cdc5 promotes chiasmata formation and cosegregation of sister centromeres at meiosis I. Nature Cell Biol. 5, 480–485 (2003)

33

Attner, M. A., Miller, M. P., Ee, L. S., Elkin, S. K. & Amon, A. Polo kinase Cdc5 is a central regulator of meiosis I. Proc. Natl Acad. Sci. USA 110, 14278–14283 (2013)

34

Lee, B. H., Amon, A. & Prinz, S. Spo13 regulates cohesin cleavage. Genes Dev. 16, 1672–1681 (2002)

35

Monje-Casas, F., Prabhu, V. R., Lee, B. H., Boselli, M. & Amon, A. Kinetochore orientation during meiosis is controlled by Aurora B and the monopolin complex. Cell 128, 477–490 (2007)

36

Corbett, K. D. et al. The monopolin complex crosslinks kinetochore components to regulate chromosome–microtubule attachments. Cell 142, 556–567 (2010)

37

Sarangapani, K. K. et al. Sister kinetochores are mechanically fused during meiosis I in yeast. Science 346, 248–251 (2014)

38

Gregan, J. et al. The kinetochore proteins Pcs1 and Mde4 and heterochromatin are required to prevent merotelic orientation. Curr. Biol. 17, 1190–1200 (2007)

39

Tada, K., Susumu, H., Sakuno, T. & Watanabe, Y. Condensin association with histone H2A shapes mitotic chromosomes. Nature 474, 477–483 (2011)

40

Sakuno, T., Tada, K. & Watanabe, Y. Kinetochore geometry defined by cohesion within the centromere. Nature 458, 852–858 (2009)

41

Tachibana-Konwalski, K. et al. Spindle assembly checkpoint of oocytes depends on a kinetochore structure determined by cohesin in meiosis I. Curr. Biol. 23, 2534–2539 (2013)

42

Kagami, A. et al. Acetylation regulates monopolar attachment at multiple levels during meiosis I in fission yeast. EMBO Rep. 12, 1189–1195 (2011)

43

Ahonen, L. J. et al. Polo-like kinase 1 creates the tension-sensing 3F3/2 phosphoepitope and modulates the association of spindle-checkpoint proteins at kinetochores. Curr. Biol. 15, 1078–1089 (2005)

44

Kang, Y. H. et al. Self-regulated Plk1 recruitment to kinetochores by the Plk1–PBIP1 interaction is critical for proper chromosome segregation. Mol. Cell 24, 409–422 (2006)

45

Hodges, C. A., Revenkova, E., Jessberger, R., Hassold, T. J. & Hunt, P. A. SMC1β-deficient female mice provide evidence that cohesins are a missing link in age-related nondisjunction. Nature Genet. 37, 1351–1355 (2005)

46

Lister, L. M. et al. Age-related meiotic segregation errors in mammalian oocytes are preceded by depletion of cohesin and Sgo2. Curr. Biol. 20, 1511–1521 (2010)

47

Chiang, T., Duncan, F. E., Schindler, K., Schultz, R. M. & Lampson, M. A. Evidence that weakened centromere cohesion is a leading cause of age-related aneuploidy in oocytes. Curr. Biol. 20, 1522–1528 (2010)

48

Jessberger, R. Age-related aneuploidy through cohesion exhaustion. EMBO Rep. 13, 539–546 (2012)

49

Hassold, T. & Hunt, P. To err (meiotically) is human: the genesis of human aneuploidy. Nature Rev. Genet. 2, 280–291 (2001)

50

Nagaoka, S. I., Hodges, C. A., Albertini, D. F. & Hunt, P. A. Oocyte-specific differences in cell-cycle control create an innate susceptibility to meiotic errors. Curr. Biol. 21, 651–657 (2011)

51

Baker, S. M. et al. Involvement of mouse Mlh1 in DNA mismatch repair and meiotic crossing over. Nature Genet. 13, 336–342 (1996)

52

Kim-Kaneyama, J. R. et al. Hic-5 deficiency enhances mechanosensitive apoptosis and modulates vascular remodeling. J. Mol. Cell. Cardiol. 50, 77–86 (2011)

53

Ishiguro, K., Kim, J., Fujiyama-Nakamura, S., Kato, S. & Watanabe, Y. A new meiosis-specific cohesin complex implicated in the cohesin code for homologous pairing. EMBO Rep. 12, 267–275 (2011)

54

Kawashima, S. A., Yamagishi, Y., Honda, T., Ishiguro, K. & Watanabe, Y. Phosphorylation of H2A by Bub1 prevents chromosomal instability through localizing shugoshin. Science 327, 172–177 (2010)

55

Morimoto, A. et al. A conserved KASH domain protein associates with telomeres, SUN1, and dynactin during mammalian meiosis. J. Cell Biol. 198, 165–172 (2012)

56

Chambon, J. P., Hached, K. & Wassmann, K. Chromosome spreads with centromere staining in mouse oocytes. Methods Mol. Biol. 957, 203–212 (2013)

57

Hodges, C. A. & Hunt, P. A. Simultaneous analysis of chromosomes and chromosome-associated proteins in mammalian oocytes and embryos. Chromosoma 111, 165–169 (2002)

58

Shibuya, H., Ishiguro, K. & Watanabe, Y. The TRF1-binding protein TERB1 promotes chromosome movement and telomere rigidity in meiosis. Nature Cell Biol. 16, 145–156 (2014)

59

Rabut, G. & Ellenberg, J. Automatic real-time three-dimensional cell tracking by fluorescence microscopy. J. Microsc. 216, 131–137 (2004)

60

Bähler, J. et al. Heterologous modules for efficient and versatile PCR-based gene targeting in Schizosaccharomyces pombe. Yeast 14, 943–951 (1998)

61

Sakuno, T., Tanaka, K., Hauf, S. & Watanabe, Y. Repositioning of Aurora B promoted by chiasmata ensures sister chromatid mono-orientation in meiosis I. Dev. Cell 21, 534–545 (2011)
Acknowledgements
We thank K. Tachibana-Konwalski for the C57BL/6 Mlh1tm1Liskay knockout mice and and J. Ellenberg for a macro for automated microscopy. We also thank J. Lee, T. Hirano, S. Fujiyama, Y. Yamazumi, as well as the Gotoh laboratory for technical advice and all members of the Watanabe laboratory for their support and discussion. This work was supported in part by a JSPS Research Fellowship (to J.K.), SAF2011-25252 (to A.M.P.), a research grant from Uehara Memorial Foundation, a RIKEN CDB intramural grant and a Grant-in-Aid for Young Scientists (B) (to T.S.K.), a Grant-in-Aid for Scientific Research on Innovative Areas, a Grant-in-Aid for Scientific Research (C) (to K.I.), and a Grant-in-Aid for Specially Promoted Research (to Y.W.) from MEXT, Japan.
Ethics declarations
Competing interests
The authors declare no competing financial interests.
Extended data figures and tables
Supplementary information
This file contains Supplementary Table 1. (PDF 96 kb)
Kinetochore signals are peak-enhanced and background-subtracted. Time after the end of metaphase I (min). Scale bar, 10 μm. (AVI 29704 kb)
Kinetochore signals are peak-enhanced and background-subtracted. Time after telophase I (hh:mm). Scale bar, 10μm. (AVI 25823 kb)
About this article
Cite this article
Kim, J., Ishiguro, Ki., Nambu, A. et al. Meikin is a conserved regulator of meiosis-I-specific kinetochore function. Nature 517, 466–471 (2015). https://doi.org/10.1038/nature14097
Received:

Accepted:

Published:

Issue Date:
Comments
By submitting a comment you agree to abide by our Terms and Community Guidelines. If you find something abusive or that does not comply with our terms or guidelines please flag it as inappropriate.