Abstract
Genetically modified organisms (GMOs) are increasingly used in research and industrial systems to produce high-value pharmaceuticals, fuels and chemicals1. Genetic isolation and intrinsic biocontainment would provide essential biosafety measures to secure these closed systems and enable safe applications of GMOs in open systems2,3, which include bioremediation4 and probiotics5. Although safeguards have been designed to control cell growth by essential gene regulation6, inducible toxin switches7 and engineered auxotrophies8, these approaches are compromised by cross-feeding of essential metabolites, leaked expression of essential genes, or genetic mutations9,10. Here we describe the construction of a series of genomically recoded organisms (GROs)11 whose growth is restricted by the expression of multiple essential genes that depend on exogenously supplied synthetic amino acids (sAAs). We introduced a Methanocaldococcus jannaschii tRNA:aminoacyl-tRNA synthetase pair into the chromosome of a GRO derived from Escherichia coli that lacks all TAG codons and release factor 1, endowing this organism with the orthogonal translational components to convert TAG into a dedicated sense codon for sAAs. Using multiplex automated genome engineering12, we introduced in-frame TAG codons into 22 essential genes, linking their expression to the incorporation of synthetic phenylalanine-derived amino acids. Of the 60 sAA-dependent variants isolated, a notable strain harbouring three TAG codons in conserved functional residues13 of MurG, DnaA and SerS and containing targeted tRNA deletions maintained robust growth and exhibited undetectable escape frequencies upon culturing ∼1011 cells on solid media for 7 days or in liquid media for 20 days. This is a significant improvement over existing biocontainment approaches2,3,6,7,8,9,10. We constructed synthetic auxotrophs dependent on sAAs that were not rescued by cross-feeding in environmental growth assays. These auxotrophic GROs possess alternative genetic codes that impart genetic isolation by impeding horizontal gene transfer11 and now depend on the use of synthetic biochemical building blocks, advancing orthogonal barriers between engineered organisms and the environment.
Relevant articles
Open Access articles citing this article.
Yuting Chen

,

Eriona Hysolli

…

George Church

Nature Communications Open Access 02 August 2022

Shriya Hans

,

Nilesh Kumar

…

Vijai Singh

Microbial Cell Factories Open Access 28 May 2022

Austin G. Rottinghaus

,

Aura Ferreiro

…

Tae Seok Moon

Nature Communications Open Access 03 February 2022
Access options
Subscribe to Journal
Get full journal access for 1 year
$199.00
only $3.90 per issue
All prices are NET prices.
VAT will be added later in the checkout.
Tax calculation will be finalised during checkout.
Buy article
Get time limited or full article access on ReadCube.
$32.00
All prices are NET prices.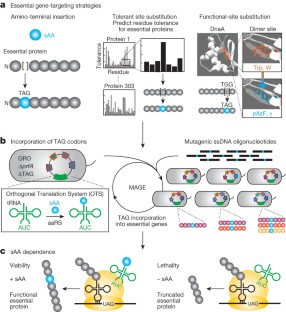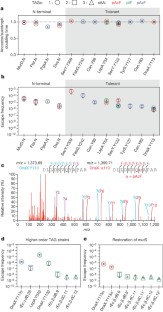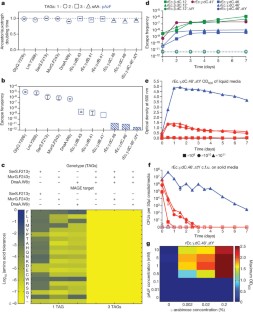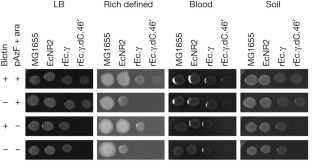 References
Way, J. C., Collins, J. J., Keasling, J. D. & Silver, P. A. Integrating biological redesign: where synthetic biology came from and where it needs to go. Cell 157, 151–161 (2014)

Schmidt, M. & de Lorenzo, V. Synthetic constructs in/for the environment: managing the interplay between natural and engineered biology. FEBS Lett. 586, 2199–2206 (2012)

Moe-Behrens, G. H., Davis, R. & Haynes, K. A. Preparing synthetic biology for the world. Front. Microbiol. 4, 5 (2013)

Pieper, D. H. & Reineke, W. Engineering bacteria for bioremediation. Curr. Opin. Biotechnol. 11, 262–270 (2000)

Steidler, L. Genetically engineered probiotics. Best Pract. Res. Clin. Gastroenterol. 17, 861–876 (2003)

Kong, W. et al. Regulated programmed lysis of recombinant Salmonella in host tissues to release protective antigens and confer biological containment. Proc. Natl Acad. Sci. USA 105, 9361–9366 (2008)

Szafranski, P. et al. A new approach for containment of microorganisms: dual control of streptavidin expression by antisense RNA and the T7 transcription system. Proc. Natl Acad. Sci. USA 94, 1059–1063 (1997)

Steidler, L. et al. Biological containment of genetically modified Lactococcus lactis for intestinal delivery of human interleukin 10. Nature Biotechnol. 21, 785–789 (2003)

Ronchel, M. C. & Ramos, J. L. Dual system to reinforce biological containment of recombinant bacteria designed for rhizoremediation. Appl. Environ. Microbiol. 67, 2649–2656 (2001)

Jensen, L. B., Ramos, J. L., Kaneva, Z. & Molin, S. A substrate-dependent biological containment system for Pseudomonas putida based on the Escherichia coli gef gene. Appl. Environ. Microbiol. 59, 3713–3717 (1993)

Lajoie, M. J. et al. Genomically recoded organisms expand biological functions. Science 342, 357–360 (2013)

Wang, H. H. et al. Programming cells by multiplex genome engineering and accelerated evolution. Nature 460, 894–898 (2009)

Marchler-Bauer, A. et al. CDD: a Conserved Domain Database for protein classification. Nucleic Acids Res. 33, D192–D196 (2005)

Cohen, S. N., Chang, A. C., Boyer, H. W. & Helling, R. B. Construction of biologically functional bacterial plasmids in vitro. Proc. Natl Acad. Sci. USA 70, 3240–3244 (1973)

Berg, P., Baltimore, D., Brenner, S., Roblin, R. O. & Singer, M. F. Summary statement of the Asilomar conference on recombinant DNA molecules. Proc. Natl Acad. Sci. USA 72, 1981–1984 (1975)

Betenbaugh, M. J., Beaty, C. & Dhurjati, P. Effects of plasmid amplification and recombinant gene expression on the growth kinetics of recombinant E. coli. Biotechnol. Bioeng. 33, 1425–1436 (1989)

Sørensen, S. J., Bailey, M., Hansen, L. H., Kroer, N. & Wuertz, S. Studying plasmid horizontal transfer in situ: a critical review. Nature Rev. Microbiol. 3, 700–710 (2005)

Kumar, P., Henikoff, S. & Ng, P. C. Predicting the effects of coding non-synonymous variants on protein function using the SIFT algorithm. Nature Protocols 4, 1073–1081 (2009)

Schaaper, R. M. & Dunn, R. L. Spectra of spontaneous mutations in Escherichia coli strains defective in mismatch correction: the nature of in vivo DNA replication errors. Proc. Natl Acad. Sci. USA 84, 6220–6224 (1987)

Eggertsson, G. & Soll, D. Transfer ribonucleic acid-mediated suppression of termination codons in Escherichia coli. Microbiol. Rev. 52, 354–374 (1988)

Maisnier-Patin, S., Berg, O. G., Liljas, L. & Andersson, D. I. Compensatory adaptation to the deleterious effect of antibiotic resistance in Salmonella typhimurium. Mol. Microbiol. 46, 355–366 (2002)

Holberger, L. E. & Hayes, C. S. Ribosomal protein S12 and aminoglycoside antibiotics modulate A-site mRNA cleavage and transfer-messenger RNA activity in Escherichia coli. J. Biol. Chem. 284, 32188–32200 (2009)

Abe, Y. et al. Structure and function of DnaA N-terminal domains: specific sites and mechanisms in inter-DnaA interaction and in DnaB helicase loading on oriC. J. Biol. Chem. 282, 17816–17827 (2007)

Bösl, M. & Kersten, H. A novel RNA product of the tyrT operon of Escherichia coli. Nucleic Acids Res. 19, 5863–5870 (1991)

O'Donoghue, P., Ling, J., Wang, Y. S. & Soll, D. Upgrading protein synthesis for synthetic biology. Nature Chem. Biol. 9, 594–598 (2013)

Isaacs, F. J. et al. Precise manipulation of chromosomes in vivo enables genome-wide codon replacement. Science 333, 348–353 (2011)

Lajoie, M. J. et al. Probing the limits of genetic recoding in essential genes. Science 342, 361–363 (2013)

Bain, J. D., Switzer, C., Chamberlin, A. R. & Benner, S. A. Ribosome-mediated incorporation of a non-standard amino acid into a peptide through expansion of the genetic code. Nature 356, 537–539 (1992)

Pinheiro, V. B. et al. Synthetic genetic polymers capable of heredity and evolution. Science 336, 341–344 (2012)

Hammerling, M. J. et al. Bacteriophages use an expanded genetic code on evolutionary paths to higher fitness. Nature Chem. Biol. 10, 178–180 (2014)

Normanly, J., Masson, J. M., Kleina, L. G., Abelson, J. & Miller, J. H. Construction of two Escherichia coli amber suppressor genes: tRNAPheCUA and tRNACysCUA. Proc. Natl Acad. Sci. USA 83, 6548–6552 (1986)

Gibson, D. G. et al. Enzymatic assembly of DNA molecules up to several hundred kilobases. Nature Methods 6, 343–345 (2009)

Fan, C., Ho, J. M., Chirathivat, N., Soll, D. & Wang, Y. S. Exploring the substrate range of wild-type aminoacyl-tRNA synthetases. ChemBioChem 15, 1805–1809 (2014)

Carr, P. A. et al. Enhanced multiplex genome engineering through co-operative oligonucleotide co-selection. Nucleic Acids Res. 40, e132 (2012)

Young, T. S., Ahmad, I., Yin, J. A. & Schultz, P. G. An enhanced system for unnatural amino acid mutagenesis in E. coli. J. Mol. Biol. 395, 361–374 (2010)

Baba, T. et al. Construction of Escherichia coli K-12 in-frame, single-gene knockout mutants: the Keio collection. Mol. Syst. Biol. 2, 2006.–0008 (2006)

Richmond, C. S., Glasner, J. D., Mau, R., Jin, H. & Blattner, F. R. Genome-wide expression profiling in Escherichia coli K-12. Nucleic Acids Res. 27, 3821–3835 (1999)

Sharan, S. K., Thomason, L. C., Kuznetsov, S. G. & Court, D. L. Recombineering: a homologous recombination-based method of genetic engineering. Nature Protocols 4, 206–223 (2009)

Krzywinski, M. et al. Circos: an information aesthetic for comparative genomics. Genome Res. 19, 1639–1645 (2009)

Rinehart, J. et al. WNK2 kinase is a novel regulator of essential neuronal cation-chloride cotransporters. J. Biol. Chem. 286, 30171–30180 (2011)

Rappsilber, J., Ishihama, Y. & Mann, M. Stop and go extraction tips for matrix-assisted laser desorption/ionization, nanoelectrospray, and LC/MS sample pretreatment in proteomics. Anal. Chem. 75, 663–670 (2003)

Heinemann, I. U. et al. Enhanced phosphoserine insertion during Escherichia coli protein synthesis via partial UAG codon reassignment and release factor 1 deletion. FEBS Lett. 586, 3716–3722 (2012)

Neidhardt, F. C., Bloch, P. L. & Smith, D. F. Culture medium for enterobacteria. J. Bacteriol. 119, 736–747 (1974)
Acknowledgements
We are grateful to D. Söll and Y. S. Wang for discussion and for providing pTech-supU. We thank N. Carriero and R. Bjornson at the Yale Biomedical High Performance Computing Cluster for assistance with SIFT. Funding received was from the Defense Advanced Research Projects Agency (N66001-12-C-4020, N66001-12-C-4211); NIH-MSTP-TG-T32GM07205 (A.D.H.); DuPont Inc. and the Arnold and Mabel Beckman Foundation (F.J.I.).
Ethics declarations
Competing interests
A.J.R. and F.J.I. have filed a provisional application with the US Patent and Trademark Office on this work. F.J.I. is a founder of enEvolv, Inc.
Extended data figures and tables
Supplementary information
About this article
Cite this article
Rovner, A., Haimovich, A., Katz, S. et al. Recoded organisms engineered to depend on synthetic amino acids. Nature 518, 89–93 (2015). https://doi.org/10.1038/nature14095
Received:

Accepted:

Published:

Issue Date:

DOI: https://doi.org/10.1038/nature14095
Comments
By submitting a comment you agree to abide by our Terms and Community Guidelines. If you find something abusive or that does not comply with our terms or guidelines please flag it as inappropriate.