Abstract
During endocytosis, energy is invested to narrow the necks of cargo-containing plasma membrane invaginations to radii at which the opposing segments spontaneously coalesce, thereby leading to the detachment by scission of endocytic uptake carriers1. In the clathrin pathway, dynamin uses mechanical energy from GTP hydrolysis to this effect2,3,4, assisted by the BIN/amphiphysin/Rvs (BAR) domain-containing protein endophilin5,6. Clathrin-independent endocytic events are often less reliant on dynamin7, and whether in these cases BAR domain proteins such as endophilin contribute to scission has remained unexplored. Here we show, in human and other mammalian cell lines, that endophilin-A2 (endoA2) specifically and functionally associates with very early uptake structures that are induced by the bacterial Shiga and cholera toxins, which are both clathrin-independent endocytic cargoes8. In controlled in vitro systems, endoA2 reshapes membranes before scission. Furthermore, we demonstrate that endoA2, dynamin and actin contribute in parallel to the scission of Shiga-toxin-induced tubules. Our results establish a novel function of endoA2 in clathrin-independent endocytosis. They document that distinct scission factors operate in an additive manner, and predict that specificity within a given uptake process arises from defined combinations of universal modules. Our findings highlight a previously unnoticed link between membrane scaffolding by endoA2 and pulling-force-driven dynamic scission.
Relevant articles
Open Access articles citing this article.
Samsuzzoha Mondal

,

Karthik Narayan

…

Tobias Baumgart

Nature Communications Open Access 26 August 2022

Agata Poświata

,

Kamila Kozik

…

Daria Zdżalik-Bielecka

Cellular and Molecular Life Sciences Open Access 27 May 2022

Rui Jin

,

Rui Cao

&

Tobias Baumgart

Scientific Reports Open Access 10 May 2022
Access options
Subscribe to Journal
Get full journal access for 1 year
$199.00
only $3.90 per issue
All prices are NET prices.
VAT will be added later in the checkout.
Tax calculation will be finalised during checkout.
Buy article
Get time limited or full article access on ReadCube.
$32.00
All prices are NET prices.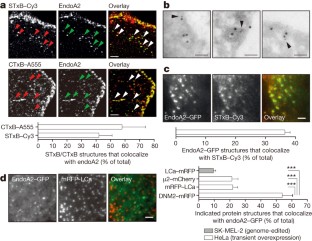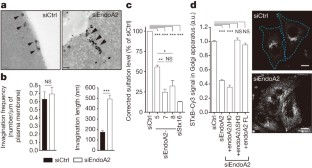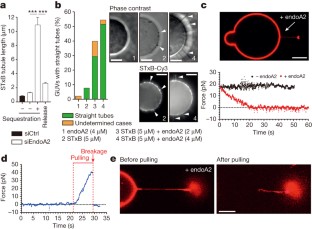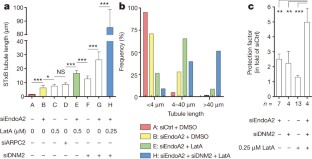 References
Campelo, F. & Malhotra, V. Membrane fission: the biogenesis of transport carriers. Annu. Rev. Biochem. 81, 407–427 (2012)

Shnyrova, A. V. et al. Geometric catalysis of membrane fission driven by flexible dynamin rings. Science 339, 1433–1436 (2013)

Morlot, S. et al. Membrane shape at the edge of the dynamin helix sets location and duration of the fission reaction. Cell 151, 619–629 (2012)

Faelber, K. et al. Crystal structure of nucleotide-free dynamin. Nature 477, 556–560 (2011)

Sundborger, A. et al. An endophilin-dynamin complex promotes budding of clathrin-coated vesicles during synaptic vesicle recycling. J. Cell Sci. 124, 133–143 (2011)

Neumann, S. & Schmid, S. L. Dual role of BAR domain-containing proteins in regulating vesicle release catalyzed by the GTPase, dynamin-2. J. Biol. Chem. 288, 25119–25128 (2013)

Howes, M. T., Mayor, S. & Parton, R. G. Molecules, mechanisms, and cellular roles of clathrin-independent endocytosis. Curr. Opin. Cell Biol. 22, 519–527 (2010)

Römer, W. et al. Shiga toxin induces tubular membrane invaginations for its uptake into cells. Nature 450, 670–675 (2007)

Mim, C. & Unger, V. M. Membrane curvature and its generation by BAR proteins. Trends Biochem. Sci. 37, 526–533 (2012)

Römer, W. et al. Actin dynamics drive membrane reorganization and scission in clathrin-independent endocytosis. Cell 140, 540–553 (2010)

Ewers, H. et al. GM1 structure determines SV40-induced membrane invagination and infection. Nature Cell Biol. 12, 11–18 (2010)

Milosevic, I. et al. Recruitment of endophilin to clathrin-coated pit necks is required for efficient vesicle uncoating after fission. Neuron 72, 587–601 (2011)

Llobet, A. et al. Endophilin drives the fast mode of vesicle retrieval in a ribbon synapse. J. Neurosci. 31, 8512–8519 (2011)

Kononenko, N. L. et al. Clathrin/AP-2 mediate synaptic vesicle reformation from endosome-like vacuoles but are not essential for membrane retrieval at central synapses. Neuron 82, 981–988 (2014)

Amessou, M. et al. Syntaxin 16 and syntaxin 5 control retrograde transport of several exogenous and endogenous cargo proteins. J. Cell Sci. 120, 1457–1468 (2007)

Draper, R. K., Goda, Y., Brodsky, F. M. & Pfeffer, S. R. Antibodies to clathrin inhibit endocytosis but not recycling to the trans Golgi network in vitro. Science 248, 1539–1541 (1990)

Nesterov, A., Carter, R. E., Sorkina, T., Gill, G. N. & Sorkin, A. Inhibition of the receptor-binding function of clathrin adaptor protein AP-2 by dominant-negative mutant μ2 subunit and its effects on endocytosis. EMBO J. 18, 2489–2499 (1999)

Robinson, M. S., Sahlender, D. A. & Foster, S. D. Rapid inactivation of proteins by rapamycin-induced rerouting to mitochondria. Dev. Cell 18, 324–331 (2010)

Campillo, C. et al. Unexpected membrane dynamics unveiled by membrane nanotube extrusion. Biophys. J. 104, 1248–1256 (2013)

Cuvelier, D., Derenyi, I., Bassereau, P. & Nassoy, P. Coalescence of membrane tethers: experiments, theory, and applications. Biophys. J. 88, 2714–2726 (2005)

Evans, E. & Yeung, A. Hidden dynamics in rapid changes of bilayer shape. Chem. Phys. Lipids 73, 39–56 (1994)

Toba, S., Watanabe, T. M., Yamaguchi-Okimoto, L., Toyoshima, Y. Y. & Higuchi, H. Overlapping hand-over-hand mechanism of single molecular motility of cytoplasmic dynein. Proc. Natl Acad. Sci. USA 103, 5741–5745 (2006)

Hehnly, H., Sheff, D. & Stamnes, M. Shiga toxin facilitates its retrograde transport by modifying microtubule dynamics. Mol. Biol. Cell 17, 4379–4389 (2006)

Meinecke, M. et al. Cooperative recruitment of dynamin and BIN/amphiphysin/Rvs (BAR) domain-containing proteins leads to GTP-dependent membrane scission. J. Biol. Chem. 288, 6651–6661 (2013)

Johannes, L. & Römer, W. Shiga toxins - from cell biology to biomedical applications. Nature Rev. Microbiol. 8, 105–116 (2010)

Boucrot, E. et al. Endophilin marks and controls a clathrin-independent endocytic pathway. Nature http://dx.doi.org/10.1038/nature14067 (this issue)

Itoh, T. et al. Dynamin and the actin cytoskeleton cooperatively regulate plasma membrane invagination by BAR and F-BAR proteins. Dev. Cell 9, 791–804 (2005)

Roux, A., Uyhazi, K., Frost, A. & De Camilli, P. GTP-dependent twisting of dynamin implicates constriction and tension in membrane fission. Nature 441, 528–531 (2006)

Zha, X. et al. Sphingomyelinase treatment induces ATP-independent endocytosis. J. Cell Biol. 140, 39–47 (1998)

Lizárraga, F. et al. Diaphanous-related formins are required for invadopodia formation and invasion of breast tumor cells. Cancer Res. 69, 2792–2800 (2009)

Riedl, J. et al. Lifeact: a versatile marker to visualize F-actin. Nature Methods 5, 605–607 (2008)

Jordan, M., Schallhorn, A. & Wurm, F. M. Transfecting mammalian cells: optimization of critical parameters affecting calcium-phosphate precipitate formation. Nucleic Acids Res. 24, 596–601 (1996)

Montagnac, G. et al. Decoupling of activation and effector binding underlies ARF6 priming of fast endocytic recycling. Curr. Biol. 21, 574–579 (2011)

Mallard, F. & Johannes, L. in Shiga Toxin Methods and Protocols Vol. 73 (eds Philpott, D. & Ebel, F. ) Ch. 17 209–220 (Humana Press, 2003)

Gortat, A., San-Roman, M. J., Vannier, C. & Schmidt, A. A. Single point mutation in Bin/Amphiphysin/Rvs (BAR) sequence of endophilin impairs dimerization, membrane shaping, and Src homology 3 domain-mediated partnership. J. Biol. Chem. 287, 4232–4247 (2012)

Amessou, M., Popoff, V., Yelamos, B., Saint-Pol, A. & Johannes, L. Measuring retrograde transport to the trans-Golgi network. Curr. Protoc. Cell. Biol. Chapter 15, Unit–15.10 (2006)

Singh, R. D. et al. Selective caveolin-1-dependent endocytosis of glycosphingolipids. Mol. Biol. Cell 14, 3254–3265 (2003)

Wolf, A. A. et al. Ganglioside structure dictates signal transduction by cholera toxin and association with caveolae-like membrane domains in polarized epithelia. J. Cell Biol. 141, 917–927 (1998)

Stechmann, B. et al. Inhibition of retrograde transport protects mice from lethal ricin challenges. Cell 141, 231–242 (2010)

Robinson, M. S. & Hirst, J. Rapid inactivation of proteins by knocksideways. Curr. Protoc. Cell Biol. 61, 15.20.1–15.20.7 (2013)

Boncompain, G. & Perez, F. Synchronizing protein transport in the secretory pathway. Curr. Protoc. Cell Biol. Chapter 15, Unit–15.19 (2012)

Pautot, S., Frisken, B. J. & Weitz, D. A. Engineering asymmetric vesicles. Proc. Natl Acad. Sci. USA 100, 10718–10721 (2003)

Pontani, L. L. et al. Reconstitution of an actin cortex inside a liposome. Biophys. J. 96, 192–198 (2009)

Sorre, B. et al. Nature of curvature coupling of amphiphysin with membranes depends on its bound density. Proc. Natl Acad. Sci. USA 109, 173–178 (2012)

Bolte, S. & Cordelieres, F. P. A guided tour into subcellular colocalization analysis in light microscopy. J. Microsc. 224, 213–232 (2006)
Acknowledgements
We would like to acknowledge the following people for help in experiments and providing materials or expertise: A. Berthier, L. Cabanié, K. Carvalho, P. de Camilli, C. Day, D. Drubin, A. El Marjou, V. Fraisier, A. Gautreau, T. Kirchhausen, L. Leconte, C. Merrifield, G. Montagnac, P. Paul-Gilloteaux, M. S. Robinson, L. Sengmanivong and E. Smythe. The facilities as well as scientific and technical assistance from staff in the PICT-IBiSA/Nikon Imaging Centre at Institut Curie-CNRS and the France-BioImaging infrastructure (ANR-10-INSB-04) are acknowledged. This work was supported by grants from the Agence Nationale pour la Recherche (ANR-09-BLAN-283 to L.J. and C.S., ANR-10-LBX-0038 to C.L., ANR-11 BSV2 014 03 to L.J. and P.B., ANR-12-BSV5-0014 to C.S.), the Indo-French Centre for the Promotion of Advanced Science (project no. 3803, L.J.), Marie Curie Actions — Networks for Initial Training (FP7-PEOPLE-2010-ITN, L.J.), European Research Council advanced grant (project 340485, L.J.), Marie Curie International Reintegration Grant (FP7-RG-277078, C.W.), the Royal Society (RG120481, E.B.), Fondation ARC pour la Recherche sur le Cancer (DEQ20120323737, C.S.), National Institutes of Health (RO1 GM106720, A.K.K.), La Ligue contre le Cancer, Comité de Paris (RS08/75-89, A.A.S.), and by fellowships from Fondation ARC pour la Recherche sur le Cancer (H.-F.R., J.L. and M.-D.G.-C.), AXA Research Funds (J.L. and M.-D.G.-C.), the Biological Sciences Research Council (David Phillips Research Fellowship to E.B.), Chateaubriand fellowship and the France and Chicago Collaborating in the Sciences grant (M.S.). The Johannes, Lamaze, Sykes and Bassereau teams are members of Labex CelTisPhyBio (11-LBX-0038) and of Idex Paris Sciences et Lettres (ANR-10-IDEX-0001-02 PSL). P.B.'s group belongs to the French research consortium CellTiss.
Ethics declarations
Competing interests
The authors declare no competing financial interests.
Extended data figures and tables
Supplementary information
This file contains Supplementary Methods and Supplementary References. (PDF 239 kb)
HeLaM cells stably expressing endoA2-GFP-FKBP were incubated continuously at 37°C with 0.2 µM STxBCy5, and observed by live cell imaging using a spinning disk microscope for 170 sec at 0.34 sec intervals (exposure time: 10 msec for each channel). Arrowheads indicate STxB and endoA2-GFP-positive vesicles in the cell periphery that move inwards. Scale bar, 2 µm. (MP4 9460 kb)
HeLaM cells stably expressing endoA2-GFP-FKBP were observed by live cell imaging at 37°C using a spinning disk microscope. STxB-Cy5 (0.2 µM) was added 15 sec after the beginning of image acquisition. Acquisition was performed for 80 sec at 0.84 sec intervals (exposure time: 80 msec for each channel). Scale bar, 2 µm. (MP4 2789 kb)
About this article
Cite this article
Renard, HF., Simunovic, M., Lemière, J. et al. Endophilin-A2 functions in membrane scission in clathrin-independent endocytosis. Nature 517, 493–496 (2015). https://doi.org/10.1038/nature14064
Received:

Accepted:

Published:

Issue Date:

DOI: https://doi.org/10.1038/nature14064
Comments
By submitting a comment you agree to abide by our Terms and Community Guidelines. If you find something abusive or that does not comply with our terms or guidelines please flag it as inappropriate.