Abstract
Sensorimotor control in vertebrates relies on internal models. When extending an arm to reach for an object, the brain uses predictive models of both limb dynamics and target properties. Whether invertebrates use such models remains unclear. Here we examine to what extent prey interception by dragonflies (Plathemis lydia), a behaviour analogous to targeted reaching, requires internal models. By simultaneously tracking the position and orientation of a dragonfly's head and body during flight, we provide evidence that interception steering is driven by forward and inverse models of dragonfly body dynamics and by models of prey motion. Predictive rotations of the dragonfly's head continuously track the prey's angular position. The head–body angles established by prey tracking appear to guide systematic rotations of the dragonfly's body to align it with the prey's flight path. Model-driven control thus underlies the bulk of interception steering manoeuvres, while vision is used for reactions to unexpected prey movements. These findings illuminate the computational sophistication with which insects construct behaviour.
Relevant articles
Open Access articles citing this article.
Foundations of Science Open Access 27 March 2023

Zheng-Dong Zhao

,

Li Zhang

…

Wei L. Shen

Neuroscience Bulletin Open Access 27 January 2023

Zhonghong Wu

,

Li Pan

…

Dan Mei

Scientific Reports Open Access 07 November 2022
Access options
Subscribe to this journal
Receive 51 print issues and online access
$199.00 per year
only $3.90 per issue
Rent or buy this article
Get just this article for as long as you need it
$39.95
Prices may be subject to local taxes which are calculated during checkout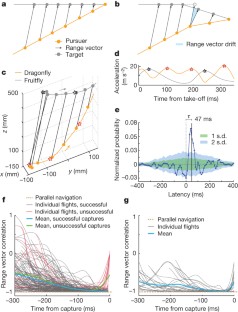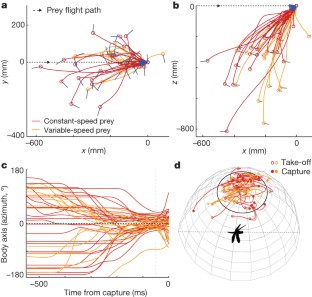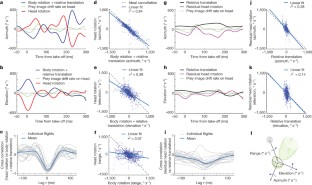 References
Franklin, D. W. & Wolpert, D. M. Computational mechanisms of sensorimotor control. Neuron 72, 425–442 (2011)

Zago, M. et al. Internal models of target motion: expected dynamics overrides measured kinematics in timing manual interceptions. J. Neurophysiol. 91, 1620–1634 (2004)

Flanagan, J. R., King, S., Wolpert, D. M. & Johansson, R. S. Sensorimotor prediction and memory in object manipulation. Can. J. Exp. Psychol. 55, 87–95 (2001)

Kawato, M. Internal models for motor control and trajectory planning. Curr. Opin. Neurobiol. 9, 718–727 (1999)

Wolpert, D. M., Ghahramani, Z. & Jordan, M. I. An internal model for sensorimotor integration. Science 269, 1880–1882 (1995)

Mehta, B. & Schaal, S. Forward models in visuomotor control. J. Neurophysiol. 88, 942–953 (2002)

Huston, S. J. & Jayaraman, V. Studying sensorimotor integration in insects. Curr. Opin. Neurobiol. 21, 527–534 (2011)

Webb, B. Neural mechanisms for prediction: do insects have forward models? Trends Neurosci. 27, 278–282 (2004)

Olberg, R. M., Worthington, A. H. & Venator, K. R. Prey pursuit and interception in dragonflies. J. Comp. Physiol. A 186, 155–162 (2000)

Olberg, R. M., Seaman, R. C., Coats, M. I. & Henry, A. F. Eye movements and target fixation during dragonfly prey-interception flights. J. Comp. Physiol. A 193, 685–693 (2007)

Gonzalez-Bellido, P. T., Peng, H., Yang, J., Georgopoulos, A. P. & Olberg, R. M. Eight pairs of descending visual neurons in the dragonfly give wing motor centers accurate population vector of prey direction. Proc. Natl Acad. Sci. USA 110, 696–701 (2013)

Justh, E. W. & Krishnaprasad, P. S. Steering laws for motion camouflage. Proc. R. Soc. A 462, 3629–3643 (2006)

Shneydor, N. A. Missile Guidance and Pursuit: Kinematics, Dynamics and Control (Elsevier, 1998)

Ghose, K., Horiuchi, T. K., Krishnaprasad, P. S. & Moss, C. F. Echolocating bats use a nearly time-optimal strategy to intercept prey. PLoS Biol. 4, e108 (2006)

Combes, S. A., Rundle, D. E., Iwasaki, J. M. & Crall, J. D. Linking biomechanics and ecology through predator-prey interactions: flight performance of dragonflies and their prey. J. Exp. Biol. 215, 903–913 (2012)

Azim, E., Jiang, J., Alstermark, B. & Jessell, T. M. Skilled reaching relies on a V2a propriospinal internal copy circuit. Nature 508, 357–363 (2014)

Collett, T. S. & Land, M. F. How hoverflies compute interception courses. J. Comp. Physiol. A 125, 191–204 (1978)

Haselsteiner, A. F., Gilbert, C. & Wang, Z. J. Tiger beetles pursue prey using a proportional control law with a delay of one half-stride. J. R. Soc. Interface 11, 20140216 (2014)

Labhart, T. & Nilsson, D. E. The dorsal eye of the dragonfly sympetrum—specializations for prey detection against the blue sky. J. Comp. Physiol. A 176, 437–453 (1995)

Tu, M. & Dickinson, M. Modulation of negative work output from a steering muscle of the blowfly Calliphora vicina. J. Exp. Biol. 192, 207–224 (1994)

Todorov, E. Optimality principles in sensorimotor control. Nature Neurosci. 7, 907–915 (2004)

Scholz, J. P. & Schoner, G. The uncontrolled manifold concept: identifying control variables for a functional task. Exp. Brain Res. 126, 289–306 (1999)

Tucker, V. A., Tucker, A. E., Akers, K. & Enderson, J. H. Curved flight paths and sideways vision in peregrine falcons (Falco peregrinus). J. Exp. Biol. 203, 3755–3763 (2000)

Ito, M. Cerebellar control of the vestibulo-ocular reflex–around the flocculus hypothesis. Annu. Rev. Neurosci. 5, 275–296 (1982)

Poulet, J. F. & Hedwig, B. A corollary discharge maintains auditory sensitivity during sound production. Nature 418, 872–876 (2002)

Wang, Z. J. & Russell, D. Effect of forewing and hindwing interactions on aerodynamic forces and power in hovering dragonfly flight. Phys. Rev. Lett. 99, 148101 (2007)

Adelman, T. L., Bialek, W. & Olberg, R. M. The information content of receptive fields. Neuron 40, 823–833 (2003)

von Reyn, C. R. et al. A spike-timing mechanism for action selection. Nature Neurosci. 17, 962–970 (2014)

Thomas, S. J., Harrison, R. R., Leonardo, A. & Reynolds, M. S. A. Battery-free multichannel digital neural/EMG telemetry system for flying insects. IEEE Trans. Biomed. Circ. Sys. 6, 424–436 (2012)

Hedrick, T. L. Software techniques for two- and three-dimensional kinematic measurements of biological and biomimetic systems. Bioinspir. Biomim. 3, 034001 (2008)

Gorb, S. N. Evolution of the dragonfly head-arresting system. Proc. R. Soc. B 266, 525–535 (1999)

Chang, L. Y. & Pollard, N. S. Constrained least-squares optimization for robust estimation of center of rotation. J. Biomech. 40, 1392–1400 (2007)
Acknowledgements
We thank I. Siwanowicz for advice on neck joint anatomy, and J. Melfi for assistance on kinematic computations. J. Osborne and J. Jordan provided assistance with the retroreflector assembly and artificial prey delivery systems. M. Barbic provided guidance on retroreflector mirroring. D. Parks and the Janelia vivarium provided dragonfly husbandry. We are grateful to V. Jayaraman, A. Karpova, W. Denk and J. Wang for discussions and comments on the manuscript. This work was supported by the Howard Hughes Medical Institute. Additional support to R.O. from AFOSR FA9550-10-1-0472.
Ethics declarations
Competing interests
The authors declare no competing financial interests.
Extended data figures and tables
Supplementary information
About this article
Cite this article
Mischiati, M., Lin, HT., Herold, P. et al. Internal models direct dragonfly interception steering. Nature 517, 333–338 (2015). https://doi.org/10.1038/nature14045
Received:

Accepted:

Published:

Issue Date:

DOI: https://doi.org/10.1038/nature14045
Comments
By submitting a comment you agree to abide by our Terms and Community Guidelines. If you find something abusive or that does not comply with our terms or guidelines please flag it as inappropriate.