Abstract
Infectious agents develop intricate mechanisms to interact with host cell pathways and hijack their genetic and epigenetic machinery to change host cell phenotypic states. Among the Apicomplexa phylum of obligate intracellular parasites, which cause veterinary and human diseases, Theileria is the only genus that transforms its mammalian host cells1. Theileria infection of bovine leukocytes induces proliferative and invasive phenotypes associated with activated signalling pathways, notably JNK and AP-1 (ref. 2). The transformed phenotypes are reversed by treatment with the theilericidal drug buparvaquone3. We used comparative genomics to identify a homologue of the peptidyl-prolyl isomerase PIN1 in T. annulata (TaPIN1) that is secreted into the host cell and modulates oncogenic signalling pathways. Here we show that TaPIN1 is a bona fide prolyl isomerase and that it interacts with the host ubiquitin ligase FBW7, leading to its degradation and subsequent stabilization of c-JUN, which promotes transformation. We performed in vitro and in silico analysis and in vivo zebrafish xenograft experiments to demonstrate that TaPIN1 is directly inhibited by the anti-parasite drug buparvaquone (and other known PIN1 inhibitors) and is mutated in a drug-resistant strain. Prolyl isomerization is thus a conserved mechanism that is important in cancer and is used by Theileria parasites to manipulate host oncogenic signalling.
Relevant articles
Open Access articles citing this article.
Marie Villares

,

Nelly Lourenço

…

Jonathan B. Weitzman

Communications Biology Open Access 15 November 2022

Hong-xi Zhao

,

Xia Li

…

Xin-gang Dan

Parasites & Vectors Open Access 05 October 2022

Zhi Li

,

Junlong Liu

…

Hong Yin

Parasites & Vectors Open Access 30 August 2022
Access options
Subscribe to this journal
Receive 51 print issues and online access
$199.00 per year
only $3.90 per issue
Rent or buy this article
Get just this article for as long as you need it
$39.95
Prices may be subject to local taxes which are calculated during checkout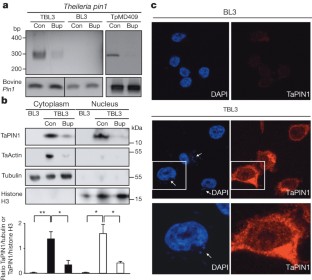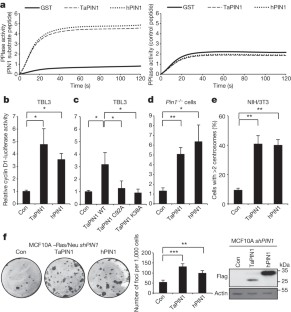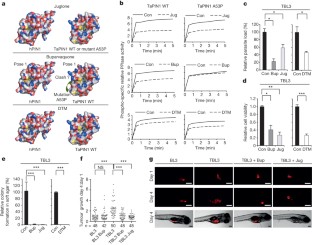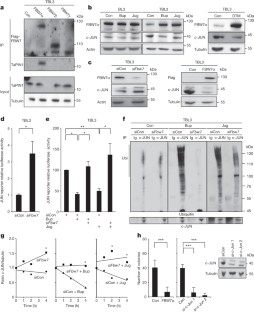 References
Dobbelaere, D. & Heussler, V. Transformation of leukocytes by Theileria parva and T. annulata . Annu. Rev. Microbiol. 53, 1–42 (1999)

Chaussepied, M. et al. Upregulation of Jun and Fos family members and permanent JNK activity lead to constitutive AP-1 activation in Theileria-transformed leukocytes. Mol. Biochem. Parasitol. 94, 215–226 (1998)

McHardy, N., Wekesa, L. S., Hudson, A. T. & Randall, A. W. Antitheilerial activity of BW720C (buparvaquone): a comparison with parvaquone. Res. Vet. Sci. 39, 29–33 (1985)

Shiels, B. R. et al. A Theileria annulata DNA binding protein localized to the host cell nucleus alters the phenotype of a bovine macrophage cell line. Eukaryot. Cell 3, 495–505 (2004)

Pain, A. et al. Genome of the host-cell transforming parasite Theileria annulata compared with T. parva . Science 309, 131–133 (2005)

Witschi, M. et al. Proteomic analysis of the Theileria annulata schizont. Int. J. Parasitol. 43, 173–180 (2013)

Lu, K. P., Hanes, S. D. & Hunter, T. A human peptidyl-prolyl isomerase essential for regulation of mitosis. Nature 380, 544–547 (1996)

Winkler, K. E., Swenson, K. I., Kornbluth, S. & Means, A. R. Requirement of the prolyl isomerase Pin1 for the replication checkpoint. Science 287, 1644–1647 (2000)

Wulf, G. M. et al. Pin1 is overexpressed in breast cancer and cooperates with Ras signaling in increasing the transcriptional activity of c-Jun towards cyclin D1. EMBO J. 20, 3459–3472 (2001)

Ryo, A. et al. PIN1 is an E2F target gene essential for Neu/Ras-induced transformation of mammary epithelial cells. Mol. Cell. Biol. 22, 5281–5295 (2002)

Yaffe, M. B. et al. Sequence-specific and phosphorylation-dependent proline isomerization: a potential mitotic regulatory mechanism. Science 278, 1957–1960 (1997)

Lu, K. P., Finn, G., Lee, T. H. & Nicholson, L. K. Prolyl cis-trans isomerization as a molecular timer. Nature Chem. Biol. 3, 619–629 (2007)

Hennig, L. et al. Selective Inactivation of parvulin-like peptidyl-prolyl cis/trans isomerases by juglone. Biochemistry 37, 5953–5960 (1998)

Tatara, Y., Lin, Y.-C., Bamba, Y., Mori, T. & Uchida, T. Dipentamethylene thiuram monosulfide is a novel inhibitor of Pin1. Biochem. Biophys. Res. Commun. 384, 394–398 (2009)

Moore, J. D. & Potter, A. Pin1 inhibitors: pitfalls, progress and cellular pharmacology. Bioorg. Med. Chem. Lett. 23, 4283–4291 (2013)

Hayashida, K. et al. Comparative genome analysis of three eukaryotic parasites with differing abilities to transform leukocytes reveals key mediators of Theileria-induced leukocyte transformation. MBio 3, e00204–12 (2012)

Chen, C.-H. et al. SENP1 desumoylates and regulates Pin1 protein activity and cellular function. Cancer Res. 73, 3951–3962 (2013)

Landrieu, I. et al. The Arabidopsis thaliana PIN1At gene encodes a single-domain phosphorylation-dependent peptidyl prolyl cis/trans isomerase. J. Biol. Chem. 275, 10577–10581 (2000)

Landrieu, I., Wieruszeski, J.-M., Wintjens, R., Inzé, D. & Lippens, G. Solution structure of the single-domain prolyl cis/trans isomerase PIN1At from Arabidopsis thaliana . J. Mol. Biol. 320, 321–332 (2002)

Yao, J.-L., Kops, O., Lu, P.-J. & Lu, K. P. Functional conservation of phosphorylation-specific prolyl isomerases in plants. J. Biol. Chem. 276, 13517–13523 (2001)

Goh, J. Y. et al. Functional characterization of two novel parvulins in Trypanosoma brucei . FEBS Lett. 584, 2901–2908 (2010)

Sun, L. et al. Solution structural analysis of the single-domain parvulin TbPin1. PLoS ONE 7, e43017 (2012)

Mhadhbi, M. et al. In vivo evidence for the resistance of Theileria annulata to buparvaquone. Vet. Parasitol. 169, 241–247 (2010)

Sharifiyazdi, H., Namazi, F., Oryan, A., Shahriari, R. & Razavi, M. Point mutations in the Theileria annulata cytochrome b gene is associated with buparvaquone treatment failure. Vet. Parasitol. 187, 431–435 (2012)

Konantz, M. et al. Zebrafish xenografts as a tool for in vivo studies on human cancer. Ann. NY Acad. Sci. 1266, 124–137 (2012)

White, R., Rose, K. & Zon, L. Zebrafish cancer: the state of the art and the path forward. Nature Rev. Cancer 13, 624–636 (2013)

Min, S.-H. et al. Negative regulation of the stability and tumor suppressor function of Fbw7 by the Pin1 prolyl isomerase. Mol. Cell 46, 771–783 (2012)

Nateri, A. S., Riera-Sans, L., Costa, C. D. & Behrens, A. The ubiquitin ligase SCFFbw7 antagonizes apoptotic JNK signaling. Science 303, 1374–1378 (2004)

Wei, W., Jin, J., Schlisio, S., Harper, J. W. & Kaelin, W. G. The v-Jun point mutation allows c-Jun to escape GSK3-dependent recognition and destruction by the Fbw7 ubiquitin ligase. Cancer Cell 8, 25–33 (2005)

Marsolier, J. et al. OncomiR addiction is generated by a miR-155 feedback loop in Theileria-transformed leukocytes. PLoS Pathog. 9, e1003222 (2013)

Moreau, M.-F. et al. Theileria annulata in CD5+ macrophages and B1 B cells. Infect. Immun. 67, 6678–6682 (1999)

Aurrecoechea, C. et al. ApiDB: integrated resources for the apicomplexan bioinformatics resource center. Nucleic Acids Res. 35, D427–D430 (2007)

Lambert, C., Léonard, N., Bolle, X. D. & Depiereux, E. ESyPred3D: prediction of proteins 3D structures. Bioinformatics 18, 1250–1256 (2002)

Ranganathan, R., Lu, K. P., Hunter, T. & Noel, J. P. Structural and functional analysis of the mitotic rotamase Pin1 suggests substrate recognition is phosphorylation dependent. Cell 89, 875–886 (1997)

Miteva, M. A., Tufféry, P. & Villoutreix, B. O. PCE: web tools to compute protein continuum electrostatics. Nucleic Acids Res. 33, W372–W375 (2005)

Grove, L. E., Hall, D. R., Beglov, D., Vajda, S. & Kozakov, D. FTFlex: accounting for binding site flexibility to improve fragment-based identification of druggable hot spots. Bioinformatics 29, 1218–1219 (2013)

Lagorce, D., Pencheva, T., Villoutreix, B. O. & Miteva, M. A. DG-AMMOS: a new tool to generate 3D conformation of small molecules using distance geometry and automated molecular mechanics optimization for in silico screening. BMC Chem. Biol. 9, 6 (2009)

Spitzer, R. & Jain, A. N. Surflex-Dock: docking benchmarks and real-world application. J. Comput. Aided Mol. Des. 26, 687–699 (2012)

Thomsen, R. & Christensen, M. H. MolDock: a new technique for high-accuracy molecular docking. J. Med. Chem. 49, 3315–3321 (2006)

Sauton, N., Lagorce, D., Villoutreix, B. O. & Miteva, M. A. MS-DOCK: accurate multiple conformation generator and rigid docking protocol for multi-step virtual ligand screening. BMC Bioinformatics 9, 184 (2008)

Ji, Q. et al. Molecular mechanism of quinone signaling mediated through S-quinonization of a YodB family repressor QsrR. Proc. Natl Acad. Sci. USA 110, 5010–5015 (2013)
Acknowledgements
We thank G. Langsley, M. A. Darghouth and M. Weitzman for critical reading of the manuscript and advice on this study. We thank members of the UMR7216 for discussions. J.B.W. thanks C. Gawer for advice and support. We thank the following for providing reagents: G. Langsley for TBL3-, BL3- and TpMD409-infected cells and for a Theileria complementary DNA library; C. Francastel for NIH/3T3 cells; G. Del Sal for Pin1−/− murine immortalized fibroblasts; B. E. Clurman for FBW7 plasmids; J. Baum for the rabbit anti-Apicomplexa actin antibody; and T. Uchida for DTM. Measurements of the PPIase activities were performed at the Flexstation III facility of the Biologie Fonctionnelle et Adaptative laboratory. Confocal analysis was performed at the microscopy facility of the ImagoSeine platform (Jacques Monod Institute). This work was supported by National Institutes of Health grant R01CA167677 to K.P.L., the Association for International Cancer Research (#08-0111), the French National Research Agency (ANR) (Blanc 11-BSV3-016-01), and the "Who Am I?" Laboratory of Excellence #ANR-11-LABX-0071 funded by the French Government through its "Investments for the Future" program operated by the ANR under grant #ANR-11-IDEX-0005-01.
Ethics declarations
Competing interests
The authors declare no competing financial interests.
Extended data figures and tables
About this article
Cite this article
Marsolier, J., Perichon, M., DeBarry, J. et al. Theileria parasites secrete a prolyl isomerase to maintain host leukocyte transformation. Nature 520, 378–382 (2015). https://doi.org/10.1038/nature14044
Received:

Accepted:

Published:

Issue Date:

DOI: https://doi.org/10.1038/nature14044
Comments
By submitting a comment you agree to abide by our Terms and Community Guidelines. If you find something abusive or that does not comply with our terms or guidelines please flag it as inappropriate.