Abstract
Cytotoxic chemotherapy is effective in debulking tumour masses initially; however, in some patients tumours become progressively unresponsive after multiple treatment cycles. Previous studies have demonstrated that cancer stem cells (CSCs) are selectively enriched after chemotherapy through enhanced survival1,2,3. Here we reveal a new mechanism by which bladder CSCs actively contribute to therapeutic resistance via an unexpected proliferative response to repopulate residual tumours between chemotherapy cycles, using human bladder cancer xenografts. Further analyses demonstrate the recruitment of a quiescent label-retaining pool of CSCs into cell division in response to chemotherapy-induced damages, similar to mobilization of normal stem cells during wound repair4,5,6,7. While chemotherapy effectively induces apoptosis, associated prostaglandin E2 (PGE2) release paradoxically promotes neighbouring CSC repopulation. This repopulation can be abrogated by a PGE2-neutralizing antibody and celecoxib drug-mediated blockade of PGE2 signalling. In vivo administration of the cyclooxygenase-2 (COX2) inhibitor celecoxib effectively abolishes a PGE2- and COX2-mediated wound response gene signature, and attenuates progressive manifestation of chemoresistance in xenograft tumours, including primary xenografts derived from a patient who was resistant to chemotherapy. Collectively, these findings uncover a new underlying mechanism that models the progressive development of clinical chemoresistance, and implicate an adjunctive therapy to enhance chemotherapeutic response of bladder urothelial carcinomas by abrogating early tumour repopulation.
Relevant articles
Open Access articles citing this article.
Sophie Vasseur

&

Fabienne Guillaumond

Oncogenesis Open Access 09 August 2022

Hamed Rezayatmand

,

Mahboobeh Razmkhah

&

Iman Razeghian-Jahromi

Stem Cell Research & Therapy Open Access 03 May 2022

Charlotte R. Bell

,

Victoria S. Pelly

…

Santiago Zelenay

Nature Communications Open Access 19 April 2022
Access options
Subscribe to Journal
Get full journal access for 1 year
$199.00
only $3.90 per issue
All prices are NET prices.
VAT will be added later in the checkout.
Tax calculation will be finalised during checkout.
Buy article
Get time limited or full article access on ReadCube.
$32.00
All prices are NET prices.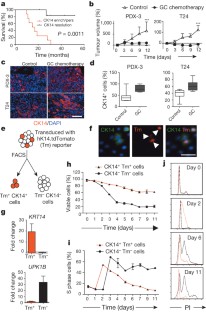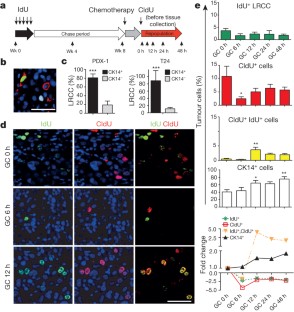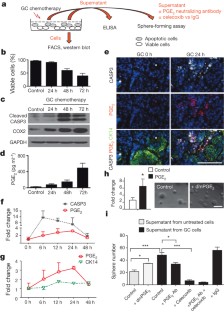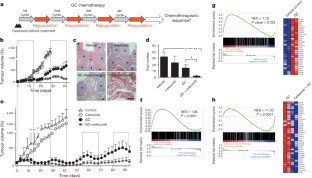 Accession codes
Primary accessions
BioProject
Data deposits
RNA-seq raw data have been deposited in the NCBI BioProject database under accession number PRJNA263046.
References
Visvader, J. E. & Lindeman, G. J. Cancer stem cells in solid tumours: accumulating evidence and unresolved questions. Nature Rev. Cancer 8, 755–768 (2008)

Clevers, H. The cancer stem cell: premises, promises and challenges. Nature Med. 17, 313–319 (2011)

Kreso, A. & Dick, J. E. Evolution of the cancer stem cell model. Cell Stem Cell 14, 275–291 (2014)

Beachy, P. A., Karhadkar, S. S. & Berman, D. M. Tissue repair and stem cell renewal in carcinogenesis. Nature 432, 324–331 (2004)

Arwert, E. N., Hoste, E. & Watt, F. M. Epithelial stem cells, wound healing and cancer. Nature Rev. Cancer 12, 170–180 (2012)

Ito, M. et al. Stem cells in the hair follicle bulge contribute to wound repair but not to homeostasis of the epidermis. Nature Med. 11, 1351–1354 (2005)

Mascré, G. et al. Distinct contribution of stem and progenitor cells to epidermal maintenance. Nature 489, 257–262 (2012)

Kim, J. J. & Tannock, I. F. Repopulation of cancer cells during therapy: an important cause of treatment failure. Nature Rev. Cancer 5, 516–525 (2005)

Wilson, A. et al. Hematopoietic stem cells reversibly switch from dormancy to self-renewal during homeostasis and repair. Cell 135, 1118–1129 (2008)

Chan, K. S. et al. Identification, molecular characterization, clinical prognosis, and therapeutic targeting of human bladder tumor-initiating cells. Proc. Natl Acad. Sci. USA 106, 14016–14021 (2009)

Volkmer, J. P. et al. Three differentiation states risk-stratify bladder cancer into distinct subtypes. Proc. Natl Acad. Sci. USA 109, 2078–2083 (2012)

Ho, P. L., Lay, E. J., Jian, W., Parra, D. & Chan, K. S. Stat3 activation in urothelial stem cells leads to direct progression to invasive bladder cancer. Cancer Res. 72, 3135–3142 (2012)

Ho, P. L., Kurtova, A. & Chan, K. S. Normal and neoplastic urothelial stem cells: getting to the root of the problem. Nature reviews . Urology 9, 583–594 (2012)

Shin, K. et al. Cellular origin of bladder neoplasia and tissue dynamics of its progression to invasive carcinoma. Nature Cell Biol. 16, 469–478 (2014)

Van Batavia, J. et al. Bladder cancers arise from distinct urothelial sub-populations. Nature Cell Biol. 16, 982–991 (2014)

Wang, X., Zinkel, S., Polonsky, K. & Fuchs, E. Transgenic studies with a keratin promoter-driven growth hormone transgene: prospects for gene therapy. Proc. Natl Acad. Sci. USA 94, 219–226 (1997)

Kelland, L. The resurgence of platinum-based cancer chemotherapy. Nature Rev. Cancer 7, 573–584 (2007)

Cotsarelis, G., Sun, T. T. & Lavker, R. M. Label-retaining cells reside in the bulge area of pilosebaceous unit: implications for follicular stem cells, hair cycle, and skin carcinogenesis. Cell 61, 1329–1337 (1990)

Chen, J. et al. A restricted cell population propagates glioblastoma growth after chemotherapy. Nature 488, 522–526 (2012)

Green, D. R. The end and after: how dying cells impact the living organism. Immunity 35, 441–444 (2011)

Goessling, W. et al. Genetic interaction of PGE2 and Wnt signaling regulates developmental specification of stem cells and regeneration. Cell 136, 1136–1147 (2009)

Hoggatt, J. et al. Differential stem- and progenitor-cell trafficking by prostaglandin E2. Nature 495, 365–369 (2013)

Lukacs, R. U., Goldstein, A. S., Lawson, D. A., Cheng, D. & Witte, O. N. Isolation, cultivation and characterization of adult murine prostate stem cells. Nature Protocols 5, 702–713 (2010)

Meeks, J. J. et al. A systematic review of neoadjuvant and adjuvant chemotherapy for muscle-invasive bladder cancer. Eur. Urol. 62, 523–533 (2012)

Sternberg, C. N. et al. ICUD-EAU International Consultation on Bladder Cancer 2012: chemotherapy for urothelial carcinoma-neoadjuvant and adjuvant settings. Eur. Urol. 63, 58–66 (2013)

Niegisch, G. et al. Neoadjuvant chemotherapy in patients with muscle-invasive bladder cancer: which patients benefit? Eur. Urol. 64, 355–357 (2013)

Coxib and traditional NSAID Trialists' (CNT) Collaboration. Vascular and upper gastrointestinal effects of non-steroidal anti-inflammatory drugs: meta-analyses of individual participant data from randomised trials. Lancet 382, 769–779 (2013)

Wu, X. R. Urothelial tumorigenesis: a tale of divergent pathways. Nature Rev. Cancer 5, 713–725 (2005)

Flaig, T. W. & Theodorescu, D. Bladder cancer in 2011: the dawn of personalized medicine. Nature reviews . Urology 9, 65–66 (2012)

Knowles, M. A. & Hurst, C. D. Molecular biology of bladder cancer: new insights into pathogenesis and clinical diversity. Nature Rev. Cancer http://dx.doi.org/10.1038/nrc3817 (in the press)
Acknowledgements
We would like to thank S. Tsai, J. Rosen, L. Donehower, M. Brenner and B. Deneen for their editorial suggestions, and grant funding from the National Cancer Institute CA129640, CA175397, V Scholar Award, Dan L Duncan Career Award, and Bladder Cancer Partnership (K.S.C.), CPRIT pre-doctoral fellowship RP101499 (A.V.K.), AUA Research Scholar Award (P.L.H.) and CPRIT training grant RP140102 for SMART program (T.T.R.). This work is supported by the Genomic & RNA Profiling Core (L. White), Cytometry & Cell Sorting Core (NIAID AI036211, NCI CA125123 and RR024574; J. Sederstorm), and Human Tissue Acquisition & Pathology Core (NCI CA125123; M. Ittmann) at Baylor College of Medicine, the Texas Advanced Computing Center at UT Austin and Rice University for providing High Performance Computing resources. We dedicate this work to the memory of J. Pride (a patient with bladder cancer and friend of I. Weissman), who funded the original work of K.S.C., which served as an important foundation leading to the current study.
Ethics declarations
Competing interests
The authors declare no competing financial interests.
Extended data figures and tables
About this article
Cite this article
Kurtova, A., Xiao, J., Mo, Q. et al. Blocking PGE2-induced tumour repopulation abrogates bladder cancer chemoresistance. Nature 517, 209–213 (2015). https://doi.org/10.1038/nature14034
Received:

Accepted:

Published:

Issue Date:

DOI: https://doi.org/10.1038/nature14034
Comments
By submitting a comment you agree to abide by our Terms and Community Guidelines. If you find something abusive or that does not comply with our terms or guidelines please flag it as inappropriate.