Abstract
The concerted motion of two or more bound electrons governs atomic1 and molecular2,3 non-equilibrium processes including chemical reactions, and hence there is much interest in developing a detailed understanding of such electron dynamics in the quantum regime. However, there is no exact solution for the quantum three-body problem, and as a result even the minimal system of two active electrons and a nucleus is analytically intractable4. This makes experimental measurements of the dynamics of two bound and correlated electrons, as found in the helium atom, an attractive prospect. However, although the motion of single active electrons and holes has been observed with attosecond time resolution5,6,7, comparable experiments on two-electron motion have so far remained out of reach. Here we show that a correlated two-electron wave packet can be reconstructed from a 1.2-femtosecond quantum beat among low-lying doubly excited states in helium. The beat appears in attosecond transient-absorption spectra5,7,8,9 measured with unprecedentedly high spectral resolution and in the presence of an intensity-tunable visible laser field. We tune the coupling10,11,12 between the two low-lying quantum states by adjusting the visible laser intensity, and use the Fano resonance as a phase-sensitive quantum interferometer13 to achieve coherent control of the two correlated electrons. Given the excellent agreement with large-scale quantum-mechanical calculations for the helium atom, we anticipate that multidimensional spectroscopy experiments of the type we report here will provide benchmark data for testing fundamental few-body quantum dynamics theory in more complex systems. They might also provide a route to the site-specific measurement and control of metastable electronic transition states that are at the heart of fundamental chemical reactions.
Relevant articles
Open Access articles citing this article.
Akansha Tyagi

,

Mehra S. Sidhu

…

Kamal P. Singh

Scientific Reports Open Access 20 May 2022

G. Lozano C.

,

O. B. Silva

…

E. Marega

Scientific Reports Open Access 23 March 2022

Lou Barreau

,

Andrew D. Ross

…

Stephen R. Leone

Scientific Reports Open Access 01 April 2020
Access options
Subscribe to Journal
Get full journal access for 1 year
$199.00
only $3.90 per issue
All prices are NET prices.
VAT will be added later in the checkout.
Tax calculation will be finalised during checkout.
Buy article
Get time limited or full article access on ReadCube.
$32.00
All prices are NET prices.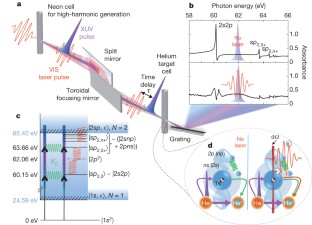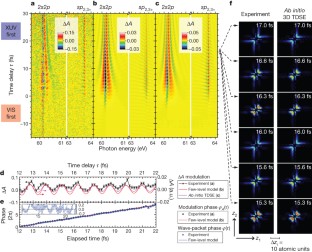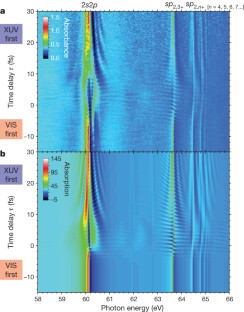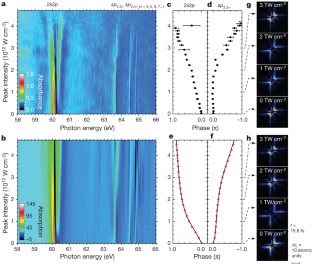 References
Pisharody, S. N. & Jones, R. R. Probing two-electron dynamics of an atom. Science 303, 813–815 (2004)

Vanroose, W., Martin, F., Rescigno, T. N. & McCurdy, C. W. Complete photo-induced breakup of the H2 molecule as a probe of molecular electron correlation. Science 310, 1787–1789 (2005)

Remacle, F. & Levine, R. D. An electronic time scale in chemistry. Proc. Natl Acad. Sci. USA 103, 6793–6798 (2006)

Lin, C. D. Hyperspherical coordinate approach to atomic and other Coulombic three-body systems. Phys. Rep. 257, 1–83 (1995)

Goulielmakis, E. et al. Real-time observation of valence electron motion. Nature 466, 739–743 (2010)

Mauritsson, J. et al. Attosecond electron spectroscopy using a novel interferometric pump-probe technique. Phys. Rev. Lett. 105, 053001 (2010)

Holler, M., Schapper, F., Gallmann, L. & Keller, U. Attosecond electron wave-packet interference observed by transient absorption. Phys. Rev. Lett. 106, 123601 (2011)

Loh, Z. H., Greene, C. H. & Leone, S. R. Femtosecond induced transparency and absorption in the extreme ultraviolet by coherent coupling of the He 2s2p (1Po) and 2p2 (1Se) double excitation states with 800 nm light. Chem. Phys. 350, 7–13 (2008)

Wang, H. et al. Attosecond time-resolved autoionization of argon. Phys. Rev. Lett. 105, 143002 (2010)

Lambropoulos, P. & Zoller, P. Autoionizing states in strong laser fields. Phys. Rev. A 24, 379–397 (1981)

Themelis, S. I., Lambropoulos, P. & Meyer, M. Ionization dynamics in double resonance involving autoionizing states in helium: the effect of pulse shapes. J. Phys. B 37, 4281–4293 (2004)

Chu, W. C., Zhao, S. F. & Lin, C. D. Laser-assisted-autoionization dynamics of helium resonances with single attosecond pulses. Phys. Rev. A 84, 033426 (2011)

Ott, C. et al. Lorentz meets Fano in spectral line shapes: a universal phase and its laser control. Science 340, 716–720 (2013)

Meyer, H. D., Manthe, U. & Cederbaum, L. S. The multi-configurational time-dependent Hartree approach. Chem. Phys. Lett. 165, 73–78 (1990)

Schulz, K. et al. Observation of new Rydberg series and resonances in doubly excited helium at ultrahigh resolution. Phys. Rev. Lett. 77, 3086–3089 (1996)

Beutler, H. Über Absorptionsserien von Argon, Krypton und Xenon zu Termen zwischen den beiden Ionisierungsgrenzen 2P32/0 und 2P12/0. Z. Phys. A 93, 177–196 (1935)

Fano, U. Effects of configuration interaction on intensities and phase shifts. Phys. Rev. 124, 1866–1878 (1961)

Gilbertson, S. et al. Monitoring and controlling the electron dynamics in helium with isolated attosecond pulses. Phys. Rev. Lett. 105, 263003 (2010)

Argenti, L. & Lindroth, E. Ionization branching ratio control with a resonance attosecond clock. Phys. Rev. Lett. 105, 053002 (2010)

Pollard, W. T. & Mathies, R. A. Analysis of femtosecond dynamic absorption-spectra of nonstationary states. Annu. Rev. Phys. Chem. 43, 497–523 (1992)

Rost, J. M., Schulz, K., Domke, M. & Kaindl, G. Resonance parameters of photo doubly excited helium. J. Phys. B 30, 4663–4694 (1997)

Reinhardt, W. P. Complex coordinates in the theory of atomic and molecular-structure and dynamics. Annu. Rev. Phys. Chem. 33, 223–255 (1982)

Paul, P. M. et al. Observation of a train of attosecond pulses from high harmonic generation. Science 292, 1689–1692 (2001)

Kim, K. T. et al. Amplitude and phase reconstruction of electron wave packets for probing ultrafast photoionization dynamics. Phys. Rev. Lett. 108, 093001 (2012)

Ullrich, J. et al. Recoil-ion and electron momentum spectroscopy: reaction-microscopes. Rep. Prog. Phys. 66, 1463 (2003)

Morishita, T., Watanabe, S. & Lin, C. D. Attosecond light pulses for probing two-electron dynamics of helium in the time domain. Phys. Rev. Lett. 98, 083003 (2007)

Palaudoux, J. et al. Multielectron spectroscopy: Auger decays of the krypton 3d hole. Phys. Rev. A 82, 043419 (2010)

Augst, S., Meyerhofer, D. D., Strickland, D. & Chin, S. L. Laser ionization of noble-gases by Coulomb-barrier suppression. J. Opt. Soc. Am. B 8, 858–867 (1991)

Assion, A. et al. Control of chemical reactions by feedback-optimized phase-shaped femtosecond laser pulses. Science 282, 919–922 (1998)

Krausz, F. & Ivanov, M. Attosecond physics. Rev. Mod. Phys. 81, 163–234 (2009)

Henke, B., Gullikson, E. & Davis, J. X-ray interactions: photoabsorption, scattering, transmission, and reflection at E = 50–30,000 eV, Z = 1–92. At. Data Nucl. Data Tabl. 54, 181–342 (1993)

Domke, M., Schulz, K., Remmers, G., Kaindl, G. & Wintgen, D. High-resolution study of 1Po double-excitation states in helium. Phys. Rev. A 53, 1424–1438 (1996)

Santra, R., Yakovlev, V. S., Pfeifer, T. & Loh, Z.-H. Theory of attosecond transient absorption spectroscopy of strong-field-generated ions. Phys. Rev. A 83, 033405 (2011)

Samson, J. A. R., He, Z. X., Yin, L. & Haddad, G. N. Precision measurements of the absolute photoionization cross-sections of He. J. Phys. B 27, 887 (1994)

Hicks, P. J. & Comer, J. Ejected electron spectroscopy of autoionizing states excited by low energy electron impact. J. Phys. B 8, 1866 (1975)

Bürgers, A., Wintgen, D. & Rost, J.-M. Highly doubly excited S states of the helium atom. J. Phys. B 28, 3163–3183 (1995)

Argenti, L. & Moccia, R. K-matrix method with B-splines: sigma (nl), beta(n) and resonances in He photoionization below N = 4 threshold. J. Phys. B 39, 2773–2790 (2006)

Argenti, L. & Moccia, R. Helium 2(3)S photoionization up to the N = 5 threshold. J. Phys. B 41, 035002 (2008)
Acknowledgements
We thank E. Lindroth for calculating the dipole moment 〈2p2|r|sp2,3+〉, and A. Voitkiv, Z.-H. Loh and R. Moshammer for discussions. We acknowledge financial support from the Max Planck Research Group Program of the Max Planck Gesellschaft (MPG), the Deutsche Forschungsgemeinschaft (grant no. PF 790/1-1) and the European COST Action CM1204 XLIC. L.A. and F.M. acknowledge computer time from the CCC-UAM and Mare Nostrum supercomputer centres and financial support from the European Research Council under the ERC Advanced Grant no. 290853 XCHEM; the Ministerio de Economía y Competitividad projects FIS2010-15127, FIS2013-42002-R and ERA-Chemistry PIM2010EEC-00751; and the European grant MC-ITN CORINF.
Ethics declarations
Competing interests
The authors declare no competing financial interests.
Extended data figures and tables
Supplementary information
The VIS intensity is increasing throughout the video, and given in W/cm2 as stated in the upper left area. The corresponding electric field strength is printed in atomic units (a.u.). Detailed spectroscopic information on the N = 2 doubly excited states series in helium is given above the graph at the states' respective energetic position. (MOV 1798 kb)
About this article
Cite this article
Ott, C., Kaldun, A., Argenti, L. et al. Reconstruction and control of a time-dependent two-electron wave packet. Nature 516, 374–378 (2014). https://doi.org/10.1038/nature14026
Received:

Accepted:

Published:

Issue Date:

DOI: https://doi.org/10.1038/nature14026
Comments
By submitting a comment you agree to abide by our Terms and Community Guidelines. If you find something abusive or that does not comply with our terms or guidelines please flag it as inappropriate.