Abstract
Mast cells are primary effectors in allergic reactions, and may have important roles in disease by secreting histamine and various inflammatory and immunomodulatory substances1,2. Although they are classically activated by immunoglobulin (Ig)E antibodies, a unique property of mast cells is their antibody-independent responsiveness to a range of cationic substances, collectively called basic secretagogues, including inflammatory peptides and drugs associated with allergic-type reactions1,3. The pathogenic roles of these substances have prompted a decades-long search for their receptor(s). Here we report that basic secretagogues activate mouse mast cells in vitro and in vivo through a single receptor, Mrgprb2, the orthologue of the human G-protein-coupled receptor MRGPRX2. Secretagogue-induced histamine release, inflammation and airway contraction are abolished in Mrgprb2-null mutant mice. Furthermore, we show that most classes of US Food and Drug Administration (FDA)-approved peptidergic drugs associated with allergic-type injection-site reactions also activate Mrgprb2 and MRGPRX2, and that injection-site inflammation is absent in mutant mice. Finally, we determine that Mrgprb2 and MRGPRX2 are targets of many small-molecule drugs associated with systemic pseudo-allergic, or anaphylactoid, reactions; we show that drug-induced symptoms of anaphylactoid responses are significantly reduced in knockout mice; and we identify a common chemical motif in several of these molecules that may help predict side effects of other compounds. These discoveries introduce a mouse model to study mast cell activation by basic secretagogues and identify MRGPRX2 as a potential therapeutic target to reduce a subset of drug-induced adverse effects.
Relevant articles
Open Access articles citing this article.
Pragya Saxena

,

Eli Broemer

…

Nathan R. Tykocki

Scientific Reports Open Access 12 January 2023

Matveï Apraxine

,

Marc Van den Eynde

…

Françoise Pirson

Allergy, Asthma & Clinical Immunology Open Access 22 December 2022

Gaber El-Saber Batiha

,

Hayder M. Al-kuraishy

…

Nermeen N. Welson

Virology Journal Open Access 09 October 2022
Access options
Subscribe to this journal
Receive 51 print issues and online access
$199.00 per year
only $3.90 per issue
Rent or buy this article
Get just this article for as long as you need it
$39.95
Prices may be subject to local taxes which are calculated during checkout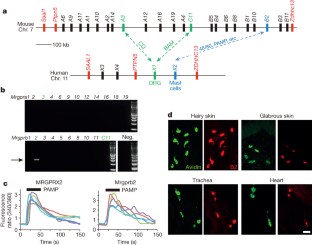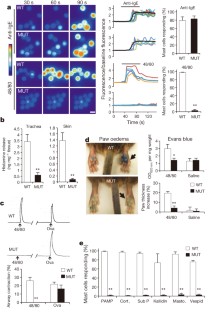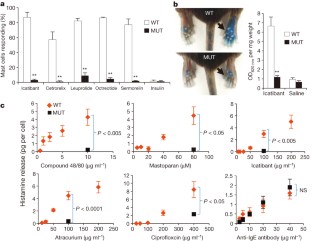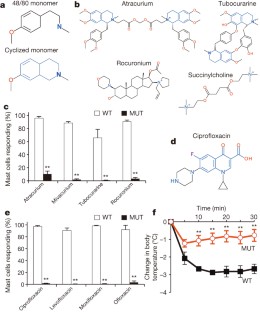 References
Metcalfe, D. D., Baram, D. & Mekori, Y. A. Mast cells. Physiol. Rev. 77, 1033–1079 (1997)

Galli, S. J., Nakae, S. & Tsai, M. Mast cells in the development of adaptive immune responses. Nature Immunol. 6, 135–142 (2005)

Lagunoff, D., Martin, T. W. & Read, G. Agents that release histamine from mast cells. Annu. Rev. Pharmacol. Toxicol. 23, 331–351 (1983)

Halpern, B. N. & Wood, D. R. The action of promethazine (phenergan) in protecting mice against death due to histamine. Br. J. Pharmacol. Chemother. 5, 510–516 (1950)

Taneike, T., Miyazaki, H., Oikawa, S. & Ohga, A. Compound 48/80 elicits cholinergic contraction through histamine release in the chick oesophagus. Gen. Pharmacol. 19, 689–695 (1988)

Ferry, X., Brehin, S., Kamel, R. & Landry, Y. G protein-dependent activation of mast cell by peptides and basic secretagogues. Peptides 23, 1507–1515 (2002)

Purcell, W. M., Doyle, K. M., Westgate, C. & Atterwill, C. K. Characterisation of a functional polyamine site on rat mast cells: association with a NMDA receptor macrocomplex. J. Neuroimmunol. 65, 49–53 (1996)

Tatemoto, K. et al. Immunoglobulin E-independent activation of mast cell is mediated by Mrg receptors. Biochem. Biophys. Res. Commun. 349, 1322–1328 (2006)

Sick, E., Niederhoffer, N., Takeda, K., Landry, Y. & Gies, J. P. Activation of CD47 receptors causes histamine secretion from mast cells. Cell. Mol. Life Sci. 66, 1271–1282 (2009)

Robas, N., Mead, E. & Fidock, M. MrgX2 is a high potency cortistatin receptor expressed in dorsal root ganglion. J. Biol. Chem. 278, 44400–44404 (2003)

Subramanian, H., Gupta, K., Guo, Q., Price, R. & Ali, H. Mas-related gene X2 (MrgX2) is a novel G protein-coupled receptor for the antimicrobial peptide LL-37 in human mast cells: resistance to receptor phosphorylation, desensitization, and internalization. J. Biol. Chem. 286, 44739–44749 (2011)

Kashem, S. W. et al. G protein coupled receptor specificity for C3a and compound 48/80-induced degranulation in human mast cells: roles of Mas-related genes MrgX1 and MrgX2. Eur. J. Pharmacol. 668, 299–304 (2011)

Subramanian, H. et al. β-Defensins activate human mast cells via Mas-related gene X2. J. Immunol. 191, 345–352 (2013)

Kamohara, M. et al. Identification of MrgX2 as a human G-protein-coupled receptor for proadrenomedullin N-terminal peptides. Biochem. Biophys. Res. Commun. 330, 1146–1152 (2005)

Liu, Q. et al. Sensory neuron-specific GPCR Mrgprs are itch receptors mediating chloroquine-induced pruritus. Cell 139, 1353–1365 (2009)

Mousli, M., Hugli, T. E., Landry, Y. & Bronner, C. Peptidergic pathway in human skin and rat peritoneal mast cell activation. Immunopharmacology 27, 1–11 (1994)

Pundir, P. & Kulka, M. The role of G protein-coupled receptors in mast cell activation by antimicrobial peptides: is there a connection? Immunol. Cell Biol. 88, 632–640 (2010)

Hausmann, O., Schnyder, B. & Pichler, W. J. Etiology and pathogenesis of adverse drug reactions. Chem. Immunol. Allergy 97, 32–46 (2012)

Lumry, W. R. et al. Randomized placebo-controlled trial of the bradykinin B2 receptor antagonist icatibant for the treatment of acute attacks of hereditary angioedema: the FAST-3 trial. Ann. Allergy Asthma Immunol. 107, 529–537 (2011)

Nel, L. & Eren, E. Peri-operative anaphylaxis. Br. J. Clin. Pharmacol. 71, 647–658 (2011)

Read, G. W. Compound 48–80. Structure-activity relations and poly-THIQ, a new, more potent analog. J. Med. Chem. 16, 1292–1295 (1973)

Mertes, P. M., Alla, F., Trechot, P., Auroy, Y. & Jougla, E. Anaphylaxis during anesthesia in France: an 8-year national survey. J. Allergy Clin. Immunol. 128, 366–373 (2011)

Koppert, W. et al. Different patterns of mast cell activation by muscle relaxants in human skin. Anesthesiology 95, 659–667 (2001)

Kelesidis, T., Fleisher, J. & Tsiodras, S. Anaphylactoid reaction considered ciprofloxacin related: a case report and literature review. Clin. Ther. 32, 515–526 (2010)

Blanca-Lopez, N. et al. Hypersensitivity reactions to fluoroquinolones: analysis of the factors involved. Clin. Exp. Allergy 43, 560–567 (2013)

Mori, K., Maru, C. & Takasuna, K. Characterization of histamine release induced by fluoroquinolone antibacterial agents in-vivo and in-vitro. J. Pharm. Pharmacol. 52, 577–584 (2000)

Mori, K., Maru, C., Takasuna, K. & Furuhama, K. Mechanism of histamine release induced by levofloxacin, a fluoroquinolone antibacterial agent. Eur. J. Pharmacol. 394, 51–55 (2000)

Doyle, E., Trosien, J. & Metz, M. Protocols for the induction and evaluation of systemic anaphylaxis in mice. Methods Mol. Biol. 1032, 133–138 (2013)

Bergman, R. K. & Munoz, J. Efficacy of β-adrenergic blocking agents in inducing histamine sensitivity in mice. Nature 217, 1173–1174 (1968)

Matsumura, Y., Tan, E. M. & Vaughan, J. H. Hypersensitivity to histamine and systemic anaphylaxis in mice with pharmacologic β adrenergic blockade: protection by nucleotides. J. Allergy Clin. Immunol. 58, 387–394 (1976)

Han, L. et al. A subpopulation of nociceptors specifically linked to itch. Nature Neurosci. 16, 174–182 (2013)

Siraganian, R. P. An automated continuous-flow system for the extraction and fluorometric analysis of histamine. Anal. Biochem. 57, 383–394 (1974)

Weigand, L. A., Myers, A. C., Meeker, S. & Undem, B. J. Mast cell-cholinergic nerve interaction in mouse airways. J. Physiol. (Lond.) 587, 3355–3362 (2009)

Maurer, M. et al. Mast cells promote homeostasis by limiting endothelin-1-induced toxicity. Nature 432, 512–516 (2004)
Acknowledgements
We thank C. Hawkins and H. Wellington for their assistance in generating MrgprB2-null mice and MrgprB2-Cre BAC transgenic mice. We thank B. Xiao for making MrgprB2-Cre BAC mice and Y. Geng for mouse genotyping. This work was supported by National Institutes of Health grants (R01NS054791 and R01GM087369 to X.D.). X.D. is an Early Career Scientist of the Howard Hughes Medical Institute.
Ethics declarations
Competing interests
The authors declare no competing financial interests.
Extended data figures and tables
Supplementary information
This file contains a Supplementary Table and Chart and additional references. (PDF 541 kb)
About this article
Cite this article
McNeil, B., Pundir, P., Meeker, S. et al. Identification of a mast-cell-specific receptor crucial for pseudo-allergic drug reactions. Nature 519, 237–241 (2015). https://doi.org/10.1038/nature14022
Received:

Accepted:

Published:

Issue Date:

DOI: https://doi.org/10.1038/nature14022
Comments
By submitting a comment you agree to abide by our Terms and Community Guidelines. If you find something abusive or that does not comply with our terms or guidelines please flag it as inappropriate.