Abstract
The widespread reorganization of cellular architecture in mitosis is achieved through extensive protein phosphorylation, driven by the coordinated activation of a mitotic kinase network and repression of counteracting phosphatases. Phosphatase activity must subsequently be restored to promote mitotic exit. Although Cdc14 phosphatase drives this reversal in budding yeast, protein phosphatase 1 (PP1) and protein phosphatase 2A (PP2A) activities have each been independently linked to mitotic exit control in other eukaryotes1,2,3,4,5,6. Here we describe a mitotic phosphatase relay in which PP1 reactivation is required for the reactivation of both PP2A-B55 and PP2A-B56 to coordinate mitotic progression and exit in fission yeast. The staged recruitment of PP1 (the Dis2 isoform) to the regulatory subunits of the PP2A-B55 and PP2A-B56 (B55 also known as Pab1; B56 also known as Par1) holoenzymes sequentially activates each phosphatase. The pathway is blocked in early mitosis because the Cdk1–cyclin B kinase (Cdk1 also known as Cdc2) inhibits PP1 activity, but declining cyclin B levels later in mitosis permit PP1 to auto-reactivate1,7,8,9,10. PP1 first reactivates PP2A-B55; this enables PP2A-B55 in turn to promote the reactivation of PP2A-B56 by dephosphorylating a PP1-docking site in PP2A-B56, thereby promoting the recruitment of PP1. PP1 recruitment to human, mitotic PP2A-B56 holoenzymes and the sequences of these conserved PP1-docking motifs11,12 suggest that PP1 regulates PP2A-B55 and PP2A-B56 activities in a variety of signalling contexts throughout eukaryotes.
Relevant articles
Open Access articles citing this article.
Souradeep Basu

,

Jessica Greenwood

…

Paul Nurse

Nature Open Access 08 June 2022

Mohammad Zeeshan

,

Rajan Pandey

…

Rita Tewari

Communications Biology Open Access 18 June 2021

Rosa D. Hernansaiz-Ballesteros

,

Csenge Földi

…

Attila Csikász-Nagy

Scientific Reports Open Access 27 May 2021
Access options
Subscribe to Journal
Get full journal access for 1 year
$199.00
only $3.90 per issue
All prices are NET prices.
VAT will be added later in the checkout.
Tax calculation will be finalised during checkout.
Buy article
Get time limited or full article access on ReadCube.
$32.00
All prices are NET prices.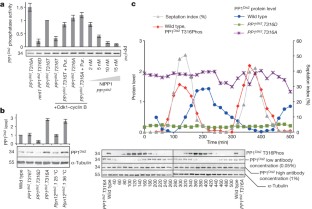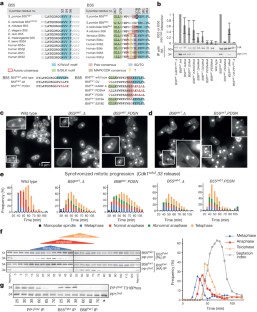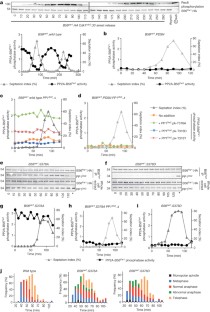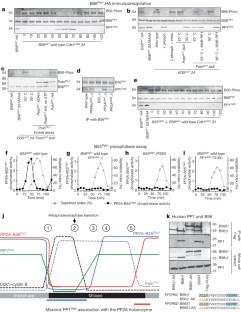 References
Wu, J. Q. et al. PP1-mediated dephosphorylation of phosphoproteins at mitotic exit is controlled by inhibitor-1 and PP1 phosphorylation. Nature Cell Biol. 11, 644–651 (2009)

Ohkura, H., Kinoshita, N., Miyatani, S., Toda, T. & Yanagida, M. The fission yeast dis2+ gene required for chromosome disjoining encodes one of 2 putative type-1 protein phosphatases. Cell 57, 997–1007 (1989)

Mochida, S. & Hunt, T. Calcineurin is required to release Xenopus egg extracts from meiotic M phase. Nature 449, 336–340 (2007)

Mochida, S., Ikeo, S., Gannon, J. & Hunt, T. Regulated activity of PP2A–B55δ is crucial for controlling entry into and exit from mitosis in Xenopus egg extracts. EMBO J. 28, 2777–2785 (2009)

Schmitz, M. H. et al. Live-cell imaging RNAi screen identifies PP2A–B55α and importin-β1 as key mitotic exit regulators in human cells. Nature Cell Biol. 12, 886–893. (2010)

Qian, J., Winkler, C. & Bollen, M. 4D-networking by mitotic phosphatases. Curr. Opin. Cell Biol. 25, 697–703 (2013)

Dohadwala, M. et al. Phosphorylation and inactivation of protein phosphatase 1 by cyclin-dependent kinases. Proc. Natl Acad. Sci. USA 91, 6408–6412 (1994)

Kwon, Y. G., Lee, S. Y., Choi, Y., Greengard, P. & Nairn, A. C. Cell cycle-dependent phosphorylation of mammalian protein phosphatase 1 by cdc2 kinase. Proc. Natl Acad. Sci. USA 94, 2168–2173 (1997)

Yamano, H., Ishii, K. & Yanagida, M. Phosphorylation of Dis2 protein phosphatase at the C-terminal Cdc2 consensus and its potential role in cell-cycle regulation. EMBO J. 13, 5310–5318 (1994)

Ishii, K., Kumada, K., Toda, T. & Yanagida, M. Requirement for PP1 phosphatase and 20S cyclosome/APC for the onset of anaphase is lessened by the dosage increase of a novel gene sds23+ . EMBO J. 15, 6629–6640 (1996)

Bollen, M., Peti, W., Ragusa, M. J. & Beullens, M. The extended PP1 toolkit: designed to create specificity. Trends Biochem. Sci. 35, 450–458 (2010)

Heroes, E. et al. The PP1 binding code: a molecular-lego strategy that governs specificity. FEBS J. 280, 584–595 (2013)

Kinoshita, N., Ohkura, H. & Yanagida, M. Distinct, essential roles of type-1 and type-2a protein phosphatases in the control of the fission yeast-cell division cycle. Cell 63, 405–415 (1990)

Sents, W., Ivanova, E., Lambrecht, C., Haesen, D. & Janssens, V. The biogenesis of active protein phosphatase 2A holoenzymes: a tightly regulated process creating phosphatase specificity. FEBS J. 280, 644–661 (2013)

Kitajima, T. S. et al. Shugoshin collaborates with protein phosphatase 2A to protect cohesin. Nature 441, 46–52 (2006)

Suijkerbuijk, S. J., Vleugel, M., Teixeira, A. & Kops, G. J. Integration of kinase and phosphatase activities by BUBR1 ensures formation of stable kinetochore-microtubule attachments. Dev. Cell 23, 745–755 (2012)

Kinoshita, K. et al. The regulatory subunits of fission yeast protein phosphatase 2A (PP2A) affect cell morphogenesis, cell-wall synthesis and cytokinesis. Genes Cells 1, 29–45 (1996)

Jiang, W. & Hallberg, R. L. Isolation and characterization of par1+ and par2+ : two Schizosaccharomyces pombe genes encoding B′ subunits of protein phosphatase 2A. Genetics 154, 1025–1038 (2000)

Alvarez-Tabarés, I., Grallert, A., Ortiz, J. M. & Hagan, I. M. Schizosaccharomyces pombe protein phosphatase 1 in mitosis, endocytosis and a partnership with Wsh3/Tea4 to control polarised growth. J. Cell Sci. 120, 3589–3601 (2007)

Grallert, A. et al. Removal of centrosomal PP1 by NIMA kinase unlocks the MPF feedback loop to promote mitotic commitment in S. pombe . Curr. Biol. 23, 213–222 (2013)

King, S. M. & Hyams, J. S. Synchronization of mitosis in a cell-division cycle mutant of Schizosaccharomyces pombe released from temperature arrest. Can. J. Microbiol. 28, 261–264 (1982)

Ishiguro, T., Tanaka, K., Sakuno, T. & Watanabe, Y. Shugoshin–PP2A counteracts casein-kinase-1-dependent cleavage of Rec8 by separase. Nature Cell Biol. 12, 500–506 (2010)

Johnson, L. N. Substrates of mitotic kinases. Sci. Signal. 4, pe31 (2011)

Janssens, V., Longin, S. & Goris, J. PP2A holoenzyme assembly: in cauda venenum (the sting is in the tail). Trends Biochem. Sci. 33, 113–121 (2008)

Porter, I. M., Schleicher, K., Porter, M. & Swedlow, J. R. Bod1 regulates protein phosphatase 2A at mitotic kinetochores. Nat. Commun. 4, 2677 (2013)

Pines, J. & Hagan, I. The renaissance or the cuckoo clock. Phil. Trans. R. Soc. Lond. B 366, 3625–3634 (2011)

Kim, Y., Holland, A. J., Lan, W. & Cleveland, D. W. Aurora kinases and protein phosphatase 1 mediate chromosome congression through regulation of CENP-E. Cell 142, 444–455 (2010)

Xu, Y. et al. Structure of the protein phosphatase 2A holoenzyme. Cell 127, 1239–1251 (2006)

Cho, U. S. & Xu, W. Crystal structure of a protein phosphatase 2A heterotrimeric holoenzyme. Nature 445, 53–57 (2007)

Xu, Y., Chen, Y., Zhang, P., Jeffrey, P. D. & Shi, Y. Structure of a protein phosphatase 2A holoenzyme: insights into B55-mediated Tau dephosphorylation. Mol. Cell 31, 873–885 (2008)

Moreno, S., Klar, A. & Nurse, P. Molecular genetic analysis of fission yeast Schizosaccharomyces pombe . Methods Enzymol. 194, 795–823 (1991)

Fennessy, D. et al. Extending the Schizosaccharomyces pombe molecular genetic toolbox. PLoS ONE 9, e97683 (2014)

Creanor, J. & Mitchison, J. M. Reduction of perturbations in leucine incorporation in synchronous cultures of Schizosaccharomyces pombe made by elutriation. J. Gen. Microbiol. 112, 385–388 (1979)

Qian, J., Lesage, B., Beullens, M., Van Eynde, A. & Bollen, M. PP1/Repo-man dephosphorylates mitotic histone H3 at T3 and regulates chromosomal aurora B targeting. Curr. Biol. 21, 766–773 (2011)

Petersen, J., Paris, J., Willer, M., Philippe, M. & Hagan, I. M. The S. pombe aurora related kinase Ark1 associates with mitotic structures in a stage dependent manner and is required for chromosome segregation. J. Cell Sci. 114, 4371–4384 (2001)

Hagan, I. & Yanagida, M. Novel potential mitotic motor protein encoded by the fission yeast cut7+ gene. Nature 347, 563–566 (1990)

Gould, K. L., Ren, L., Feoktistova, A. S., Jennings, J. L. & Link, A. J. Tandem affinity purification and identification of protein complex components. Methods 33, 239–244 (2004)

Mansfeld, J., Collin, P., Collins, M. O., Choudhary, J. S. & Pines, J. APC15 drives the turnover of MCC-CDC20 to make the spindle assembly checkpoint responsive to kinetochore attachment. Nature Cell Biol. 13, 1234–1243 (2011)

Beullens, M. et al. Molecular determinants of nuclear protein phosphatase-1 regulation by NIPP-1. J. Biol. Chem. 274, 14053–14061 (1999)

Gordon, C., McGurk, G., Wallace, M. & Hastie, N. D. A. Conditional-lethal mutant in the fission yeast 26-S protease subunit Mts3+ is defective in metaphase to anaphase transition. J. Biol. Chem. 271, 5704–5711 (1996)

Gambus, A. et al. GINS maintains association of Cdc45 with MCM in replisome progression complexes at eukaryotic DNA replication forks. Nature Cell Biol. 8, 358–366 (2006)

Hachet, O. et al. A phosphorylation cycle shapes gradients of the DYRK family kinase Pom1 at the plasma membrane. Cell 145, 1116–1128 (2011)

Nurse, P. Universal control mechanism regulating onset of M-phase. Nature 344, 503–508 (1990)

Hudson, J. D., Feilotter, H. & Young, P. G. stf1: non-wee mutations epistatic to cdc25 in the fission yeast Schizosaccharomyces pombe . Genetics 126, 309–315 (1990)

Ishihama, Y. et al. Exponentially modified protein abundance index (emPAI) for estimation of absolute protein amount in proteomics by the number of sequenced peptides per protein. Mol. Cell Proteomics 4, 1265–1272 (2005)

Ohkura, H. & Yanagida, M. S. pombe gene sds22+ essential for a midmitotic transition encodes a leucine-rich repeat protein that positively modulates protein phosphatase-1. Cell 64, 149–157 (1991)

Stone, E. M., Yamano, H., Kinoshita, N. & Yanagida, M. Mitotic regulation of protein phosphatases by the fission yeast Sds22 protein. Curr. Biol. 3, 13–26 (1993)
Acknowledgements
This work was supported by Cancer Research UK (CRUK) grant numbers C147/A16406 and C29/A13678. We thank I. Alvarez-Tabares, K. Labib, K. Gull, M. Yanagida, V. Simanis, J. Bähler and K. Gould for reagents.
Ethics declarations
Competing interests
The authors declare no competing financial interests.
Extended data figures and tables
Supplementary information
About this article
Cite this article
Grallert, A., Boke, E., Hagting, A. et al. A PP1–PP2A phosphatase relay controls mitotic progression. Nature 517, 94–98 (2015). https://doi.org/10.1038/nature14019
Received:

Accepted:

Published:

Issue Date:

DOI: https://doi.org/10.1038/nature14019
Comments
By submitting a comment you agree to abide by our Terms and Community Guidelines. If you find something abusive or that does not comply with our terms or guidelines please flag it as inappropriate.