Abstract
The structure of water near non-polar molecular fragments or surfaces mediates the hydrophobic interactions that underlie a broad range of interfacial, colloidal and biophysical phenomena1,2,3,4. Substantial progress over the past decade has improved our understanding of hydrophobic interactions in simple model systems1,5,6,7,8,9,10, but most biologically and technologically relevant structures contain non-polar domains in close proximity to polar and charged functional groups. Theories and simulations exploring such nanometre-scale chemical heterogeneity find it can have an important effect8,10,11,12, but the influence of this heterogeneity on hydrophobic interactions has not been tested experimentally. Here we report chemical force microscopy measurements on alkyl-functionalized surfaces that reveal a dramatic change in the surfaces' hydrophobic interaction strengths on co-immobilization of amine or guanidine groups. Protonation of amine groups doubles the strength of hydrophobic interactions, and guanidinium groups eliminate measurable hydrophobic interactions in all pH ranges investigated. We see these divergent effects of proximally immobilized cations also in single-molecule measurements on conformationally stable β-peptides with non-polar subunits located one nanometre from either amine- or guanidine-bearing subunits. Our results demonstrate the importance of nanometre-scale chemical heterogeneity, with hydrophobicity not an intrinsic property of any given non-polar domain but strongly modulated by functional groups located as far away as one nanometre. The judicious placing of charged groups near hydrophobic domains thus provides a strategy for tuning hydrophobic driving forces to optimize molecular recognition or self-assembly processes.
Relevant articles
Open Access articles citing this article.
Kai Li

,

Wei Wang

…

Jing Gong

Petroleum Science Open Access 17 October 2020

Shayon Bhattacharya

,

Liang Xu

&

Damien Thompson

Scientific Reports Open Access 05 May 2020

Liguo Jiang

,

Siqin Cao

…

Xuhui Huang

Nature Communications Open Access 31 May 2017
Access options
Subscribe to Journal
Get full journal access for 1 year
$199.00
only $3.90 per issue
All prices are NET prices.
VAT will be added later in the checkout.
Tax calculation will be finalised during checkout.
Buy article
Get time limited or full article access on ReadCube.
$32.00
All prices are NET prices.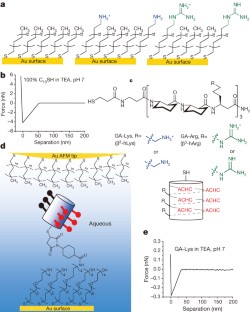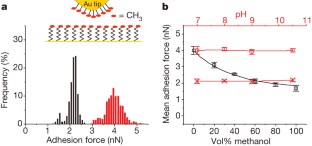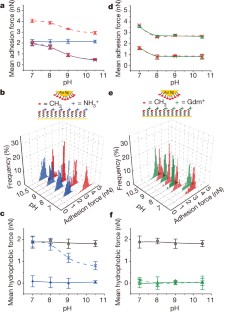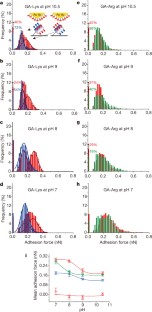 References
Chandler, D. Interfaces and the driving force of hydrophobic assembly. Nature 437, 640–647 (2005)

Meyer, E. E., Rosenberg, K. J. & Israelachvili, J. Recent progress in understanding hydrophobic interactions. Proc. Natl Acad. Sci. USA 103, 15739–15746 (2006)

Whitesides, G. M. & Grzybowski, B. Self-assembly at all scales. Science 295, 2418–2421 (2002)

Dyson, H. J., Wright, P. E. & Scheraga, H. A. The role of hydrophobic interactions in initiation and propagation of protein folding. Proc. Natl Acad. Sci. USA 103, 13057–13061 (2006)

Davis, J. G., Gierszal, K. P., Wang, P. & Ben-Amotz, D. Water structural transformation at molecular hydrophobic interfaces. Nature 491, 582–585 (2012)

Huang, D. M. & Chandler, D. Temperature and length scale dependence of hydrophobic effects and their possible implications for protein folding. Proc. Natl Acad. Sci. USA 97, 8324–8327 (2000)

Li, I. T. S. & Walker, G. C. Signature of hydrophobic hydration in a single polymer. Proc. Natl Acad. Sci. USA 108, 16527–16532 (2011)

Acharya, H., Vembanur, S., Jamadagni, S. N. & Garde, S. Mapping hydrophobicity at the nanoscale: applications to heterogeneous surfaces and proteins. Faraday Discuss. 146, 353–365 (2010)

Patel, A. J., Varilly, P. & Chandler, D. Fluctuations of water near extended hydrophobic and hydrophilic surfaces. J. Phys. Chem. B 114, 1632–1637 (2010)

Patel, A. J. et al. Sitting at the edge: how biomolecules use hydrophobicity to tune their interactions and function. J. Phys. Chem. B 116, 2498–2503 (2012)

Giovambattista, N., Debenedetti, P. G. & Rossky, P. J. Hydration behavior under confinement by nanoscale surfaces with patterned hydrophobicity and hydrophilicity. J. Phys. Chem. C 111, 1323–1332 (2007)

Li, L., Fennell, C. J. & Dill, K. A. Field-SEA: a model for computing the solvation free energies of nonpolar, polar, and charged solutes in water. J. Phys. Chem. B 118, 6431–6437 (2014)

Johnson, K. L., Kendall, K. & Roberts, A. D. Surface energy and contact of elastic solids. Proc. R. Soc. Lond. A 324, 301–313 (1971)

Young, T. An essay on the cohesion of fluids. Philos. Trans. R. Soc. Lond. 95, 65–87 (1805)

Acevedo-Vélez, C., Andre, G., Dufrene, Y. F., Gellman, S. H. & Abbott, N. L. Single-molecule force spectroscopy of beta-peptides that display well-defined three-dimensional chemical patterns. J. Am. Chem. Soc. 133, 3981–3988 (2011)

Hwang, S., Shao, Q., Williams, H., Hilty, C. & Gao, Y. Q. Methanol strengthens hydrogen bonds and weakens hydrophobic interactions in proteins - a combined molecular dynamics and NMR study. J. Phys. Chem. B 115, 6653–6660 (2011)

Pomerantz, W. C., Grygiel, T. L. R., Lai, J. R. & Gellman, S. H. Distinctive circular dichroism signature for 14-helix-bundle formation by beta-peptides. Org. Lett. 10, 1799–1802 (2008)

Vezenov, D. V., Zhuk, A. V., Whitesides, G. M. & Lieber, C. M. Chemical force spectroscopy in heterogeneous systems: intermolecular interactions involving epoxy polymer, mixed monolayers, and polar solvents. J. Am. Chem. Soc. 124, 10578–10588 (2002)

Wang, J. L., Li, Z. L., Yoon, R. H. & Eriksson, J. C. Surface forces in thin liquid films of n-alcohols and of water-ethanol mixtures confined between hydrophobic surfaces. J. Colloid Interface Sci. 379, 114–120 (2012)

Raguse, T. L., Lai, J. R. & Gellman, S. H. Environment-independent 14-helix formation in short β-peptides: striking a balance between shape control and functional diversity. J. Am. Chem. Soc. 125, 5592–5593 (2003)

Chakrabartty, A. & Baldwin, R. L. Stability of α-helices. Adv. Protein Chem. 46, 141–176 (1995)

Hinterdorfer, P. & Dufrene, Y. F. Detection and localization of single molecular recognition events using atomic force microscopy. Nature Methods 3, 347–355 (2006)

Godawat, R., Jamadagni, S. N. & Garde, S. Unfolding of hydrophobic polymers in guanidinium chloride solutions. J. Phys. Chem. B 114, 2246–2254 (2010)

Lo Nostro, P. & Ninham, B. W. Hofmeister phenomena: an update on ion specificity in biology. Chem. Rev. 112, 2286–2322 (2012)

Pomerantz, W. C., Cadwell, K. D., Hsu, Y. J., Gellman, S. H. & Abbott, N. L. Sequence dependent behavior of amphiphilic β-peptides on gold surfaces. Chem. Mater. 19, 4436–4441 (2007)

Hiemenz, P. C. & Rajagopalan, R. Principles of Colloid and Surface Chemistry 3rd edn (CRC, 1997)

Vezenov, D. V., Noy, A. & Ashby, P. Chemical force microscopy: probing chemical origin of interfacial forces and adhesion. J. Adhes. Sci. Technol. 19, 313–364 (2005)

Drelich, J., Tormoen, G. W. & Beach, E. R. Determination of solid surface tension from particle-substrate pull-off forces measured with the atomic force microscope. J. Colloid Interface Sci. 280, 484–497 (2004)

Alsteens, D., Dague, E., Rouxhet, P. G., Baulard, A. R. & Dufrene, Y. F. Direct measurement of hydrophobic forces on cell surfaces using AFM. Langmuir 23, 11977–11979 (2007)

Skulason, H. & Frisbie, C. D. Rupture of hydrophobic microcontacts in water: correlation of pull-off force with AFM tip radius. Langmuir 16, 6294–6297 (2000)

Awada, H., Castelein, G. & Brogly, M. Quantitative determination of surface energy using atomic force microscopy: the case of hydrophobic/hydrophobic contact and hydrophilic/hydrophilic contact. Surf. Interface Anal. 37, 755–764 (2005)

Israelachvili, J. N. Intermolecular and Surface Forces 3rd edn (Elsevier, 2011)

Ashby, P. D., Chen, L. & Lieber, C. M. Probing intermolecular forces and potentials with magnetic feedback chemical force microscopy. J. Am. Chem. Soc. 122, 9467–9472 (2000)

Seog, J. et al. Direct measurement of glycosaminoglycan intermolecular interactions via high-resolution force spectroscopy. Macromolecules 35, 5601–5615 (2002)

Tian, C. S. & Shen, Y. R. Structure and charging of hydrophobic material/water interfaces studied by phase-sensitive sum-frequency vibrational spectroscopy. Proc. Natl Acad. Sci. USA 106, 15148–15153 (2009)

Zangi, R. & Engberts, J. B. F. N. Physisorption of hydroxide ions from aqueous solution to a hydrophobic surface. J. Am. Chem. Soc. 127, 2272–2276 (2005)

Vácha, R. et al. The orientation and charge of water at the hydrophobic oil droplet-water interface. J. Am. Chem. Soc. 133, 10204–10210 (2011)

Butt, H. J., Cappella, B. & Kappl, M. Force measurements with the atomic force microscope: technique, interpretation and applications. Surf. Sci. Rep. 59, 1–152 (2005)

Burns, A. R., Houston, J. E., Carpick, R. W. & Michalske, T. A. Molecular level friction as revealed with a novel scanning probe. Langmuir 15, 2922–2930 (1999)

Vezenov, D. V., Noy, A. & Lieber, C. M. The effect of liquid-induced adhesion changes on the interfacial shear strength between self-assembled monolayers. J. Adhes. Sci. Technol. 17, 1385–1401 (2003)

Cheng, R. P., Gellman, S. H. & DeGrado, W. F. β-Peptides: from structure to function. Chem. Rev. 101, 3219–3232 (2001)

Pomerantz, W. C. et al. Lyotropic liquid crystals formed from ACHC-rich beta-peptides. J. Am. Chem. Soc. 133, 13604–13613 (2011)

Harder, P., Grunze, M., Dahint, R., Whitesides, G. M. & Laibinis, P. E. Molecular conformation in oligo(ethylene glycol)-terminated self-assembled monolayers on gold and silver surfaces determines their ability to resist protein adsorption. J. Phys. Chem. B 102, 426–436 (1998)
Acknowledgements
This research was supported by the Wisconsin Nanoscale Science and Engineering Center (NSF grant DMR-0832760). Use of facilities supported by the Wisconsin Materials Research Science and Engineering Center is also acknowledged (NSF grant DMR-1121288).
Ethics declarations
Competing interests
The authors declare no competing financial interests.
Extended data figures and tables
About this article
Cite this article
Ma, C., Wang, C., Acevedo-Vélez, C. et al. Modulation of hydrophobic interactions by proximally immobilized ions. Nature 517, 347–350 (2015). https://doi.org/10.1038/nature14018
Received:

Accepted:

Published:

Issue Date:

DOI: https://doi.org/10.1038/nature14018
Comments
By submitting a comment you agree to abide by our Terms and Community Guidelines. If you find something abusive or that does not comply with our terms or guidelines please flag it as inappropriate.