Abstract
Graphene is increasingly explored as a possible platform for developing novel separation technologies1,2,3,4,5,6,7,8,9,10,11,12,13,14,15,16,17,18,19. This interest has arisen because it is a maximally thin membrane that, once perforated with atomic accuracy, may allow ultrafast and highly selective sieving of gases, liquids, dissolved ions and other species of interest2,9,10,11,12,13,14,15,16,17,18,19. However, a perfect graphene monolayer is impermeable to all atoms and molecules under ambient conditions1,2,3,4,5,6,7: even hydrogen, the smallest of atoms, is expected to take billions of years to penetrate graphene's dense electronic cloud3,4,5,6. Only accelerated atoms possess the kinetic energy required to do this20,21. The same behaviour might reasonably be expected in the case of other atomically thin crystals22,23. Here we report transport and mass spectroscopy measurements which establish that monolayers of graphene and hexagonal boron nitride (hBN) are highly permeable to thermal protons under ambient conditions, whereas no proton transport is detected for thicker crystals such as monolayer molybdenum disulphide, bilayer graphene or multilayer hBN. Protons present an intermediate case between electrons (which can tunnel easily through atomically thin barriers24) and atoms, yet our measured transport rates are unexpectedly high4,5 and raise fundamental questions about the details of the transport process. We see the highest room-temperature proton conductivity with monolayer hBN, for which we measure a resistivity to proton flow of about 10 Ω cm2 and a low activation energy of about 0.3 electronvolts. At higher temperatures, hBN is outperformed by graphene, the resistivity of which is estimated to fall below 10−3 Ω cm2 above 250 degrees Celsius. Proton transport can be further enhanced by decorating the graphene and hBN membranes with catalytic metal nanoparticles. The high, selective proton conductivity and stability make one-atom-thick crystals promising candidates for use in many hydrogen-based technologies.
Relevant articles
Open Access articles citing this article.
J. Cai

,

E. Griffin

…

M. Lozada-Hidalgo

Nature Communications Open Access 01 October 2022

Kuichang Zuo

,

Xiang Zhang

…

Qilin Li

Nature Communications Open Access 04 August 2022

Zhihua Zhou

,

Yongtao Tan

…

Sheng Hu

Nature Communications Open Access 12 July 2022
Access options
Subscribe to Journal
Get full journal access for 1 year
$199.00
only $3.90 per issue
All prices are NET prices.
VAT will be added later in the checkout.
Tax calculation will be finalised during checkout.
Buy article
Get time limited or full article access on ReadCube.
$32.00
All prices are NET prices.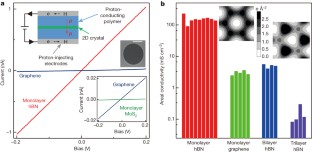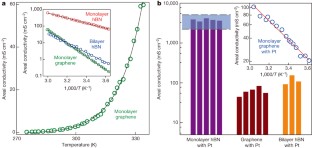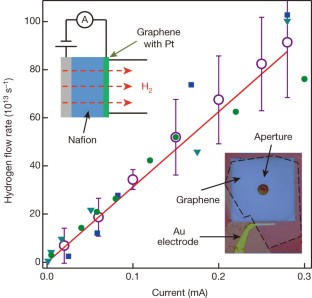 References
Bunch, J. S. et al. Impermeable atomic membranes from graphene sheets. Nano Lett. 8, 2458–2462 (2008)

Koenig, S. P., Wang, L., Pellegrino, J. & Bunch, J. S. Selective molecular sieving through porous graphene. Nature Nanotechnol. 7, 728–732 (2012)

Leenaerts, O., Partoens, B. & Peeters, F. M. Graphene: a perfect nanoballoon. Appl. Phys. Lett. 93, 193107 (2008)

Wang, W. L. & Kaxiras, E. Graphene hydrate: theoretical prediction of a new insulating form of graphene. New J. Phys. 12, 125012 (2010)

Miao, M., Nardelli, M. B., Wang, Q. & Liu, Y. First principles study of the permeability of graphene to hydrogen atoms. Phys. Chem. Chem. Phys. 15, 16132–16137 (2013)

Tsetseris, L. & Pantelides, S. T. Graphene: an impermeable or selectively permeable membrane for atomic species? Carbon 67, 58–63 (2014)

Berry, V. Impermeability of graphene and its applications. Carbon 62, 1–10 (2013)

Yuan, W., Chen, J. & Shi, G. Nanoporous graphene materials. Mater. Today 17, 77–85 (2014)

Sint, K., Wang, B. & Král, P. Selective ion passage through functionalized graphene nanopores. J. Am. Chem. Soc. 130, 16448–16449 (2008)

Jiang, D. E., Cooper, V. R. & Dai, S. Porous graphene as the ultimate membrane for gas separation. Nano Lett. 9, 4019–4024 (2009)

Garaj, S. et al. Graphene as a subnanometre trans-electrode membrane. Nature 467, 190–193 (2010)

O'Hern, S. C. et al. Selective molecular transport through intrinsic defects in a single layer of CVD graphene. ACS Nano 6, 10130–10138 (2012)

Cohen-Tanugi, D. & Grossman, J. C. Water desalination across nanoporous graphene. Nano Lett. 12, 3602–3608 (2012)

Kim, H. W. et al. Selective gas transport through few-layered graphene and graphene oxide membranes. Science 342, 91–95 (2013)

Li, H. et al. Ultrathin, molecular-sieving graphene oxide membranes for selective hydrogen separation. Science 342, 95–98 (2013)

Konatham, D., Yu, J., Ho, T. A. & Striolo, A. Simulation insights for graphene-based water desalination membranes. Langmuir 29, 11884–11897 (2013)

Celebi, K. et al. Ultimate permeation across atomically thin porous graphene. Science 344, 289–292 (2014)

O'Hern, S. C. et al. Selective ionic transport through tunable subnanometer pores in single-layer graphene membranes. Nano Lett. 14, 1234–1241 (2014)

Sun, C. et al. Mechanisms of molecular permeation through nanoporous graphene membranes. Langmuir 30, 675–682 (2014)

Stolyarova, E. et al. Observation of graphene bubbles and effective mass transport under graphene films. Nano Lett. 9, 332–337 (2009)

Banhart, F., Kotakoski, J. & Krasheninnikov, A. V. Structural defects in graphene. ACS Nano 5, 26–41 (2011)

Novoselov, K. S. et al. Two-dimensional atomic crystals. Proc. Natl Acad. Sci. USA 102, 10451–10453 (2005)

Geim, A. K. & Grigorieva, I. V. Van der Waals heterostructures. Nature 499, 419–425 (2013)

Britnell, L. et al. Electron tunneling through ultrathin boron nitride crystalline barriers. Nano Lett. 12, 1707–1710 (2012)

Mauritz, K. & Moore, R. B. State of understanding of Nafion. Chem. Rev. 104, 4535–4586 (2004)

Morgan, H., Pethig, R. & Stevens, G. T. A proton-injecting technique for the measurement of hydration-dependent protonic conductivity. J. Phys. E 19, 80–82 (1986)

Zhong, C. et al. A polysaccharide bioprotonic field-effect transistor. Nature Commun. 2, 476 (2011)

Radisavljevic, B., Radenovic, A., Brivio, J., Giacometti, V. & Kis, A. Single-layer MoS2 transistors. Nature Nanotechnol. 6, 147–150 (2011)

Qiu, H. et al. Hopping transport through defect-induced localized states in molybdenum disulphide. Nature Commun. 4, 2642 (2013)

Liu, L. et al. Graphene oxidation: thickness-dependent etching and strong chemical doping. Nano Lett. 8, 1965–1970 (2008)

Nair, R. R. et al. Graphene as a transparent conductive support for studying biological molecules by transmission electron microscopy. Appl. Phys. Lett. 97, 153102 (2010)

Kretinin, A. V. et al. Electronic properties of graphene encapsulated with different two-dimensional atomic crystals. Nano Lett. 14, 3270–3276 (2014)

Murphy, D. W. et al. A new route to metal hydrides. Chem. Mater. 5, 767–769 (1993)

Schuldiner, S. Castellan, G. W. & Hoare, J. P. Electrochemical behavior of the palladium-hydrogen system. I. Potential-determining mechanisms. J. Chem. Phys. 28, 16–19 (1958)

Agraït, N., Yeyati, A. L. & van Ruitenbeek, J. M. Quantum properties of atomic-sized conductors. Phys. Rep. 377, 81–279 (2003)

Sone, Y., Ekdunge, P. & Simonsson, D. Proton conductivity of Nafion 117 as measured by a four electrode AC impedance method. J. Electrochem. Soc. 143, 1254–1259 (1996)

Silva, R., De Francesco, M. & Pozio, A. Solution-cast Nafion® ionomer membranes: preparation and characterization. Electrochim. Acta 49, 3211–3219 (2004)

Deluca, N. & Elabd, Y. Nafion/poly(vinyl alcohol) blends: effect of composition and annealing temperature on transport properties. J. Membr. Sci. 282, 217–224 (2006)

Spry, D. B. & Fayer, M. D. Proton transfer and proton concentrations in protonated Nafion fuel cell membranes. J. Phys. Chem. B 113, 10210–10221 (2009)

Alberti, G., Casciola, M., Massinelli, L. & Bauer, B. Polymeric proton conducting membranes for medium temperature fuel cells (110–160 °C). J. Membr. Sci. 185, 73–81 (2001)

Ni, Z. H. et al. On resonant scatterers as a factor limiting carrier mobility in graphene. Nano Lett. 10, 3868–3872 (2010)

VandeVondele, J. et al. Quickstep: fast and accurate density functional calculations using a mixed Gaussian and plane waves approach. Comput. Phys. Commun. 167, 103–128 (2005)

Goedecker, S., Teter, M. & Hutter, J. Separable dual-space Gaussian pseudopotentials. Phys. Rev. B 54, 1703–1710 (1996)

VandeVondele, J. & Hutter, J. Gaussian basis sets for accurate calculations on molecular systems in gas and condensed phases. J. Chem. Phys. 127, 114105 (2007)

Henkelman, G., Uberuaga, B. P. & Jónsson, H. A climbing image nudged elastic band method for finding saddle points and minimum energy paths. J. Chem. Phys. 113, 9901–9904 (2000)
Acknowledgements
This work was supported by the European Research Council, the Royal Society, the Office of Naval Research, the Air Force Office of Scientific Research and the National Science Foundation of China. M.L.-H. acknowledges a PhD studentship provided by the Consejo Nacional de Ciencia y Tecnología (Mexico).
Ethics declarations
Competing interests
The authors declare no competing financial interests.
Extended data figures and tables
About this article
Cite this article
Hu, S., Lozada-Hidalgo, M., Wang, F. et al. Proton transport through one-atom-thick crystals. Nature 516, 227–230 (2014). https://doi.org/10.1038/nature14015
Received:

Accepted:

Published:

Issue Date:

DOI: https://doi.org/10.1038/nature14015
Comments
By submitting a comment you agree to abide by our Terms and Community Guidelines. If you find something abusive or that does not comply with our terms or guidelines please flag it as inappropriate.