Abstract
Gene transcription in animals involves the assembly of RNA polymerase II at core promoters and its cell-type-specific activation by enhancers that can be located more distally1. However, how ubiquitous expression of housekeeping genes is achieved has been less clear. In particular, it is unknown whether ubiquitously active enhancers exist and how developmental and housekeeping gene regulation is separated. An attractive hypothesis is that different core promoters might exhibit an intrinsic specificity to certain enhancers2,3,4,5,6. This is conceivable, as various core promoter sequence elements are differentially distributed between genes of different functions7, including elements that are predominantly found at either developmentally regulated or at housekeeping genes8,9,10. Here we show that thousands of enhancers in Drosophila melanogaster S2 and ovarian somatic cells (OSCs) exhibit a marked specificity to one of two core promoters—one derived from a ubiquitously expressed ribosomal protein gene and another from a developmentally regulated transcription factor—and confirm the existence of these two classes for five additional core promoters from genes with diverse functions. Housekeeping enhancers are active across the two cell types, while developmental enhancers exhibit strong cell-type specificity. Both enhancer classes differ in their genomic distribution, the functions of neighbouring genes, and the core promoter elements of these neighbouring genes. In addition, we identify two transcription factors—Dref and Trl—that bind and activate housekeeping versus developmental enhancers, respectively. Our results provide evidence for a sequence-encoded enhancer–core-promoter specificity that separates developmental and housekeeping gene regulatory programs for thousands of enhancers and their target genes across the entire genome.
Relevant articles
Open Access articles citing this article.
Eun-Deok Kim

,

Michael W. Dorrity

…

Keiko U. Torii

Nature Plants Open Access 15 December 2022

Eva Galle

,

Chee-Wai Wong

…

Ferdinand von Meyenn

Genome Biology Open Access 03 October 2022

Pengcheng Lyu

,

Robert E. Settlage

&

Honglin Jiang

BMC Genomics Open Access 16 December 2021
Access options
Subscribe to this journal
Receive 51 print issues and online access
$199.00 per year
only $3.90 per issue
Rent or buy this article
Get just this article for as long as you need it
$39.95
Prices may be subject to local taxes which are calculated during checkout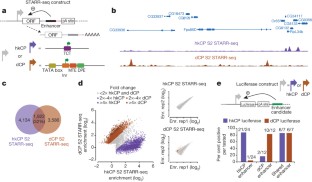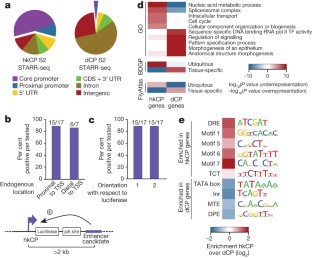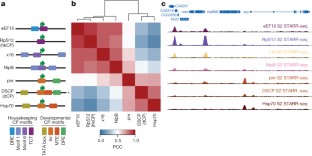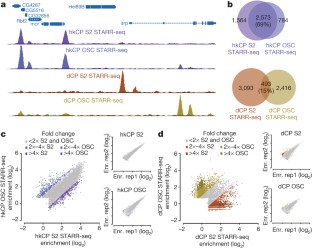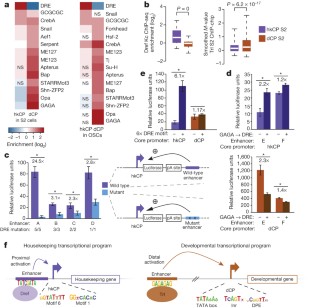 Accession codes
Primary accessions
Gene Expression Omnibus
Data deposits
All deep sequencing data are available at http://www.starklab.org and have been deposited in the Gene Expression Omnibus database under accession numbers GSE40739 and GSE57876.
References
Levine, M., Cattoglio, C. & Tjian, R. Looping back to leap forward: transcription enters a new era. Cell 157, 13–25 (2014)

Li, X. & Noll, M. Compatibility between enhancers and promoters determines the transcriptional specificity of gooseberry and gooseberry neuro in the Drosophila embryo. EMBO J. 13, 400–406 (1994)

Ohtsuki, S., Levine, M. & Cai, H. N. Different core promoters possess distinct regulatory activities in the Drosophila embryo. Genes Dev. 12, 547–556 (1998)

Sharpe, J., Nonchev, S., Gould, A., Whiting, J. & Krumlauf, R. Selectivity, sharing and competitive interactions in the regulation of Hoxb genes. EMBO J. 17, 1788–1798 (1998)

Merli, C., Bergstrom, D. E., Cygan, J. A. & Blackman, R. K. Promoter specificity mediates the independent regulation of neighboring genes. Genes Dev. 10, 1260–1270 (1996)

Butler, J. E. & Kadonaga, J. T. Enhancer–promoter specificity mediated by DPE or TATA core promoter motifs. Genes Dev. 15, 2515–2519 (2001)

Kadonaga, J. T. Perspectives on the RNA polymerase II core promoter. Wiley Interdiscip. Rev. Dev. Biol. 1, 40–51 (2012)

Parry, T. J. et al. The TCT motif, a key component of an RNA polymerase II transcription system for the translational machinery. Genes Dev. 24, 2013–2018 (2010)

Engström, P. G., Ho Sui, S. J., Drivenes, O., Becker, T. S. & Lenhard, B. Genomic regulatory blocks underlie extensive microsynteny conservation in insects. Genome Res. 17, 1898–1908 (2007)

FitzGerald, P. C., Sturgill, D., Shyakhtenko, A., Oliver, B. & Vinson, C. Comparative genomics of Drosophila and human core promoters. Genome Biol. 7, R53 (2006)

Pfeiffer, B. D. et al. Tools for neuroanatomy and neurogenetics in Drosophila. Proc. Natl Acad. Sci. USA 105, 9715–9720 (2008)

Arnold, C. D. et al. Genome-wide quantitative enhancer activity maps identified by STARR-seq. Science 339, 1074–1077 (2013)

Shlyueva, D. et al. Hormone-responsive enhancer-activity maps reveal predictive motifs, indirect repression, and targeting of closed chromatin. Mol. Cell 54, 180–192 (2014)

Banerji, J., Rusconi, S. & Schaffner, W. Expression of a β-globin gene is enhanced by remote SV40 DNA sequences. Cell 27, 299–308 (1981)

Lenhard, B., Sandelin, A. & Carninci, P. Metazoan promoters: emerging characteristics and insights into transcriptional regulation. Nature Rev. Genet. 13, 233–245 (2012)

Ohler, U., Liao, G.-C., Niemann, H. & Rubin, G. M. Computational analysis of core promoters in the Drosophila genome. Genome Biol. 3, research0087.1–0087.12 (2002)

Smith, D., Wohlgemuth, J., Calvi, B. R., Franklin, I. & Gelbart, W. M. hobo enhancer trapping mutagenesis in Drosophila reveals an insertion specificity different from P elements. Genetics 135, 1063–1076 (1993)

Kutach, A. K. & Kadonaga, J. T. The downstream promoter element DPE appears to be as widely used as the TATA box in Drosophila core promoters. Mol. Cell. Biol. 20, 4754–4764 (2000)

Yáñez-Cuna, J. O., Dinh, H. Q., Kvon, E. Z., Shlyueva, D. & Stark, A. Uncovering cis-regulatory sequence requirements for context-specific transcription factor binding. Genome Res. 22, 2018–2030 (2012)

Yáñez-Cuna, J. O. et al. Dissection of thousands of cell type-specific enhancers identifies dinucleotide repeat motifs as general enhancer features. Genome Res. 24, 1147–1156 (2014)

Gurudatta, B. V., Yang, J., Van Bortle, K., Donlin-Asp, P. G. & Corces, V. G. Dynamic changes in the genomic localization of DNA replication-related element binding factor during the cell cycle. Cell Cycle 12, 1605–1615 (2013)

modENCODE Consortium Identification of functional elements and regulatory circuits by Drosophila modENCODE. Science 330, 1787–1797 (2010)

Ohler, U. & Wassarman, D. A. Promoting developmental transcription. Development 137, 15–26 (2010)

van Arensbergen, J., van Steensel, B. & Bussemaker, H. J. In search of the determinants of enhancer–promoter interaction specificity. Trends Cell Biol. http://dx.doi.org/10.1016/j.tcb.2014.07.004 (2014)

Wang, Y.-L. et al. TRF2, but not TBP, mediates the transcription of ribosomal protein genes. Genes Dev. 28, 1550–1555 (2014)

Isogai, Y., Keles, S., Prestel, M., Hochheimer, A. & Tjian, R. Transcription of histone gene cluster by differential core-promoter factors. Genes Dev. 21, 2936–2949 (2007)

Hochheimer, A., Zhou, S., Zheng, S., Holmes, M. C. & Tjian, R. TRF2 associates with DREF and directs promoter-selective gene expression in Drosophila. Nature 420, 439–445 (2002)

Deato, M. D. E. & Tjian, R. Switching of the core transcription machinery during myogenesis. Genes Dev. 21, 2137–2149 (2007)

D'Alessio, J. A., Wright, K. J. & Tjian, R. Shifting players and paradigms in cell-specific transcription. Mol. Cell 36, 924–931 (2009)

Müller, F., Zaucker, A. & Tora, L. Developmental regulation of transcription initiation: more than just changing the actors. Curr. Opin. Genet. Dev. 20, 533–540 (2010)

Saito, K. et al. A regulatory circuit for piwi by the large Maf gene traffic jam in Drosophila. Nature 461, 1296–1299 (2009)

Arnold, C. D. et al. Quantitative genome-wide enhancer activity maps for five Drosophila species show functional enhancer conservation and turnover during cis-regulatory evolution. Nature Genet. 46, 685–692 (2014)

Ashburner, M. et al. Gene ontology: tool for the unification of biology. Nature Genet. 25, 25–29 (2000)

Tomancak, P. et al. Global analysis of patterns of gene expression during Drosophila embryogenesis. Genome Biol. 8, R145 (2007)

Chintapalli, V. R., Wang, J. & Dow, J. A. T. Using FlyAtlas to identify better Drosophila melanogaster models of human disease. Nature Genet. 39, 715–720 (2007)

Bailey, T. L. & Gribskov, M. Combining evidence using p-values: application to sequence homology searches. Bioinformatics 14, 48–54 (1998)

Langmead, B., Trapnell, C., Pop, M. & Salzberg, S. L. Ultrafast and memory-efficient alignment of short DNA sequences to the human genome. Genome Biol. 10, R25 (2009)

Quinlan, A. R. & Hall, I. M. BEDTools: a flexible suite of utilities for comparing genomic features. Bioinformatics 26, 841–842 (2010)

R Development Core Team. R: A Language and Environment for Statistical Computing (R Foundation for Statistical Computing, 2010)

Zeitlinger, J. & Stark, A. Developmental gene regulation in the era of genomics. Dev. Biol. 339, 230–239 (2010)

Kvon, E. Z. et al. Genome-scale functional characterization of Drosophila developmental enhancers in vivo. Nature 512, 91–95 (2014)

Soler, E. et al. The genome-wide dynamics of the binding of Ldb1 complexes during erythroid differentiation. Genes Dev. 24, 277–289 (2010)

Chen, K. et al. A global change in RNA polymerase II pausing during the Drosophila midblastula transition. eLife 2, e00861 (2013)

Lagha, M. et al. Paused Pol II coordinates tissue morphogenesis in the Drosophila embryo. Cell 153, 976–987 (2013)

Kwak, H., Fuda, N. J., Core, L. J. & Lis, J. T. Precise maps of RNA polymerase reveal how promoters direct initiation and pausing. Science 339, 950–953 (2013)
Acknowledgements
We thank L. Cochella and O. Bell for comments on the manuscript. Deep sequencing was performed at the CSF Next-Generation Sequencing Unit (http://csf.ac.at). M.A.Z. was supported by the Austrian Science Fund (FWF, F4303-B09) and C.D.A., K.S., M.R. and O.F. by a European Research Council Starting Grant (no. 242922) awarded to A.S. Basic research at the Research Institute of Molecular Pathology is supported by Boehringer Ingelheim GmbH.
Ethics declarations
Competing interests
The authors declare no competing financial interests.
Extended data figures and tables
Supplementary information
This file contains full legends for Supplementary Tables 1-22 (see separate file for the tables). (PDF 233 kb)
This file contains Supplementary Tables 1-22 (see Supplementary Information file for full descriptions). (ZIP 1284 kb)
About this article
Cite this article
Zabidi, M., Arnold, C., Schernhuber, K. et al. Enhancer–core-promoter specificity separates developmental and housekeeping gene regulation. Nature 518, 556–559 (2015). https://doi.org/10.1038/nature13994
Received:

Accepted:

Published:

Issue Date:

DOI: https://doi.org/10.1038/nature13994
Comments
By submitting a comment you agree to abide by our Terms and Community Guidelines. If you find something abusive or that does not comply with our terms or guidelines please flag it as inappropriate.