Abstract
The role of cellular metabolism in regulating cell proliferation and differentiation remains poorly understood1. For example, most mammalian cells cannot proliferate without exogenous glutamine supplementation even though glutamine is a non-essential amino acid1,2. Here we show that mouse embryonic stem (ES) cells grown under conditions that maintain naive pluripotency3 are capable of proliferation in the absence of exogenous glutamine. Despite this, ES cells consume high levels of exogenous glutamine when the metabolite is available. In comparison to more differentiated cells, naive ES cells utilize both glucose and glutamine catabolism to maintain a high level of intracellular α-ketoglutarate (αKG). Consequently, naive ES cells exhibit an elevated αKG to succinate ratio that promotes histone/DNA demethylation and maintains pluripotency. Direct manipulation of the intracellular αKG/succinate ratio is sufficient to regulate multiple chromatin modifications, including H3K27me3 and ten-eleven translocation (Tet)-dependent DNA demethylation, which contribute to the regulation of pluripotency-associated gene expression. In vitro, supplementation with cell-permeable αKG directly supports ES-cell self-renewal while cell-permeable succinate promotes differentiation. This work reveals that intracellular αKG/succinate levels can contribute to the maintenance of cellular identity and have a mechanistic role in the transcriptional and epigenetic state of stem cells.
Relevant articles
Open Access articles citing this article.
Mengke Fan

,

Huiying Shi

…

Rong Lin

Stem Cell Research & Therapy Open Access 17 June 2022

David B. Sauer

,

Jennifer J. Marden

…

Da-Neng Wang

Nature Communications Open Access 12 May 2022

Gabriel Alzial

,

Ophelie Renoult

…

Claire Pecqueur

Oncogene Open Access 11 November 2021
Access options
Subscribe to Journal
Get full journal access for 1 year
$199.00
only $3.90 per issue
All prices are NET prices.
VAT will be added later in the checkout.
Tax calculation will be finalised during checkout.
Buy article
Get time limited or full article access on ReadCube.
$32.00
All prices are NET prices.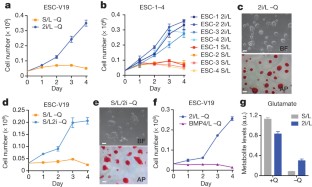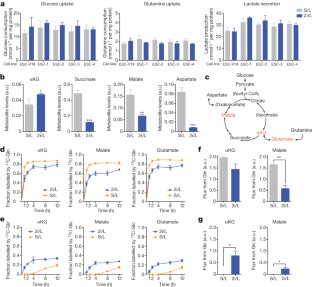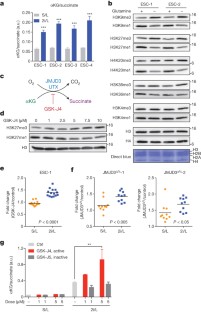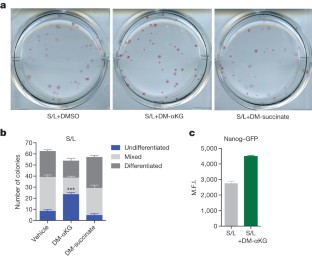 References
Lunt, S. Y. & Vander Heiden, M. G. Aerobic glycolysis: meeting the metabolic requirements of cell proliferation. Annu. Rev. Cell Dev. Biol. 27, 441–464 (2011)

Eagle, H., Oyama, V. I., Levy, M., Horton, C. L. & Fleischman, R. The growth response of mammalian cells in tissue culture to l-glutamine and l-glutamic acid. J. Biol. Chem. 218, 607–616 (1956)

Ying, Q. L. et al. The ground state of embryonic stem cell self-renewal. Nature 453, 519–523 (2008)

Nichols, J., Silva, J., Roode, M. & Smith, A. Suppression of Erk signalling promotes ground state pluripotency in the mouse embryo. Development 136, 3215–3222 (2009)

Smith, Z. D. et al. A unique regulatory phase of DNA methylation in the early mammalian embryo. Nature 484, 339–344 (2012)

Wray, J., Kalkan, T. & Smith, A. G. The ground state of pluripotency. Biochem. Soc. Trans. 38, 1027–1032 (2010)

Leitch, H. G. et al. Naive pluripotency is associated with global DNA hypomethylation. Nature Struct. Mol. Biol. 20, 311–316 (2013)

Ficz, G. et al. FGF signaling inhibition in ESCs drives rapid genome-wide demethylation to the epigenetic ground state of pluripotency. Cell Stem Cell 13, 351–359 (2013)

Habibi, E. et al. Whole-genome bisulfite sequencing of two distinct interconvertible DNA methylomes of mouse embryonic stem cells. Cell Stem Cell 13, 360–369 (2013)

Borgel, J. et al. Targets and dynamics of promoter DNA methylation during early mouse development. Nature Genet. 42, 1093–1100 (2010)

Marks, H. et al. The transcriptional and epigenomic foundations of ground state pluripotency. Cell 149, 590–604 (2012)

Ying, Q. L., Nichols, J., Chambers, I. & Smith, A. BMP induction of Id proteins suppresses differentiation and sustains embryonic stem cell self-renewal in collaboration with STAT3. Cell 115, 281–292 (2003)

Zhang, J., Nuebel, E., Daley, G. Q., Koehler, C. M. & Teitell, M. A. Metabolic regulation in pluripotent stem cells during reprogramming and self-renewal. Cell Stem Cell 11, 589–595 (2012)

Kaelin, W. G., Jr Cancer and altered metabolism: potential importance of hypoxia-inducible factor and 2-oxoglutarate-dependent dioxygenases. Cold Spring Harb. Symp. Quant. Biol. 76, 335–345 (2011)

Cloos, P. A., Christensen, J., Agger, K. & Helin, K. Erasing the methyl mark: histone demethylases at the center of cellular differentiation and disease. Genes Dev. 22, 1115–1140 (2008)

Kruidenier, L. et al. A selective jumonji H3K27 demethylase inhibitor modulates the proinflammatory macrophage response. Nature 488, 404–408 (2012)

Bernstein, B. E. et al. A bivalent chromatin structure marks key developmental genes in embryonic stem cells. Cell 125, 315–326 (2006)

Boyer, L. A. et al. Polycomb complexes repress developmental regulators in murine embryonic stem cells. Nature 441, 349–353 (2006)

Mikkelsen, T. S. et al. Genome-wide maps of chromatin state in pluripotent and lineage-committed cells. Nature 448, 553–560 (2007)

Blaschke, K. et al. Vitamin C induces Tet-dependent DNA demethylation and a blastocyst-like state in ES cells. Nature 500, 222–226 (2013)

Hackett, J. A. et al. Synergistic mechanisms of DNA demethylation during transition to ground-state pluripotency. Stem Cell Reports 1, 518–531 (2013)

Faddah, D. A. et al. Single-cell analysis reveals that expression of Nanog is biallelic and equally variable as that of other pluripotency factors in mouse ESCs. Cell Stem Cell 13, 23–29 (2013)

Shipony, Z. et al. Dynamic and static maintenance of epigenetic memory in pluripotent and somatic cells. Nature 513, 115–119 (2014)

Markoulaki, S., Meissner, A. & Jaenisch, R. Somatic cell nuclear transfer and derivation of embryonic stem cells in the mouse. Methods 45, 101–114 (2008)

Dawlaty, M. M. et al. Combined deficiency of Tet1 and Tet2 causes epigenetic abnormalities but is compatible with postnatal development. Dev. Cell 24, 310–323 (2013)

Buganim, Y. et al. Single-cell expression analyses during cellular reprogramming reveal an early stochastic and a late hierarchic phase. Cell 150, 1209–1222 (2012)

Millard, P., Letisse, F., Sokol, S. & Portais, J. C. IsoCor: correcting MS data in isotope labeling experiments. Bioinformatics 28, 1294–1296 (2012)

Yuan, J., Bennett, B. D. & Rabinowitz, J. D. Kinetic flux profiling for quantitation of cellular metabolic fluxes. Nature Protocols 3, 1328–1340 (2008)

Bligh, E. G. & Dyer, W. J. A rapid method of total lipid extraction and purification. Can. J. Biochem. Physiol. 37, 911–917 (1959)

Ran, F. A. et al. Genome engineering using the CRISPR-Cas9 system. Nature Protocols 8, 2281–2308 (2013)
Acknowledgements
B.W.C. is a Howard Hughes Medical Institute fellow of the Jane Coffin Childs Memorial Research Fund. L.W.S.F. is the Jack Sorrell Fellow of the Damon Runyon Cancer Research Foundation (DRG-2144-13). This work was funded by grants from the National Institutes of Health/National Institute of General Medical Sciences (C.D.A.) and from the National Cancer Institute (C.B.T.). We thank C. Li for assistance with FACS analysis and M. Dawlaty, D. Faddah and R. Jaenisch for sharing cell lines used in this study.
Ethics declarations
Competing interests
C.B.T. is a co-founder of Agios Pharmaceuticals and a member of the board directors of Merck. C.D.A. is a co-founder of Chroma Therapeutics and Constellation Pharmaceuticals.
Extended data figures and tables
Supplementary information
This file contains a Supplementary Discussion and Supplementary References. (PDF 151 kb)
About this article
Cite this article
Carey, B., Finley, L., Cross, J. et al. Intracellular α-ketoglutarate maintains the pluripotency of embryonic stem cells. Nature 518, 413–416 (2015). https://doi.org/10.1038/nature13981
Received:

Accepted:

Published:

Issue Date:

DOI: https://doi.org/10.1038/nature13981
Comments
By submitting a comment you agree to abide by our Terms and Community Guidelines. If you find something abusive or that does not comply with our terms or guidelines please flag it as inappropriate.