Abstract
Contusive spinal cord injury leads to a variety of disabilities owing to limited neuronal regeneration and functional plasticity. It is well established that an upregulation of glial-derived chondroitin sulphate proteoglycans (CSPGs) within the glial scar and perineuronal net creates a barrier to axonal regrowth and sprouting1,2,3,4,5. Protein tyrosine phosphatase σ (PTPσ), along with its sister phosphatase leukocyte common antigen-related (LAR) and the nogo receptors 1 and 3 (NgR), have recently been identified as receptors for the inhibitory glycosylated side chains of CSPGs6,7,8. Here we find in rats that PTPσ has a critical role in converting growth cones into a dystrophic state by tightly stabilizing them within CSPG-rich substrates. We generated a membrane-permeable peptide mimetic of the PTPσ wedge domain that binds to PTPσ and relieves CSPG-mediated inhibition. Systemic delivery of this peptide over weeks restored substantial serotonergic innervation to the spinal cord below the level of injury and facilitated functional recovery of both locomotor and urinary systems. Our results add a new layer of understanding to the critical role of PTPσ in mediating the growth-inhibited state of neurons due to CSPGs within the injured adult spinal cord.
Relevant articles
Open Access articles citing this article.
Min Yao

,

Jie Fang

…

Chunqi Chang

Journal of Neuroinflammation Open Access 18 August 2022

James W. Fawcett

,

Marianne Fyhn

…

Barbara A. Sorg

Molecular Psychiatry Open Access 27 June 2022

Isaac Francos-Quijorna

,

Marina Sánchez-Petidier

…

Elizabeth J. Bradbury

Nature Communications Open Access 25 May 2022
Access options
Subscribe to Journal
Get full journal access for 1 year
$199.00
only $3.90 per issue
All prices are NET prices.
VAT will be added later in the checkout.
Tax calculation will be finalised during checkout.
Buy article
Get time limited or full article access on ReadCube.
$32.00
All prices are NET prices.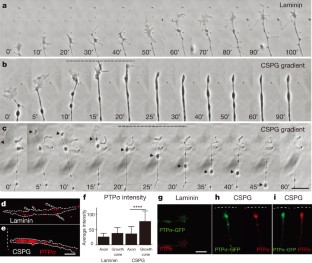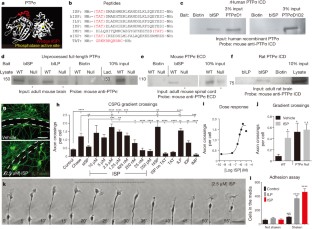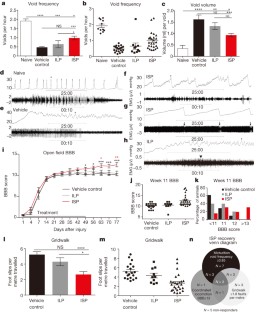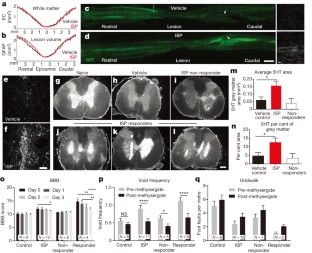 References
Cregg, J. M. et al. Functional regeneration beyond the glial scar. Exp. Neurol. 253, 197–207 (2014)

Andrews, E. M., Richards, R. J., Yin, F. Q., Viapiano, M. S. & Jakeman, L. B. Alterations in chondroitin sulfate proteoglycan expression occur both at and far from the site of spinal contusion injury. Exp. Neurol. 235, 174–187 (2012)

Pizzorusso, T. et al. Reactivation of ocular dominance plasticity in the adult visual cortex. Science 298, 1248–1251 (2002)

Bradbury, E. J. et al. Chondroitinase ABC promotes functional recovery after spinal cord injury. Nature 416, 636–640 (2002)

Massey, J. M. et al. Chondroitinase ABC digestion of the perineuronal net promotes functional collateral sprouting in the cuneate nucleus after cervical spinal cord injury. J. Neurosci. 26, 4406–4414 (2006)

Shen, Y. et al. PTPσ is a receptor for chondroitin sulfate proteoglycan, an inhibitor of neural regeneration. Science 326, 592–596 (2009)

Fisher, D. et al. Leukocyte common antigen-related phosphatase is a functional receptor for chondroitin sulfate proteoglycan axon growth inhibitors. J. Neurosci. 31, 14051–14066 (2011)

Dickendesher, T. L. et al. NgR1 and NgR3 are receptors for chondroitin sulfate proteoglycans. Nature Neurosci. 15, 703–712 (2012)

Tom, V. J., Steinmetz, M. P., Miller, J. H., Doller, C. M. & Silver, J. Studies on the development and behavior of the dystrophic growth cone, the hallmark of regeneration failure, in an in vitro model of the glial scar and after spinal cord injury. J. Neurosci. 24, 6531–6539 (2004)

Busch, S. A., Horn, K. P., Silver, D. J. & Silver, J. Overcoming macrophage-mediated axonal dieback following CNS injury. J. Neurosci. 29, 9967–9976 (2009)

Cajal, S. R. Y. Degeneration & Regeneration of the Nervous System (Oxford Univ. Press, 1928)

Aicher, B., Lerch, M. M., Muller, T., Schilling, J. & Ullrich, A. Cellular redistribution of protein tyrosine phosphatases LAR and PTPσ by inducible proteolytic processing. J. Cell Biol. 138, 681–696 (1997)

Serra-Pagès, C. et al. The LAR transmembrane protein tyrosine phosphatase and a coiled-coil LAR-interacting protein co-localize at focal adhesions. EMBO J. 14, 2827–2838 (1995)

Xie, Y. et al. Protein-tyrosine phosphatase (PTP) wedge domain peptides: a novel approach for inhibition of PTP function and augmentation of protein-tyrosine kinase function. J. Biol. Chem. 281, 16482–16492 (2006)

Jiang, G. et al. Dimerization inhibits the activity of receptor-like protein-tyrosine phosphatase-α. Nature 401, 606–610 (1999)

Barr, A. J. et al. Large-scale structural analysis of the classical human protein tyrosine phosphatome. Cell 136, 352–363 (2009)

Wallace, M. J., Fladd, C., Batt, J. & Rotin, D. The second catalytic domain of protein tyrosine phosphatase δ (PTPδ) binds to and inhibits the first catalytic domain of PTPσ. Mol. Cell. Biol. 18, 2608–2616 (1998)

Silver, D. J. et al. Chondroitin sulfate proteoglycans potently inhibit invasion and serve as a central organizer of the brain tumor microenvironment. J. Neurosci. 33, 15603–15617 (2013)

Lowery, L. A. & Van Vactor, D. The trip of the tip: understanding the growth cone machinery. Nature Rev. Mol. Cell Biol. 10, 332–343 (2009)

Polleux, F. & Snider, W. Initiating and growing an axon. Cold Spring Harb. Perspect. Biol. 2, a001925 (2010)

Sapieha, P. S. et al. Receptor protein tyrosine phosphatase sigma inhibits axon regrowth in the adult injured CNS. Mol. Cell. Neurosci. 28, 625–635 (2005)

Banks, W. A., Robinson, S. M. & Nath, A. Permeability of the blood–brain barrier to HIV-1 Tat. Exp. Neurol. 193, 218–227 (2005)

Jones, L. L. & Tuszynski, M. H. Chronic intrathecal infusions after spinal cord injury cause scarring and compression. Microsc. Res. Tech. 54, 317–324 (2001)

de Groat, W. C. et al. Mechanisms underlying the recovery of urinary bladder function following spinal cord injury. J. Auton. Nerv. Syst. 30 (suppl.). S71–S77 (1990)

Pikov, V. & Wrathall, J. R. Coordination of the bladder detrusor and the external urethral sphincter in a rat model of spinal cord injury: effect of injury severity. J. Neurosci. 21, 559–569 (2001)

Lee, Y. S. et al. Nerve regeneration restores supraspinal control of bladder function after complete spinal cord injury. J. Neurosci. 33, 10591–10606 (2013)

Basso, D. M., Beattie, M. S. & Bresnahan, J. C. A sensitive and reliable locomotor rating scale for open field testing in rats. J. Neurotrauma 12, 1–21 (1995)

Tuszynski, M. H. & Steward, O. Concepts and methods for the study of axonal regeneration in the CNS. Neuron 74, 777–791 (2012)

Murray, K. C. et al. Recovery of motoneuron and locomotor function after spinal cord injury depends on constitutive activity in 5-HT2C receptors. Nature Med. 16, 694–700 (2010)

Xu, B. et al. Role of CSPG receptor LAR phosphatase in restricting axon regeneration after CNS injury. Neurobiol. Dis. 73C, 36–48 (2014)

Horn, K. P., Busch, S. A., Hawthorne, A. L., van Rooijen, N. & Silver, J. Another barrier to regeneration in the CNS: activated macrophages induce extensive retraction of dystrophic axons through direct physical interactions. J. Neurosci. 28, 9330–9341 (2008)

Hargreaves, K., Dubner, R., Brown, F., Flores, C. & Joris, J. A new and sensitive method for measuring thermal nociception in cutaneous hyperalgesia. Pain 32, 77–88 (1988)

Cheng, C. L. & de Groat, W. C. The role of capsaicin-sensitive afferent fibers in the lower urinary tract dysfunction induced by chronic spinal cord injury in rats. Exp. Neurol. 187, 445–454 (2004)

Jakeman, L. B. in Animal Models of Acute Neurological Injuries II (eds Chen, J. Xu, X.-M., Xu, Z. C. & Zhang, J. H. ) 417–442 (Springer, 2012).

Weidner, N., Ner, A., Salimi, N. & Tuszynski, M. H. Spontaneous corticospinal axonal plasticity and functional recovery after adult central nervous system injury. Proc. Natl Acad. Sci. USA 98, 3513–3518 (2001)
Acknowledgements
This work was supported by National Institute of Neurological Disorders and Stroke grant NS025713 (J.S.); the Case Western Reserve University Council to Advance Human Health; P. Jing, R. Senior and S. Poon; Unite to Fight Paralysis; The Brumagin Memorial Fund; Spinal Cord Injury Sucks; United Paralysis Foundation; and The Kaneko Family Fund. The authors thank J. Flanagan, M. Blackmore, A. Filous, S. Brady-Kalnay, R. Gardner and B. Habecker for their valuable discussion and input into the project.
Ethics declarations
Competing interests
A preliminary patent application (61/621,623) has been filed for ISP.
Extended data figures and tables
Supplementary information
About this article
Cite this article
Lang, B., Cregg, J., DePaul, M. et al. Modulation of the proteoglycan receptor PTPσ promotes recovery after spinal cord injury. Nature 518, 404–408 (2015). https://doi.org/10.1038/nature13974
Received:

Accepted:

Published:

Issue Date:

DOI: https://doi.org/10.1038/nature13974
Comments
By submitting a comment you agree to abide by our Terms and Community Guidelines. If you find something abusive or that does not comply with our terms or guidelines please flag it as inappropriate.