Abstract
Pathogenic mycobacteria induce the formation of complex cellular aggregates called granulomas that are the hallmark of tuberculosis1,2. Here we examine the development and consequences of vascularization of the tuberculous granuloma in the zebrafish–Mycobacterium marinum infection model, which is characterized by organized granulomas with necrotic cores that bear striking resemblance to those of human tuberculosis2. Using intravital microscopy in the transparent larval zebrafish, we show that granuloma formation is intimately associated with angiogenesis. The initiation of angiogenesis in turn coincides with the generation of local hypoxia and transcriptional induction of the canonical pro-angiogenic molecule Vegfaa. Pharmacological inhibition of the Vegf pathway suppresses granuloma-associated angiogenesis, reduces infection burden and limits dissemination. Moreover, anti-angiogenic therapies synergize with the first-line anti-tubercular antibiotic rifampicin, as well as with the antibiotic metronidazole, which targets hypoxic bacterial populations3. Our data indicate that mycobacteria induce granuloma-associated angiogenesis, which promotes mycobacterial growth and increases spread of infection to new tissue sites. We propose the use of anti-angiogenic agents, now being used in cancer regimens, as a host-targeting tuberculosis therapy, particularly in extensively drug-resistant disease for which current antibiotic regimens are largely ineffective.
Relevant articles
Open Access articles citing this article.
Julia Y. Kam

,

Elinor Hortle

…

Stefan H. Oehlers

Nature Communications Open Access 17 February 2022

Erin F. McCaffrey

,

Michele Donato

…

Michael Angelo

Nature Immunology Open Access 20 January 2022

Keiji Hirota

,

Yutaka Hirai

…

Hiroshi Terada

Pharmaceutical Research Open Access 23 December 2021
Access options
Subscribe to Journal
Get full journal access for 1 year
$199.00
only $3.90 per issue
All prices are NET prices.
VAT will be added later in the checkout.
Tax calculation will be finalised during checkout.
Buy article
Get time limited or full article access on ReadCube.
$32.00
All prices are NET prices.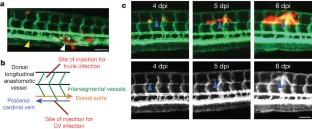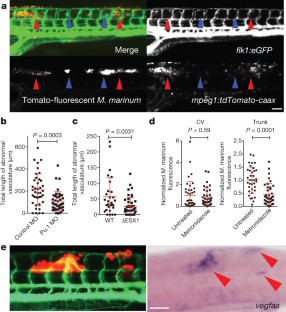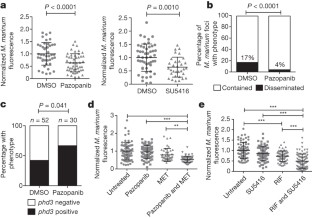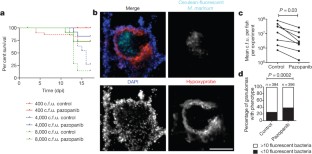 References
Ernst, J. D. The immunological life cycle of tuberculosis. Nature Rev. Immunol. 12, 581–591 (2012)

Ramakrishnan, L. Revisiting the role of the granuloma in tuberculosis. Nature Rev. Immunol. 12, 352–366 (2012)

Freeman, C. D., Klutman, N. E. & Lamp, K. C. Metronidazole. A therapeutic review and update. Drugs 54, 679–708 (1997)

Rittershaus, E. S., Baek, S. H. & Sassetti, C. M. The normalcy of dormancy: common themes in microbial quiescence. Cell Host Microbe 13, 643–651 (2013)

Folkman, J. Role of angiogenesis in tumor growth and metastasis. Semin. Oncol. 29, 15–18 (2002)

Tsai, M. C. et al. Characterization of the tuberculous granuloma in murine and human lungs: cellular composition and relative tissue oxygen tension. Cell. Microbiol. 8, 218–232 (2006)

Aly, S. et al. Interferon-γ-dependent mechanisms of mycobacteria-induced pulmonary immunopathology: the role of angiostasis and CXCR3-targeted chemokines for granuloma necrosis. J. Pathol. 212, 295–305 (2007)

Ulrichs, T. et al. Differential organization of the local immune response in patients with active cavitary tuberculosis or with nonprogressive tuberculoma. J. Infect. Dis. 192, 89–97 (2005)

Davis, J. M. et al. Real-time visualization of mycobacterium–macrophage interactions leading to initiation of granuloma formation in zebrafish embryos. Immunity 17, 693–702 (2002)

Jin, S. W., Beis, D., Mitchell, T., Chen, J. N. & Stainier, D. Y. Cellular and molecular analyses of vascular tube and lumen formation in zebrafish. Development 132, 5199–5209 (2005)

Davis, J. M. & Ramakrishnan, L. The role of the granuloma in expansion and dissemination of early tuberculous infection. Cell 136, 37–49 (2009)

Dirkx, A. E., Oude Egbrink, M. G., Wagstaff, J. & Griffioen, A. W. Monocyte/macrophage infiltration in tumors: modulators of angiogenesis. J. Leukoc. Biol. 80, 1183–1196 (2006)

Rhodes, J. et al. Interplay of pu.1 and gata1 determines myelo-erythroid progenitor cell fate in zebrafish. Dev. Cell 8, 97–108 (2005)

Clay, H. et al. Dichotomous role of the macrophage in early Mycobacterium marinum infection of the zebrafish. Cell Host Microbe 2, 29–39 (2007)

Volkman, H. E. et al. Tuberculous granuloma formation is enhanced by a mycobacterium virulence determinant. PLoS Biol. 2, e367 (2004)

Aprelikova, O. et al. Regulation of HIF prolyl hydroxylases by hypoxia-inducible factors. J. Cell. Biochem. 92, 491–501 (2004)

Santhakumar, K. et al. A zebrafish model to study and therapeutically manipulate hypoxia signaling in tumorigenesis. Cancer Res. 72, 4017–4027 (2012)

Elks, P. M. et al. Hypoxia inducible factor signaling modulates susceptibility to mycobacterial infection via a nitric oxide dependent mechanism. PLoS Pathog. 9, e1003789 (2013)

Via, L. E. et al. Tuberculous granulomas are hypoxic in guinea pigs, rabbits, and nonhuman primates. Infect. Immun. 76, 2333–2340 (2008)

Lin, P. L. et al. Metronidazole prevents reactivation of latent Mycobacterium tuberculosis infection in macaques. Proc. Natl Acad. Sci. USA 109, 14188–14193 (2012)

Forsythe, J. A. et al. Activation of vascular endothelial growth factor gene transcription by hypoxia-inducible factor 1. Mol. Cell. Biol. 16, 4604–4613 (1996)

Matsuyama, W. et al. Increased serum level of vascular endothelial growth factor in pulmonary tuberculosis. Am. J. Respir. Crit. Care Med. 162, 1120–1122 (2000)

Saita, N., Fujiwara, N., Yano, I., Soejima, K. & Kobayashi, K. Trehalose 6,6′-dimycolate (cord factor) of Mycobacterium tuberculosis induces corneal angiogenesis in rats. Infect. Immun. 68, 5991–5997 (2000)

Nasevicius, A., Larson, J. & Ekker, S. C. Distinct requirements for zebrafish angiogenesis revealed by a VEGF-A morphant. Yeast 1, 294–301 (2000)

Dvorak, H. F., Brown, L. F., Detmar, M. & Dvorak, A. M. Vascular permeability factor/vascular endothelial growth factor, microvascular hyperpermeability, and angiogenesis. Am. J. Pathol. 146, 1029–1039 (1995)

Podar, K. et al. The small-molecule VEGF receptor inhibitor pazopanib (GW786034B) targets both tumor and endothelial cells in multiple myeloma. Proc. Natl Acad. Sci. USA 103, 19478–19483 (2006)

Fong, T. A. et al. SU5416 is a potent and selective inhibitor of the vascular endothelial growth factor receptor (Flk-1/KDR) that inhibits tyrosine kinase catalysis, tumor vascularization, and growth of multiple tumor types. Cancer Res. 59, 99–106 (1999)

Tobin, D. M. et al. The lta4h locus modulates susceptibility to mycobacterial infection in zebrafish and humans. Cell 140, 717–730 (2010)

Carroll, M. W. et al. Efficacy and safety of metronidazole for pulmonary multidrug-resistant tuberculosis. Antimicrob. Agents Chemother. 57, 3903–3909 (2013)

Opie, E. L. & Aronson, J. D. Tubercle bacilli in latent tuberculous lesions and in lung tissue without tuberculous lesions. Arch. Pathol. Lab. Med. 4, 1–21 (1927)

Thisse, C. & Thisse, B. High-resolution in situ hybridization to whole-mount zebrafish embryos. Nature Protocols 3, 59–69 (2008)

Liang, D. et al. Cloning and characterization of vascular endothelial growth factor (VEGF) from zebrafish, Danio rerio. Biochim. Biophys. Acta 1397, 14–20 (1998)

Ellett, F., Pase, L., Hayman, J. W., Andrianopoulos, A. & Lieschke, G. J. mpeg1 promoter transgenes direct macrophage-lineage expression in zebrafish. Blood 117, e49–e56 (2011)

Kwan, K. M. et al. The Tol2kit: a multisite gateway-based construction kit for Tol2 transposon transgenesis constructs. Dev. Dyn. 236, 3088–3099 (2007)

Goedhart, J. et al. Structure-guided evolution of cyan fluorescent proteins towards a quantum yield of 93%. Nature Commun. 3, 751 (2012)

Kim, J. H. et al. High cleavage efficiency of a 2A peptide derived from porcine teschovirus-1 in human cell lines, zebrafish and mice. PLoS ONE 6, e18556 (2011)

Balciunas, D. et al. Harnessing a high cargo-capacity transposon for genetic applications in vertebrates. PLoS Genet. 2, e169 (2006)

Curado, S., Stainier, D. Y. & Anderson, R. M. Nitroreductase-mediated cell/tissue ablation in zebrafish: a spatially and temporally controlled ablation method with applications in developmental and regeneration studies. Nature Protocols 3, 948–954 (2008)
Acknowledgements
We thank D. Sisk and J. Saelens for technical assistance, L. Ramakrishnan, P. Edelstein and C. Kontos for helpful discussions, L. Ramakrishnan, W. Britton and J. Coers for critical review of the manuscript, and J. Fuller, C. Gallione, E. Linney, H. Mao, S. Lee, D. Marchuk, H. Matsunami, A. Nixon, J. Perfect, J. Rawls, D. Silver, K. Smith, K. Takaki, J. Tenor and B. Uy for reagents and equipment. This work was funded by an Australian National Health and Medical Research Council CJ Martin Early Career Fellowship (S.H.O.); an American Cancer Society Postdoctoral Fellowship PF-13-223-01-MPC (M.R.C.); the Duke Summer Research Opportunities Program (N.R.S.); a Malaysian Ministry of Science and Technology and Innovation scholarship (K.S.O.); a New Zealand Ministry of Science and Innovation grant UOAX0813 (P.S.C.); the Duke University Center for AIDS Research (CFAR), a National Institutes of Health (NIH)-funded program (5P30 AI064518), and by a Mallinckrodt Scholar Award, a Searle Scholar Award, a Vallee Foundation Young Investigator Award and an NIH Director's New Innovator Award 1DP2-OD008614 (D.M.T.).
Ethics declarations
Competing interests
The authors declare no competing financial interests.
Extended data figures and tables
Supplementary information
About this article
Cite this article
Oehlers, S., Cronan, M., Scott, N. et al. Interception of host angiogenic signalling limits mycobacterial growth. Nature 517, 612–615 (2015). https://doi.org/10.1038/nature13967
Received:

Accepted:

Published:

Issue Date:

DOI: https://doi.org/10.1038/nature13967
Comments
By submitting a comment you agree to abide by our Terms and Community Guidelines. If you find something abusive or that does not comply with our terms or guidelines please flag it as inappropriate.