Integrated assessment models show that, without new climate policies, abundant supplies of natural gas will have little impact on greenhouse-gas emissions and climate change. See Letter p.482
This is a preview of subscription content
Access options
Subscribe to Journal
Get full journal access for 1 year
$199.00
only $3.90 per issue
All prices are NET prices.
VAT will be added later in the checkout.
Tax calculation will be finalised during checkout.
Buy article
Get time limited or full article access on ReadCube.
$32.00
All prices are NET prices.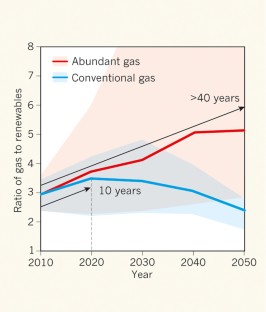 References
Ausubel, J. H., Grübler, A. & Nakicenovic, N. Clim. Change 12, 245–263 (1988).

Podesta, J. D. & Wirth, T. E. Natural Gas: A Bridge Fuel for the 21st Century (Center for American Progress, 2009); http://cdn.americanprogress.org/wp-content/uploads/issues/2009/08/pdf/naturalgasmemo.pdf

McJeon, H. et al. Nature 514, 482–485 (2014).

Brandt, A. R. et al. Science 343, 733–735 (2014).

Huntington, H. EMF26: Changing the Game? Emissions and Market Implications of New Natural Gas Supplies (Energy Modeling Forum, 2013).

Newell, R. G. & Raimi, D. Environ. Sci. Technol. 48, 8360–8368 (2014).

Shearer, C., Bistline, J., Inman, M. & Davis, S. J. Environ. Res. Lett. 9, 094008 (2014).

International Energy Agency. Golden Rules for a Golden Age of Gas (IEA, 2012).

Channell, J., Lam, T. & Pourreza, S. Shale & Renewables: A Symbiotic Relationship (Citi Res., 2012).

Davis, S. J. & Socolow, R. H. Environ. Res. Lett. 9, 084018 (2014).
About this article
Cite this article
Davis, S., Shearer, C. A crack in the natural-gas bridge. Nature 514, 436–437 (2014). https://doi.org/10.1038/nature13927
Published:

Issue Date:

DOI: https://doi.org/10.1038/nature13927
Further reading
Harry McNally
Peter Howley
Matthew Cotton

Energy, Ecology and Environment (2018)

Tim Boersma
Sarah M. Jordaan

Energy Transitions (2017)

Kuishuang Feng
Steven J. Davis
Klaus Hubacek

Nature Communications (2015)