Abstract
Naturally occurring variations of Polycomb repressive complex 1 (PRC1) comprise a core assembly of Polycomb group proteins and additional factors that include, surprisingly, autism susceptibility candidate 2 (AUTS2). Although AUTS2 is often disrupted in patients with neuronal disorders, the mechanism underlying the pathogenesis is unclear. We investigated the role of AUTS2 as part of a previously identified PRC1 complex (PRC1–AUTS2), and in the context of neurodevelopment. In contrast to the canonical role of PRC1 in gene repression, PRC1–AUTS2 activates transcription. Biochemical studies demonstrate that the CK2 component of PRC1–AUTS2 neutralizes PRC1 repressive activity, whereas AUTS2-mediated recruitment of P300 leads to gene activation. Chromatin immunoprecipitation followed by sequencing (ChIP-seq) demonstrated that AUTS2 regulates neuronal gene expression through promoter association. Conditional targeting of Auts2 in the mouse central nervous system (CNS) leads to various developmental defects. These findings reveal a natural means of subverting PRC1 activity, linking key epigenetic modulators with neuronal functions and diseases.
Relevant articles
Open Access articles citing this article.
Lei Cai

,

Yanlan Sun

…

Dong-Qing Wei

Journal of Translational Medicine Open Access 03 November 2022

Xianchun Lan

,

Song Ding

…

Wei Jiang

Nature Communications Open Access 06 August 2022

Melanie Royer

,

Balagopal Pai

…

Inga D. Neumann

Molecular Psychiatry Open Access 25 March 2022
Access options
Subscribe to Journal
Get full journal access for 1 year
$199.00
only $3.90 per issue
All prices are NET prices.
VAT will be added later in the checkout.
Tax calculation will be finalised during checkout.
Buy article
Get time limited or full article access on ReadCube.
$32.00
All prices are NET prices.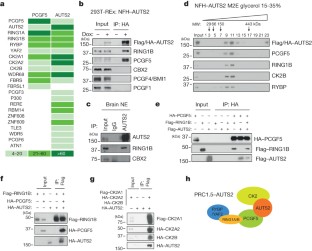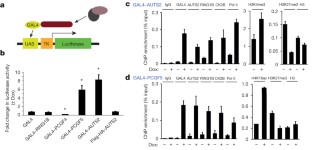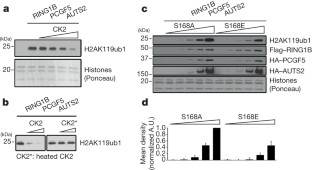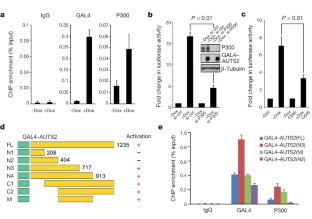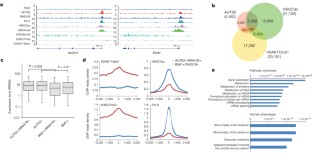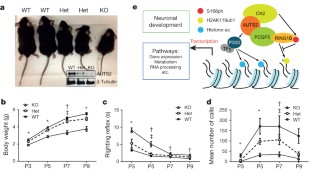 References
Simon, J. A. & Kingston, R. E. Occupying chromatin: Polycomb mechanisms for getting to genomic targets, stopping transcriptional traffic, and staying put. Mol. Cell 49, 808–824 (2013)

Müller, J. & Verrijzer, P. Biochemical mechanisms of gene regulation by polycomb group protein complexes. Curr. Opin. Genet. Dev. 19, 150–158 (2009)

Morey, L. & Helin, K. Polycomb group protein-mediated repression of transcription. Trends Biochem. Sci. 35, 323–332 (2010)

Schuettengruber, B. & Cavalli, G. Recruitment of polycomb group complexes and their role in the dynamic regulation of cell fate choice. Development 136, 3531–3542 (2009)

Jaenisch, R. & Young, R. Stem cells, the molecular circuitry of pluripotency and nuclear reprogramming. Cell 132, 567–582 (2008)

Sparmann, A. & van Lohuizen, M. Polycomb silencers control cell fate, development and cancer. Nature Rev. Cancer 6, 846–856 (2006)

Schwartz, Y. B. & Pirrotta, V. Polycomb silencing mechanisms and the management of genomic programmes. Nature Rev. Genet. 8, 9–22 (2007)

Margueron, R. & Reinberg, D. The Polycomb complex PRC2 and its mark in life. Nature 469, 343–349 (2011)

Müller, J. et al. Histone methyltransferase activity of a Drosophila Polycomb group repressor complex. Cell 111, 197–208 (2002)

Czermin, B. et al. Drosophila enhancer of Zeste/ESC complexes have a histone H3 methyltransferase activity that marks chromosomal Polycomb sites. Cell 111, 185–196 (2002)

Cao, R. et al. Role of histone H3 lysine 27 methylation in Polycomb-group silencing. Science 298, 1039–1043 (2002)

Kuzmichev, A., Nishioka, K., Erdjument-Bromage, H., Tempst, P. & Reinberg, D. Histone methyltransferase activity associated with a human multiprotein complex containing the Enhancer of Zeste protein. Genes Dev. 16, 2893–2905 (2002)

Wang, H. et al. Role of histone H2A ubiquitination in Polycomb silencing. Nature 431, 873–878 (2004)

de Napoles, M. et al. Polycomb group proteins Ring1A/B link ubiquitylation of histone H2A to heritable gene silencing and X inactivation. Dev. Cell 7, 663–676 (2004)

Francis, N. J., Kingston, R. E. & Woodcock, C. L. Chromatin compaction by a polycomb group protein complex. Science 306, 1574–1577 (2004)

Gao, Z. et al. PCGF homologs, CBX proteins, and RYBP define functionally distinct PRC1 family complexes. Mol. Cell 45, 344–356 (2012)

Tavares, L. et al. RYBP–PRC1 complexes mediate H2A ubiquitylation at Polycomb target sites independently of PRC2 and H3K27me3. Cell 148, 664–678 (2012)

Morey, L., Aloia, L., Cozzuto, L., Benitah, S. A. & Di Croce, L. RYBP and Cbx7 define specific biological functions of Polycomb complexes in mouse embryonic stem cells. Cell Rep. 3, 60–69 (2013)

Bedogni, F. et al. Autism susceptibility candidate 2 (Auts2) encodes a nuclear protein expressed in developing brain regions implicated in autism neuropathology. Gene Expr. Patterns 10, 9–15 (2010)

Sultana, R. et al. Identification of a novel gene on chromosome 7q11.2 interrupted by a translocation breakpoint in a pair of autistic twins. Genomics 80, 129–134 (2002)

Oksenberg, N. & Ahituv, N. The role of AUTS2 in neurodevelopment and human evolution. Trends Genet. 29, 600–608 (2013)

Beunders, G. et al. Exonic deletions in AUTS2 cause a syndromic form of intellectual disability and suggest a critical role for the C terminus. Am. J. Hum. Genet. 92, 210–220 (2013)

Oksenberg, N., Stevison, L., Wall, J. D. & Ahituv, N. Function and regulation of AUTS2, a gene implicated in autism and human evolution. PLoS Genet. 9, e1003221 (2013)

Scattoni, M. L., Gandhy, S. U., Ricceri, L. & Crawley, J. N. Unusual repertoire of vocalizations in the BTBR T+tf/J mouse model of autism. PLoS ONE 3, e3067 (2008)

Scattoni, M. L., Crawley, J. & Ricceri, L. Ultrasonic vocalizations: a tool for behavioural phenotyping of mouse models of neurodevelopmental disorders. Neurosci. Biobehav. Rev. 33, 508–515 (2009)

Fujita, E. et al. Ultrasonic vocalization impairment of Foxp2 (R552H) knockin mice related to speech-language disorder and abnormality of Purkinje cells. Proc. Natl Acad. Sci. USA 105, 3117–3122 (2008)

Wiame, E. et al. Molecular identification of aspartate N-acetyltransferase and its mutation in hypoacetylaspartia. Biochem. J. 425, 127–136 (2010)

Boltshauser, E. et al. Follow-up of a child with hypoacetylaspartia. Neuropediatrics 35, 255–258 (2004)

Furukawa-Hibi, Y. et al. Absence of SHATI/Nat8l reduces social interaction in mice. Neurosci. Lett. 526, 79–84 (2012)

Kondo, T. et al. Polycomb potentiates Meis2 activation in midbrain by mediating interaction of the promoter with a tissue-specific enhancer. Dev. Cell 28, 94–101 (2014)

Mousavi, K., Zare, H., Wang, A. H. & Sartorelli, V. Polycomb protein Ezh1 promotes RNA polymerase II elongation. Mol. Cell 45, 255–262 (2012)

Yu, M. et al. Direct recruitment of Polycomb repressive complex 1 to chromatin by core binding transcription factors. Mol. Cell 45, 330–343 (2012)

Frangini, A. et al. The Aurora B kinase and the Polycomb protein Ring1B combine to regulate active promoters in quiescent lymphocytes. Mol. Cell 51, 647–661 (2013)

Cheung, I. et al. Developmental regulation and individual differences of neuronal H3K4me3 epigenomes in the prefrontal cortex. Proc. Natl Acad. Sci. USA 107, 8824–8829 (2010)

Shulha, H. P., Cheung, I., Guo, Y., Akbarian, S. & Weng, Z. Coordinated cell type-specific epigenetic remodeling in prefrontal cortex begins before birth and continues into early adulthood. PLoS Genet. 9, e1003433 (2013)

James, S. J., Shpyleva, S., Melnyk, S., Pavliv, O. & Pogribny, I. P. Complex epigenetic regulation of engrailed-2 (EN-2) homeobox gene in the autism cerebellum. Transl. Psychiatry 3, e232 (2013)

Ladd-Acosta, C. et al. Common DNA methylation alterations in multiple brain regions in autism. Mol. Psychiatry 19, 862–871 (2014)

Vaquero, A. et al. Human SirT1 interacts with histone H1 and promotes formation of facultative heterochromatin. Mol. Cell 16, 93–105 (2004)

Kriaucionis, S. & Heintz, N. The nuclear DNA base 5-hydroxymethylcytosine is present in Purkinje neurons and the brain. Science 324, 929–930 (2009)

Langmead, B., Trapnell, C., Pop, M. & Salzberg, S. L. Ultrafast and memory-efficient alignment of short DNA sequences to the human genome. Genome Biol. 10, R25 (2009)

Li, H. et al. The Sequence Alignment/Map format and SAMtools. Bioinformatics 25, 2078–2079 (2009)

Robinson, J. T. et al. Integrative genomics viewer. Nature Biotechnol. 29, 24–26 (2011)

Asp, P. et al. Genome-wide remodeling of the epigenetic landscape during myogenic differentiation. Proc. Natl Acad. Sci. USA 108, E149–E158 (2011)

McLean, C. Y. et al. GREAT improves functional interpretation of cis-regulatory regions. Nature Biotechnol. 28, 495–501 (2010)

Hofer, M. A., Shair, H. N. & Brunelli, S. A. Ultrasonic vocalizations in rat and mouse pups. Curr. Protocols Neurosci. http://dx.doi.org/10.1002/0471142301.ns0814s17 (2002)
Acknowledgements
We thank S. Zhang, R. Bonasio, S. Shen, and L. Cohen for assistance in analysis with genome-wide studies; H. Zheng for mass spectrometry analysis; L. Chiriboga, C. Loomis and the Experimental Pathology Cores at NYU Langone Medical Center for assistance in immunohistochemical analysis; D. Hernandez for assistance in various experiments. We appreciate the help of C. Guo and the transgenic facility at Howard Hughes Medical Institute's (HHMI) Janelia Farm Research Campus in generating the Auts2 cKO mice. We are grateful to V. Bardwell and L. Di Croce for providing us PCGF1 and RING1B antibodies, respectively. We also thank A. Tarakhovsky for his generous help to our mouse work after Hurricane Sandy and L. Vales for valuable discussions and extensive reading of the manuscript. This work was supported as follows: the biochemical analysis of AUTS2 by the National Institute of Health grant GM-64844, and the mouse work by a Pilot Award from the Simons Foundation Autism Research Initiative (SFARI). A.S. is supported by grants from NIH (1DP2MH100012-01), Seaver Autism Foundation, and The Brain and Behavioral Research Fund Young Investigator Award (number 18194). Z.G. was supported by the SFARI pilot award and by an NIH training grant (5T32CA160002). P.L. was supported by an NIH postdoctoral fellowship (1F32GM105275). J.M.S was supported by an NIH postdoctoral fellowship (F32AA022842) as well as by the Simons Foundation as a Junior Fellow.
Ethics declarations
Competing interests
The authors declare no competing financial interests.
Extended data figures and tables
Supplementary information
About this article
Cite this article
Gao, Z., Lee, P., Stafford, J. et al. An AUTS2–Polycomb complex activates gene expression in the CNS. Nature 516, 349–354 (2014). https://doi.org/10.1038/nature13921
Received:

Accepted:

Published:

Issue Date:

DOI: https://doi.org/10.1038/nature13921
Comments
By submitting a comment you agree to abide by our Terms and Community Guidelines. If you find something abusive or that does not comply with our terms or guidelines please flag it as inappropriate.