Abstract
Cancer is a multistep process that involves mutations and other alterations in oncogenes and tumour suppressor genes1. Genome sequencing studies have identified a large collection of genetic alterations that occur in human cancers2,3,4. However, the determination of which mutations are causally related to tumorigenesis remains a major challenge. Here we describe a novel CRISPR/Cas9-based approach for rapid functional investigation of candidate genes in well-established autochthonous mouse models of cancer. Using a KrasG12D-driven lung cancer model5, we performed functional characterization of a panel of tumour suppressor genes with known loss-of-function alterations in human lung cancer. Cre-dependent somatic activation of oncogenic KrasG12D combined with CRISPR/Cas9-mediated genome editing of tumour suppressor genes resulted in lung adenocarcinomas with distinct histopathological and molecular features. This rapid somatic genome engineering approach enables functional characterization of putative cancer genes in the lung and other tissues using autochthonous mouse models. We anticipate that this approach can be used to systematically dissect the complex catalogue of mutations identified in cancer genome sequencing studies.
Relevant articles
Open Access articles citing this article.
Qin Jin

,

Xiaoyi Liu

…

Liangxue Lai

Genome Biology Open Access 17 January 2023

Lu Liu

,

Yuxi Lei

…

Liang Chen

Cell & Bioscience Open Access 01 December 2022

Rupesh S. Patel

,

Rodrigo Romero

…

Stephen J. Elledge

Nature Communications Open Access 11 January 2022
Access options
Subscribe to this journal
Receive 51 print issues and online access
$199.00 per year
only $3.90 per issue
Rent or buy this article
Get just this article for as long as you need it
$39.95
Prices may be subject to local taxes which are calculated during checkout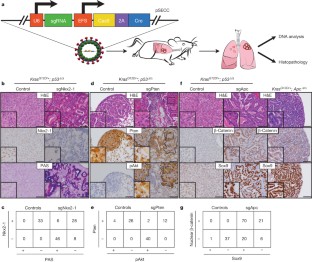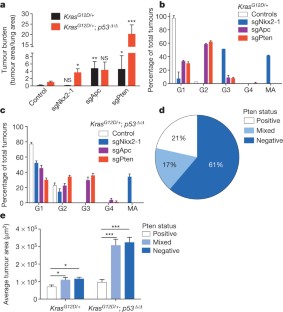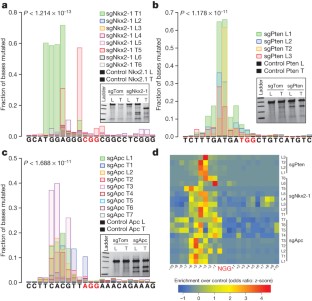 Accession codes
Primary accessions
BioProject
References
Hanahan, D. & Weinberg, R. A. The hallmarks of cancer. Cell 100, 57–70 (2000)

Imielinski, M. et al. Mapping the hallmarks of lung adenocarcinoma with massively parallel sequencing. Cell 150, 1107–1120 (2012)

Govindan, R. et al. Genomic landscape of non-small cell lung cancer in smokers and never-smokers. Cell 150, 1121–1134 (2012)

The Cancer Genome Atlas Research Network Comprehensive molecular profiling of lung adenocarcinoma. Nature 511, 543–550 (2014)

Jackson, E. L. et al. Analysis of lung tumor initiation and progression using conditional expression of oncogenic K-ras. Genes Dev. 15, 3243–3248 (2001)

McFadden, D. G. et al. Genetic and clonal dissection of murine small cell lung carcinoma progression by genome sequencing. Cell 156, 1298–1311 (2014)

Frese, K. K. & Tuveson, D. A. Maximizing mouse cancer models. Nature Rev. Cancer 7, 645–658 (2007)

Xue, W. et al. CRISPR-mediated direct mutation of cancer genes in the mouse liver. Nature 514, 380–384 (2014)

Farago, A. F., Snyder, E. L. & Jacks, T. SnapShot: Lung cancer models. Cell 149, 246–246.e1 (2012)

Winslow, M. M. et al. Suppression of lung adenocarcinoma progression by Nkx2-1. Nature 473, 101–104 (2011)

DuPage, M. et al. Endogenous T cell responses to antigens expressed in lung adenocarcinomas delay malignant tumor progression. Cancer Cell 19, 72–85 (2011)

Madisen, L. et al. A robust and high-throughput Cre reporting and characterization system for the whole mouse brain. Nature Neurosci. 13, 133–140 (2010)

Rock, J. R. & Hogan, B. L. Epithelial progenitor cells in lung development, maintenance, repair, and disease. Annu. Rev. Cell Dev. Biol. 27, 493–512 (2011)

Song, M. S., Salmena, L. & Pandolfi, P. P. The functions and regulation of the PTEN tumour suppressor. Nature Rev. Mol. Cell Biol. 13, 283–296 (2012)

Curry, N. L. et al. Pten-null tumors cohabiting the same lung display differential AKT activation and sensitivity to dietary restriction. Cancer Discov 3, 908–921 (2013)

Snyder, E. L. et al. Nkx2-1 represses a latent gastric differentiation program in lung adenocarcinoma. Mol. Cell 50, 185–199 (2013)

Schwank, G. et al. Functional repair of CFTR by CRISPR/Cas9 in intestinal stem cell organoids of cystic fibrosis patients. Cell Stem Cell 13, 653–658 (2013)

Cheung, A. F. et al. Complete deletion of Apc results in severe polyposis in mice. Oncogene 29, 1857–1864 (2010)

Moon, R. T., Kohn, A. D., De Ferrari, G. V. & Kaykas, A. WNT and β-catenin signalling: diseases and therapies. Nature Rev. Genet. 5, 691–701 (2004)

Pacheco-Pinedo, E. C. et al. Wnt/β-catenin signaling accelerates mouse lung tumorigenesis by imposing an embryonic distal progenitor phenotype on lung epithelium. J. Clin. Invest. 121, 1935–1945 (2011)

Kormish, J. D., Sinner, D. & Zorn, A. M. Interactions between SOX factors and Wnt/β-catenin signaling in development and disease. Dev. Dyn. 239, 56–68 (2010)

Hogan, B. L. et al. Repair and regeneration of the respiratory system: complexity, plasticity, and mechanisms of lung stem cell function. Cell Stem Cell 15, 123–138 (2014)

Juan, J., Muraguchi, T., Iezza, G., Sears, R. C. & McMahon, M. Diminished WNT → β-catenin → c-MYC signaling is a barrier for malignant progression of BRAFV600E-induced lung tumors. Genes Dev. 28, 561–575 (2014)

Hsu, P. D. et al. DNA targeting specificity of RNA-guided Cas9 nucleases. Nature Biotechnol. 31, 827–832 (2013)

Fu, Y. et al. High-frequency off-target mutagenesis induced by CRISPR-Cas nucleases in human cells. Nature Biotechnol. 31, 822–826 (2013)

Wu, X. et al. Genome-wide binding of the CRISPR endonuclease Cas9 in mammalian cells. Nature Biotechnol. 32, 670–676 (2014)

Kuscu, C., Arslan, S., Singh, R., Thorpe, J. & Adli, M. Genome-wide analysis reveals characteristics of off-target sites bound by the Cas9 endonuclease. Nature Biotechnol. 32, 677–683 (2014)

Shalem, O. et al. Genome-scale CRISPR-Cas9 knockout screening in human cells. Science 343, 84–87 (2014)

Heigwer, F., Kerr, G. & Boutros, M. E-CRISP: fast CRISPR target site identification. Nature Methods 11, 122–123 (2014)

Psarras, S. et al. Gene transfer and genetic modification of embryonic stem cells by Cre- and Cre-PR-expressing MESV-based retroviral vectors. J. Gene Med. 6, 32–42 (2004)

Jackson, E. L. et al. The differential effects of mutant p53 alleles on advanced murine lung cancer. Cancer Res. 65, 10280–10288 (2005)

DuPage, M., Dooley, A. L. & Jacks, T. Conditional mouse lung cancer models using adenoviral or lentiviral delivery of Cre recombinase. Nature Protocols 4, 1064–1072 (2009)

Li, H. & Durbin, R. Fast and accurate long-read alignment with Burrows-Wheeler transform. Bioinformatics 26, 589–595 (2010)

McKenna, A. et al. The Genome Analysis Toolkit: a MapReduce framework for analyzing next-generation DNA sequencing data. Genome Res. 20, 1297–1303 (2010)

Li, H. et al. The Sequence Alignment/Map format and SAMtools. Bioinformatics 25, 2078–2079 (2009)

Wang, K., Li, M. & Hakonarson, H. ANNOVAR: functional annotation of genetic variants from high-throughput sequencing data. Nucleic Acids Res. 38, e164 (2010)

Breese, M. R. & Liu, Y. NGSUtils: a software suite for analyzing and manipulating next-generation sequencing datasets. Bioinformatics 29, 494–496 (2013)

Quinlan, A. R. & Hall, I. M. BEDTools: a flexible suite of utilities for comparing genomic features. Bioinformatics 26, 841–842 (2010)

Thorvaldsdóttir, H., Robinson, J. T. & Mesirov, J. P. Integrative Genomics Viewer (IGV): high-performance genomics data visualization and exploration. Brief. Bioinform. 14, 178–192 (2013)
Acknowledgements
We thank D. McFadden and Y. Soto-Feliciano for critical reading of the manuscript, H. Yin, S. Levine and T. Mason for MiSeq sequencing support, R. Stott, J. Bartlebaugh and C. Shivalila for technical assistance and K. Cormier and C. Condon from the Hope Babette Tang (1983) Histology Facility for technical support. This work was supported by the Howard Hughes Medical Institute, the Ludwig Center for Molecular Oncology at MIT and in part by Cancer Center Support (core) grant P30-CA14051 from the National Cancer Institute. T.P. is supported by the Hope Funds for Cancer Research. T.J. is a Howard Hughes Medical Institute Investigator, the David H. Koch Professor of Biology, and a Daniel K. Ludwig Scholar.
Ethics declarations
Competing interests
The authors declare no competing financial interests.
Additional information
Illumina MiSeq sequence datasets have been deposited into the NCBI repository under BioProjectID PRJNA256245.
Extended data figures and tables
Supplementary information
About this article
Cite this article
Sánchez-Rivera, F., Papagiannakopoulos, T., Romero, R. et al. Rapid modelling of cooperating genetic events in cancer through somatic genome editing. Nature 516, 428–431 (2014). https://doi.org/10.1038/nature13906
Received:

Accepted:

Published:

Issue Date:

DOI: https://doi.org/10.1038/nature13906
Comments
By submitting a comment you agree to abide by our Terms and Community Guidelines. If you find something abusive or that does not comply with our terms or guidelines please flag it as inappropriate.